Happy Tuesday everyone, I hope you are well. Today I am back with a superb wedding for you. A Yorkshire barn wedding filled with rustic charm. Alison and Jake had always dreamt of a barn wedding and when they found Sykes Barn they knew their wedding prayers had been answered. They set about carrying out plenty of DIY projects which all contributed to making this wedding super personal and filled with the cutest details and decoration. The couple are avid travellers so they incorporated this into their wedding decor, along with a delicious cake table, lots of hessian and, of course, plenty of rustic touches. The day was captured beautifully by M & G Photographic who did a fantastic job.
It was a perfect combination of love, laughter and happy tears, reminiscing on old memories and stories and creating new ones that we'll cherish forever with all our family and friends. A lovely end to 9 years together and a new start as husband and wife.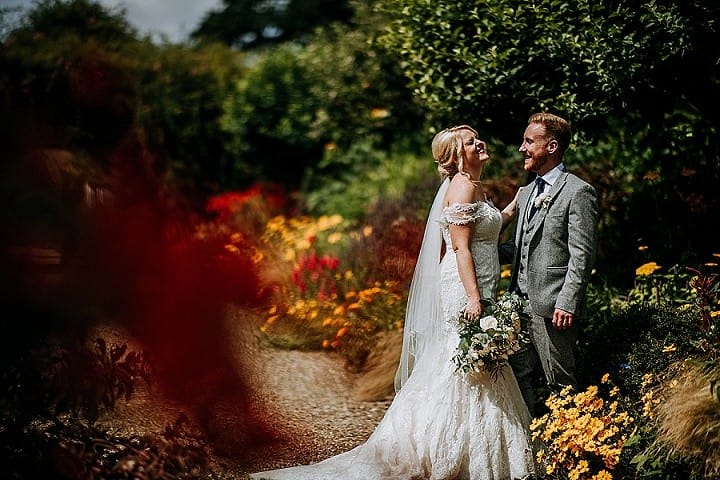 Alison and Jake were married on 3rd August 2019, the ceremony was held at the Parish Church of St. Mary's, Driffield in Yorkshire on the Sledmere House estate on the edge of the Yorkshire Wolds. The wedding reception was held at Sykes Barn, along the road from the church and opposite Sledmere House in an old converted tractor barn. 'We originally looked at lots of different venues and I always wanted a barn but thought it was out of our price range. After scouring all of Hull and the nearby areas we didn't see anything we liked and didn't like being tied into a package. I started looking at barns again and found Sledmere barn actually on a forum. We loved the rustic style of it and the authentic brickwork, so we made a booking and fell in love with it and the price too!. We also liked the fact that it was near the house and gardens, if we wanted to take any photographs there, and that is was rural and out of Hull. Jake recently walked the Yorkshire Wolds Way over the course of that year too, so it was just a perfect backdrop for our special day. We had 69 guests during the day of family and friends and then a further 40 on the evening. We got engaged on August 11th, 2017 and planned the wedding over 2 years, this was to ensure we could budget and organise the wedding we wanted and still enjoy our time over those 2 years.
How they met  
We met whilst both working in retail and struck up a friendship over our love of writing and the theatre. I then went travelling for 6 months after University with my twin sister and when I returned we started dating, this was back in September 2010 and 9 years later we got married!
The proposal
As a belated birthday present Jake took me to Strafford Upon Avon on Friday 11th August 2017, he knew my love of Shakespeare and he'd booked a performance at the Royal Shakespeare Company for Julius Caesar.  On the Friday we arranged a prosecco picnic down the Avon river and we found a perfect spot, secluded and private right on the riverbank.  I had no idea what he was planning as I assumed it was just a birthday treat, but Jake was acting a little jittery when we were finding 'the perfect spot'.  Whilst we were chatting and enjoying the prosecco, Jake got down on one knee and presented to me the most gorgeous vintage emerald ring and asked me to marry him! I burst into tears whilst saying 'yes' and I rang my twin sister, who was waiting anxiously all day, who was in on the plan all along! We then had a wonderful weekend in Stratford celebrating! Later Jake always said he needed to wait until I'd eaten to then propose as I'm always happiest on a full stomach!
How did you allocate your budget?
We knew some of the elements to our wedding would be more costly than others, but we also knew we could save in certain areas too. We decided on the budget based on what we could afford to put away each month and still maintain our lifestyle of seeing our friends and going on trips and made estimations of costs for each aspect of the wedding right down to the finer details. This helped enormously as there were no hidden charges or surprises nearer to the time.
Where did you splurge and where did you save? 
The main areas we wanted to spend more money on were the food, drink and band as all we really wanted was for all of our guests to have the best time! We're big foodies and the wedding food was a main priority for us for both day and night guests.  We also wanted all our guests to have enough alcohol to enjoy themselves whilst dancing the night away to a live folk bank in keeping with the barn.
We saved money on all the decorations as these were all handmade by either myself or family members, it was a real family effort in creating the most magical setting for our wedding and we're so grateful to all of them. Because of this the atmosphere was really natural and personable to both of us which made a huge difference on the day. The little touches really do go a long way! We also saved money on not renting wedding cars as our friend kindly offered to be our escort in his jag!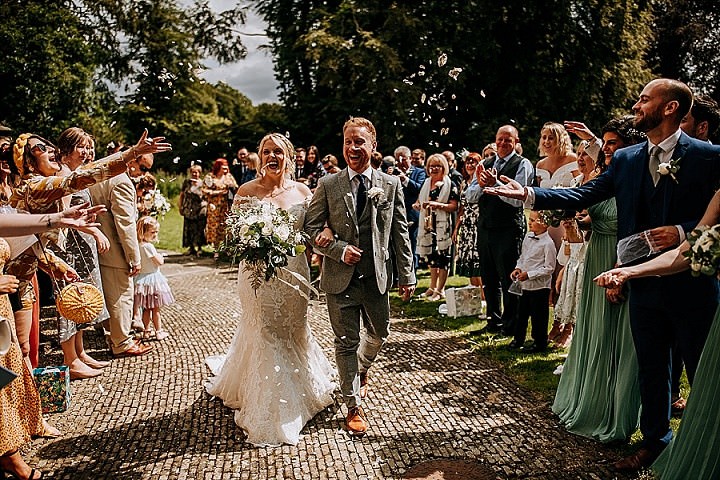 How did you choose your photographer?
We were actually booked with another photographer who unfortunately had to cancel and then Patrick and MandGphotographic came highly recommended to us by our original supplier. Once we saw their images, we knew we'd like to work with them, and they didn't disappoint. When we met Patrick for the pre wedding shoot, he made us feel so secure and we started laughing together straight away so we knew we were in good hands for the big day. We wanted natural styled photos showing all of our friends and family having the best time, something we could look back on in years to come and still get the same tingles as we did on the day…which is what he delivered!
The dress  
I really like vintage clothes and styles and I knew I wanted a vintage dress to compliment my antique emerald ring. My dress was from designer Lillian West, with a few moderations. I added some tulle lace sleeve cuffs to create an off-the shoulder-look to hide my arms as they were something I was worried about. It completed the sweetheart neckline completely and created a nice outline for my shoulders as well. My earrings were vintage pearl from an antique store I'd bought a few years ago and my shoes were laced heels from New Look. One of my bridesmaids added nice gemmed 'I do' stickers to the bottom of them too!
The suit and bridesmaids 
The groom's suit was a grey 3 piece from the Next Signature collection, (where we actually met and fell in love) with a blue tie, and the groomsmen were blue 3 piece suits from Slaters with grey ties to compliment Jake's suit. The bridesmaids were rustic sage green dresses from ASOS paired with pearl and gold drop earrings and bracelet as thank you gifts from Etsy and Notonthehighstreet.
Theme or colour scheme 
Our colour scheme was based around a rustic style with natural floral colours and lace. The main colours were sage green, grey, blue, white and cream. One of our main passions is travelling the world and over the 9 years of our relationship we have been to many exciting places and this is something we wanted to share with everyone, so we had a travel element to our wedding. All the tables were named from places we had visited, and the arrival drinks were all beers from places around the world. The food was a mixture of cuisines from our travels, which helped create a real eclectic array of tastes.
Flowers
My bouquet was a mixture of white avalanche roses, white sweet peas, white lisianthus, gypsophila, succulents, eucalyptus (variety) and french ruscus. My bridesmaids all had a smaller version of my bouquet and Jake, and the rest of the bridal party, had a white avalanche rose, eucalyptus and french ruscus buttonholes.
On each table there was a similar selection for the centrepieces with wooden slices and decorated jam jars. Our head table was decorated with a foliage runner with bridal flowers running through it and at each place setting there was a sprig of french ruscus tucked in each napkin wrapped with hessian string. 
Decoration  
We had an abundance of homemade decorations from bunting, floral hoops, hessian and lace table runners, table decorations, welcome signs, wooden pallet schedule and fairy lighting. Myself and my family are very crafty, with my dad making lots of wooden wedding creations in his garden, my twin sister painting signs as she's good at artwork and my mum constantly being on the sewing machine. The barn had hay bales which we formed into sofa and snug areas inside and outside of the barn, which were coupled with a mixture of grey, sage green and white homemade throws and homemade cushions curtesy of my mum's sewing skills. We also had homemade games in the courtyard including ring toss, foosball, beer pong and giant jenga to help keep our guests entertained.
Food  
We worked with Nomad catering for our wedding reception meal and their food is that  delicious we had two tasting sessions! We've been to too many weddings where the food is based around a package but with Nomad you could really choose a variety to match your tastes.  We had canapes in the courtyard for our guests' arrival which included morcilla and chorizo scotch quails eggs with chutney, slow-cooked beef rendang skewers, figs wrapped in buffalo mozzarella and parma ham, mini pumpkin and ricotta tartlets, spiced honey and baby rocket harissa spiced haddock with minted yoghurt and butternut squash and chickpea falafel with roasted red pepper hummus.
Our main was a 24-hour slow braised shoulder of lamb with red wine and port lamb jus, served with pommes dauphinoise, garlic french beans and ratatouille. For our vegetarian guests we had a Moroccan aubergine and chickpea tagine served with pomegranate and pistachio cous cous and a fattoush salad. This was followed by Tarte au Citron Brûlée served with fresh raspberries, blackberry coulis, edible flowers and raspberry sorbet.
For our evening guests we worked with the Pizza Kitchen, who I would highly recommend. They were a joy to work with and their pizzas are amazing! I couldn't stop going back for more. They have great choices for vegetarians, meat lovers, gluten free and vegans alike and even our Italian friend said they were amazing and that's saying something!
Wedding cake 
From the very beginning Jake and I knew we didn't want the traditional wedding cake, or the cutting of the cake tradition, we just wanted lots of different cakes for people to help themselves and try as many as they liked. We have a lot of family and friends who enjoy baking, so it was a real group effort in creating a wonderful 'cake bar' full of flavoured sponges, tiffins, tarts, cupcakes, cheesecake and traybakes with a traditional wedding rum and fruitcake in the centre baked by my older sister. All the guests loved the cakes and they went down a storm!
Entertainment
In keeping with the barn, we wanted a folk band for the wedding and we chose The Wolfpack to perform on the day. They were very professional and a good group to work with; they were very accommodating with song choices, as Jake is really interested in music, so he organised the playlist and the band's songs. The atmosphere was amazing, and everyone had a great time dancing to both folk and contemporary music.
Who supplied the stationery? 
A friend designed all the stationary for our wedding, and she did a wonderful job! We had so many comments on how pretty they looked. She created all the invitations to both day and night guests, the menu cards, order of service, and the place names. She's a friend who has recently set up her own business for support with wedding stationary so please check out her Instagram page if you can.
Personal touches 
We had so many personal touches throughout the wedding but one of our most special creations were the favours. Jake and his friend brewed their own beer and created special labels and a whole storyline around the brew itself. This especially went down extremely well and Jake was so proud of his work. We also had gin bottles designed to go with the beer but I must admit I did not make my own gin!
On each table we also had  written down some travel discoveries, which we had learnt from each trip we had taken together over the years, as fun anecdotes to share with everyone.
Special moments  
Ali – The best part of the day for me was seeing all of our family and friends having a lovely time, everyone was talking to each other without us having to introduce them. The speeches were another highlight for me as they were perfectly full of love and lots of laughter…And possibly eating the evening pizzas lol! I would gladly do it all over again!
Jake – The best part of the day was seeing Ali at the altar, everything fell into place and the nerves instantly dissipated.
Advice for other couples?
Ali – The little touches really do make a difference. If you have the time to put into making homemade decorations or personal touches, I think the effort is worth it! You may think no-one will notice your creations but believe me they do, and they help to create the most memorable day.  I also think it's hard not to get stressed out along the way but just know that everything works out well in the end and when you see your partner at the ceremony, they are all that matters!
Jake – Record the speeches (if you don't have a videographer)! Luckily my speech was recorded by a friend and it's a lovely way to look back and watch it together. In addition don't be afraid to be ruthless with the guest list, make sure all the people in attendance are the people who you want to be there.
What was your biggest surprise of the day?
Ali – the biggest surprise for me was how relaxed I felt after the ceremony, everything went smoothly, and I totally let go and enjoyed the whole day. When people tell you it goes so quickly, they really mean it and when you've planned something for 2 years you never know how it'll truly work out, but I needn't have worried as it was the most incredible day!
Jake – I remember all of the young uns' (I put me and Ali in that category) stood outside chatting and I turned around and saw all of our parents and extended family throwing some serious shapes on the dance floor! It was amazing to see them all have so much fun, it was as much their day as it was ours!
The amount of love you receive from people is overwhelming!
Supplier Shout Outs
For more information on M & G Photographic go to
www.mandgphotographic.com / [email protected] / FACEBOOK / INSTAGRAM