Today we are heading back to last October for this lovely Autumnal wedding sent in by the wonderful Becki from All You Need is Love Photography. Charlotte and Daniel wanted their wedding to be about the marriage not about a huge fancy affair, so they hired a tipi and set about creating as much of the wedding themselves. They hired Fish and Chip and Pizza vans for their food and got their friends and family to help out as much as they could. This created a laid back fun filled Autumnal wedding with a colour palette of seasonal plum.
Our wedding day was a happy blur, filled with food, music and dancing. It was also unexpectedly chilly!
Charlotte and Daniel were married on 27th October 2018 at All Saints Church, Cawood, with the reception at Escrick Park Estate in York. 'Charlotte's grandad was a priest – All Saints Church was his main parish and there is a plaque in memory of him inside the church. We had 70 guests. 'We got engaged in February 2016 with the intention that we could slowly and calmly organise everything over 2 ½ years. However, we took things a little too calmly and had to properly start organising everything around 6 months before the wedding!'
How they met 
We met when we were both put into University Halls together and became a couple as we moved out! We had been together a little over 7 years when we got married.
The proposal
I organised a meal where we'd had our first date and arranged for us to go on a ghost walk (Charlotte had been asking to go), whilst my friend snuck into our house and lit some candles for when we made it home. However, I'd not prepared for Charlotte having a busy day, being tired and wearing high heels on the cobbled streets, so we'd agreed to go home early. Unbeknownst to me, my friend's phone died, which meant that a) I had no way to tell her we were coming home early, and b) she lost the gate code to get out of our house! We were walking up the road when I saw a shadowy figure jump over the back gate and run off into the distance…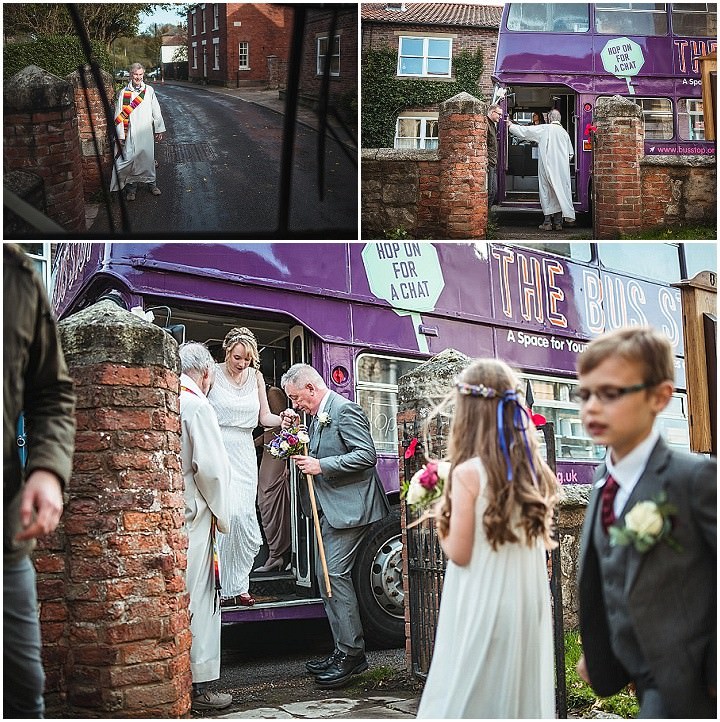 How did you allocate your budget?
We knew we wanted to minimize our spending- it was much more about the marriage than the wedding for us. The tent for the reception was the biggest expenditure: beyond that, it was about doing things nicely but affordably. That's one of the reasons we did as much homemade as we could.
Where did you splurge and where did you save?
Where we could, everything was done by ourselves or family & friends. This left a better margin to pay for the things that we couldn't do, whilst also creating a more personal touch with decorations etc.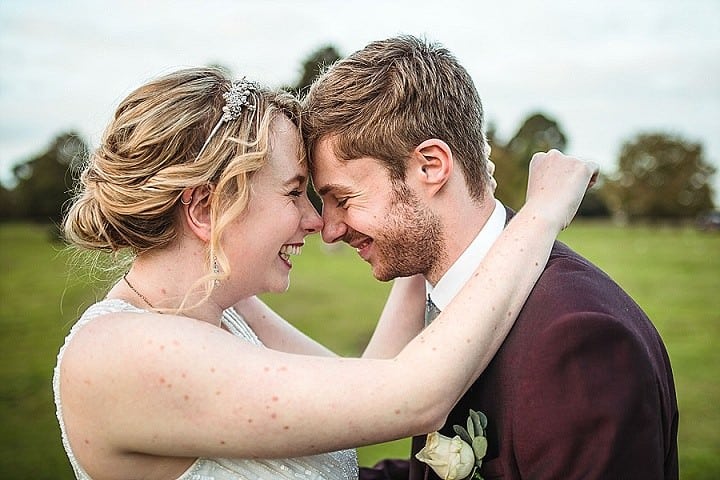 How did you choose your photographer?
Two friends of mine had used Becki as their photographer – they are both capoeira players and actually had a capoeira game as their first dance! She did a great job making people feel comfortable whilst getting some fantastic photos at the same time.
The dress 
The dress was from Wed2Be. The shoes were bought from Well Heeled Boutique in Thirsk (and were designed for comfort!) and the accessories were borrowed from Charlotte's mum and friends.
The suit and Bridesmaids
The suits were from Next and the bridesmaid's dresses were from ASOS.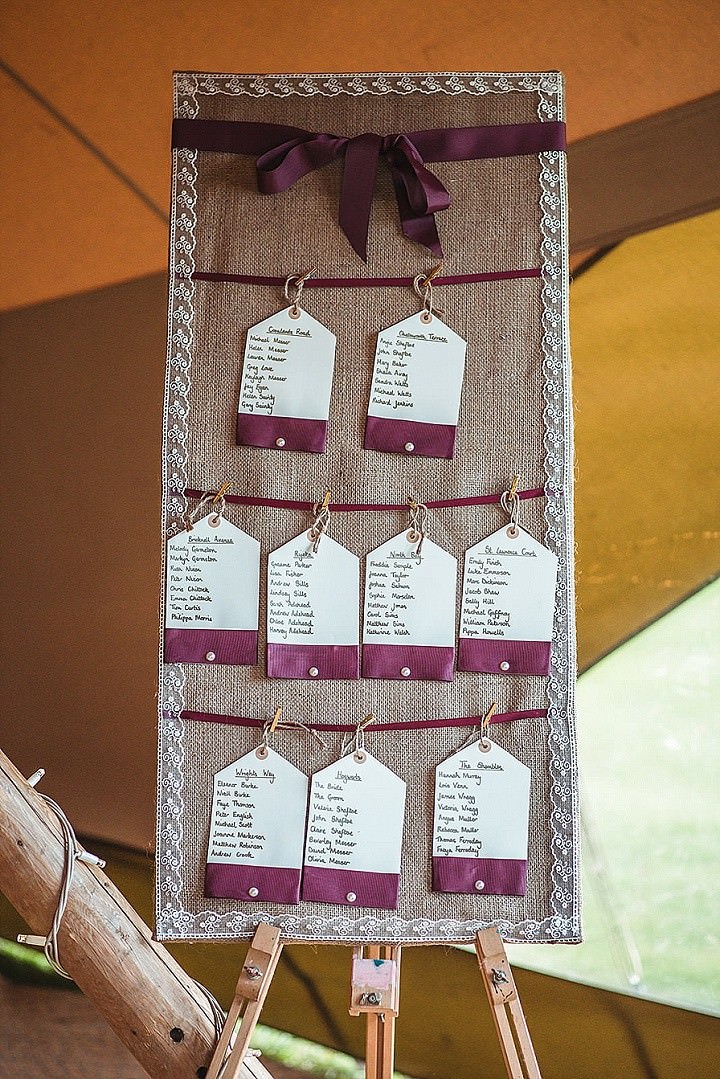 Theme or colour scheme
Not hugely but we did end up using plum as a colour to tie things in.
Flowers
Blueberry roses were the central flower around the bouquets etc.
Decoration 
The space we were in was quite small, so we didn't have too much. In addition to flowers on the tables, we had log sections, with some sandblasted bottles Charlotte's sister made and some jars that Charlotte hand-painted with quotes from books- she's a big reader. Unbeknownst to us, Charlotte's Mum added some additional decorations the night before- she had made a display of pictures of us and some Harry Potter bunting which went above the dance floor.
Food
We used a local caterer for starters (laid out on the tables) and puddings. We had a mobile pizza van and a fish & chips supplier for the main course.
Wedding cake
The cake was baked and decorated by our friend's mum.
Entertainment
I created a playlist, based on requests that guests made on the back of their RSVPs.
Who supplied the stationery?
Charlotte's sister is a graphic designer – she designed the invites, RSVPs and orders of service.
Personal touches
The table decorations were based on a tree that fell down in Charlotte's parents' back garden a year before, leaving behind a branch that had grown in to create a heart-shaped cross section. All of the place settings were handmade by Charlotte, as well as everything her sister had made.
Special moments 
It was really nice to have so many people there supporting us- we felt very loved.
Advice for other couples 
Things will definitely not go exactly to plan. Roll with it and don't worry about everything being perfect – you will be the only person to notice and everyone will have a great time regardless.
Biggest surprise 
The Best Woman did an amazing speech which we weren't fully expecting- there was a brilliant response to the Groom's speech too!
Supplier Shout Outs
FOR MORE INFORMATION ABOUT BECKI'S WORK GO TO:
www.allyouneedislovephotography.co.uk / [email protected] /  07551008145 / FACEBOOK / TWITTER
Hi I'm Becki, a Northern-based, UK wedding photographer. I document unique and fun-loving couples getting hitched. My style? fun, creative and relaxed all rolled into one.