Today's wedding is a pretty damn awesome one; Margaret and Garrison were married in Chattanooga in Southeastern Tennessee on 13th October 2018. The whole day is filled with Bohemian goodness from their barefoot wedding ceremony to their pillow seated family style reception. They have filled their day with vintage collectables and DIY goodness and is everything you could wish a DIY Bohemian waterfall wedding to be. OkCrowe Photography was there to record the day in pure perfection.
Rachael from OkCrowe Photography tells us more about the wedding 
Margaret and Garrison have been together for 5 years and have a beautiful son named Quinn. They are traveling vintage collectors who re purpose and sell vintage clothing and accessories in a mobile gypsy wagon! They styled the wedding using items from their own home and shop.  Some of the decor, including the geometric arch and reception tables, were handmade by Garrison and his father. The tent is from Burning Man. They chose Hemlock Falls for their venue because of the view of Cumberland mountains and close proximity to Foster Falls for their portraits. Foster Falls is an 80-foot waterfall featuring a suspension bridge and turquoise lake. They had a lot of nontraditional details such as serving Baklava instead of cake and Margaret carrying their son down the aisle. This colourful fall wedding was so unique and personal!
How they met 
We actually lived in the same city for four years and had so many mutual friends it's a wonder we didn't meet sooner. We met briefly at a show that Garrison was promoting, but didn't get to know each other until months later. We were both at a music festival in Nashville, and my favourite band at the time, Edward Sharpe and the Magnetic Zeros was performing on stage.. there came a point when the lead singer jumped into the crowd and was passing the mic to members of the audience to join in on singing the song. I ran as close to the front as I could, and somehow he handed me the microphone. I was singing along to my favourite song, and the cameras panned on the big screen onto the stage and Garrison recognized me in the crowd. We met up after the show and have been inseparable ever since.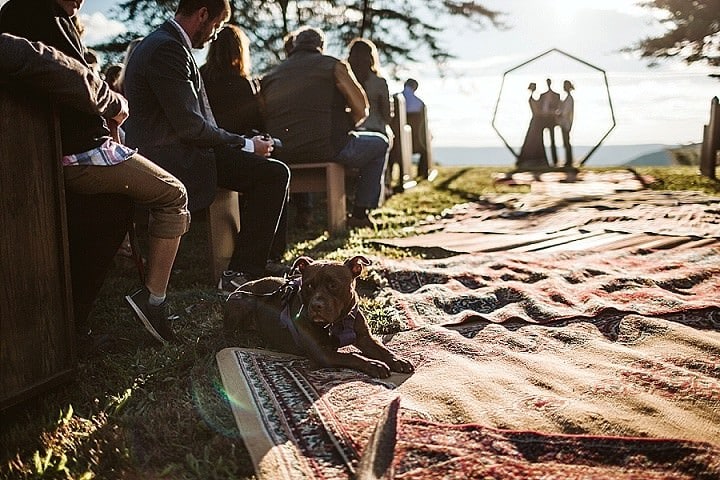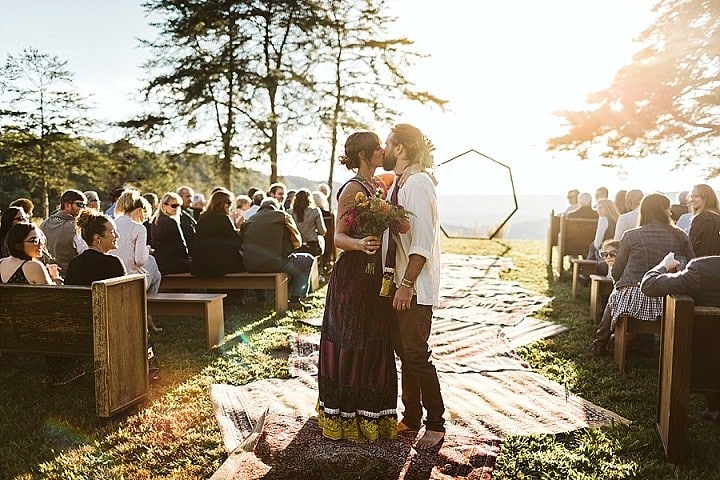 Theme or colour scheme
Our wedding was eclectic, to say the least! The day was inspired by all of our favourite things – nature, first and foremost, vintage decor (I am an entrepreneur in the form of modernizing/upcycling vintage clothing), vegetarian food, good music (my husband is a concert promoter), and community. We wanted to bring our family and friends together to celebrate love, and offer a more unique experience than a traditional wedding. We had a barefoot ceremony officiated by a dear friend, and although the setting was a bluff overlook on a mountain top, the theme of the wedding itself was that of a bohemian bazar. We had floor pillow seating at a family style table for dinner (under a festival tent), and a vast array of antique rugs for the outdoor dance floor. We didn't stick with any particular colour scheme because we didn't want anything to match too perfectly. We also chose to go with assorted baklava rather than wedding cake!
The Outfits
My dress was an antique Afghan wedding dress that I modernized into the bohemian wedding dress of my dreams. I removed the large bulky sleeves, added some side panels in their place, took in the waist and added a zipper to the front to make the dress easier to get in. I also added a panel of velvet to add some length to the gown. My husband wore his favourite pair of pants, a vintage Russian wedding shirt and a scarf that I made from the remnants of my dress alterations. One-of-a-kind wears for our one-of-a-kind wedding! We were both barefoot as well, and I added some gold gypsy anklets with jingle bells. It was so fun to put our outfits together.. and the velvet gown kept me warm even through the chill of October nights in Tennessee.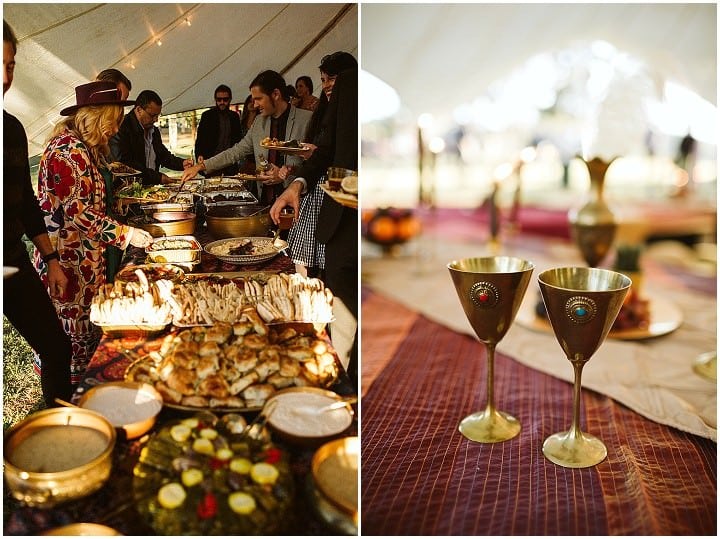 Decor
Dare I say… our wedding was entirely DIY. We pulled together borrowed pieces from friends and family, pieces we'd collected specifically for the event, and even incorporated pieces from our own home into the ceremony and reception. The mismatched benches and church pughs we used for ceremony seating were borrowed from our Uncle's farm, the rugs were a mix of antique, thrifted, and from our home. I even stained our arbor (that was custom built by my father).. the tent was borrowed from our close friend who is also in the music business.  The pillows and tablecloths, all the brass decor and vintage furniture were taken from our home in addition to a collection I'd been thrifting for almost a year to prepare for the wedding. Needless to say, if anyone is in the market for brass candlestick holders, I'm the woman to call!
Flowers
Because of the jaw-dropping natural beauty of the outdoor venue, I didn't purchase florals for decor. A close family friend had a field of Japanese lanterns growing behind her house, so we picked a bunch of those to dry and used them in assorted vases for the reception, but other than that we decorated the tables with bowls of fruit. In-season delights such as clementines, plums, grapes and figs were not only beautiful decor but a lovely little add-on for guests to enjoy throughout the evening. We hiked to a waterfall nearly on the site property pre-ceremony to shoot some pictures, and I foraged some wildflowers on our way back and tossed them in with some farmers market flowers for my bouquet. My dress was a show-stopper so I didn't feel the need to over-do it on flowers!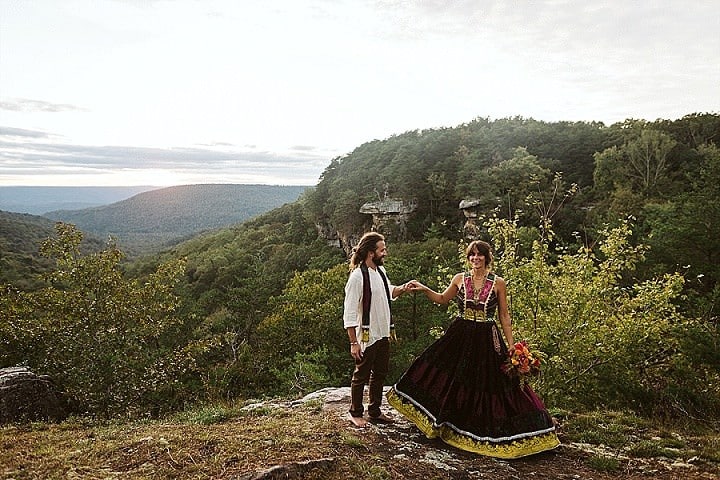 Personal Touches
One of our dearest and oldest friends officiated for us, and he created a beautiful script for our ceremony, as his gift to us (he refused to share it with us until the big day, and it was perfect!) we also exchanged hand written vows to each other with our rings, and that was probably my favourite part of the day. Our catering was from our favourite local Mediterranean restaurant (where we actually had our first date!) and we also had kegs of kombucha from a local juice shop in town.
Special Moments
I have to say, I can't choose just one special moment! The whole day felt like a dream turned reality. Everything from walking down the aisle, hearing Taylor's script that he wrote so specifically for us, exchanging vows, the food, the first dance, watching the sun set.. It was all so purely and truly magical.
Advice for other couples 
Don't put too much pressure on yourself. Don't overthink it. Be present, and enjoy each moment.. because what they say is true… months and months of planning goes by in just a few hours. It all happens SO fast. Take a deep breathe and just enjoy each other.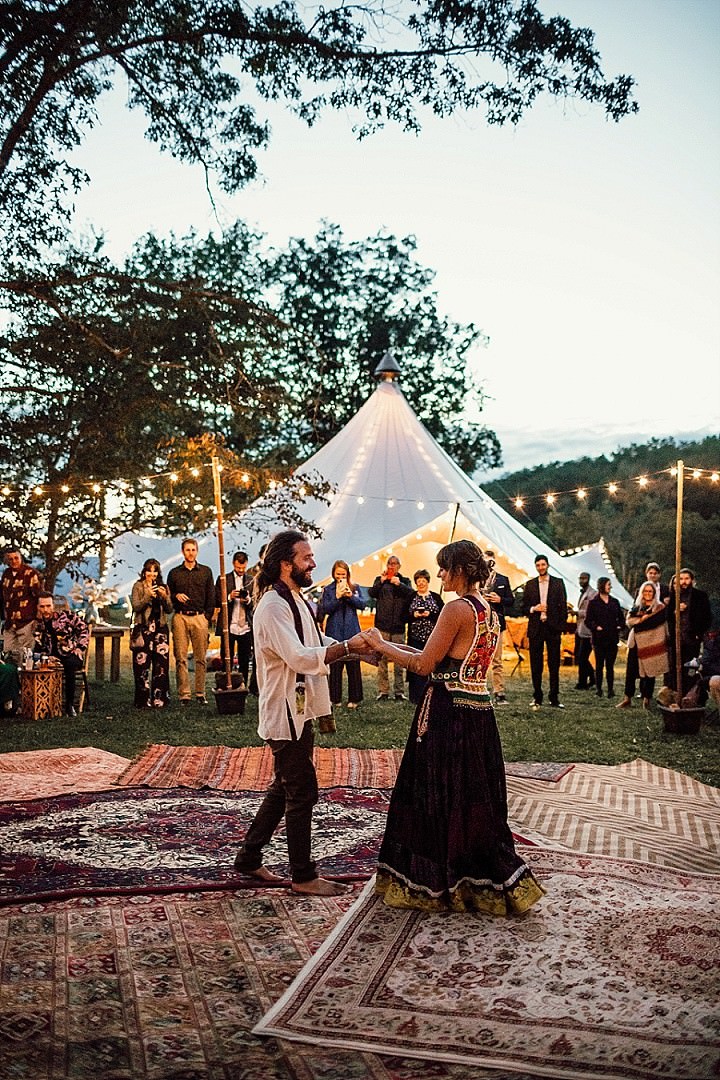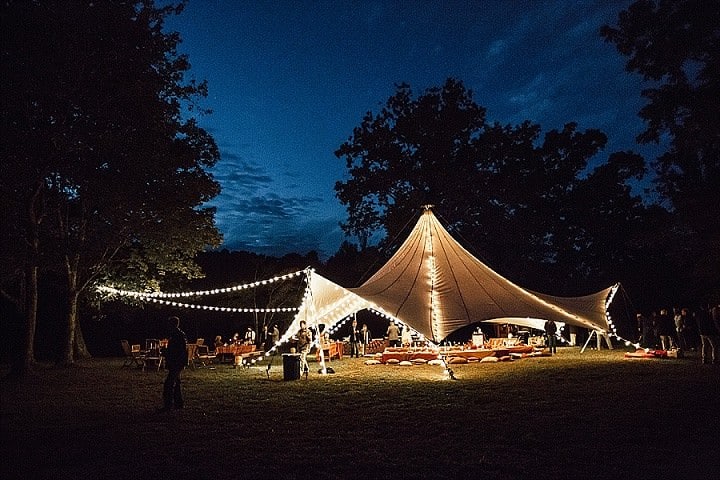 Supplier Shout Outs
For more information on OkCrowe Photography go to