Hello you lovely lot and welcome to Monday! I hope you all had a fantastic weekend and managed to do something, exciting, relaxing or fun? My weekend was spent at out local village carnival on Saturday and then Sunday at Dexter's best friends birthday party. We have a wonderful selection of weddings to share with you this week, starting off with this colour filled Fiesta wedding from Babb Photo. Keira and Jake wanted a wedding that showed their personality, as well as their love of California, so mixed in the English countryside with a Californian Mexican theme, adding in lots of colour, glitter and bright patterns as well as keeping the wedding as Eco friendly as possible. This wedding oozes fun, from the flamingo hook a duck to the taco truck as well as the vibrant decor, it all looks amazing!
Keira and Jake were married on 25th May 2018 at Two Woods in Sussex. 'We had Two Woods booked as our venue by the new year as we knew that with Jake's roots there it had to be Sussex. And just seeing two woods you don't need to ask why there. It's just stunning. We always knew that we had to get married outdoors and all other venues in Sussex just didn't light a fire inside us. As soon as I clicked on two woods I cried and we knew that after Jake proposed to me in the forests of California we had to get married in the only redwood in the UK.'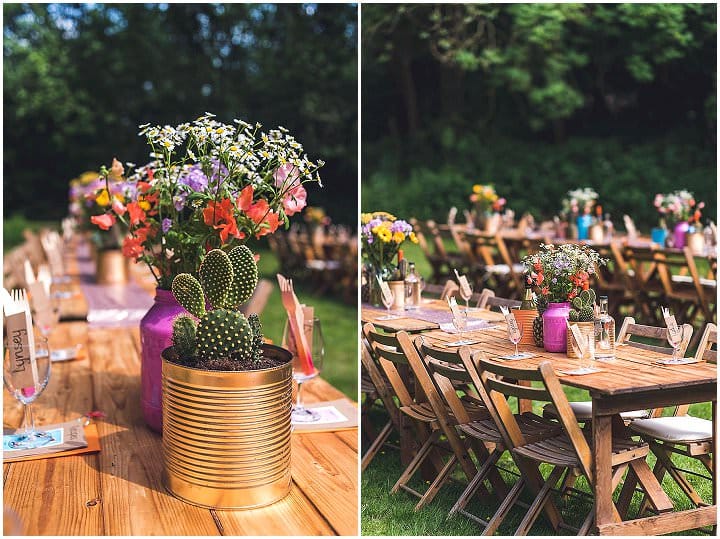 How they met 
We met on a social media website before unicersity that allowed you to meet people that you would be living with or on the same course as. We started chatting based on the mutual interest that we liked each other's profile pics. And then got to know each other more over MySpace and MSN. We met in person at a university rock society pirate bot party on the Solent. We met up again and became best friends. Hanging out and watching movies. After nearly a year of knowing each other we got together officially and nothing has wavered since.
We've always done everything we ever said that we would do. We wanted to live in Brighton. So we did, for 1.5 years. We moved to London for Jake's career in VFX. We wanted to travel. So we did. It  was on our longest adventure to date, that Jake proposed to me. Down on one knee in a forest in the Yosemite valley, California (our favourite place- we've visited the state 3 times.)
Mixed in with the incredible adventures and good times, there's been a lot of sadness and difficulty which has only made us stronger as a nut as we fought through everything hand in hand. We found out that I had cancer in my cervix at stage 1B1. Luckily I was seen to very quickly and I was in surgery having my whole cervix whipped out within 2 months of diagnosis. Jake was incredible throughout. Once you've been through so much together not a lot phases you after. Jake also suffered loss in his family. But we are so strong and getting married was an obvious next step.
How did you choose your Photographer
We met Laura at EWE. Their stall said everything about them that we needed to know. It was brightly coloured and their images spoke for themselves. Laura really knows how to find the colourful elements in the world around her and their documentary style was exactly what we were looking for. After a brief chat with them both at the wedding fair we couldn't wait to get in touch with her and held our fingers crossed that they would be available. We realed I'm Laura's interest over a Skype call with the promise of brightly coloured Mexicana and we're so lucky to have had them both with us for or big day.
The Outfits
We both had a lot of input in the design of our outfits. Jake's suit was completely tailor made by Tailor Made London. He chose every detail from the colour of the stitching to the lining and grain of the fabric he wanted.  Thy did a fantastic job and he looked smart as hell.
For me, I'd been pinning ideas on pintrest for months and always navigated to the ethereal tulle skirt look. I always loved the idea of separates but the idea of wearing a crop top was very daunting. I have scars on my stomach from my operation. However I'm so pleased to have confronted my body confidence demons and taken the plunge in to a two piece. My friends and family were very surprised to see a dress that wasn't a dress and had never seen anything like it before.
I'd first tried a Lucy Can't Dance skirt on at Rock the Frock bridal inn Chelmsford and knew that it was the one. But I was set on having a top to match with a striking back to it. I contacted Lucy directly and after a couple of meetings she had researched for me bespoke lace options to match the veil that I would be wearing (inherited from my mum) and had come up with a prototype new top to her collection just days before I went to see her again. It was exactly what I'd asked for.
Lucy was an absolute dream! Her designs are so much fun and she will dip dye anything you want in any colour. I opted for a blush ombré skirt to mirror my ombré pink hair.
Theme and Decor
Everything flowed from our love of California. Our favourite food is Californian style tacos. And Mexican culture flows through the entire state. We decided to make our day an English county fair (to represent both of our roots) meets Californian Mexican fiesta.
Bright colours were important, with an emphasis on orange accents and British quirkiness. The redwoods themselves needed minimal dressing. But everywhere else we decided to spew colour and glitter and sparkle. Jake had one rule. 'No pink at the wedding' I snuck it in. Our flowers, bouquet, button holes and ceremony space hedgerows, were made by Achillea flowers near Hampstead. They source flowers that are mostly British and in season and keeping elements of the wedding local and sustainable to reduce carbon footprints was very important to us.
We had a strong no plastic at the wedding clause and only brought in paper, fabric and wooden elements where possible.
Food 
All of or catered food was Vegan. Jake's cousin Food by Mark made us a beautiful vegan grazing table for our picnic which he said that he couldn't refill fast enough. He sourced local ingredients from local suppliers and farms.
And Club Mexicana street food came from London to cater our main meal and evening tacos. The were phenomenal!!!!! No one could believe how good Vegan food could be.
Wedding cake
Jake's aunty made us an orange ombré tiered cake (not vegan but still delicious). It was rhubarb and custard flavoured made with fresh home grown rhubarb from Jake's parents garden that was just in season.
Entertainment
Garden games by Sussex based Rent Event including a hand made strength test 'high striker' and a flamingo ring toss game that I fashioned myself. They are going home in our garden. Jake doesn't know about this yet.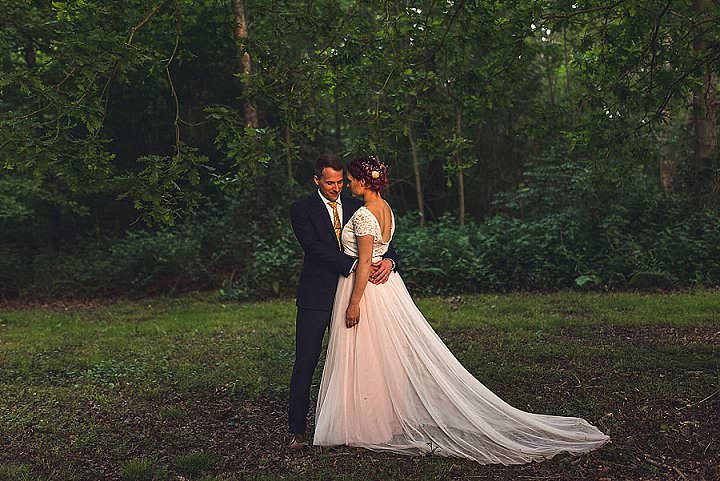 Personal Touches
I handmade our favours using Mexican Lotteria cards (which is a game like Bingo) and matched the pictures on the cards to the personalities of our guests. The favours themselves were ringbound recipe cards featuring our favourite easy to follow vegetarian recipes. We even made sure to make 2 different booklets so that couples didn't go home with 2 the same.
I also potted our own succulents and cactuses as centre pieces and used painted jars and tin cans which I spent months sourcing from the pub I work in. I run a kitchen so we turned old mushy pea tin cans gold and recycled giant glass pickle jars for flowers. I cleaned up a lot of Sipsmith gin bottles to use as water bottles for the table. My colleagues thought jay I was mad going home with bags of rubbish every day.
FOR MORE INFORMATION ON LAURA'S WORK PLEASE GO TO:
www.babbphoto.com / www.babbphoto.com/blog / FACEBOOK / INSTAGRAM / PINTEREST / TWITTER