Happy Friday everyone, I hope you have all had a fabulous week? If it is half term where you are and you have been off with your children, then I hope it has been a great week filled with fantastic memories and a large bottle of wine to celebrate the end fo the week with! I am very excited as this weekend we are off to meet our new kitten. We get to pick her up properly in around 3 weeks time, so today we are meeting her for the first time, so we can get to know her a bit better. Then I can do some serious shopping to get the house ready for her!
On with the last wedding of the week, and today is the turn of Melanthe and Joshua, courtesy of Sasha Weddings. They chose a modern warehouse venue to accomadate their 186 guests. Keeping things simple, with eucalyptus garlands across the wooden tables, hanging lots of fairy lights and letting the amazing warehouse venue of the Trinity Buoy Wharf shine though. I do love a modern warehouse wedding and this venue really is a stunner! They didn't let the rain dampen their celebrations, the whole day looks like an enormous amount fo fun, as well as being super stylish.
Despite torrential rain, our wedding day was perfectly and exactly what I had hoped for: fun, very happy and full of love. It was very simple, informal and relaxed.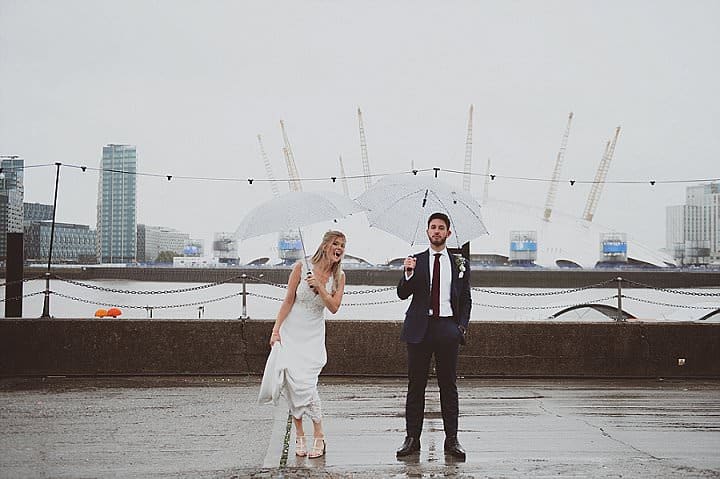 Melanthe and Joshua were married on 6th October 2018, both the ceremony and reception were in Trinity Buoy Wharf – Ceremony in the Electrician's Shop and the Reception in the Chainstore. 'It was the first (and only) venue that we looked at, and as soon as we saw it we loved it. We needed a big venue and we liked that it was dry hire so we could make it our own. We had 186 guests (we both have big families!) We got engaged in September 2017, so we planned the wedding in about a year or so.'
How they met
Josh and I met through a mutual friend in a pub in North London, and when he added me on facebook he saw that one of his very close pals was also a mutual friend. She ended up being the Maid of Honor on our wedding day.
The proposal
Josh proposed after about three years of being together. After about two and a half I proposed to him but he said no! He took me back to where we had our first date in Charing Cross – he took me on the same walk we went on our first date when we got lost trying to find the bar. He proposed on the street outside a police station, and then we went to the restaurant.
How did you allocate your budget?
Josh and I had the same feeling about the budget- we wanted to spend money where it increased the enjoyment (eg. on booze and food and a band) rather than extras and decoration. We found this helpful as we were bombarded with things that we could buy, but coming back to the question- will it make a difference to how enjoyable the day is- really helped us not to buy lots of stuff we didn't need.
Where did you splurge and where did you save?
The things we spent the most on were the venue and the extras (such as hiring furniture, the audio system etc) and the free bar. I saved money through having friends and family who could help out (my Maid of Honor's sister did the hair for myself and my Bridesmaids, a family friend did the flowers and my dad did the cake.) We had almonds in tulle for favours which were cheap and I made all of the stationary and I did my own make up, which reduced the cost dramatically.
How did you choose your photographer?
Our photographer Sasha was so great on the day and we were really pleased with all the photos she took. In the end she gave us over 1000 and there were so many great natural shots of us and the guests. We barely took any that were posed, and Sasha caught the feeling of the wedding perfectly without being obtrusive at all.
The dress 
I bought my dress online. The dress is from a website called Beholden (which only have shops in America). I tried on a few dresses in the UK but didn't like anything as much as the one I ended up buying. It wasn't expensive and very good quality (and was filthy by the end of the night). All my jewellery was my mum's or Grandmothers. My shoes were £60 from Carvella.
The suit and bridesmaids
Josh wore a suit that he already owned for work. The bridesmaid's dresses were bought online on an American site called Lulu's, the dress was called 'Tricks of the Trade' I really didn't want the bridesmaids to wear the same dress, so an 'infinity dress' was great as they could be worn in so many different styles. The material was really good quality and was a much cheaper alternative than the infinity dresses that I had seen on UK sites.
Theme or colour scheme
My Bridesmaids (and one Groomsman) wore burgundy and the other Groomsman wore navy suits. The flowers were mostly foliage, but with a few accents of burgundy and white.
Flowers 
I wanted to keep the flowers simple and so we just had foliage 'runners' on the tables which looked really nice against the wood. They were made up of ivy and eucalyptus. My bouquet was made up of foliage and some burgundy and white flowers, (I have no idea what the flowers were called but they looked lovely) and the bridesmaids had smaller versions of mine.
Decoration 
As the venue was so beautiful we didn't use any decorations as such. We had some LED candles and some fairy lights on two of the alcoves in the warehouse. We also had string lights on part of the ceiling.
Food
The caterers were Laffa – they specialise in Mediterranean food and were very good. We had canapes for the reception and then the dinner was served as sharing platters – there was plenty of food going around which meant people didn't go hungry. We didn't have desert but served the wedding cake and baklava as something sweet after. At about 11pm they served some wraps which went down a storm.
Wedding cake
My Dad is a chef and so we were very lucky that he made the cake. A few layers were fruit and a few were sponge.
Entertainment
We had a wandering band at the Reception which was really good- they walked around and played an acoustic set to different groups of people, and then after the dinner and cutting of the cake they played a set for about 45 minutes.
Who supplied the stationery?
I made most of the stationery – name cards for the dinner tables, the seating plan, welcome sign and all the other signs (eg. For cards and a Pimp your prosecco on the bar). We used Greenenvelope for the invitations and save the dates (this is a website that allows you to design the invites and send them via email.) This made keeping track of the RSVPs and dietary requirements really easy.
Personal touches
We bought about 40 wooden spoons that were used as microphones on the dancefloor. At first people were confused but they soon got the hang of it and loved it! I did a little 'Pimp your Prosecco' sign and had some elderflower cordial and berries for people to put in their prosecco at the reception.
Special moments 
I really loved walking down the aisle and seeing Josh standing at the end. I loved hearing all the speeches (we had a lot, as the Maid of Honour made a speech too) and loved doing my speech. And I also loved the dancing afterwards, I didn't leave the dancefloor once.
Advice for other couples
Don't sweat the small stuff.
Biggest surprise 
I wouldn't say there were any surprises as such but it was a perfect and hilarious day filled with joy and love.
Supplier Shout Outs
FOR MORE INFORMATION ON SASHA'S WORK GO TO:
sashaweddings.co.uk / sashaweddings.co.uk/blog /  [email protected] / FACEBOOK / INSTAGRAM /  PINTEREST/