Happy Monday everyone and how are you all? Did you have a lovely weekend? I do hope so. Mine was fab, time spent with my lovely family, which is always a winner. Now Dexter is back at school I have got my weekends back which has been great. Today we are off to Tuscany in Italy for the most beautiful wedding of Kristin and Mark. When you have a venue as beautiful as Casale De Pasquinelli you really don't need much else, the Tuscany backdrop is totally jaw dropping and makes this wedding even more perfect. I do however feel that every wedding needs a floral arch like this one, it's a thing of beauty! and as for Kristin's Rue De Seine gown, oh my! how stunning, topped off with the most gorgeous flower crown. Big thanks to Magills Film and Photography for capturing the day for us.
It was a dream come true. I never imagined it to be as perfect and beautiful as it was. 
Kristin and Mark were married on 4th June 2019 at Casale De Pasquinelli in Tuscany, Italy. 'We first visited the villa in September 2018 when Mark and I at the last minute booked flight to Italy. We hired a car and drove around a couple of different venues. A friend of mine had directed me to an Instagram story of a wedding that was being photographed in Casale De Pasquinelli. I immediately fell in love and instantly started to research the venue, all the reviews were excellent and highly recommended Gabriele as a wedding planner. So when we were in Italy I messaged Gabriele and asked could we call and view his villa. We drove on what felt like a never ending road up the side of a mountain, I felt sick with nerves. When we arrived we were just blown away by the location and the views, and also Gabriele who was able to answer all our questions and provide the information we needed. We knew it
was the place were our dream wedding would take place. We had 30 guests and Planning was easy with Gabriele, so just 6 months.'
How did you meet
Mark and I went to school together and grew up very close to one another, he was always my childhood crush, but when I asked him out in Primary 4, he ran away. He was afraid of girls then. Our paths crossed again about four years ago when Mark asked me out for dinner, food is the way to my heart. The rest is history.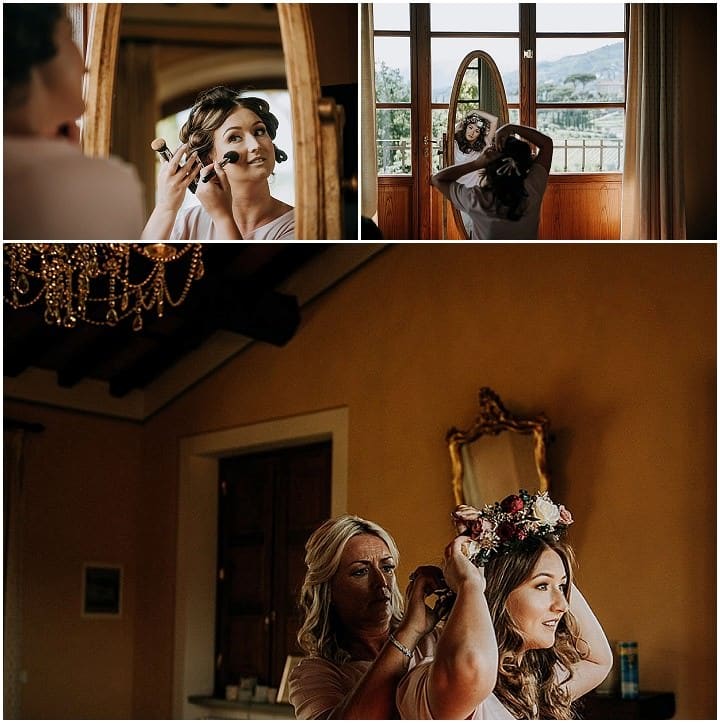 How did you allocate your budget?
This was tough in that we were unaware of the cost of a wedding abroad vs the cost of a wedding at home. We wanted a private wedding in a secluded area where all our guests could be accommodated together so this meant hiring the villa for a minimum of three nights. Our wedding was simple, with very little frills. The venue and the stunning views spoke for themselves.
Where did you splurge and where did you save?
Venue splurge and save on frills
How did you choose your photographer?
Leanne from Magill's Film and Photography is from my hometown and we flew her out to shoot our wedding. Not only did this cost less than hiring a photographer from Italy but she was the icing on the cake. This woman is just incredible, her talent and creativity is second to none, and her personality shines through in everything that she does. It is so important to find the right photographer that you feel comfortable around, photos are memories to treasure forever.
The dress 
The White Gallery, Burren, Co. Down, Designer: Rue De Seine 'Luca' dress, . It was the last dress I picked out and asked 'can I just try this one on for the craic'. I loved it on the hanger but never thought I
would have the confidence to wear something so different. I always imagined that I would wear a very plain dress with a boat line collar, when I tried this style on it just didn't suit me. The 'Luca' dress was so light and comfortable and very easily transport. I was able to put it into my hand luggage.
The bridesmaids
Ghost London, 'Taylor Dress, Boudoir Pink', ordered directly from the website
Theme or colour scheme
Theme was rustic
Flowers
Folky Dokey, Glossop England, I ordered these dried flowers via Facebook,  and I LOVED them! This included brides bouquet, crown and bridesmaid floral hoop and grooms buttonhole. Wedding & Co.
Catering and Flower Design provided the flowers at the venue to include floral arch, table greenery. I didn't want too many flowers as I didn't think they were required as our wedding was held in the beautiful gardens of Casale De Pasquinelli. The first this I knew I wanted for the wedding was a floral arch with pampas grass and Wedding & Co. created exactly what I described.
Wedding cake
Naked Cake with vanilla sponge, lemon & pistachio cream filling
Entertainment
Roberto & Co. saxophone and vocals
Who supplied the stationery
Paperbark Stationary, Bangor NI,
Personal touches
Favours: Personalised log slices for each guest made by the Bride – Ditsy Love Designs
Special moments 
Mark and I are in no way musical nor can we dance and this was the part of the wedding that we weren't looking forward too. In the end it turned out to be one of my favourite moments. Our first dance was a Shania Twain medley covered by Caleb + Kelsey, in that moment it was only Mark and I, I was so happy and engrossed in the words of the song that I didn't see anybody else in the room – it was a very special feeling.
Advice for other couples
Do not stress and do not worry about what other people will think, it is YOUR day. Take time to sit back and take it all in. Watch how happy people are for you, hear their laughter and happy tears, smell the wonderful food, flowers, perfumes and air of happiness. Allow yourself to feel all the emotions as it is so important and lastly spend time with those dear to you as it is a moment to look back on and cherish forever.
Biggest surprise of the day
It was the best day of my life and getting away to a vineyard was a highlight and a surprise as Mark and I don't usually like photos.
Supplier Shout Outs
For more information on Magills Film and Photography go to
www.lmagill-lifestylephotographer.co.uk / www.lmagill-lifestylephotographer.co.uk/blog / FACEBOOK / INSTAGRAM