Happy Friday everyone, I hope you have had a good week so far? What have you been up to? Anything wedding related? While I am in very hot Dubrovnik, having a lovely old time, I thought I would share with you this beautifully modern and minimal wedding from Texas. Kelsey and Alec wanted a modest, yet stylish wedding. Something with minimal fuss, but that reflected their personalities. With a colour palette of white, blueish grey and some beautiful brown tones in the flowers, they created a stunning looking wedding, that I know you are going to love. Big thanks to Laura Sponaugle Photography for the images.
Our wedding day was a perfect representation of us and our relationship. It was personal, modest, peaceful and simple yet refined. Most importantly, we were surrounded by all of the people we care about the most and the space radiated with love and joy.
Kelsey and Alec were married at Prospect House, Dripping Springs in Texas on 14th October 2018. 'Austin, Texas was always in the back of our minds – I went to school there and we love visiting. We looked at a couple venues in and around the area, however, once we laid eyes on Prospect House, it was game over for us. Prospect House is a private 20-acre hill country site about 25 minutes outside of Austin.  It had the proper amenities, minimalistic and thoughtful design, and tranquil feeling we were looking for. If we were to do it all over again, we'd choose this place in a heartbeat. We had around 200 guests and it took about one year to plan, although we probably didn't even need that much time. We got engaged in August and our wedding was the following October. We didn't want to get married in the summer in Texas so we decided on October, hoping for cooler weather! We planned slowly, chose one thing at a time, starting with the venue.'
How they met
We actually met in high school although we went to different schools. One of my friends at the time moved to our neighboring city, met Alec, and introduced us. We were pretty crazy about each other from the start and began dating a few months after meeting. Almost a year after that, as we were about to go off to college, we broke up and stayed apart for about a year. I went to school in Austin and he in Houston. We got back together in the middle of college and have been together ever since.
The proposal
We were driving through Rocky Mountain National Park on our way to Boulder. He was so quiet and nervous that day, I didn't understand why he was having a bad time, especially because visiting national parks is one of his favorite things. Toward the end of the day, we drove up to a scenic overlook and got out to "hike." A few steps down the trail, he got down on one knee and proposed! I truly couldn't have been more surprised.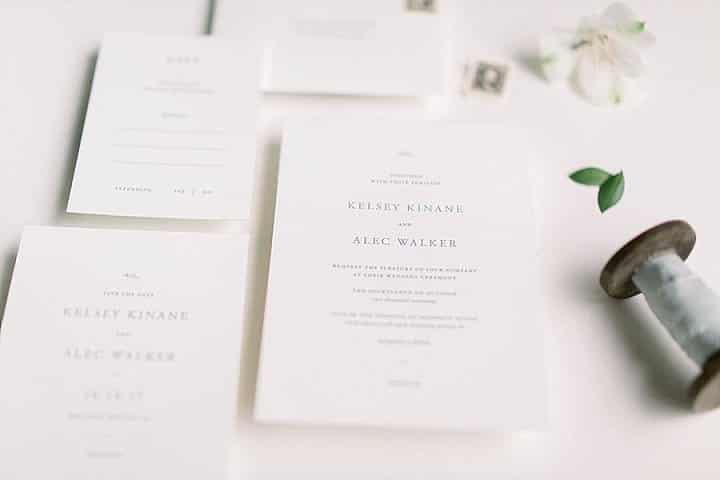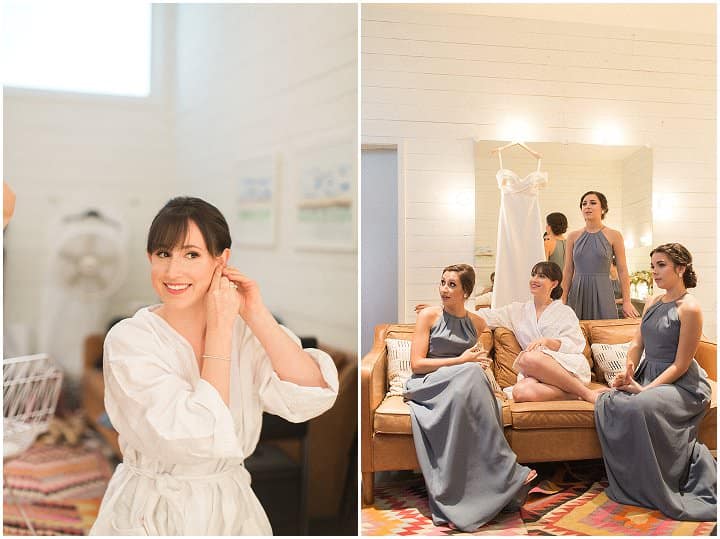 How did you allocate your budget?
Before we started making any wedding plans we made a list of the things from highest to lowest priority to us and allocated more of the budget toward our top priorities. We cared most about the quality of the venue, the food, the music, and photography, so that's where most of our budget went.
Where did you splurge and where did you save?
We splurged on the venue, food, DJ, and photographer since we were not willing to compromise the quality of those pieces. We hired a day-of wedding coordinator instead of a wedding planner which was worth every penny! She gave us peace of mind that all details would come together seamlessly and helped guide us through the day. I don't think we could've done it without her. We kept the decor and florals very minimal by design. I'm a graphic designer so luckily, I was able to design all of the printed materials. I even worked out a trade of services with my florist!
How did you choose your photographer?
As I previously mentioned, I'm a graphic designer and had worked with Laura Sponaugle on client projects in the past. I knew she did wedding photography and loved her aesthetic and the fact that she incorporates film photography.
The dress
My dress was the Blake Gown by BHLDN. The shoes were a last minute find at Dillard's! I actually forgot all of my jewelry (except the rings) at home in Houston – ha! After a frantic scramble, one of my bridesmaids let me borrow her grandmothers diamond earrings and they looked perfect. Even better than the jewelry I had picked out. I also wore my grandmother's pearl ring and my aunts veil. Almost all things borrowed.
Suit and Bridesmaids
The mens' suits were from Jos. A Bank, and the bridesmaids dresses were from Weddington Way. I gifted the bridesmaid custom earrings from Nicola Bathie Jewelry.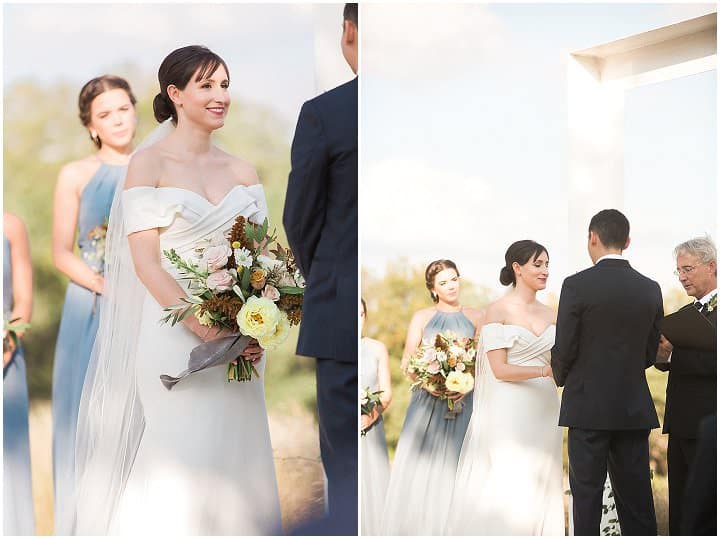 Theme or colour scheme
Minimal, classic, elegant. The colors were white, a light slate blueish gray, and color from the greenery and fall florals.
Flowers 
We had mostly greenery consisting of olive branches, bay leaves and eucalyptus. The flowers: We used an assortment of flowers for the bouquets and in a couple vases around the venue. I told our florist to bring any flowers in a warm color palette that had unique texture, and we made the bouquets that morning!
Decoration 
One thing we loved about Prospect House was that the architecture and surrounding landscape was so beautiful on its own that we didn't think we needed much decoration. We had greenery sprinkled around the venue, on the dining tables, and had a bunch of candles on the tables as well.
Food
Mandola's Italian catered, and they were fantastic. We had a few passed appetizers – meatballs, bruschetta, and stuffed mushrooms; and, for the main course, we had chicken piccata, fettuccine, eggplant parmesan, baked ziti, bread, and salad.
Wedding cake
Italian cream cake from Quack's 43rd Street bakery!
Entertainment
Music was very important to us on this day. We're both passionate about music, and it's one of the things that brought us together. We didn't want any cheesy or expected music. We wanted to choose songs that we would normally listen to and enjoy. The recessional song was "This will be our year" by the Zombies. Our first dance was "Our House" by CSN&Y. We've always loved that song, and it reminds us of our relationship. In the background and during our dance, we had a playlist mostly 60s rock, disco, rat pack music, classic country, and modern music like LCD Soundsystem and Courtney Barnett.
Who supplied the stationery?
I designed it and had it printed at a local letterpress shop. 
Personal touches
I'm a graphic designer so I enjoyed designing the save the dates, invitation suite, the guest book, table numbers, seating chart, Koozies (because you've gotta' have a wedding koozie), napkins, and programs.
Special moments 
Getting ready with my girls and my mom, that moment with my dad right before he walked me down the aisle, and seeing Alec at the alter with tears in his eyes. Seeing everyone we love all come together and have a good time was very special and the dancing was more fun than I anticipated! Not going to lie though, getting back to the hotel and being able to finally relax after months of preparation and anticipation was incredible.
Advice for other couples
Pause, and take it all in on your wedding day. Try to live in the present moment and remember what the day is about. – Accept that you can't please everyone. – No need to stress or panic over anything. You'll be on Cloud 9 that day, and, even if something goes wrong, you won't notice. – Ask for help. -Have a day-of coordinator – Have someone who will look out for during the day (fixing your hair, helping you reapply lipstick, etc.) – Write gift thank you notes as they come in: then you won't have to do them all at once. – Use Google docs and Google spread sheets to keep track of your guests and planning info.
Biggest surprise 
When Alec and I were first together in high school, on my birthday, Alec left a series of notes around my room, as a scavenger hunt to my gift. On each note, he wrote something he loved about me or something special about our relationship. I had completely forgotten about these notes. My mom found the notes and gifted them to me the morning of our wedding day. That was pretty special.
Another thing – my dad loves the Rocky movies, and kept threatening to play the Rocky theme song for our father-daughter dance. Sure enough, we were about to start our dance, and the DJ turned on the rocky theme song – ha! My dad coordinated it earlier that day. I guess I'm not really surprised.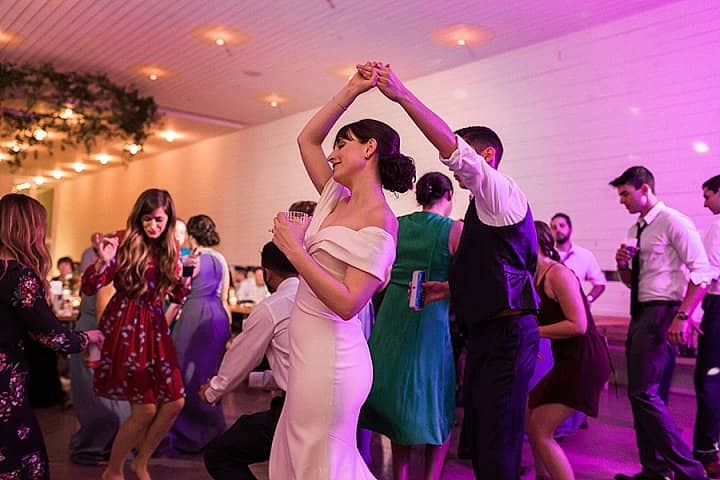 Supplier Shout Outs
For more information on Laura's work go to
laurasponaugle.com / laurasponaugle.com/blog / [email protected] / 1 281.413.9401 / FACEBOOK / INSTAGRAM / PINTEREST / TWITTER
I am an international wedding and portrait photographer, based in Texas. After many years of photographing the most important day in people's lives, I truly appreciate the differences that make us individuals. I capture the classic, the spontaneous, the festive and the quiet moments. I document while capturing timeless imagery that you can look back at 20 years from now and remember just how you felt that day. Each family, each couple, has a unique story to tell and I am there to capture it. Telling stories and being able to preserve these treasured memories is a feeling that will never grow old. This is truly a passion that pushes me to my limits.