Happy Monday everyone, I do hope you have had a wonderful wedding filled weekend? Have you been to any weddings at all or have you been busy with your wedding planning? My weekend was filled with Dexter's dance show, he had his last performance on Saturday night, and I couldn't be more proud! He did a fantastic job, especially considering he was the youngest boy in the whole performance. This week I am on holiday count down as we are going to Ibiza exactly a week today. SO much to get done before we go, but I am super excited so I'm sure everything will be fine.
Lauren and Nathan start us off on our week of amazing weddings with their completely breath-taking day that takes place in the most stunning conservatory in Michigan. They filled the conservatory with the most amazing flowers. Oh sooooo many flowers. They really are a complete dream! The entire wedding is like something out of a film, the whole area looks stunning, I just adore it. So glam, but with a real ethereal feel to it, totally jaw dropping! Northern Native Photography was there to capture the day for us.
Our day was ethereal and full of love. We have never experienced such an epic display of support and joy as we did on our wedding day.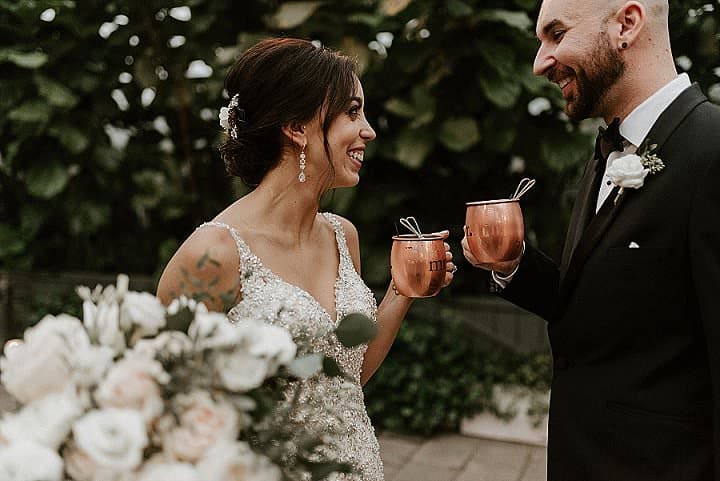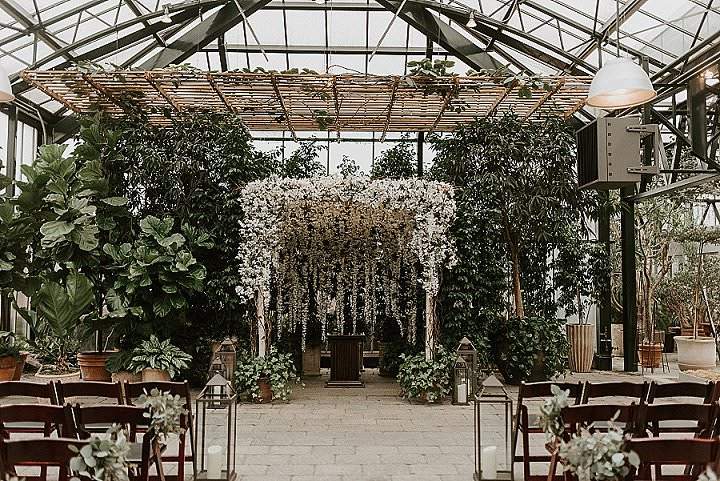 Lauren and Nathan were married on 24th November 2018 at Planterra Conservatory, West Bloomfield, Michigan. 'We wanted our wedding to be one word: magical. We knew that in the colder months an outdoor wedding is hard to come by in Michigan, so we explored the idea that we could be surrounded by nature and plants without sacrificing comfort. Enter: Planterra. We knew from the moment we walked in that this was our venue. Nate even said "game over" as we walked through the second set of doors. We had 150 guests. We got engaged in October 2017 and booked Planterra in November 2017 for the only Saturday date they had for the entirety of 2018. We got the big things checked off the list, the dress, the photographer, the flowers and food (both done by Planterra) and then we got to ease into the other details a little later on.'
How they met 
We have been together for almost 3 years. We met as kids, Nathan played sports with my cousin. His mom and my aunt are still great friends and they each spoke to us individually about if we remembered each other, and how we would make such a great pair. Nathan finally was convinced that if he just messaged me he could put the idea to rest. After a few months of texting, phone calls, and FaceTime, we finally planned a weekend where we could go on a date. Although we didn't necessarily say it to each other, we knew from that first date that we would get married and spend forever together. I remember taking a photo of him trying a Moscow Mule for the first time, thinking "this is the man I am going to love for the rest of my life." Nathan went to lunch with his mom the next day and told her "Mom, I'm going to marry her one day".
The proposal
On our one year anniversary of loving each other, Nathan gifted me a beautiful piece of art that shows the constellations exactly as they were on the day and location of our first date.  Then, in October 2017, he brought me back there to ask me if I'd hang out with him forever. We were able to have a beautiful dinner with our families waiting for us afterward.
How did you allocate your budget?
We sat down with my parents and Nathan's to talk about all the logistics! My mom made her famous pasta in the oven and we gathered for a few hours for dinner first before jumping into talking about the budget, but it all went smoothly!
Where did you splurge and where did you save?
We splurged on the venue, definitely, but that was one of the most important planning pieces for us and honestly helped in many ways, too. We essentially had a built-in wedding planner and did not have to separately book floral or catering services. They were the most amazing staff and we felt so taken care of. Everything was so well thought-out! We saved on some of the details that a talented family member did for us, like our place cards, my veil, signs for the dessert table and bars, and by not having a huge cake!
How did you choose your photographer?
We wanted someone who could tell our story, not just capture images. I spent several weeks researching photographers, combing through their work, and reading their reviews. When I found Cassie's website I knew she could give us everything we could ask for and more. From the moment I shared her artistic style with Nate he fell in love with it as well! (Plus she is one of the best humans we have ever met!)
The dress 
My dress was by Essence of Australia and was selected at Bella Bridal Gallery. The earrings I wore were from Etsy (Crystal Avenues), and the shoes were part of the Blue by Betsey collection! (Although I did switch into ivory Converse after dinner!) My veil was homemade by a family member and after the ceremony was replaced by a floral hair piece made by Planterra.
The suit and bridesmaids
Nathan's suit was from Generation Tux, as were the groomsmen, Father of the Bride, and Father of the Groom's tuxes. The bridesmaids, best woman, and flower girl's dresses were from David's Bridal!
Theme or colour scheme
I'm a huge fan of all the neutrals, so the bridesmaids were in a biscotti color and the groomsmen were in charcoal. The bouquets, corsages, and boutonnieres were white with greenery and blush. For the reception area, we loved the idea of playing up the berry colors for November.
Flowers 
Such a variety! We showed photos to Planterra and they worked their magic. I believe we had white ranunculus, garden roses, amnesia roses, olive branches, eucalyptus, privet berry, thistle, purple astrantia, and probably many more! They were all so beautiful!
Decoration 
The aisle had rose petals and lanterns with eucalyptus bunches on some of the chair ends. The reception had a pallet sign with our last name and a flower-filled bird cage for the gift and card table, and all the dining tables had mixtures of candles, candelabras, and floral settings. We had macaron favors at each table setting made by Sweet Heather Anne.
Food 
Cocktail hour included a charcuterie station, vegetable samosas, szechwan donuts, and day boat scallops with bacon. For dinner, there was salad and a choice of filet mignon, salmon, or mushroom pasta with truffle oil. For a late night snack we had pizza!
Wedding cake
Sweet Heather Anne did our beautiful cake, which was a "naked" cake with flower details that matched our table settings. We chose to have a crème brûlée station and dessert table and served the cake at our brunch the following day.
Entertainment
We had a cocktail acoustic singer/guitarist, Nick Fugedi. The band we chose was Nick Kuhl and the Gang. Our guests were on the dance floor all night and they put on an epic set!
Who supplied the stationery?
We went through Minted for our Save the Dates, Invitations, and Thank Yous.
Personal touches
It was important to both of us to have touches of our own personalities in our special day. I added my grandma's broach to my bouquet as my something "old" and I went down the aisle to a song from Harry Potter called "When Ginny Kissed Harry". Nate chose to walk down the aisle and have our bridal party walk down to one of his favorite instrumental artists, Explosions in the Sky to the song "Your Hand in Mine", which coincidentally is the first song he ever added to the collaborative playlist we created when we first started dating. He wore his infamous feather ring and chose to have his female cousin as his "Best Woman", instead of having a "Best Man". We also had an adult ring bearer, my cousin was our "Lord of the Rings" and it was great to be able to include people that mean so much to us! We also had a signature drink of Moscow Mules that we enjoyed together on our first date.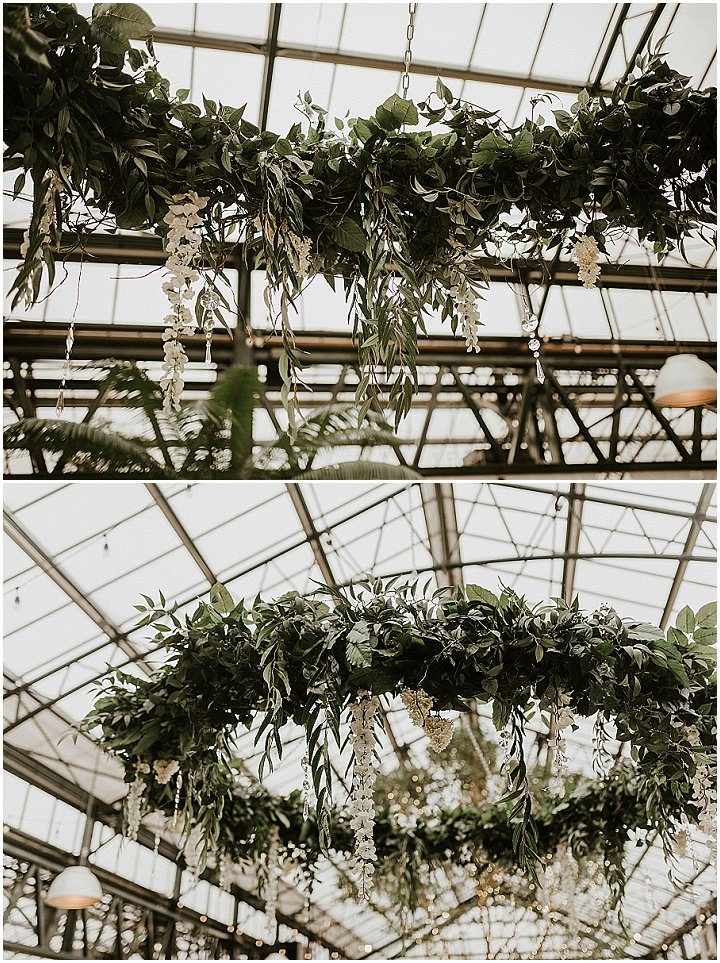 Special moments 
Definitely seeing each other for the first time as my dad walked me down the aisle, reading letters to each other the morning of our wedding, and being announced as a "Mr. & Mrs.!" We put a lot of thought into the readings that were read during our ceremony, as well as our vows that we said in unison. We slow dance a lot at home, so our first dance was a very intimate moment for us. Spending the morning with my mom, sister, and bridesmaids and getting a "first look" with my dad when I finally put my dress on was so special to me.
Advice for other couples 
Remember the why. Keep the important things in perspective and why you are doing all the planning in the first place, which is to celebrate your love. It can get easy to get caught up in all the details. Enjoy each moment, they aren't making it up when they say the day will come and go before you know it. Soak in each moment, and a few times throughout the day/night walk away, just the two of you, to really take in the bliss and pure sweetness of the day. Also, learn how to cut your cake before it's time to do it at your wedding! Ours ended up fine but we had no idea how to do it and it was trickier than we expected!
Biggest surprise 
That it had arrived. Time went by so fast leading up to it! Another surprise was when we got a call that our Trolley had been in an accident the night before. While it was a bummer to not get some photos with it, we were thankful that it potentially prevented anything negative from happening to our families, our guests or ourselves. It was easily replaced by a different kind of vehicle and it all worked out just fine!
Supplier Shout Outs