Happy Monday everyone and happy Bank Holiday if you are in the UK! I hope you are enjoying a well-earned day off and hopefully the weather is being kind to you? This morning I am waving my mum off at the train station as she heads back to Cornwall after a lovely weekend visiting us all, then we are off to a spring fair with Dexter and two of his cousins.
This week I have a great selection of cracking weddings for you, starting off with Genna and Liam. This laid back couple wanted to represent their love of all things Viking, along with their love of Norse mythology, and this they did within the decor of their day. Genna is very spiritual and loves the whole Boho vibe, so wanted a unique location that would accommodate her free-spirited nature. They incorporated lots of rustic detailing, along with some amazing DIY projects. The whole day is completely unique, and is made even more special with some rather cute animals. Luke Slattery was there to capture the day.
A perfect blend of personalities; a day created by us, for us.  It was a unique day of celebration to begin our lives together joined by the people we hold dearest.
Genna and Liam were married on 22nd September 2018 at The Wellbeing Farm in Bolton. 'Initially, a wedding surrounded by nature was the aim. It was a struggle to find something that fit the image without asking guests to travel so far. The Wellbeing Farm was a unique location not too far for guests to travel offering indoor & outdoor space to create the dream wedding. We had just over 50 day guests and approximately 100 evening guests it took a year to plan.' 
How they met 
We have only been together for 2 and half years. Our parents live over the road from one another so have known each other for over 10 years, we were initially neighbours only stopping to say 'hi' now and then, we somehow became friends which developed into more.
The proposal
Liam planned the proposal quite impulsively around a daytrip that we had arranged to Matlock Bath Illuminations. He had no knowledge of the area so was unsure where, when or how it would be done.
Luckily for him, there is a tourist attraction called Heights of Abraham- which is a hilltop park reached by cable car and of course, I wanted to go up.
Whilst in the cable car, while I was busy taking photographs of the scenery, Liam was nervously declaring his love and pulled a ring out of his pocket.
It was just like our relationship- unexpected but natural. He hadn't told any friends or family what he had planned so we were able to surprise everyone together.
How did you allocate your budget?
The venue was the most important factor for our day so we weren't willing to compromise on that. Once we had the budget for that it was quite a laid- back approach to everything else. I used an app  combined with my own spreadsheet to keep track on spending & looking at where we could save.
Where did you splurge and where did you save?
The venue, food & little extras such as having a 'shot bar' were the most costly but it was important for us that our guests had the best experience. We saved a lot by getting crafty- I wanted to be as involved as possible in creating the wedding we imagined so it fed into the rustic 'handmade' vibe we wanted to create.
We were lucky enough to have a family friend with a VW campervan that he hires out for events, this was our transport of choice so we saved a lot for something we really wanted just by asking around.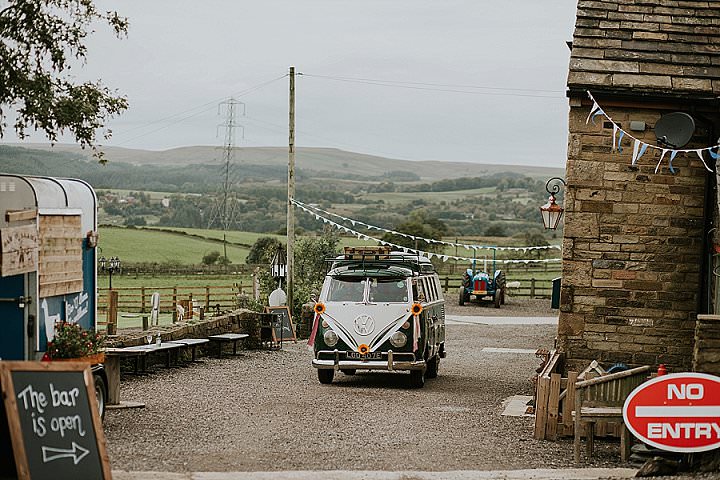 How did you choose your photographer?
We chose Luke Slattery as he had previously been the photographer for Liam's brothers' wedding. The family insisted he was the only man to take care of capturing the day… it was a great choice!
The dress 
The dress was named 'Summer' by Heidi Hudson from Wed2b in Bolton, a full lace ivory sheath dress, my shoes were blue Carvela stilettos for the day (with a change into white converse for the evening). Blue stone Pandora earrings which were a gift from Liam. A leaf head garland made by the florist who did the bouquets & buttonholes- Flowerbomb, in Littleborough. A black arrow arm band- tying into our Viking theme.
The suit and bridesmaids
The suits were bought on the high street to keep a relaxed vibe & so the groomsmen didn't feel too uncomfortable or restricted. We bought jackets from H&M, shirts and chino trousers from Next and the men all chose their own 'navy blue' shoes. To smarten it up we ordered cravats & pocket handkerchiefs.
We had one bridesmaid, she wore a one-shoulder midi prom dress in pale blue from ASOS & navy blue wedge shoes.
Theme or colour scheme
We both have an interest in Vikings & Norse mythology so this was a loose theme for us. I myself am bohemian and quite spiritual so keeping things quite natural & earthy was important. Blue was the main colour of the day, mostly due to Liam's love of Manchester City.
Flowers 
I asked for a 'natural bouquet of greenery' I discussed my style & our wedding theme but gave the florist creative freedom as I had no clues on flowers. I ended up with white peonies & dahlia, blue thistles, eucalyptus leaves, poppy pods, scabiosa pods, dusty miller & succulents- it was one of the most emotional moments seeing what the florist had created- so perfect.
The men had blue thistle buttonholes with some foliage and brown feather tied with brown string.
Decoration 
The Farm have an amazing store room full of rustic decorative options. We had fairy lights on the ceiling and coloured bunting. Jars around the room filled with fairy lights which kept the room dark as we wanted a Viking food hall atmosphere. We used wooden logs, with the tables set out in long rows, we bought meters of crepe material in grey, navy and ivory which draped nicely down the centre of the tables.
Liam and I made teepees from sticks we collected at the local park for our centrepieces. Everything was kept simple and magical.
Food 
We wanted to offer food that guests would really enjoy. We opted for a set starter & dessert. We chose a warming soup to begin & an Eton mess served in rustic jars for dessert. For main course we opted to have meal stations so guests had options to choose from. The Farm sourced all produce locally which really appealed to us. We chose to have filling meals- pie served with potato wedges & peas. Chicken curry with rice and naan bread, and a build a burger station also served with wedges. All stations had vegetarian options.
In the evening, pizza was made outdoors on an open pizza oven.
There was also an open fire pit where guests could sit around and toast marshmallows.
Wedding cake
The wedding cake was a single tiered lemon semi-naked cake bought from a local lady who runs a cafe near us. We also had a selection of donuts glazed in copper and blue icing.
Entertainment
During the meal, we created a quiz for the tables based on how well the guests knew us as a couple. We gave another bottle of champagne to the winning table which was really fun and had our mixed tables interacting with each other- this was the main aim.
In the evening, we had a DJ & photobooth (our wedding favours were photo frames for the guests to fill with a memory from the day).
We had the DJ give out inflatable guitars to guests to join us before the end of our first dance & glow sticks a-plenty to represent the northern lights.
We had a 'shot bar' which we filled with Jack Daniels for guests to help themselves to.
Personal touches
Liam and I designed and made our own Save the dates, invitations & seating plan…
I bought a corkboard and covered it with material, we printed the table plan on card with a background of the northern lights, which we saw on our first trip together to Norway & named each table after a place or person within Norse Mythology.
On the opposing side of the corkboard, we made a message board and supplied tags for guests to write notes on and peg to string/ribbon instead of a guestbook.
On each table, we supplied an information card relating to the person or place their table was named.
The teepees for our centrepieces were made one sunny afternoon, Liam and I collected sticks in the local park, Liam treated these and then I went to work with string to keep the shape and hours of making sure they were strong enough to stand, finished off with some artificial flowers really looked the part,  hard work paid off in the end.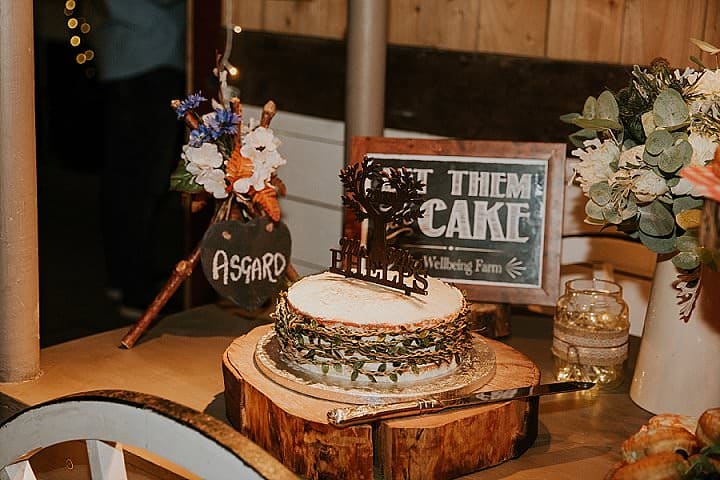 Special moments 
Liam most dreaded the speeches but these went really well with a mix of humour and emotion so this would be his highlight; he was then able to enjoy the rest of the evening. A highlight for me was the hand-fasting which we did outdoors, this was quite personal to me as a spiritual person, I'd crafted a hand-fasting cord for the occasion. A special moment of the day was the first dance, it felt like the pinnacle of the days' festivities. The song felt like an overview of our 'couple style' introducing us to the world as one unit & when everyone joined us at the end with inflatable guitars and the evening began it was such fun.
Advice for other couples 
Your wedding day should represent you as individuals and who you are as a unit. Don't worry about pleasing guests, enjoy your day & experience as much of it together as you can. Everyone will tell you that the day will pass so quickly & you have no idea just how true it is until the day comes.
Biggest surprise 
That all of the elements of the wedding went to plan. A lot of that is down to the staff at the venue. The weather was perfect for the day and the best surprise was how everyone responded to the choices we had made…
We had made our wedding bespoke to our interests & our idiosyncrasies but whilst we created a day 'for us' our worst fear was if at any point any guest felt bored.
Luckily, we had the best feedback from guests about how much fun they had and how amazing the day was, some guests even reminded us of things we'd organised for people to experience on the day.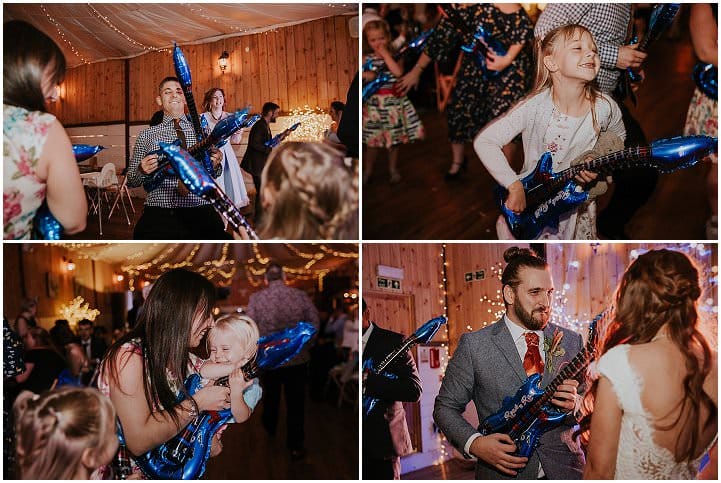 Supplier Shout Outs
For more information on Luke Slattery Photography go to
www.lukeslattery.co.uk / www.lukeslattery.co.uk/blog1 / [email protected] / 079 6409 9919 / FACEBOOK / INSTAGRAM