Well hello Wednesday and how are you all as we reach the mid-point of the week? I am still on holiday, having a lovely time in North Yorkshire. How's your week going so far? Today I am taking you off to sunny Hertfordshire for the gorgeous wedding of Charlotte and Ed. They were lucky enough to hold their wedding in Ed's family woodland garden which enabled them to hold the wedding exactly as they wanted, using the suppliers they wanted with no limitations. They created, in their words, a 'plain and simple' wedding which was mostly homemade, with simple foliage and pretty flowers. All with a truly personal outdoor woodland ceremony, followed by fab Tipi reception. Big thanks to Howell Jones for the photos
A quirky, relaxed super fun affair. A bit haphazard, but somehow all came together to be just perfect and totally us.
Charlotte and Ed were married on 2nd September. 'We had our legal ceremony a couple of days before at Bristol Registry Office. This was pretty low-key as it was just us with our immediate families and bridesmaids/best men – but had a wonderful dinner together at The Pig in Bath after. Then the big day was at Ed's family's woodland garden in Sarratt, Hertfordshire. It's a really special place where Ed grew up, really beautiful and a venue that was personal to us. It meant we could do whatever we wanted to, however we wanted to, without some of the constraints that many venues demand. Making sure our wedding day was exactly how we wanted it to be was super important to us. We had around 120 guest and it took the best part of a year to plan.'
How they met 
We met at medical school in Swansea. We'd been together for 6 years before we got married.
The proposal
Ed proposed to me when I was in a bathtub in a log cabin overlooking the Isle of Skye. His initial plan had been to propose at the top of some beautiful hill, with a beautiful view – but this was Scotland in December (!) and the sideways rain, fog, and me moaning whilst walking up the hill led to a last-minute change of plan. He took me totally by surprise as I always expected to be at the top of a mountain when it happened.
How did you allocate your budget?
Badly! We definitely overspent!!
Where did you splurge and where did you save?
The venue was free, but we ended up unintentionally splurging on pretty much everything else!
How did you choose your photographer?
Loved his photos, met him and he was definitely on our wavelength! We didn't want the day to be about the photos, but obviously still wanted some beautiful pictures. Warren was great – discreet when he needed to be, but an absolute pleasure to be around when he was there.
The dress
Dress was Laure de Sagazan. Shoes were fairly simple, chunky heels from Steve Madden – super comfy and could have survived the mud if needed!
The suit and bridesmaids
Suit was from Paul Smith. Bridesmaid dresses were from Rewritten.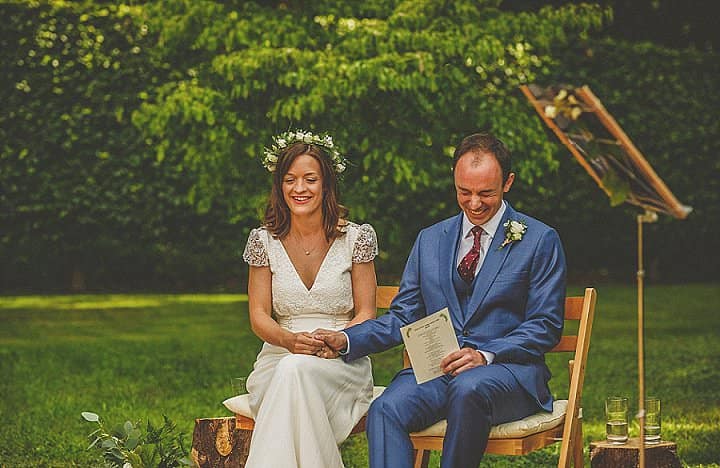 Theme or colour scheme
We just love plain and simple. So wooden tipis, lots of greenery and foliage and the amazing blue of the bridesmaid dresses was enough of a theme for us!
Flowers 
Simple. Lots of foliage with white flowers – ammi and lisianthus predominantly.
Decoration 
Again, fairly simple. Small bottles of lisianthus on the tables, ferns down the aisle, ruscus on the tipi poles, eucaplytus wherever we could hang it and pots of hydrangeas dotted around. One of Ed's friends did an amazing job lighting the venue for us – it looked spectacular at night.
Food
Fab canapes, slow cooked lamb, chocolate mousse and bath cheese.
Wedding cake
One of our friends gifted us with a cheese wedding cake. Then we had made our own cake – but in the excitement of the day before, forgot to ice it so it never made an appearance! Went down a treat the following day though.
Entertainment
We had a singer/guitarist for the ceremony called Robin – she also played for an hour or so during drinks and canapes. We then had London Brass Allstars (a five-piece brass band) in the evening followed by a carefully selected Spotify playlist taken over by our guests DJ'ing till about 3am!
Who supplied the stationery?
A local artist called Ellie – she was amazing!
Personal touches
We (mainly Charlotte!) organised the whole thing from scratch bringing in power, toilets, showers and a kitchen to the venue. We ended up doing quite a bit DIY – the signposts, the seating plan, the favours (chocolate fudge – an old recipe passed down from Ed's grandma), and we made some sloe gin that were picked from the neighbouring fields. My sister was amazing and learnt calligraphy so she was in charge of writing all our place names.
Special moments 
Definitely the ceremony. As we had got 'legally' married a few days before at the Registry Office in Bristol with just close family, we could do what we wanted to on the day. One of our best friends, Mark, presided over the ceremony and was brilliant. We took bits we liked from a regular church wedding, as well as from non-religious ceremonies. Doing it this way meant we had no rules over what we could and couldn't do. And we got to sing 'crazy little thing called love'…
Advice for other couples
Don't sweat the small stuff! So, so easy to say in retrospect. But so many things went wrong on our day (DJ not turning up, toilets temporarily breaking etc etc.) but it didn't matter in the slightest – they all made the day what it was and that was absolutely fantastic. Wouldn't change a thing!
Ed says – do your own thing, do it your way, make it personal – whatever that means to you!
Biggest surprise 
How much we loved actually getting married and saying our vows.
Supplier Shout Outs
FOR MORE INFORMATION ON HOWELL JONES PHOTOGRAPHY GO TO
  www.howelljonesphotography.co.uk / [email protected] / 07954044495 / FACEBOOK / INSTAGRAM
Hi there, I'm Warren and I run Howell Jones photography. I am based in Bristol and I have been photographing weddings for over ten years. Do I travel ? Absolutely, the only way I will not shoot a wedding is because I am already booked on that date or I cannot possibly get there in time. I do not mind where it is or which country it is in, I have photographed all over the world from the United States to Europe and from Africa to Australia, traveling is what I love doing. My style is more documentary, photographing the moments of the day is the most enjoyable part of my job, but I also respect the family photographs, the portraits and the little details.