Happy Monday everyone, I hope you all had a wonderful weekend? What did you get up to? I hope the weather was kind and that it is beginning to look like Spring where you are. Our weekend was full of Spring fetes and Easter celebrations, it's never too early to get those Easter eggs stacked up! This week is shaping up to be a fabulous week of weddings and I am kicking it all off with this complete stonker by This and That Photography. If you are a fan of the film 'Back to the Future' you are going to LOVE this wedding. When I saw it I just knew I had to share it with you, as it is totally unique and full of the most amazing decoration. Balloon installations for bubbles, a giant anchor, a whales tale, the most amazing flowers and a kick ass band! Oh yes, I really wish I had been a guest at this wedding. It looks like SO much fun! Emily and Richard, I applaud you for pulling off such a unique and fun-filled wedding day, it all looks amazing!
Enchantment Under The Sea, via Islington. Massively extra, totally unique, silly at times and SO MUCH FUN, oh and really really hot.
Emily and Richard were married on 4th August 2018, they held their ceremony at Islington Town Hall with the reception at Islington Assembly Hall. 'We wanted to get married in London and wanted a venue that could capture the feeling of the Enchantment Under The Sea Dance from Back To the Future  – our favourite film! Islington Assembly Hall perfectly fitted the bill – we loved the 30s decor, the high ceiling, epic stage and beautiful velvet curtains. The team there were amazing too, they did so much to help us and accommodate our unusual requests. We had 120 guests in the day plus an extra 20 or so in the evening. The only thing we did far in advance was the venue! We then smashed the rest of it in seven months; we didn't want wedding planning to take over our lives for too long!'
How they met 
We met the traditional way…online. We were together just over a year when Rich proposed and had a rather long engagement (2.5yrs). It's just coming up to 4yrs since our first date.
The proposal
Ridiculously romantic, but by accident. We were on holiday in India and the taxi driver misheard Rich and took us a a really posh hotel with a restaurant overlooking the lake in Udaipur. A walk down to the edge of the lake after dinner, on a pontoon all lit up, just us two. It was almost like he planned it that way.
How did you allocate your budget?
We decided what was most important to us – music, booze and the decor! We were lucky that I had some decent savings, plus parents helped too!
Where did you splurge and where did you save?
The free bar all night was a splurge but totally worth it! The Flowers and balloons were a big investment but transformed the venue, as did the giant props. We saved a bit on the food as we did sharing plates per table and had ice-cream sandwiches for pudding. It was all delicious but less formal than three courses.
I also splurged on bringing in chairs to the venue…the hall did have their own but I didn't like the style and knew they would annoy me in the pictures. Best decision I made!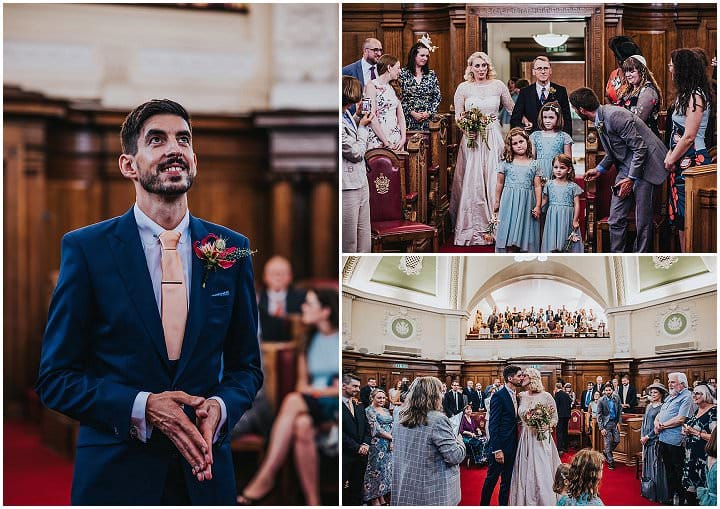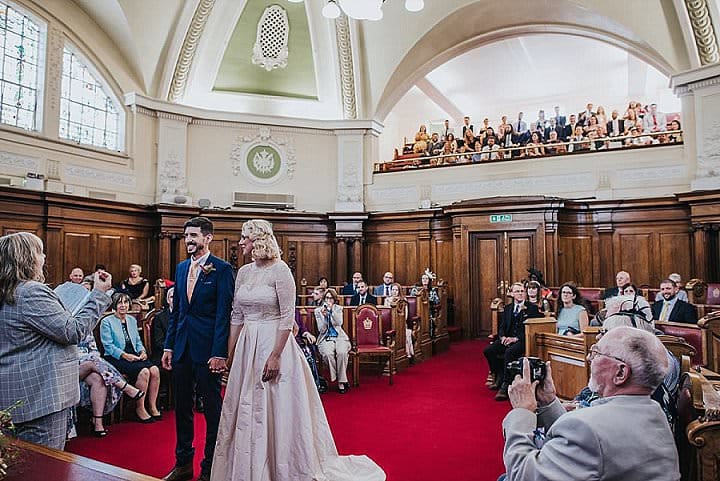 How did you choose your photographer?
Rich was in charge of photography and Kirsty came recommended, actually by another photography we approached who was all booked up. We saw Kirsty's previous work and spoke to her on the phone and knew she was right for us. We didn't want lots of formal shots, we really wanted to capture the fun and Kirsty managed to capture the joyful moments brilliantly without being intrusive.
The dress 
I tried on SO many dresses and couldn't find anything I liked. I worked out I just don't suit white. I'd been helping my friend Suzanne (Suzanne Harrington Bride) out with some marketing/website stuff and she said she could make something bespoke for me! I fell in love with a peachy papier silk at her studio and then sort of chose lots of bits of various styles including the beaded lace top.
It was lovely to have something completely unique and Suzanne is just a dream to work with.
I wore a tiny seahorse necklace which was a real treasure, one of a kind made for me be the fabulous Alex Monroe. My shoes were a bit extravagant, but I knew from the outset I wanted fabulous shoes that I'd wear again! For the day I have custom Malone Souliers and then I came across the crazy fluffy Blahniks massively reduced in the Selfridges sale, so had to have those for the evening.
The suit and bridesmaids
Rich originally planned to wear a suit he had had for years, but I badgered him into getting one made by a friend of a friend – Sam, who owns Dress 2 Kill. Rich ended up with the most gorgeous three-piece suit, bespoke shirt, all personalised with his initials. He was very glad I persuaded him to do it!
The flower girl dresses came from Monsoon, gold glittery shoes from John Lewis!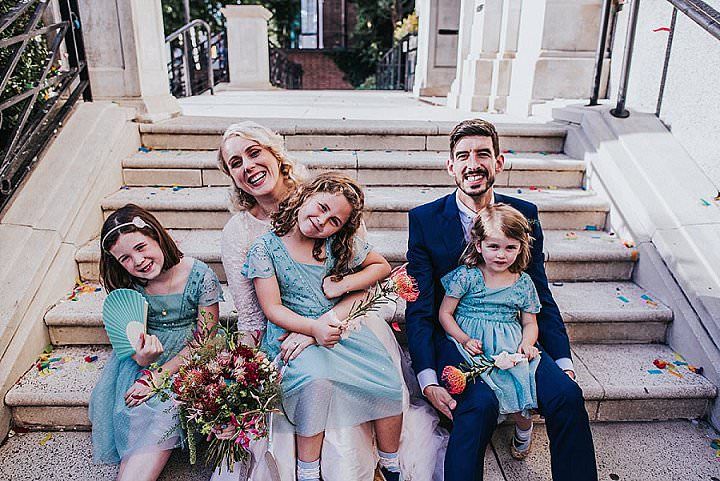 Theme or colour scheme
It all started with our favourite film, Back To The Future! We both LOVE it and very early in the planning process came up with the idea of recreating the Enchantment Under The Sea dance from the film. We had a massive amount of fun sourcing giant props (hello 3m high Whale Tail and Anchor, made by the amazing Paula at Hello Flamingo!), 7m shimmer curtains for the stage and hand-painted signage for the hall. Even the invites were a recreation of the prom poster from the film. Naturally the colours were sea blues, greens and coral.
Flowers 
Gus Cavanagh (AKA Augustus Bloom) was our incredible florist. I had followed him on Instagram for ages and loved his style and creativity. I came up with idea of creating coral-reef type centrepieces…using spray painted trees (that took a lot of time, urgh) and building the flower reefs around them. This aquatic theme continued into the bouquet and buttonholes. We wanted to add some drama and height to the tables and I struck upon the idea of bubbles rising from the tables! The fabulous Jane (AKA London Balloon Lady) did a fab job, and all lit up they looked amazing!
Decoration 
In keeping with the theme we had a giant 3m whale tale and anchor with handprinted signs, 7m shimmer curtains and an Enchantment Under The Sea banner for the stage and of course the balloon bubbles which really made it!
Food 
A fabulous feast by Linda Hamilton (Gather & Feast) – roast herby chicken, heritage tomato salad with basil, veggie frittata, herby roast potatoes, pea, asparagus and goats curd salad and caponata. Yum.
For pudding we had amazing grown-up ice-cream sandwiches in three flavours by Happy Endings. They were very popular!
Wedding cake
We had a three tiered cake which was vegan and gluten free (sorry guests, blame the Groom for that one!). One tier was rose, one citrus and one raspberry.
Entertainment
We had the most amazing band…The Rockin' Rhythms! They were big fans of Back To The Future themselves and their energy was amazing (despite the hall being insanely hot all evening). They're a 50s rock and roll band – and of course they played Johnny B. Goode! Everyone went crazy when that came on!
We also had a face painter from The Glitterbox. Such a good use of our budget! The kids loved it, but of course it was the adults who ended up covered in glitter! Our artist staying an extra 3 hours because she had a queue! Even the Mother Of The Groom joined in.
Who supplied the stationery?
The invites were printed by Mount Street Printers, I splurged on super-thick card with a hand-painted edge, because I am a lover of nice stationery and think the invite sets up the whole day.
Personal touches
The little favours were bags of French sweets all shaped like different seashells, they were cut but got very sticky in the heat! I also spray painted all 19 table centerpieces during the heatwave which was not fun, but they looked awesome!
Special moments
The walk down the steps after the ceremony with ALL the confetti (confetti cannons are SOOOO worth getting) We both loved the speeches, which were super-emotional and had everyone laughing too
The walk to the hotel down Upper Street at the end of the night – in our finery, slightly worse for wear, carrying our cards and gifts!
Advice for other couples
Don't stress about making other people happy or what they think – do what YOU want, even if other people think it's weird.
Don't leave too much til the last minute – we were pretty organised but the day before was still hectic and there was a big set up on the day. We ended up hiring someone to help because it was too much for the venue, groom and best men to manage, but they still had a lot to do.
Biggest surprise
The weather! It was so so hot, not what you expect in the UK in August. We emergency ordered 100 fans a few days before and were very glad we did!
Supplier Shout Outs
FOR MORE INFORMATION ON KIRSTY'S WORK GO TO:
www.thisandthatphotography.co.uk / ki[email protected] / 07971630765 / FACEBOOK / T: @ttp_photography / I: @thisandthatphotography / PINTEREST