As we head into Tuesday headfirst, I have a super stylish wedding for you with this 'rustic elegance' wedding from West Sussex. The wedding is filled with classic yet contemporary decoration, all finished off with a rustic twist. A colour palette of rose gold, peach, white and green, gives it a modern edge while keeping the overall feel soft and romantic. I just love the finishing touches to this wedding. The cake, the table plan, the flowers, all look fantastic. Sarah and Ryan have done a fabulous job of keeping everything within their theme and the results are stunning. The day was captured by Julia & You. 
Wow! How do you describe the most perfect and amazing day ever! It was a day we will never forget and cherish forever. There is not one part of the day we would change.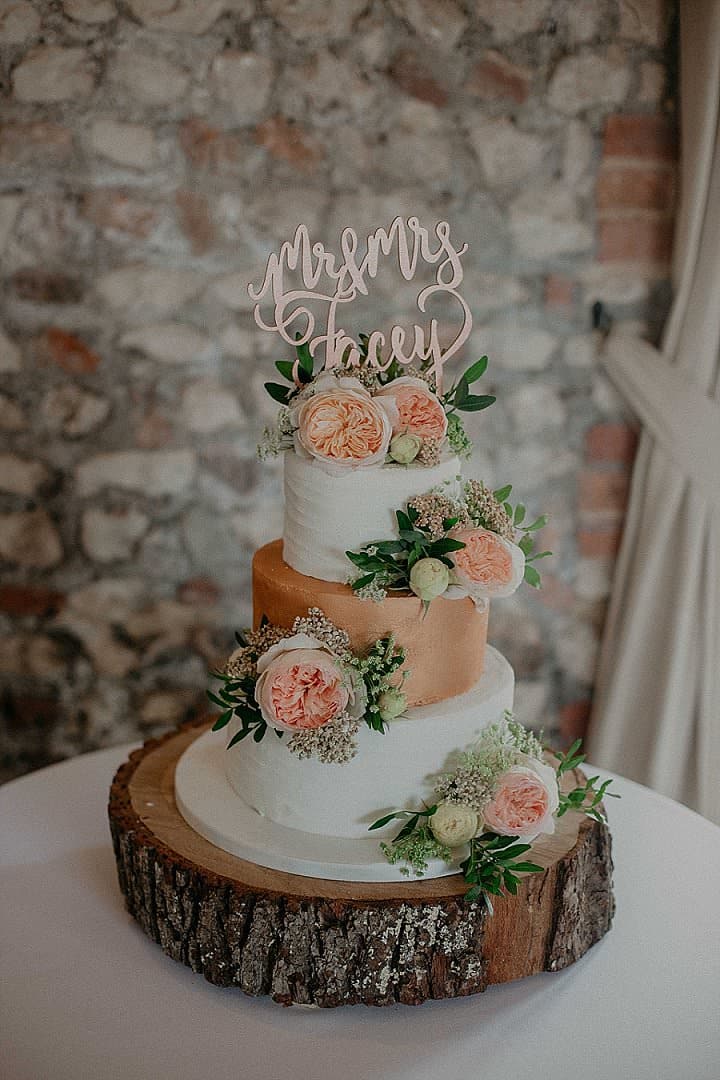 Sarah and Ryan were married on 28th July 2018 at Farbridge in West Sussex. 'We loved the stone barn venue as we wanted it to be very rustic/boho and was the perfect setting to accommodate our theme. That, and the fact we are massive foodies and the food was out of this world! The Head chef Simon personalizes your menu to make it unique as a couple, not to mention he makes the most amazing sour dough bread ever! We had 96 day guests and an additional 35 night guests. Due to the availability of the venue and for a July wedding we booked it 2 years in advance.'
How they met 
We met when we were both 18-going out to our local nightclub; his friends knew mine but I only knew him as 'the boy who smiled a lot' as he was too shy to talk to me. Soon his mate John kept hunting me down every time we were there saying I should give Ryan my number, then one night whilst I went back to my best mates house for pizza; his other friend was on the phone to her and mentioned he had Ryan with him so I decided to finally give him my number and the rest is history. We have been together for 12 years now!
The proposal
Ryan took me to Montego Bay in Jamaica in July 2016 for an early 10 year anniversary present. He kept trying to propose to me on trips to the waterfalls or horse riding in the sea but everytime you had to leave your bag on the coach. Then he mentioned watching a sunset one night but then it rained on the nights he suggested it. Eventually we were a week into our 2 weeks stay and as we were laying our towels out; he noticed there was no one on the beach, with that he plucked up the courage to pop the question. He said, "I'm just going to do it now!". Myself unaware and busy setting up my bed thought he meant his towel so I replied, "Ok just put the towel down, why you telling me". And with that he asked me to turn around where he was on one knee holding the ring. I nervously laughed and went straight for the ring haha. But he pulled it back and told me I have to say Yes first lol. Of course I did!
How did you allocate your budget?
Well that was Ry's domain he's a number guys being in finance and all. We had a set budget for the cost of the venue and then anything on top we decided there and then. We were pretty laid back as we didn't want to go overboard as the venue is beautiful in itself so it didn't need a lot doing to it.
Where did you splurge and where did you save?
We definitely splurged on the food and the flowers; but saved on the cake and we didn't bother with favors as we had a free bar and copious amounts of food.
How did you choose your photographer?
Funny story, my sister used to work with her as she was a client at a graphic facilities company so she recommended her as she has the exact laid-back style we were after. And then my best friend is a journalist and said her work colleague's wife does wedding photography…. turns out it was Julia & You! It was meant to be like fate! Julia and You did not disappoint. Their attention to detail was unmatched! The main thing we wanted to achieve for our special day was capturing the moment. Every picture tells a story without needing to explain. If we had to describe Julia in two words it would be absolutely flawless!
The dress 
My wedding dress was Ellis Bridal and the veil was both purchased at Hayley Elizabeth Bridal Boutique in Farnborough. My shoes were rose gold 'Lane' Jimmy Choos. And I wore pearl studs my mum gave to me which she's had for years but never wore so they were my something old.
The suit and bridesmaids
The groom and groomsmen hired navy morning suits from Well Suited in Dartford. And the bridesmaids wore light peach Grecian pleated dresses from ASOS.
Flowers
My Flowers were by Caroline our amazing florist from Nordic Twigs. She chose a rustic but elegant summer wedding theme with seasonal flowers. The floral designs were classic but with a contemporary touch using blush tones of peach as well as white and green.
Decoration
Our flowers pretty much decorated the venue. We had some tables with herbs boxed and flowers in them and other tables with clear quirky vases on wooden log slices, and rustic speckled tea light holders. We have the beams decorated in the ceremony room with floral pew ends on every other row. Outside we had a rustic bar made from chest of draws (decorated by the venue) with pimms and aperol spritz's. He also did a snack table in the same style and in the evening had a bread and cheese table as that is our fav! Bubblegum balloons did us 4 giant 3ft balloons with tassels which we had in the courtyard. My brother in law made a copper frame and we hung ribbons with frames for the table plan.  Very rustic but simplistic, attention to detail was key.
Food  
Canapes: Popsicles – Prosecco & Peach as well as Elderflower and lime.
Snack bar – Rosemary salt and caramel popcorn, Home fried and seasoned nacho chips, pico de gallo, sour cream, Smoked almonds.
Menu: Starter – Antipasti – Cured meats, charred and marinated vegetables, dried  tomatoes, olives, capers, marinated mozzarella, ciabatta, virgin olive oil.  Baskets of focaccia and ciabatta.
Main – Beef short rib, gnocchi, roast tomatoes, beer braised onions, braising juices, rocket, parmesan or Chicken – thigh cordon bleu bonbon and roast breast, cured yellow and green courgettes, smoked potato puree, jus or Vegetable nage with summer baby vegetables and herbed gnocchi, 64-degree egg yolk, bashed pesto.
Dessert – Trio. Chocolate, amaretti and mascarpone cheese cake, Kahlua gel. Crème brulee burnt peach and pecan. Classic Eton mess Chichester raspberries. Coffee and tea with chocolates.
Wedding cake
3 tier cake- Red velvet, Lemon and coconut with lemon buttercream and raspberry and white chocolate with white chocolate butter cream. Decorated with vanilla buttercream with the middle tier being smooth and rose gold dusting, From The Cake Lady
Entertainment
We kept it low key as our main focus was people to be on the dance floor! So we had a horse box photobooth and a DJ
Who supplied the stationery?
Save the dates and thank you cards were from Papier. Wedding invites were from Oh So  And table numbers/ table plan was ByBlossom Stationery via Etsy.
Personal touches
We had personalised confetti craft bags from Wedding in a tea cup website as we had to throw the confetti in the venue. I had freeze-dried rose petals in peach and champagne from the Sweet Colours website. As I mentioned previous my brother in law made our copper frame for our table plan and we had a personalised log slice as our guest book which we got from etsy.  Also my very talented friend is a tie designer so she made our ties and pocket squares and personalised them with our name and date on the tipping. Rose gold straws and napkins which said best day ever in rose gold. A little cheese sign saying brie mine etc which got from Sainsburys as part of a valentines gift. Rose gold frames which I got for the table numbers of amazon. I have a thing about Rose gold!
Special moments
Special moments was the reveal of my dress to my dad. Also Ryan was adamant he wouldn't cry so I kept saying I'd make him and when he saw me he did haha we laughed about that. Then one of my friend tailored a reading to the style of sweet Caroline by Neil Diamond to Sweet Sarah and Ry. Not to mention the speeches from Ry, to my dad to his brother and me surprising Ryan I was taking him on a surprise mini moon to Rome (as we went Maldives in December). Finally, my best friend who is a journalist got Michael Buble to do a speech for us which was projected on a screen on the day. He is Ryan's favourite and his song close your eyes was our first dance! It was insane! So many more special moments! The whole day in itself was magical.
Advice for other couples
Remember it's your day so do what you want. If it doesn't bring you joy then don't have it. Also the best advice in a weird was expect something to go wrong as even if it does you've prepared yourself so you can move on and forget it. Two of our balloons blew away but that was my thing to go wrong so it didn't even both me. And enjoy it! It goes so quick just take 5 minutes to step away and really look/ recap on your day together, it goes so fast and by taking that 5 minutes you really get a glimpse of all the love in the room with your nearest and dearest.
Supplier Shout Outs 
For more information about Julia and You go to
www.juliaandyou.com / www.juliaandyou.com/latest-weddings / [email protected] / FACEBOOK / INSTAGRAM / PINTEREST / TWITTER