It's hard to remember the summer, as we head deeper into winter, but today's wedding may remind you what incredible weather we had this summer and how amazing life was! Becky and Alex were married in June when the summer of 2018 was in full force and what an amazing day they had! They always wanted an outdoor ceremony and a venue that let them hold their wedding over a whole weekend, so when they discovered Elmley Nature Reserve in Kent, they knew they had struck gold! They went for a relaxed rustic Boho theme, with a colour scheme of pale green and blush pink and the results are stunning. The day was pulled together with the help of lots of talented friends and family, as they all shared their skills to create Becky and Alex's wedding of dreams. S Bowdler Photography was there to capture the day.
A Magical outdoor summer wedding, full of laughter, dancing and happiness
Becky and Alex were married on 30th June 2018 at Elmley Nature Reserve in Kent 'We always knew we wanted a barn wedding, but didn't want a place that felt like a wedding factory or a formal setting. We also wanted a DIY venue which we could create something unique and bespoke for us. Elmley Nature Reserve was the first place we found online and we completely fell in love with it from the start. As soon as we drove down the 2km track to the barn through fields full of cows, we knew it was the one. Georgina who owns it is another reason why we loved it, she was one of the first person at a venue who sat down and asked questions about us and not just the wedding. It is a family run business and we liked the fact that you have full access to the venue on the Friday, Saturday and Sunday, meaning that is the only wedding there that weekend. We could create the wedding we wanted and choose all our own suppliers. It also allows you to have the ceremony outside, something we struggled to find without having the legal stuff done before. It literally ticked all the boxes and more for what we wanted to create a relaxed summer wedding. We had 135 day guests and 6 evening guests. We booked the venue in November 2016 so we had 18 months to plan.'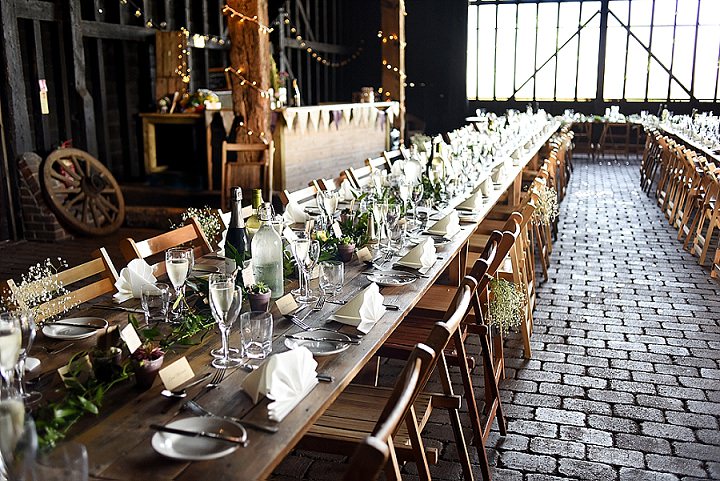 How they met 
We met through a friend that I went to secondary school with and Alex had gone to primary school with. Being introduced through our connection and love of Watford Football Club. However, our lives went on separate courses for quite a few years and didn't met again until we were 22 at our local gym. It still took until January 2015 for us to start dating.
The proposal
We have huge passion for wildlife and nature, so we booked a holiday to Kenya to visit David Sheldrake Elephant orphanage and also a safari to two national parks. Alex had starting contacting our safari guide in July to try and plan the perfect location to pop the question. He booked us a private safari at Amboseli National Park which overlooks Mount Kilimanjaro and has the highest concentration of elephants in the whole of Africa. He knew he would a perfect moment as you are allowed to watch sunset from a viewpoint on observation hill. This would mean we would alone for our special moment. It felt like we had the whole park to ourselves with nothing in sight except from the wildlife around us and a sunset over Mount Kilimanjaro.
How did you allocate your budget?
We had set budget thanks to the support from both our parents and roughly started allocating money. Our main allocations of budget were on the venue, photographer and open bar. The rest we just spent on what we wanted! We kept a rough tracker of what we were spending and just tried to find cheap options and making a lot ourselves and using the skills and talents from our friends with art work and my best friend and bridesmaid being a hairdresser!
Where did you splurge and where did you save?
We splurged on the important stuff to us – the venue, music, open bar all evening and the photographer. Then tried to save money in other places by doing all the decorations ourselves, on having a bbq style dinner and by picking our own wild flowers from a farm for bouquets and flowers around the venue
How did you choose your photographer?
We looked through so many photographers but nothing was clicking for us. We knew we wanted 2 photographers mostly to shoot more relaxed informal photos of our guests and day and also really liked the idea of a husband and wife team. We came across Sophie and Ben and immediately we knew they would be perfect. Although based in Bournemouth they said they would travel and were looking forward to photographing a different venue. We organised a skype call with them and we spoke and laughed for over an hour, it wasn't until the end Ben told us we had been upside down the whole time. They were funny, relaxed and knew exactly what we wanted for the day.
The dress 
I got my dress from the most amazing bridal boutique called Heritage House, in Hatfield House, run by the incredibly lovely Sam. It was the first dress I tried on and it was the one! It is called Lenora by Wtoo by Watters, it was everything I wanted and more to fit our relaxed boho wedding! A dress I could wear walking through fields, mud and dance all night in. I wore a gold leaf necklace given to me by grandad when I was young and my shoes were a dark green from new look.
The suit and bridesmaids
Suit was from menstweedsuits.com. Alex really struggled to find the right suit for the day as a lot of suits come in dark blues and greys. We both decided that the venue and theme would suit a lighter tweed outfit but the choices were limited. Luckily we found the perfect outfit on menstweedsuits.com and the quality and service was fantastic. We got the ushers suits from M&S, a light linen to go alongside Alex's suit. They all wore a sage green tie to finish it off.
The bridesmaids surprised me with their dresses on the morning of the wedding, I had given them each the colours I wanted and they went off and chose making sure they all went together. My sister organised this perfectly and you can see how well it turned out! It was a nice surprise for me on the day! The colours were green, lilac and pale pink
Theme or colour scheme
Our colour scheme was mainly around greens and blush pinks. Theme was relaxed, rustic and vintage boho!
Flowers
I had always wanted to make my own wild garden picked bouquet and for me and the bridesmaids and been told about a pick your own wild flowers based in Kent. Here they supply you with buckets and you go and cut the flowers you want. We bought 4 buckets worth for bouquets and flowers around the venue and they were amazing. Alex's gran made my bouquet and Alex's mum and my sister made the bridesmaids ones which matched the colour dress they wore.
I loved the previous work at Elmley by Clare from See Rose Floral Design, so asked her to make my flower crown, button holes, corsages, hoops, greenery for the tables and a flower arch. She made the most beautiful flower crown which I didn't take off all weekend and I was obsessed with the flower arch and loved that the button holes were succulents. It all felt very unique to us.
Decoration 
Choosing a DIY wedding meant we had to provide all the decorations and furniture etc. The venue on its own is incredible and didn't need to be overdone with decorations cluttering its natural beauty and surroundings. We came across Anthology Vintage Hire and loved their rustic long tables and chairs which gave us the look we were after. They also supplied us with an old barrel for the wedding cake and an old vintage farmhouse table for our globe. We had collected tons of jars to fill with flowers and Alex's dad is a builder so sourced pallets for tables outside and wooden logs to place around the venue with jars of flowers on top.  Elmley gave us 15 hay bales to put around the pallets and we had sourced vintage blankets to go over. We made a few signs to go around and my dad made a vintage photo booth. Inside we filled the barn with greenery, succulents, flower hoops, sweet table made out pallets and some bunting.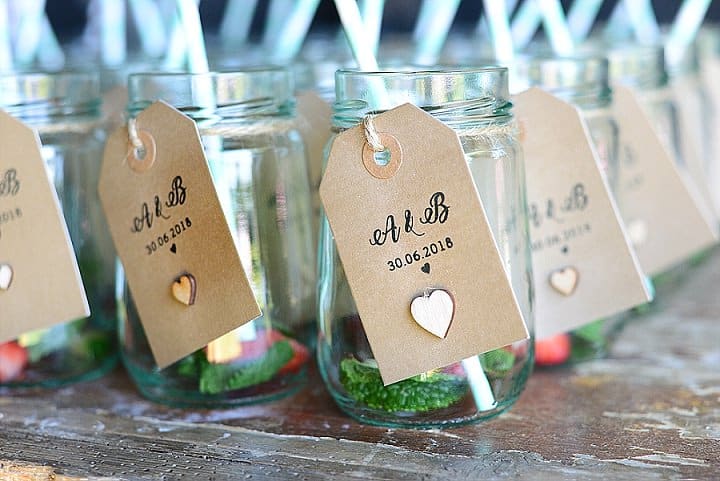 Food 
We wanted a relaxed wedding but concerned a BBQ would be a bit too informal especially as we wanted to keep with a sit down meal and speeches in between courses.
We were absolutely blown away by the quality of food and service on the day especially for the price we paid. Sharon Smith (Kember) from Thyme 2 Dine Catering was our chosen caterer. Sharon and her team did an amazing job with a particular note to suppling amazing Vegan food for Becky and a few other Vegan guests.
Alex works for Sarsons Vinegar and arranged for the company branded fish and chip van to come in the evening.
Wedding cake
My best friend from work has her own cake business, so she was always going to make the cake. I wanted it as a surprise and gave her the wedding topper to use for the colours I wanted. She made the top layer a vegan gluten free lemon cake, and the other layers were coconut and lime and raspberry and white chocolate. She is a genius! But also driving it 2 hours in the summer 2018 heat was a difficult challenge……
Entertainment
We had a amazing outdoor space that we wanted to utilise for garden games and a DIY photo booth. Becky's Dad built the photo booth by hand out of a large vintage frame. We also sourced Limbo, Jenga and Hulu Hoops from friends which went down a treat and were used all day and evening which led to a limbo off on the dance floor. We also created a glitter table for the evening which went down very well!
We wanted live music during the drinks reception and searched through the Alive Network website. We literally fell in love with a band called The Dualtones and were so lucky they were free. They are a lively duo singing a mixture of blues, jazz, soul and rock n roll. They got the party started very quickly singing some classics and favourite songs of ours.
Who supplied the stationery?
Luckily my brother Jack is very artistic and a great designer, so we got him to design the wedding invitations, order of service and table names. He used our engagement location as the front of the invitation and did a sketch of the barn and tents on other pages. It was lovely to have something that symbolised us, our engagement and the venue.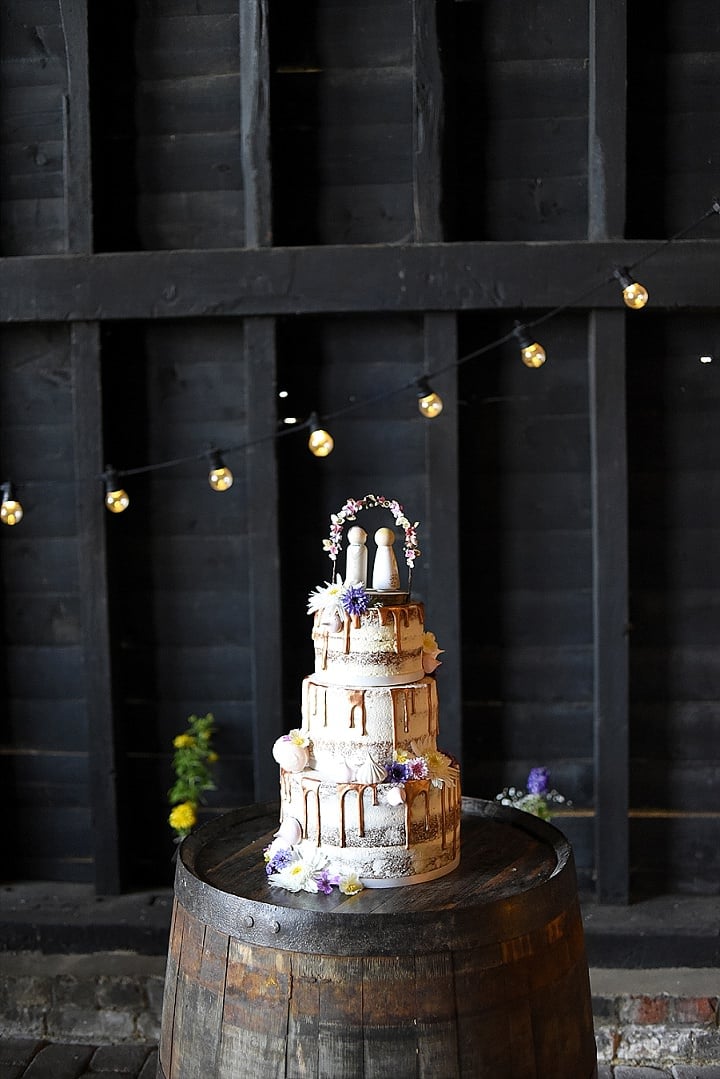 Personal touches
We made everything ourselves, with help of family and friends. We spent a lot of time on the small details, whilst not overcrowding the venue with to much. A few of our favourite things were the chalkboards designed by my friend Harriet for a welcome sign and order of the day. Again she incorporated our engagement and elephants. We spent a lot of time also making the wedding favours, spray painting the plant pots rose gold, planting the succulents and making little tags to go in them. Every element of the day we added a personal touch – making the confetti cones with our initials and date of wedding stamped on and little tags to go around the welcome drinks with the same stamp. All the hard work was definitely noted by many friends and family which made it all worth while
Special moments 
Hard questions! It was all so special, but I think for me having my god mother, her husband and daughter sing when I walked down the aisle. Seeing Alex's face for the first time and having my dad walk me down.
Another special element of weddings at Elmley is they set up bells tents for people to stay the night of the wedding, along with the cottage and shephard huts on site. This meant the party didn't have to stop until everyone crashed. They set up hay bales and a fire pit for you to enjoy until the early hours. it was great waking up to a bbq breakfast cooked by the dads and having all our friends there in the morning.
Alex – we had been blessed with the most perfect weather all day and we made a last minute decision to have our first dance outside with the band set up just outside the barn. It was a special moment as it felt impromptu and relaxed.
Advice for other couples 
A lot of married friends and family told us about how quickly the day goes and to enjoy moments just us too within the day. We both arranged to have photos later in the day which was a great way of getting away for a short while. We also finished up work a week before the big day which was really helpful in finalising last minute bits without the stress of work. Our advice would be to be enjoy the build up it goes so fast, take a breathier in planning so it doesn't feel like all you do or talk about is wedding planning. Other advice would be it is your day and everyone has their own unique styles and ideas and it is important to make it your own and make it special to you as a couple.
Biggest surprise
I think how smoothly the day went, especially for a DIY wedding where you have to plan all the finer details and timings. You have to be super organised with the details to each supplier so the day can just run itself. It was the best feeling to see all our hard work paying off and glad we had the confidence to organise everything ourselves.
Supplier Shout Outs
 For more information on Sophie and Ben's work go to
www.sbowdlerphotography.co.uk / www.sbowdlerphotography.co.uk/blog / FACEBOOK / INSTAGRAM / PINTEREST / TWITTER