Today I have a real treat of a wedding for you as I welcome Jo and Paddy back to the blog. Jo and Paddy have been writing for the blog as one of my lovely Boho Bride and Grooms. Each month they shared with us a different part of their wedding planning journey, so after their wedding last September, they are back to tell us all about their wonderful day. Jo and Paddy chose the most beautiful setting to hold their wedding, a complete blank canvas which gave them the luxury to decorate it exactly as they wanted. They chose their food and drink and really went to town with making it personal to them. They completed many DIY projects which kept them super busy but the results are amazing. A wonderful day, full of rustic touches and so much character. Big thanks to Photography By Vicki for the lovely images.
'The best day I could have asked for, totally worth everything. It was absolutely awesome!'
Jo and Paddy were married on 12th September 2015 at Elmley Nature Reserve, Kent. 'The barn and setting fitted in well with our plans of having a relaxed and informal day outside. Paddy is a tree surgeon and landscaper so there was tree trunks and slices representing him. And when you see the venue and its amazing views, you can't say no! We had 100-110 guests. Planning wise we were engaged September 2014, venue hunting until December. The rest started in January so 8 ½ months to a year!'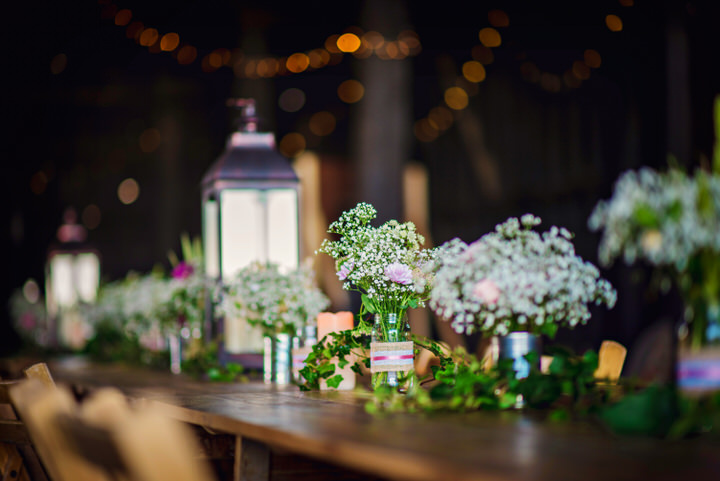 How they met
So 12 years ago I was working as a waitress in our local pub – The White Horse in Netley Marsh. One day a new chef came in and it was Paddy!! After not believing that he hadn't met me but my twin sister, he started to make me laugh. We got to know each other that year and after I went away skiing with family and friends for New Year we realised we missed each other, 11 ½ years later the rest is history!!
The Proposal
In September 2014 we decided to go away on a nice holiday after taking some time to decide we booked 2 weeks in Mexico, Moon Palace resort in Cancun. It was amazing, OMG we got engaged!! Months leading up to the proposal Paddy had decided he would pop the question sometime soon and asked a friend to make the ring (its lovely!!) He wasn't quite sure how he was going to ask and a few different ideas came to mind. With Paddy not being the most romantic it has made for a story!! Of all the places in the resort, romantic beach meal for two, sunset stroll along the beach, the list could go on! Paddy decided he would take the ring inside his shorts to the spa for a couple's massage we had planned. After putting on his disposable pants and falling asleep within 60seconds he woke to remember his task! Paddy got down on one knee and put the ring under the head hole of the massage coach, with my eyes closed I didn't manage to see the diamond he was flashing until he poked me in the back. He didn't even manage to ask the question other than 'well then….?' Not being one to presume I asked 'what?' and eventually asking me to marry him, of course I said yes. After he jumped back on the coach he continued to snore for the next hour, whilst I had time to keep peeking at the ring which was now on my finger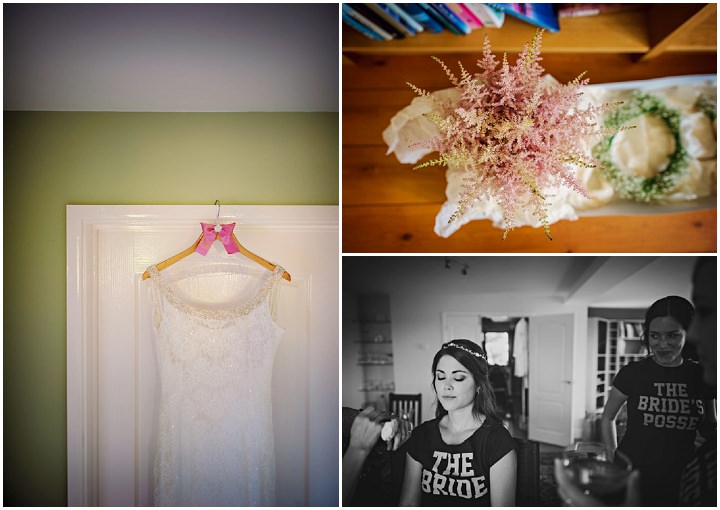 How did you allocate your budget
We just spent!! I roughly tracked our purchases and plans on a spreadsheet to ensure we knew what we had left to pay but we didn't set a budget! We bought the expensive/big bits first and then were careful with the rest and tried to save where we could. Finding a reasonable price by hunting or making it ourselves. We'd heard you tend to spend more than you budget anyway, we are happy with what we spent for our day.
Where did you splurge and where did you save
We didn't really have a budget which didn't help!! We started with the main areas and booked venue and photographer shortly followed by my dress. The wedding dress was more than we planned to spend but I totally fell in love with it. We had managed to save on the food compared to most weddings with doing this ourselves which allowed us to spend more on all the detail needed. I made a list of all the things we needed with a rough budget and checked it every weekend. Everything was purchased throughout the 8 months sort of spreading the cost and allowing for changes to be made if we couldn't afford it.
How did you choose your photographer
After being let down by a local photographer from our initial search we started to look again in the New Year. Looking further afield, well national in fact. I wanted the right person for our special day. Each evening before bed I would flash a few photos from websites in Paddy's face and see what style he preferred. We narrowed it down to 2 photographers and I met with them both on a trip home to see my mum and sister. I ran through the photos and how well I got on with the ladies, then with Paddy we decided on our photographer which would best match our relaxed and informal day. Her photos were a different style than we were originally looking at but so unique to what I had previously come across, so colourful, bright and happy. Everything happens for a reason and I'm so glad we managed to book Vicki as our photographer. She has been great to work and we would definitely recommend.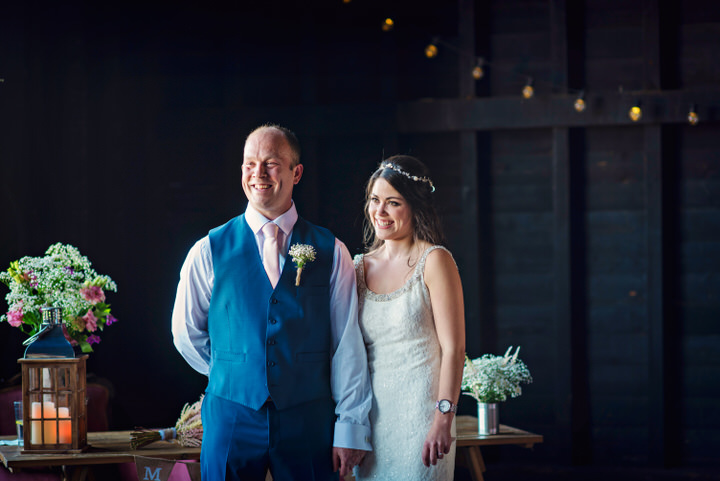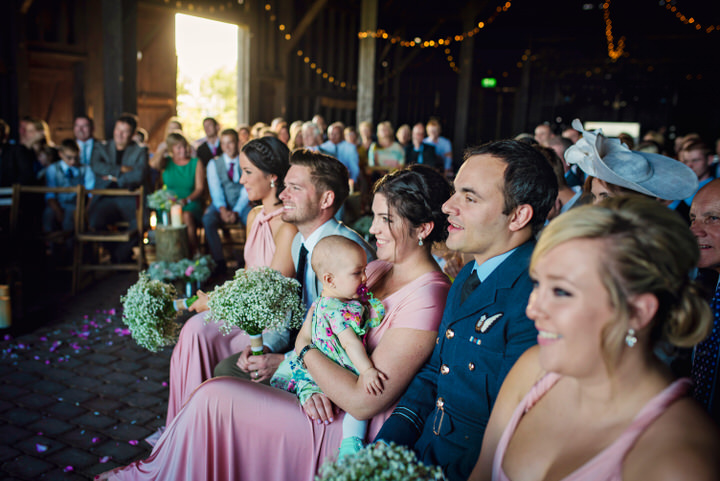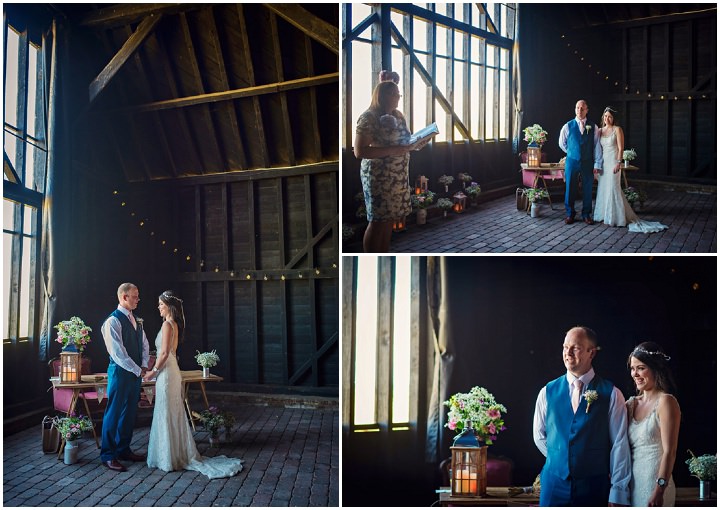 The Dress
I can finally share, my dress was from Morgan Davies Bridal in Hitchin and it was part of the Allure collection. My bespoke headpiece was from Rachel at exceptional designs, after a few consultations she put together the perfect piece. I believe this can now be bought from her website and is the Ellen piece from the rose garden collection.
Shoes/sandals were from New Look, nothing too fancy, with all the grass I just wanted something flat with a little bling.
The Suit and Bridesmaids
Bridesmaids were two birds multiway dresses in blush. This gave them the chance to wear the dresses how they felt comfortable and what suited them.
Suits were from slaters in Canterbury, the groom and best man were suited the same. We took a trip on recommendation but unfortunately left it too late at the end of the summer for what I wanted. Not many waistcoats were in or Navy suits in their size. We still got a Navy suit just not quite what I was after. Paddy realised there's a downside to being too relaxed!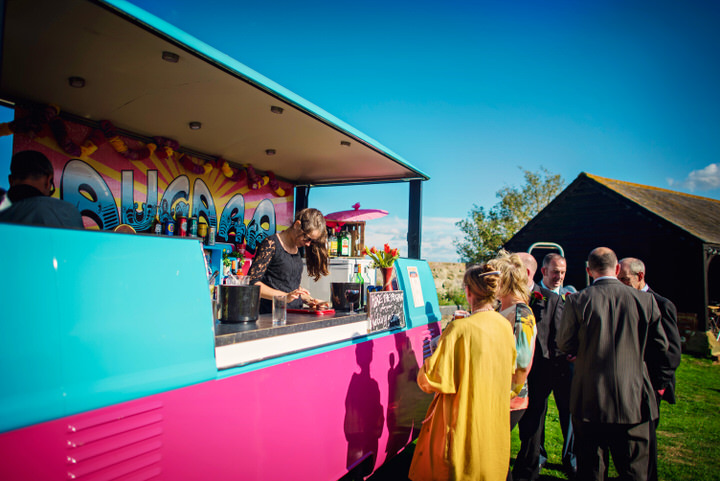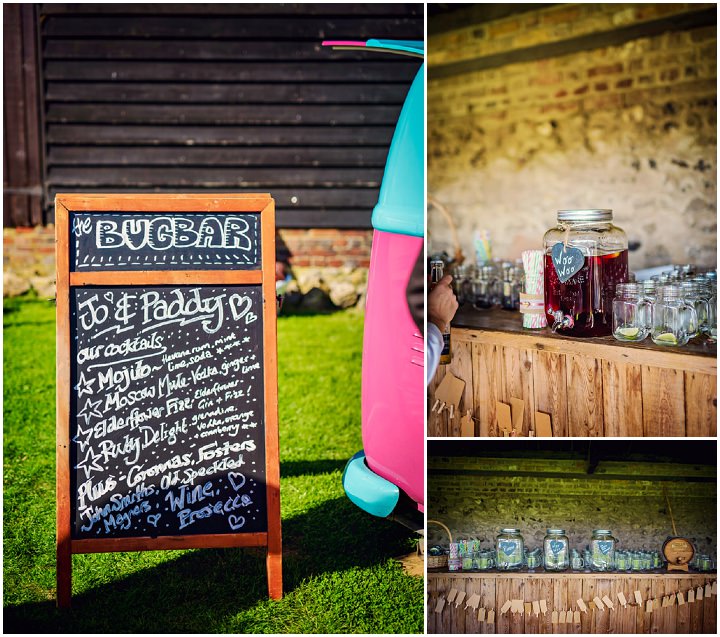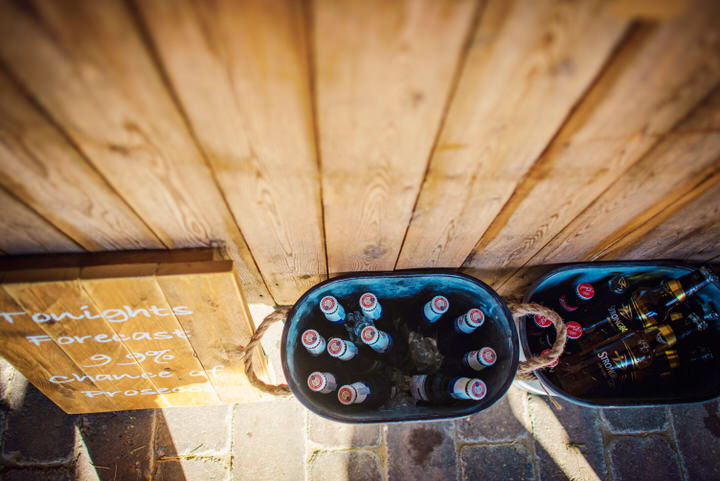 Theme or Colour Scheme
Colours quite natural, ivory, blush pink with the greenery of outdoors blended in too.
Flowers
This was something I wasn't going to attempt myself. I wanted quite wild flowers to also fill the barn for decoration, bouquets and button holes. Only requirements I gave her were gypsophila for the bridesmaids and astilbe for me. After initial meeting Gaynor didn't think it would be the right time of year for astilbe but she managed to get it and I was so pleased. The Flower Co from Sheerness provided the flowers and Gaynor was amazing and extremely creative. She knew exactly what I was after and even helped the girls on the day. Once the barn was filled it looked better than I could have imagined.
Decoration
Choosing the barn meant we had to provide all decoration, furniture you name it. We were lucky that they have beautiful lights already set up and worked around these. It again was pretty rustic, we came across Anthology vintage hire from the venue's preferred supplier's, these tables and chairs look amazing in the barn and certainly did give it the feel we were after. Tree trunks from Paddy decorated the isle with flowers in the handmade jam jars and tin cans which myself and some of the wedding party kindly collected for me. Anything I came across which looked rustic was bought, lanterns, signs, tissue pompoms etc. We can't thank everyone enough, some friends and family helped us set up Friday. Mandi and Vicky were a great help with their eye for detail having recently just got married themselves. And it all came together.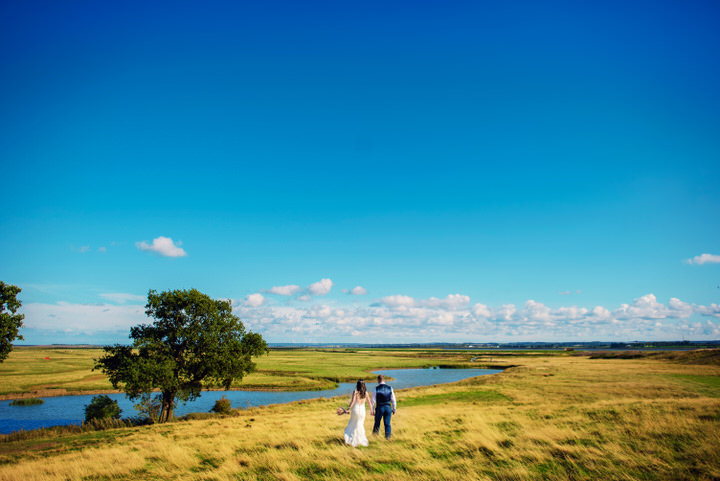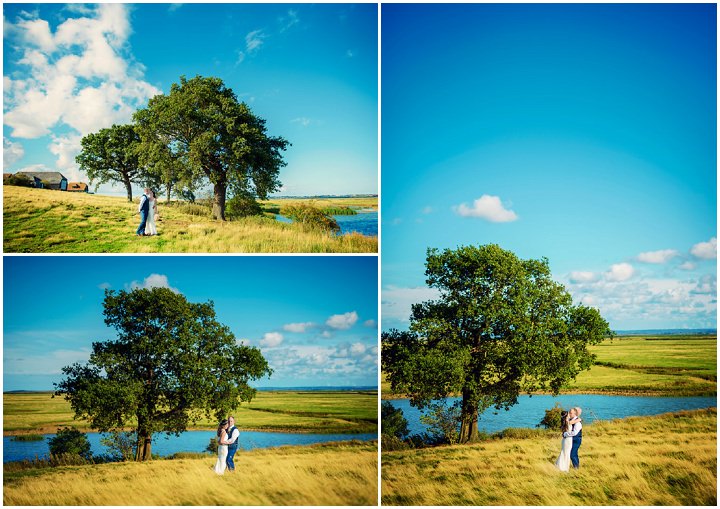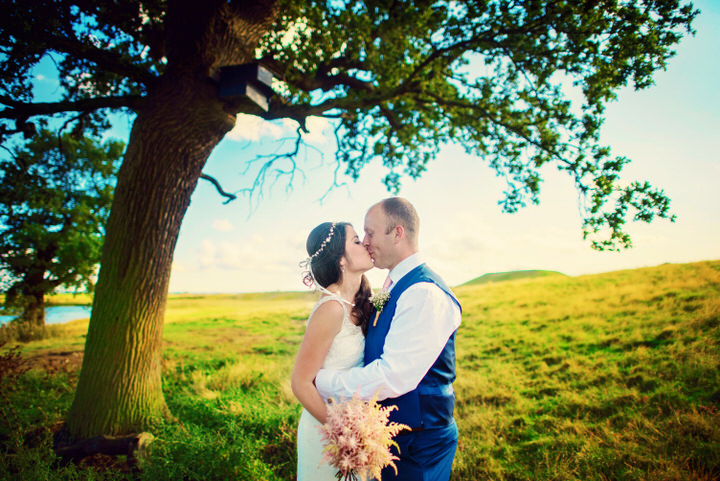 Food
BBQ – burgers, steaks, sausages, chicken, lamb cutlets, king prawns, vegetable kebabs, dressed salmon, salads, breads and pasta. A donut and Ferro rocher stand was added to cake for dessert. Followed by cheese boards.
Wedding Cake
Baked by the bride and put together by the groom!! As the theme was rustic I wanted a naked cake although Paddy wanted an iced cake. Of course I won that battle!! It was a 4 tiered cake starting with the largest Chocolate sponge with white chocolate buttercream, red velvet with cream cheese, vanilla sponge with jam and vanilla buttercream and finished with lemon and lemon!
Entertainment
Jack Cassidy singer – our neighbour heard him at a charity event and recommended. Brilliant and just what we were after. Followed by Paddy's good old friend Stirling Joy who DJ'd, they met through work a few years back when Paddy was head chef at a party venue and we couldn't have picked anyone better. He was actually there for the whole day and played our music for the ceremony.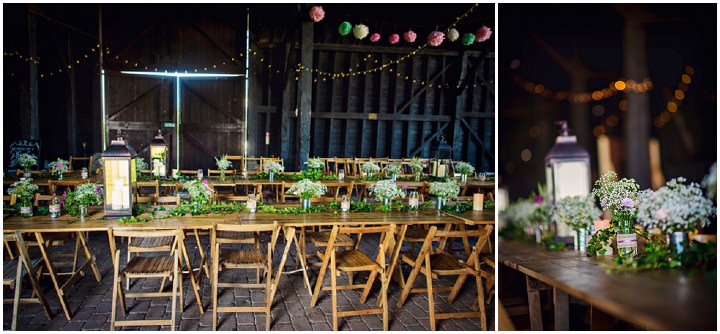 The Stationery
Invites were handmade and can be seen in blog. We decided not to have an order of service as it wasn't a formal day. Jenny the celebrant guided everyone through beautifully. Wooden signs for the venue were all handmade by Bride, Groom and Mandi and Ben (sister and brother in law) these did take some time and were made far too late in the day but turned out perfect and I was sooo grateful for their help.
Personal or Handmade Touches
As you can see, we did lots ourselves!! From the set up to clearing down, food, cake, tree trunks, invites, confetti cones, jam jar decorations, signs etc. It was a pretty big list but now the day has passed we wouldn't change it for the world.
Special Moments
The whole day from start to finish, I really couldn't pick out a particular moment. Spending the Friday setting up with close friends and family to marrying my best friend and partying with more friends and family, getting beautiful Bella and clearing down the following day. The atmosphere was relaxed, just perfect. More than we could imagine which made it special for us.
Advice to other couples
You can never start too early! The time accelerates as you get closer and you really do start to run out of time so by getting as much as you can done when you can really does help and elevate any stresses. Enjoy it, do things together or with friends/family and take in the moments. It's a lovely time which should be enjoyed and something to look back on. Finally do what YOU want to do, don't feel pressured because it's expected or the norm. If you aren't happy having a first dance, don't have one. We planned our day for us, no pressures, this is what made it unique to us.
Biggest surprise
Paddy's wedding gift to me was a beautiful boxer puppy which he presented to me on the day. We agreed no formal speeches etc. so when the best man was gathering people into the barn I got a little worried. Paddy thanked everyone for coming and said a few lovely words. After letting everyone know he wasn't the traditional type and hadn't got me a card, said he'd done better, went outside and walked back in with Bella!! It was pretty amazing and the boy did good!
Supplier Shout Outs
For more information on Vicki's work please go to:
www.photographybyvicki.co.uk / PINTEREST / @vixwhite123 / I:byvicki / FACEBOOK 

[jprel]