Happy Monday everyone, I hope  you all had a wonderful weekend? Did you get up to anything festive? We have got our tree and decorations up, which involved Nik nearly sawing his finger off! A story I'm sure he will revel in telling for the next few months! Our house is now full of Christmas cheer, don't you just love Christmas?! Today's wedding sees us head off to the US, and see Maria and Damani who were married on 8th July 2018 at Boyds, Maryland by Shelly Pate Photography. It's a simple wedding but filled with some beautiful natural detailing and the most stunning Needle and Thread dress for BHLDN.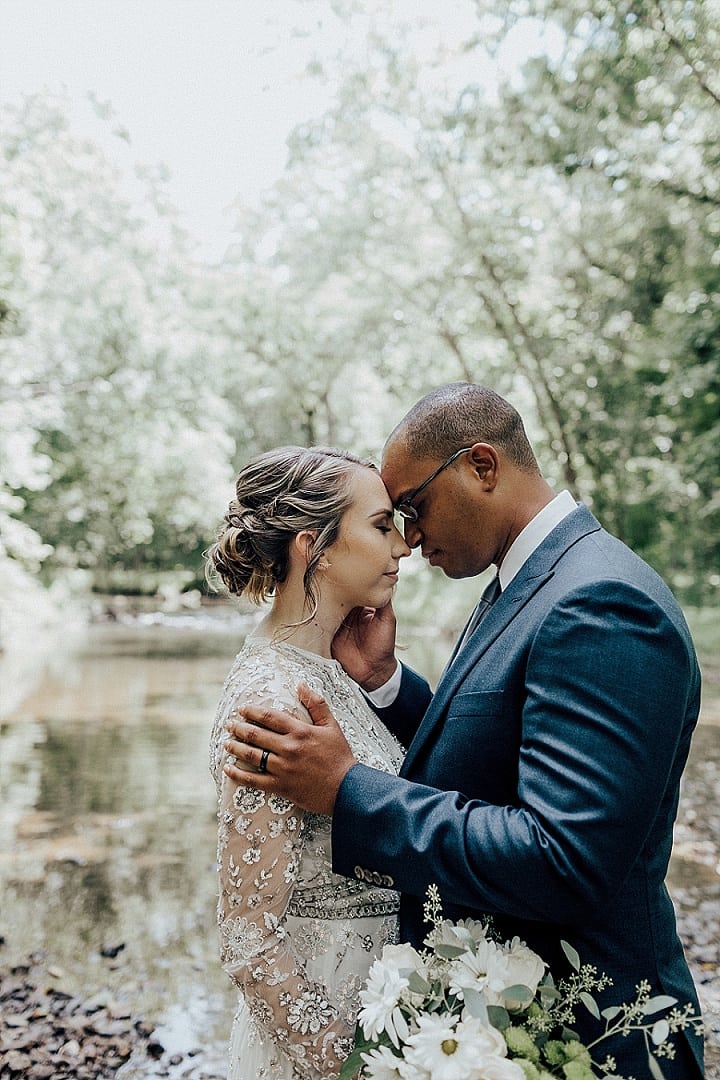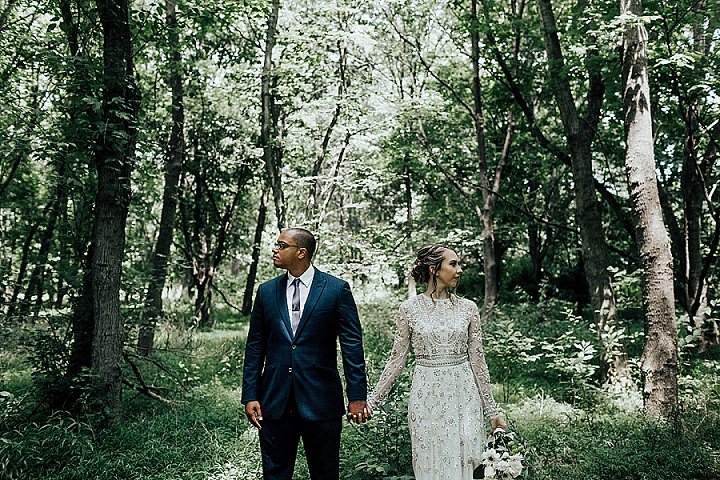 More information from Maria the bride 
When we were planning our wedding, we knew that we wanted it to feel simple but elegant and authentically us. We were vegan for five years, so it was important to us to have a local, vegan caterer. NuVegan's staff was excellent and made the planning so easy. We chose the venue because the views were so beautiful. We spend a lot of time hiking in the Montgomery County parks, so getting married in one was perfect. We love Rev. Ogun Holder, who used to be the Senior Minister at Unity of Gaithersburg church, but when he moved to the Boston area we missed him dearly. Having him return for our wedding felt very special and we were so glad he agreed. Most attendees for the small gathering were our family members, and the have a small, intimate wedding vibe was exactly what we wanted. Having our families and closest friends together in one place felt fantastic. We're also both teachers and early birds who go to bed by 9:30 each evening, so a brunch wedding (with elegant warm metallic vibes) gave us the "fancy" wedding we wanted, but we got to have a dinner, just the two of us, after!
DIY Details
My girlfriends and I got together the day before and cut trader joe's flowers and arranged them into bunches for the tables. I got the tea lights, holders, and twinkle lights on Amazon, and we made it all come together. I ordered the crystals online from a bulk retailer. The suitcase for cards was from Oriental Trading and my friend used pieces of my dress (cut off from alterations) and tags to make it nicer. I hand-made the seating cards and labels for food. Most of the decor in the fireplace was actually our living room decor and we just boxed it up and brought it over! My brother arranged a bouquet of flowers from Costco for me and tied it up with my dress pieces.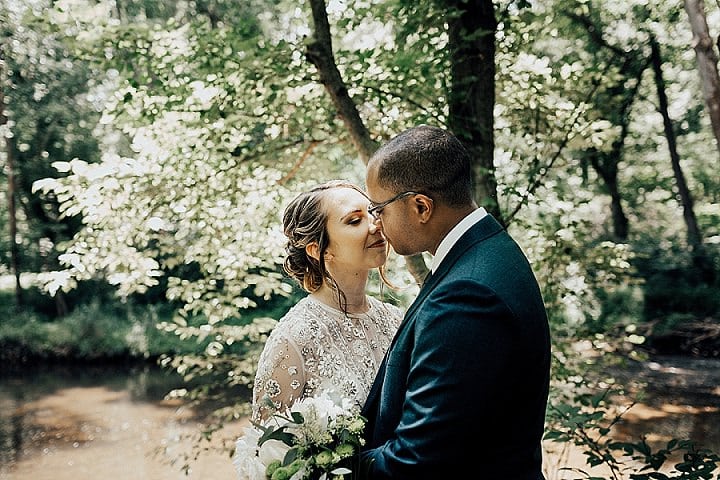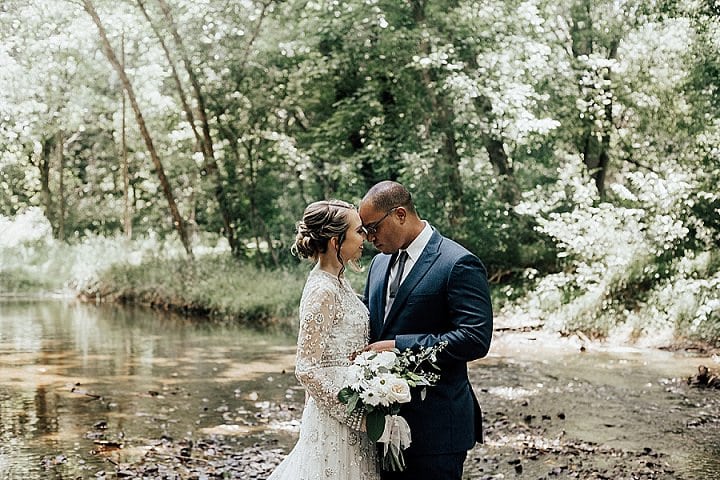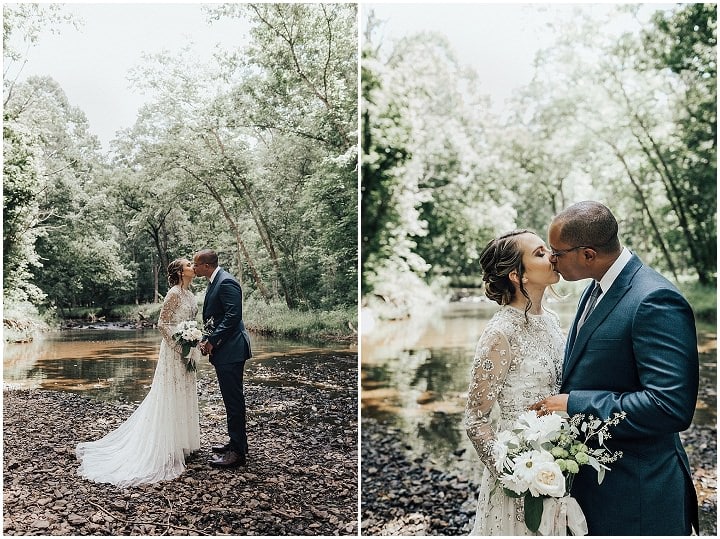 More information from Shelly the Photographer 
Maria + Damani are both teachers and met on the job! The two had an intimate brunch wedding at the Lodge at Little Seneca Creek. So many elements of the day here handmade by the bride and her girlfriends. Her brother created her bouquet, wrapping it with fabric from her wedding dress. The dress- Holy Moly! It was gorgeous! The long sleeved BHLDN dress had vintage details and fitted perfectly with her hair and makeup.Greenery, gold, and rustic details accented the space.
The outdoor ceremony was under a white tent outside on the Lodge's grounds. Guests were greeted with chilled percesso and orange juice upon arrival.Talk about ugly crying! Maria's Mom and brother walked her down the aisle to a live band. These two's vows had everyone, including myself, in tears. Everyone could feel deeply they loved each other.
After the ceremony, we ventured down to the woods for their bride + groom photos. We totally took advantage of the natural creek before heading back inside for the reception. The lodge created a beautiful rustic atmosphere that made all of Maria's details look spectacular.
Supplier Shout Outs
For more information on Shelly Pate Photography go to
www.shellypatephotography.com / [email protected] / www.shellypatephotography.com/blog / INSTAGRAM