Happy Tuesday everyone. Just one day to go before Halloween! We have our Halloween window done and the inside of the house is all decorated, so this afternoon it's time to decorate the outside of the house ready for tomorrow's Trick or Treaters. It's a MASSIVE deal on our cul-de-sac, so I'm really looking forward to it. In celebration of Halloween, the rest of the week will be Halloween themed, full of dark moody shoots and plenty of pumpkin filled weddings. Starting with today's beauty. Jill and Brian were married on 28th October 2017 at The Farm at Cottrell Lake in Pennsylvania and their day is a super stylish take on a classic Autumn wedding. They have taken the humble pumpkin and elevated it to new heights, mixed it with gorgeous decor, lighting, dried flowers, amazing displays and tuned their fall wedding into a wonderful mixture of grey, blue and cranberry. All of this has been captured perfectly by Jordan DeNike Photography
Stylish Earthy Pennsylvania Farm Wedding
A few words from Jordan the photographer
Jill and Brian were married at the stunning The Farm at Cottrell Lake Lake at the very end of fall. They had a bridal party consisting of siblings, parents and their three sweet babies and one of the most heartfelt ceremonies complete with emotional handwritten vows that left everyone crying. Not to mention how incredibly stunning they looked, their personalities truly match. Jill and Brian's wedding consisted of neutral tones with pops of red and moody blues and grey, handmade flower girl dresses and an entirely DIYed reception done by Jill and her friend Virginia.
Jill and Brian had originally went to just visit the new venue because her friend Melissa owned it with no real intentions of setting a wedding date. As soon as they toured the property – complete with a farmhouse to get ready in, a white barn for cocktail hour and a field to get married in alongside the red reception barn – Jill said she cried and knew she had to be married there. These two are so stylish, their wedding had so many stunning and unique DIY details and their love for each other is so evident.
How they met 
Brian and I met through mutual friends. They set us up on a date. We all went bowling and the rest is history! The proposal was actually really cute. While making dinner Oni and I started playing a silly game that we play. We ask who we would want to marry.. and you name three people. Where you would want to live.. name three places. What car you would want to drive.. etc. I asked Oni first. Then she turned to Brian and asked him. Her first question was.. Who would you want to marry? When I turned around from my cooking to hear Brian's three people he was down on his knee! "He said I don't need three choices.. there is only one person in the world I want to marry". It was so perfect! And now I'm crying!
The outfits
My gown was the first dress I looked at online. It was long sleeve lace with a plunging illusion neck line and a illusion cut out back. It was form fitting, simple, and classic. The guys wore a lighter navy suit, bowties and chestnut brown shoes.
Theme and colour scheme
I envisioned my wedding to be a natural outdoor setting in the fall. I wanted to stray away from the ordinary fall wedding with with the oranges and deep colors. My color palette was navy for the guys and cranberry for the girls. I also added a smokey gray blue for my daughters dresses. I wanted everything else in the wedding to be muted and natural. White and gray pumpkins (jarrahdale's), natural cut birch branches, Spanish moss, fresh cotton buds, and a few pops of green with moss and our rosemary infused olive oil that were our wedding favors.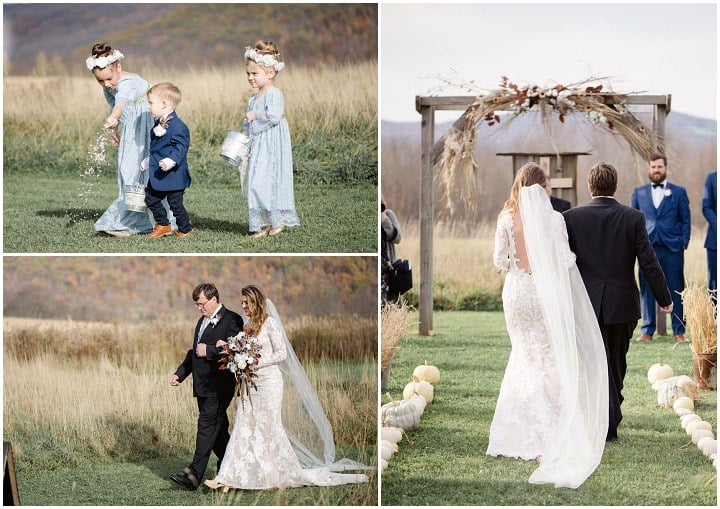 Decoration
I ended up hiring a great friend of mine Virginia Jones to help my vision come to life because I knew it would be impossible to accomplish myself. Every detail of my wedding came from endless amounts of work between Virginia and myself. We got into the barn the Monday before the wedding and worked everyday leading up to. We did all of the centerpieces. We made a great couch out of hay bales. We decorated every inch of it. My Favorite part of the barn was an old window that Virginia had at her house that we hung behind our head table. There were white airy curtains hanging behind it.. It truly took my breath away every time I walked in.
Flowers
We used white and gray pumpkins (jarrahdale's), natural cut birch branches, Spanish moss, fresh cotton buds, and a few pops of green with moss and our rosemary infused olive oil that were our wedding favors. My flowers were done by Nicole Mahoney my best friend since kindergarten. She lives in Kentucky now. So again everything was done by phone calls. I wanted everything to be dried so that I could have them forever. We did fresh cotton, blue thistle, pheasant feathers, solo flowers, and wheat grass. They were amazing!
Personal touches
My flowers were done by my good friend Nicole completely handmaid and dried so that I could keep them forever. My favors were done by my father-in-law. We did rosemary infused olive oil. I wanted to do something different that I knew people would use. They looked so pretty on the tables. My cake and mini desserts were done by a great friend and old coworker of mine Billy Lavelle. He is the owner of The Vine in Scranton. We did a small cake for Brian and I to cut. It was a lemon cake with raspberry filling. We did a whole bunch of small desserts.. His famous peanut butter cups, zabaglione, apple crisp, pumpkin mousse, mini cheese cakes. I always said when I get married one day Billy will make my cake. It was the cherry on top of the perfect wedding.
Special moment 
My favorite moment was our ceremony and saying our own personal vows. Standing in the middle of that field, surrounded by the beautiful mountains and our family and friends. It was everything I could have imagined. My favorite crafted detail was the dresses that my daughters wore. They were handmade by my cousin Willow Funk. She lives in Woodstock NY. We never met in person. We just chatted on the phone and through text. I told her what I was looking for and the color I wanted. I took a few measurements of the girls. I was blown away with how perfect they were and they fit perfect. They looked like two little angels.
Advice for other couples 
Some advice for brides-to-be would we go with the flow. Lots of plans and visions changed throughout my process of planning but I went with it and it was beautiful. Most importantly take every moment in. Don't let it fly by. This is such an exciting time in your life. Plan with your future husband and do it together. Most men like to be in the background for the planning process. Make them apart of it because you learn so much about each other in that time. I wanted to make sure I lived every moment of our day. From start to finish and I truly feel I did!
Supplier Shout Outs
For more information on Jordan DeNike's Photography go to
www.jordandenike.com / www.jordandenike.com/blogpage / [email protected] / FACEBOOK / INSTAGRAM / PINTEREST