Happy Monday to you all and welcome to another fabulous week on the blog. I hope you had a wonderful weekend and managed to enjoy some of the lovely weather we have had here in the UK. It's been a weekend of getting jobs done in our household, ready for two very busy weeks ahead of us. It's Dexter's birthday party this weekend coming, our wedding anniversary, fathers day, then Dexter's birthday the following week, we have 2 days planned at CBeebies Land to celebrate then we go on holiday the weekend after…..Phew! So I'm busy cramming in lots of jobs and scheduling blog posts ready for you to read while I'm away! That leads me onto today's gorgeous wedding from Cyprus. It features the most gorgeous couple, with the most amazing wedding reception venue…Their home! and with 500 guests attending you just know this one is going to be good! Big thanks to Karina Leonenko for the fab images.
Natural and real people and feelings, friendly environment. Unique experience. The happiest time of our lives!
Tasia and Aristos were married on 24th June 2017 at Lofou Villages, Cyprus (Our residence) 'We love nature, also we wanted to make our guests feel more friendly inviting them in our place. We had 500 guests and it took a year and a half to plan.
How they met
We met from high school, in 2006 ! we got engaged in 2015 in Italy and then decided to get married.
The proposal
We went for a holidays in Rome, I didn't have a clue about the proposal, He made a great environment in our suite in a beautiful hotel and he simply proposed, he made it on 1st of April, and our friends and family thought is April's fault! hahahah
How did you allocate your budget?
we tried to plan our costs and avoid using the highest costs…
How did you choose your photographer?
I found Karina from social media, and I loved her style.
Theme or colour scheme
Boho style, colourful wild, unique flowers
Flowers 
Chamomyle, Erygnium, peonies, roses, Veronica, Lysyanthos, Baby blue eucalyptus, green
Decoration 
Gold material, wood and vases
The dress and suit
Atelier Zolotas in Athens – both wedding dress and groom apparel
Food
Variety, meat, fish, salads etc
Wedding cake
Simple gold with wild flowers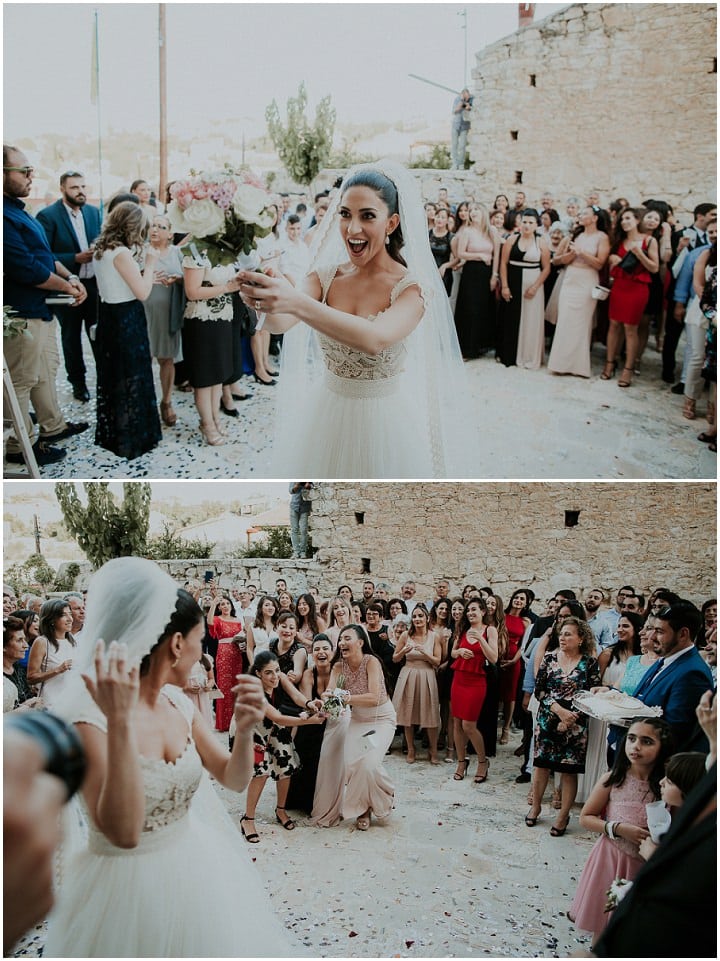 Who supplied the stationery?
I designed all the materials, photobooth frames, invitations, cards, car signs, sitting plan etc according our wedding boho theme
Personal touches
Stationery, wedding gifts, some decorations, seatting plans, the organisation of the weeding in our yard (table plans, deejay, dancing floor etc) with our catering and lighting support of course
Special moments 
entrance time & our first dance!
Advice for other couples
Enjoy each minute, is the most wonderful experience!
Biggest surprise
Our friends danced for us a song that Aris (my hasband's name) included in the lyrics… They changed the lyrics to match our story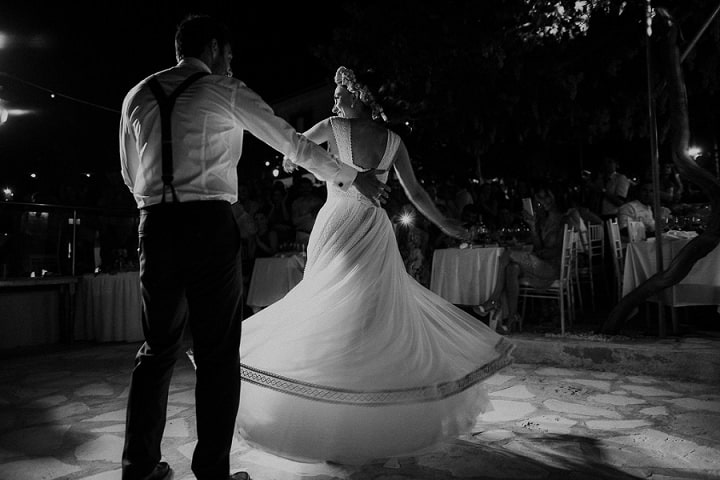 Supplier Shout Outs 
For more information on Karina's work go to
https://www.karinaleonenko.com / www.karinaleonenko.com/blog / FACEBOOK / INSTAGRAM / PINTEREST