Happy Friday everyone and welcome to the start of the bank holiday weekend! Typically, it's raining here in Sheffield and it's my day off! However, the rest of the weekend looks good, so I'm looking forward to some relaxing time with friends and family in the sunshine. Today I am taking you back to winter with this fabulous wedding from March of this year. Abigail and Daniel are big lovers of the outdoors, so they wanted to make sure their wedding emulated this as much as possible. They pulled this off beautifully, with a wonderful collection of rustic and natural decoration ideas. The table plan is my personal favourite, as well as all the beautiful flowers and pretty details dotted around the venue. Big thanks to Rachel Victoria for the lovely images. Enjoy your bank holiday everyone!
You plan the day and all the details, but your guests are what bring it to life. We brought the North and South together in one big bundle of joy and celebration
Abigail and Daniel were married on 3rd March 2018. 'Our ceremony was held at Ashton Memorial, Williamsons Park, Lancaster, followed by our reception at Beeston Manor, Ribble Valley, Nr Preston. We are so lucky to live just a five minute walk from Ashton Memorial. As we live away from many of our family and friends, we really wanted to give them a taste of where we live and show it off from the best viewpoint in town. We couldn't have imagined getting married anywhere else. Storm Emma and the 'Beast from the East' turned up as very unwanted guests, which unfortunately meant that 15 of our guests were unable to travel. With a last minute jig about, we were really grateful that a few of our evening guests were able to drop their plans and fill the seats. We ended up with about 80 day guests and 120 evening guests. We took 11 months from proposal to the big day to plan it.' 
How they met
We met in 2010 on Dan's first day in his new job. I had recently returned from a year away travelling SE Asia, Australia and New Zealand and decided it was time to return to my roots. Dan had recently finished his degree in the Lake District and as chance would have it, decided to embark on a new adventure in the West Country. We were colleagues at first, and quickly hit it off as great mates. Needless to say, Dan enjoyed his new cider drinking lifestyle in the South, but it wasn't long before he felt the pull to head back up North. Following a summer apart we quickly realised that our friendship was something a bit more special, and in 2011decided to try out this whole relationship malarkey!
Tell me about the proposal
Dan told me that he'd booked us a couple of nights away over his Easter Holidays. On the morning of the trip we set off nice and early, he told me to pack my walking boots and some water and we set off on a glorious, sunny day in the Lake District… our favourite place! After a casual 8km uphill, we reached the deserted summit. Whilst I was rummaging around in my backpack, he got down on one knee! I was in complete shock and my first reaction was "Oh no!".. but what I really meant was "Absolutely YES!" We popped some prosecco, enjoyed a lovely picnic and then descended, with our heads already brimming with wonderful ideas for the big day. We spent two incredible days relaxing in the most amazing B'n'B, with a meal in a delicious restaurant to top it off…. he really had thought of everything, I was extremely lucky!
How did you allocate your budget?
We were extremely lucky to have our parents generously help us out with the budget. We knew the big costs would be for the venue and the food and drink so we wanted to book and pay for those as soon as possible, then we knew what we had left to pay for. We also worked out how much we would be able to save and pay for as we went. I tried to keep a check on things with a spreadsheet for all the big stuff and where possible tried to get creative and hands on with making bits to keep the costs down.
Where did you splurge and where did you save?
As Ashton Memorial is such a stunning venue it felt right to book entertainment which truly fitted the setting. Unbeknown to Dan, I went ahead and booked it as a surprise for both him and our guests for the day! We really wanted everyone to have a great time, be well fed and watered throughout the day, so the food and drink choices were really important. We also wanted everyone to keep together and keep the party going as much as possible so we hired a vintage bus to transport our guests between our venues which worked a treat!
How did you choose your photographer?
Rachel Victoria was tagged on an instagram post on Beeston Manor, and after a quick stalk of her instagram page and website I realised that her natural style of photography was exactly what we were after and we booked her straight away. We knew we wanted a few group and couple shots, but it was really important for us to capture the real magic of the day, which Rachel has done just perfectly for us.
Dress 
I knew I didn't want a Cinderella dress right from the start, but other than that I really had no idea what style or fit would look best. It seemed like a bit of a minefield to begin with, but after trying a few dresses, and with some wise words from my mum and bridesmaids,  I realised I wanted something elegant and comfortable, with just a hint of sparkle… it also needed to pass the squat test so I could pick up my Niece and more importantly eat on the day! My dress was Harley by Catherine Deane which ticked all my boxes. When I put it on I definitely felt beautiful, comfortable and bridal but most importantly, I felt like ME! Plus it rendered my mum and sister speechless which meant I knew it was the one!
The suit and bridesmaids
The boys suits were hired from Moss Bros. The bridesmaid dresses were from AX Paris and their shawls were from Monsoon.
Theme or colour scheme
We love the outdoors so we wanted to keep things natural and rustic in terms of décor in the venue. My dress was champagne in colour which works really well with muted pinks so the bridesmaids dresses were a dusky pink and the boys were in Navy.
Flowers 
Peonies are my favourite, however I knew it would be a long shot getting them in March! My florist Abi's Arrangements said she would do her best to have them in my bouquet, and to my surprise, she did! I also had Ranunculus, tulips, freesia, roses, and lots of lovely foliage. I wanted my bouquet to be loose and rustic, it was just beautiful!
Decoration 
We decorated the venue the night before with honeycomb lanterns, ferns, bunting, foliage, jars, candles, flowers and fairy lights.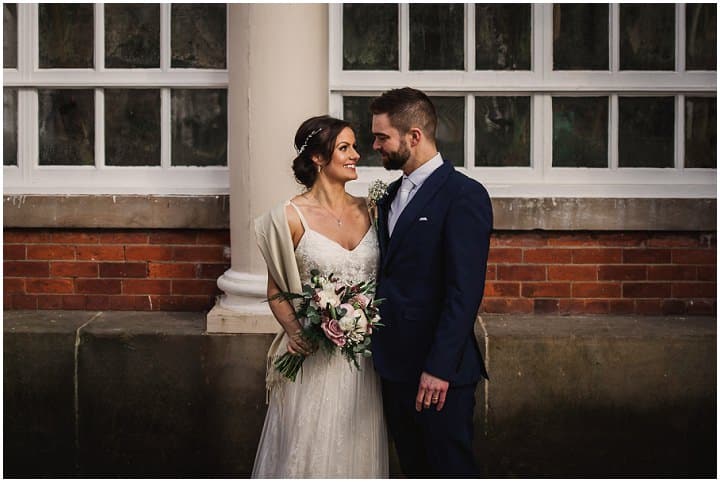 Food
Thai crab cakes with a sweet chilli dipping sauce, leek and potato soup or pate for starters.  Salmon, dill and new potatoes, butternut squash lasagne or a brisket of beef for the mains and Sticky toffee pudding or a passion fruit crème brulee for dessert. In the evening we had a hog roast for the meat eaters or vegetarian burgers.
Wedding cake
My incredible mum made us a four tier, naked wedding cake in four different flavours (vanilla, chocolate, vanilla and lemon), decorated with fresh fruit and chocolate flowers. Just like the pictures I'd seen on Pinterest! She also whipped up a gluten free one on the side. She is a genius!
Entertainment
For the ceremony I had arranged a surprise for when Dan arrived to greet the guests, which he loved! We initially wanted something a bit different for the reception and looked into booking a funky brass band to get the guests up and dancing but after some budgeting considerations we went with a resident wedding DJ who kept the dance floor full all night.
Who supplied the stationery?
We got our personalised stamps from the English Stamp company but me and mum bought and made all the save the dates and invitations.
Personal touches
Other than the bridal party bouquets my mum and I made all the save the dates, wedding invitations, table flowers, centre pieces and table plan. It was great fun to have a project!
Special moments 
We were both so excited to have all our friends and family gathered in one place, our favourite place, to exchange our vows.  For both of us I think the ceremony was the most special, after all, it's what it's all about isn't it! But everything else that followed.. the vintage bus party bus, the delicious food and canapes, the speeches and dancing until the early hours just made the whole day truly magical.
Advice for other couples
Make sure you plan the day that you want. Be organised, but don't stress, it will all come together on the day. We definitely enjoyed the build up and anticipation almost just as much, as we knew the day would go by in a flash… and it did! For that reason, pick a great photographer, as their pictures will allow you to relive those special moments time again and time again! Make time for each of your guests, but also make some time for yourselves to soak it in.. you just got married whoooo!
Biggest surprise 
I had booked The Northern string Quartet to play during our ceremony and reception drinks as a surprise for Dan and the guests. I had spent hours listening and picking songs for them to play, some familiar classical, some jazz and pop music which everyone would recognise. When Sigur Ros – Hippipola, and Oasis- Wonderwall were played during the signing of the register I knew Dan was touched. They were incredible!
Another wonderful surprise was my Uncle, Auntie and two cousins turning up at our reception just after the starters! They had been snowed in, in Somerset and were unable to attend the ceremony, but on the morning of the wedding a local farmer had cleared their driveway and made it possible to make the drive. They decided they would set off regardless of how long it would take to drive the 250+ miles! We were so touched by their efforts and we partied with them long into the night.
For more information on Rachel's work go to
www.rachelvictoriaphotography.co.uk / www.rachelvictoriaphotography.co.uk/blog /  [email protected] / FACEBOOK / INSTAGRAM / TWITTER