Well hello everyone and welcome along to another fabulous week on the blog. Did you have a good weekend? I do hope so! Mine was lovely, if not a little noisy as I had 2 four-year old birthday parties to attend this weekend, one on Saturday and one on Sunday! This week we have lots of lovely weddings to share with you and I am starting you off with a trip to Yorkshire for the wedding of Becca and Jon. Becca and Jon knew they wanted an outdoor glamping wedding and what better place to hold it than the place where Jon proposed to Becca. They filled their day with lots of DIY details aswell as an eclectic mix of decoration following their Pre-Raphaelite theme. Lots of colour, textures and of course Becca's amazing multicoloured wedding dress! A really stunning woodland wedding all captured perfectly by One Love by Gary Phillip.
Our wedding day was a relaxed, colourful, untraditional, and very sunny glamping experience.  We wanted each part of the day to reflect our personalities and relationship and everything went even better than expected.
Becca and Jon were married on 17th July 2017 at Camp Katur, Kirklington, Yorkshire.  'We'd been to the venue before for a festival and fallen in love with it.  Jon proposed there on the glamping site.  When we were looking for a wedding venue we looked around four other venues with glamping sites that were closer to where we lived, but we didn't find anywhere that we liked as much as Camp Katur. We had 60 guests and it took about 18 months to plan.'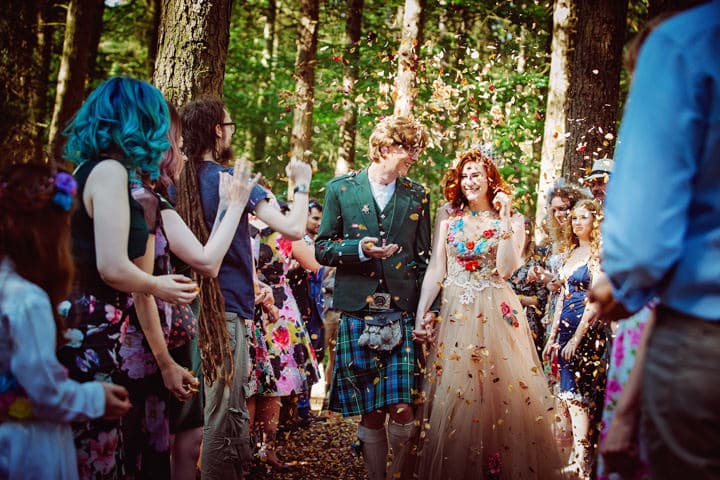 How they met 
We work in similar places so our paths first crossed there about eight years ago, but we don't really remember meeting.  After a couple of years just seeing each other around, we became friends and went out a few times.  Then we stopped seeing each other as much, because I wasn't interested in dating. It wasn't until 2014 that we started properly dating and became a couple
The proposal
We were at Camp Katur for a festival and on the final night we were staying in one of their glamping pods.  We'd built a fire and were sitting beside it and the sun had gone down.  Jon said that if he had a ring he'd propose right now.  I found some silver foil from a packet of chewing gum, twisted it into a ring shape, and told him now he had no excuse.  So he got down on one knee outside the hut and proposed with the paper ring.  A few months later he did a more official proposal with a custom made ring, and I gave him an engagement ring too.
How did you allocate your budget?
We booked a package deal with the venue so most things were taken care of – we didn't have to think about allocating budget for food, drinks, linen hire, etc.  Other than that we knew our big priorities were getting a good photographer, and a celebrant who would give us a personalised ceremony (we ended up booking Samantha Kelsie, who put together the most lovely ceremony for us)
Where did you splurge and where did you save?
Our biggest splurge was on accommodation for the guests – the venue is a little out of the way so we wanted to give people an option to stay onsite, so we booked out the entire glamping meadow.  Most of our guests stayed onsite with us and we think they appreciated having the option. We saved on pretty much everything else – getting the package deal with everything included, we used eBay and Amazon for smaller details, and we made a lot of things ourselves or asked for favours from our talented friends and family
How did you choose your photographer?
I've known Gary for a long time, and have worked with him as a model a couple of times in the past so I knew his work was good and that we got on well together.  I suggested him to Jon and when we went for a meeting with him, they got on very well too.  So he was the obvious choice
The dress
My dress was by Chotronette. I was browsing their website just out of curiosity, with no intention to buy my wedding dress from them, but when I saw that design I fell in love.  I customised it by adding different coloured rhinestones to the lace trims and flower embroidery.  I bought my crown from eBay, and used crystals to embellish some basic gold stilettos to match.  I also wore my grandmother's gold charm bracelet
The suit and bridesmaids
Jon wanted to wear his clan tartan, but a variation design called the Ancient Mackenzie, so he had a kilt custom made by MacGregor and MacDuff.  He went for a green kilt jacket and waistcoat instead of black, and his belt, sgian dhu, and kilt pin all had the Mackenzie crest.  There were no bridesmaids or best man, but the flower girl wore a hand made white Communion dress that has been in my family for generations.  She and the two unofficial ring bearees also wore crowns that I made myself
Theme or colour scheme
I love Pre-Raphaelite art so we had a very loose theme of 'Pre-Raphaelitism', which I tried to show in my hair and dress choice.  The colour scheme was just a mix of bright colours.  But the more we put together, the less defined the theme became, and it just turned into 'things we like'
Flowers
We didn't have any flowers as we were married outside so there was plenty of greenery.  My mother and I made bucketloads of paper roses that we used on the centrepieces for the reception
Decoration 
For the ceremony (which took place in Camp Katur's outdoor are in the woods) we used the venue arch and dressed it with extra curtains, then decorated the surrounding area with things from our home: art prints, star shaped lights, stag head ornaments. We had very loose plans on how we wanted the venues to look, and placed everything where it looked right on the day.
For the reception in the barn we dressed the tables with the standing paper flower centrepieces my mum and I made, fabric shawls as tablecloths, decorated bottles of more paper flowers, and tea lights in glass holders.  We decorated the venue itself with long pom pom garlands that I made, and a paper flower photo backdrop.
Food 
For our wedding breakfast we had afternoon tea, which was probably the best meal we've ever had.  There were sandwiches, sausage rolls, pork pies, endless tea and coffee, and four different types of cake!
For the evening buffet we had a barbecue, which we're told was very good, but which we missed most of because we had gone to do our wedding portraits when it arrived.  The venue staff saved some for us so we got to taste a burger at least!
Entertainment
We had no entertainment at the reception, and just used a playlist and a PA system for dancing.  During the ceremony our friend Louise sang a beautiful version of Etta James' 'At Last', and our friend Layla read a poem she had written for us
Who supplied the stationery?
Our friend Pip drew an illustration of us based on a Pre-Raphaelite painting ('Acrasia' by John Melhuish Strudwick) and we used that on our invitations
Personal touches
Apart from the things I've already spoken about (venue decorations, bridal shoes, crowns for the flower girl/ring bearers), Jon's mum made lots of blankets with our initials (B&J) on them, so that after the dancing stopped and our guests moved to sit around the bonfire, we all stayed warm.  We also asked all of the family (both sides) to collect any flower petals they would have, so we could dry it out and make our own confetti.
We don't much like tradition so we we walked up the aisle and into the ceremony together, after doing a first look in  the meadow outside.  After my dad's speech and Jon's, I stood up and did one of my own
Special moments 
The first look was a lovely moment.  We met in the meadow before walking into the ceremony area together.  It was nice to take a few minutes that was just us two before we were centre of attention.  And the photos from that part of the day are some of the best.
Also when I was getting ready I showed my mum the garter I'd brought with me, that had a vintage lace hanky clipped to it.  I wasn't sure whether to wear it, but she convinced me to.  During the ceremony, Jon's eyes started watering so I lifted my skirt and whipped out the hanky for him.  That was probably my favourite unexpected moment
Advice for other ccouples
Don't stress about things you can't control.  Even if things don't work out quite the way you planned, worrying will just stop you enjoying the things that are going perfectly
Biggest surprise 
The absolutely perfect weather.  We knew getting married outside was a risk, and we had a backup plan, but we hoped for sunshine.  The few days leading up to the wedding day (and the few days after) were grey and rainy, so we didn't hold out much hope.  But the wedding day was glorious sunshine from beginning to end
Supplier Shout Outs
For more information on Gary's ork go to
www.nottingham-wedding-photographer.com / www.nottingham-wedding-photographer.com/blog / [email protected] / 0115 849 3154 – 07980 607610 / FACEBOOK / INSTAGRAM
One love by Gary Philip is based in Nottingham and specialises in story telling wedding photography throughout the UK. Delicately balancing reportage and portraits, Gary's style is is unique and creative