We are heading to one of my favourite wedding venues today. If I could choose to get married anywhere, this would be top of my list. It's the Ace Hotel & Swim Club at Palm Springs and I just adore it! It turns out that Heidi and Theresa do as well, as they held their super cool, relaxed stylish wedding there. Their colour scheme of golds, blushes, taupes, ivory's and greenery mixed in perfectly with the desert backdrop. They then added a modern twist with geometrics, lots of gorgeous protea, aswell as plenty of romantic lighting once the desert sun had gone down. To make the night complete, they brought out synchronized swimmers after the wedding breakfast to make the most of the pool, which added a real element of fun to the whole day. Michael Segal was there to capture the day and I just love how these two brides have created a cool, yet super romantic day
Our wedding had it ALL and then some. There was LOVE, laughter, New Yorkers, Norwegians, dancing, Rugby Boat Races, Italians, synchronized swimmers, more LOVE, Tina Turner, Micheal Jackson, both brides jumping in the pool, even more LOVE… and not a dry eye in the house…SO MUCH LOVE!
Heidi and Theresa were married on 14th October 2017 at Ace Hotel & Swim Club, Palm Springs. 'We stayed at the ACE when we first started dating, and it immediately became our special place! From the amazing scenery, to the friendly staff (who became friends and some were even guests at the wedding) to the chilled vibe that had us returning a dozen times, it was the obvious place and THE PERFECT location for our wedding, and we couldn't have imagined it anyplace else! we had 80 guests and it took 8 months to plan.'
How they met 
We met while at work and have been together 4 years.
The proposal
Theresa proposed to me on Christmas morning with the help of our son, Barron. She took him aside after opening gifts, and put him in a t-shirt, reading, "Mommy, will you marry TT?" I said yes of course, but little did Theresa know, that Barron and I had also planned to propose to her. Barron kept it a secret, and after gathering my excitement, I pulled out a ring for Theresa, and asked her if she would marry us too! Needless to say, the accidental double proposal was a success and we all said yes!!!
How did you allocate your budget?
We made a list on what was really important to each of us, then as a couple and from there, we met in the middle and compromised.
Where did you splurge and where did you save?
We splurged on a couple of our vendors, particularly our photographer and our videographer, because we felt like both were a priority and we were beyond obsessed with their work! We also had an open bar which we extended, to keep the dance party going. We saved money on flowers and decorations. Because our venue was such a beautiful setting, and the desert mountains in the background, we kept flowers very simple and used tons of greenery flowing throughout. We went to our craft store and along with our son, we hand painted the props for the photo booth. We also picked up about 20 amber bottles, in all shapes and sizes, from the flea market. We used them with simple green stems or flowers for the dinner tables, accent tables and the bar.
How did you choose your photographer?
When we came across Micheal Segal's website, we both were automatically in love! His photos captured the exact feeling we wanted. Theresa is a Director of Photography for a living, so she has a very specific eye in what she considers great. His photos told a story and had so much emotion behind each shot, that we knew, he was our guy. He was the first person that we both loved equally, and then, when we had a meeting with him, it was like we had known him for years. He was passionate, fun and we knew he would absolutely nail our wedding. Micheal exceeded all our expectations and we feel so lucky to know him.
The Outfits
Heidi – Dress: Grace Loves Lace, Shoes: Jeffery Campbell, Earnings: Melinda Maria
Theresa – Suit: Ted Baker, Shoes: Cole Haan
Bridesmaids
Show Me Your Mumu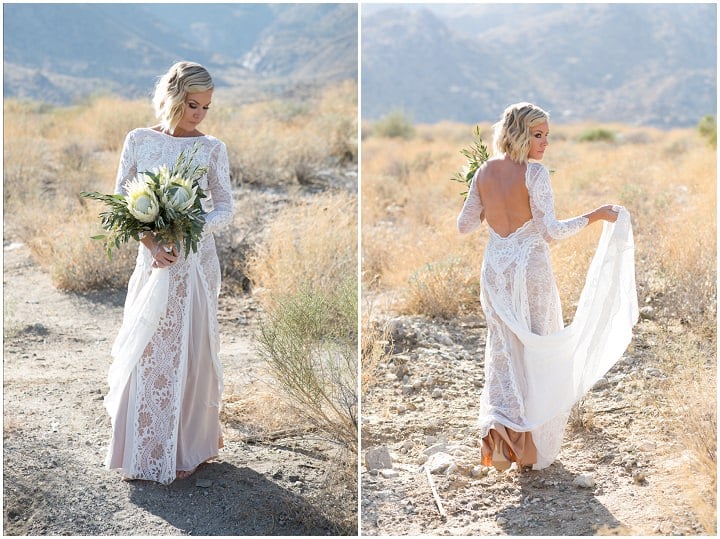 Theme or colour scheme 
The colors we gravitated to were golds, blushes, taupes, ivory's and greenery for flowers.
Flowers 
We kept flowers very simple using white/ ivory king protea, white/ ivory roses and TONS of greenery (eucalyptus garland, olive branches)
Decoration 
We had our flowers and beautiful eucalyptus garlands, gold geometric candle holders, antique amber bottles, hanging bistro lights, and lots of candlelight.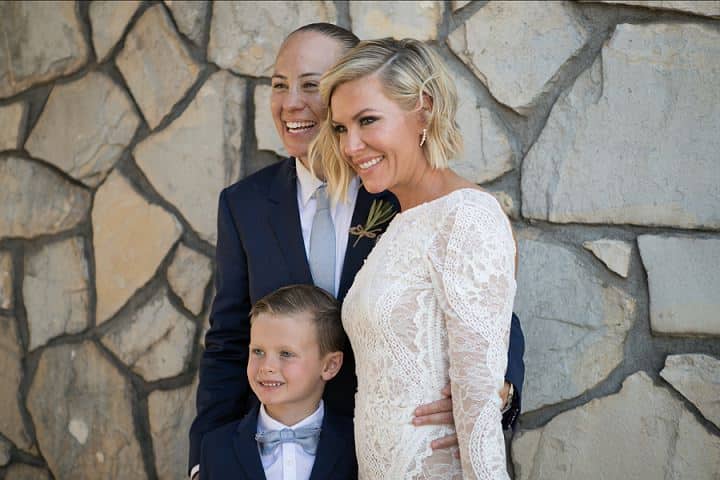 Food
We had long "Family Style" dinner tables so everyone could enjoy each other. We started with Italian bread, Caesar salad and a hearty mixed green salad. For dinner, everyone had salmon with baby carrots, hanger steak with smashed potatoes and chimichurri sauce and roasted chicken and brussel sprouts. Dessert we had espresso, macaroons, cookies and of course, wedding cake.
Wedding cake
Theresa is an avid chocolate lover so we had one layer of chocolate cake with chocolate frosting and one layer of confetti cake, all covered with a vanilla whipped frosting.
Entertainment
We had a DJ. And, later in the evening, Theresa let her hair down and stunned everyone with her infamous Tina Turner impression with live karaoke.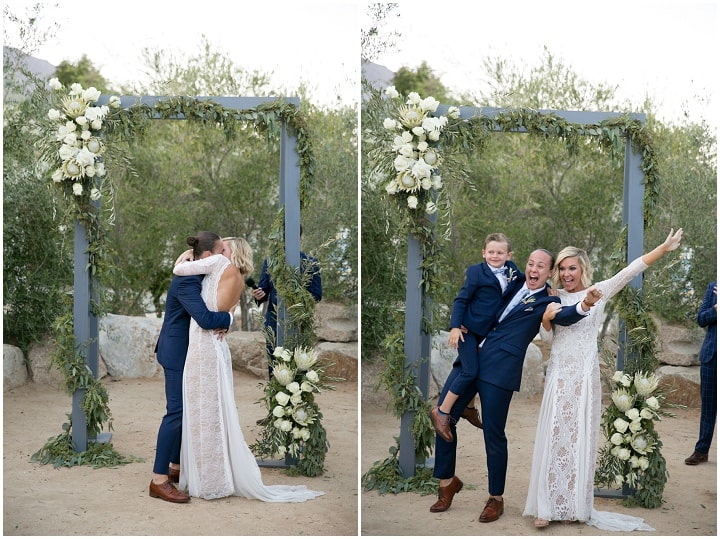 Who supplied the stationery?
We wanted something simple and Meghan Shaughnessy of Lace and Belle did an amazing job. She custom created exactly what we wanted.
Personal touches
We designed our own canvas tote bags, filled them with goodies, and distributed them to the guests who were staying at the hotel. It was fun seeing them used as pool bags during the whole weekend. We also painted glasses and other props as a family to use in the photo booth.
Special moments 
Seeing each other for the first time.
Theresa's uncle, Joseph Vitale, who was a integral part of legalizing gay marriage in the US, spoke during our ceremony about marriage equality.
Our officiant and good friend, Jim McGibbon, flew in from New York and gave a tearful, yet fun ceremony.
Theresa reading her own special vows to our son, Barron.
Theresa dancing with her 84 year old grandmother.
Traditional Rugby Drinking Boat Race with Heidi's side of the wedding vs. Theresa's side, followed by jumping in the pool.
Advice for other couples 
Hire a wedding coordinator! We hired Jacquelyn Mavrookas, owner of EVJ Wedding Co, and she made our lives so much easier. She handled all things big and little that we didn't think of. She actually  became a dear friend and we all cried when it was over. Stop and take a moment to enjoy and breathe it all in. Do whatever makes you happy as a couple and not worry about upsetting anybody else.
Get food for your guests at the after party of your wedding. This saved our lives the next day!
Biggest surprise 
Heidi surprised Theresa with custom ordering a skyline of New Your City as the back drop of the photo booth. Theresa surprised Heidi with hiring Synchronized Swimmers called the "Aqualillies" to perform during the reception.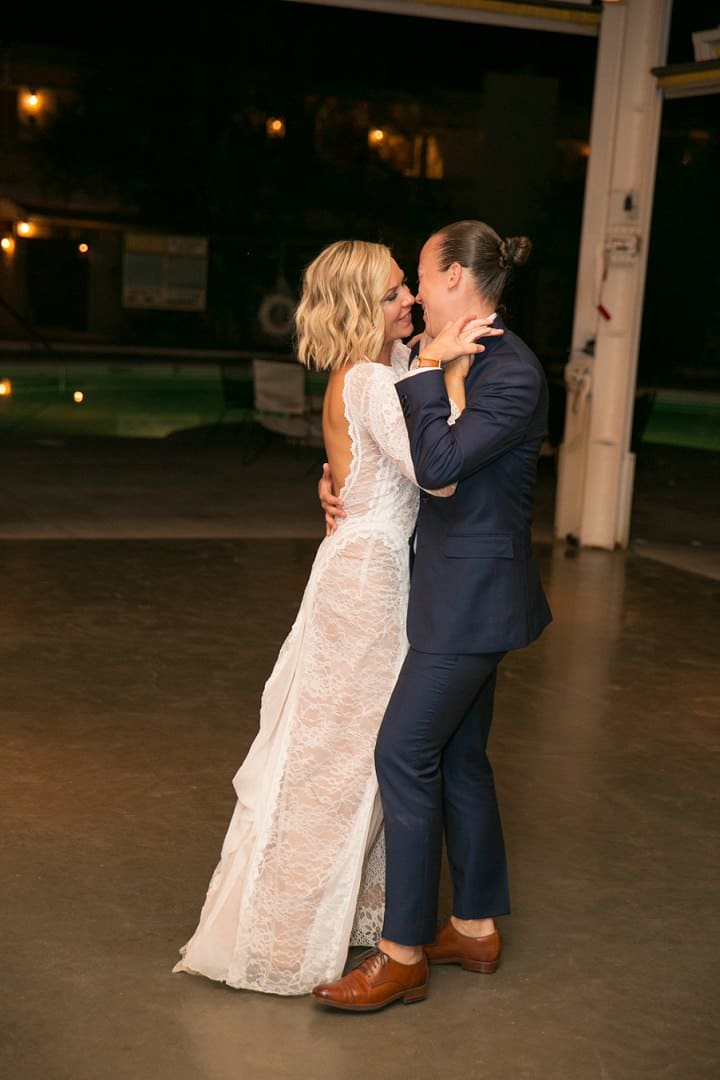 Supplier Shout Outs
For more information on Michael's work go to
www.michaelsegalphoto.com / www.blog.michaelsegalweddings.com /  [email protected] / FACEBOOK / INSTAGRAM / PINTEREST / TWITTER