Happy Wednesday everyone, today is a very happy day indeed because it's my birthday! I have taken the day off work, as has Nik, and we are off for a day of birthday fun. Starting off with brunch, a spot of shopping and then we are off to watch Blank Panther. Then we are picking Dexter up from nursery and all going out for a birthday tea. I can't wait! Because it's my birthday, I have chosen a super special Boho wedding for you today. It's one of my favourites so far this year. It's the wedding of Karina and Jonathan who were married in the California Desert, planned by Nicole George Event Planning & Design and captured perfectly by Westlund Photography.The whole day is a real feast for the eyes. Taking inspiration from their love of everything retro and vintage, they filled their wedding area with an eclectic mix of furniture, rugs, decoration and general bit and bobs. The cool desert backdrop really adds that something special to the entire day and I just adore everything about it.
Worth the wait!
Karina and Jonathan were married on 21st October 21st 2017 at Rimrock Ranch, Pioneertown in California. 'We fell in love with Rimrock Ranch the moment we stepped foot on the property. The high desert ranch was inviting and homey, yet isolated from the busy city we were used to in San Francisco. We loved the idea of pulling our guests off the grid and away from technology and civilization to be in the moment with us for the entire celebration, we had 150 guests. Although we had an idea of what we wanted prior to the engagement, the actual wedding planning took almost an entire year of hard work. Much of the work came from spending weekends driving through neighborhoods looking for garage  sales and shops to find the vintage decor. It was a ton of work, but well worth it. Most importantly, we had fun doing it.
How they met
We met in high school through our local music scene. We regularly frequented the same music venue, went to the same shows, and rocked out for years without knowing each other. A mutual friend finally introduced us and we hit it off. That was 13 years ago and we've been together ever since.
The proposal
Jon: The proposal was an extravagant San Francisco scavenger hunt with clue cards and pit stops at some of our favorite places. She was eventually led to a rooftop overlooking the SF cityscape with a record player spinning The Zombies "This Will Be Our Year" (our first dance song). When she walked down the stairs, our friends from all over California were there to surprise and celebrate with us.
How did you allocate your budget?
We splurged on the big things and made it work as best as we could for the small things. Years ago, we read a wedding blog from a friend and the bride's advice stuck with us: If you're on a budget, it's unrealistic to have everything you've ever dreamed of. Pick the top 3 aspects that are most important to you and splurge on those things. Everything else will fall into place.
Where did you splurge and where did you save?
The most important aspects for us were 1) venue 2) photographer and 3) dress, so that's where we chose to go with what felt right versus what fit in our budget. About a quarter into the wedding planning and once we had already decided on a retro 70s household design, we realized how expensive rentals can be. Everything from the furniture to the lights to the dance floor was going to cost more than we anticipated, so we decided to go DIY in order to stay within budget and still design the wedding we dreamed of. We looked for the vintage furniture ourselves, we used rugs for the dance floor, our friends helped string the lights, and we packed everything in a moving truck and drove it to the high desert.
How did you choose your photographer?
We were both dreading the day where we'd have to pose in front of a camera awkwardly and be uncomfortably vulnerable in front of two strangers… until we found Aubrey and Phil. Their work
was stunning, yet natural and authentic. This became even more clear the moment we met them to take our engagement photos in San Francisco. Nothing about it felt fake or forced, and their photos capture that. They both have a gift for capturing emotion in the moment while letting you as couple lead the shoot and just be you. Those candid in-between moments have become our favorite photos and we're grateful we chose them to capture our special day.
The dress 
Karina: I wore the "Soho" by Grace Loves Lace — It's a dress I was eyeballing for quite a while, but at the time, they only had showrooms in Australia. It was perfect timing that they added a showroom in Venice, CA shortly before our engagement and I was able to try on the dress of my dreams. I knew it was a "yes" before I even looked in the mirror. For accessories, I kept it simple with rose gold crystal earrings.
The suit and bridesmaids
Jon: I hate wearing suits! Some men love putting them on, but that's not me. I knew that I could come up with a really great looking outfit that would feel authentic, cool, and comfortable for my boys and I. We wore beige casual shirts, brown Wrangler polyester pants, leather braces, and leather work boots.
Karina: I wasn't picky with the bridesmaid outfits, as long as they wore the same rusty orange color, brown boots, and felt comfortable. They each chose their own style of dress from Azazie.com and I bought them earrings to match mine.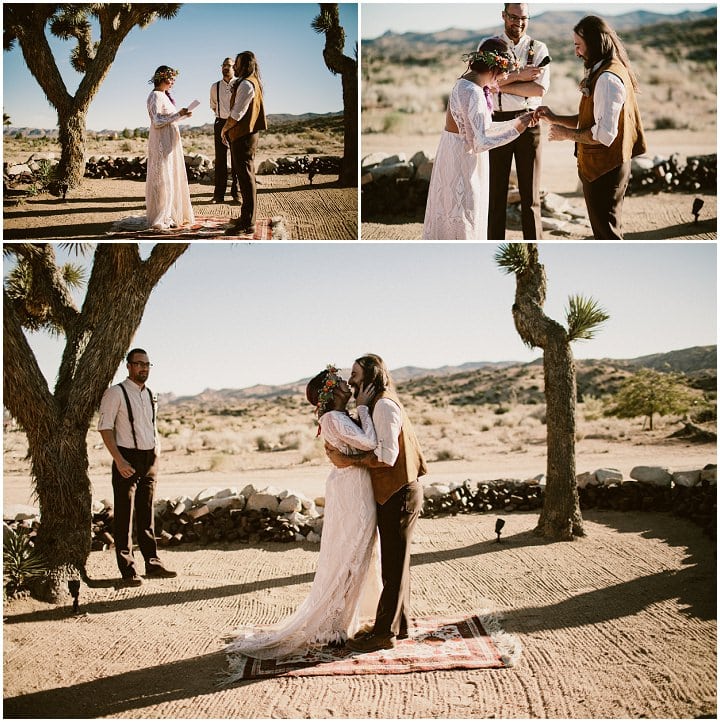 Theme or colour scheme
When we thought about designing our wedding, we wanted our guests to get a glimpse into who
we are as a couple – our personalities, our interests, our vibe. We stayed away from anything too formal or restrictive and decided to do things our way in a non-traditional way. As two old souls, we've always had a love for all things vintage, from furniture to music to dishware. We love funky, and colorful, and that's what we wanted to create at Rimrock.
Flowers
Initially, planned to do our own floral design and arrangement to stay within budget, but my grandma graciously decided to gift us all of the bouquets and boutonnieres from Cactus Flower Florist. For the decor, we bought our own flowers from the LA Flower Mart and did our own arrangements. We didn't choose a specific flower, but instead, chose some of our favorite flowers and colors — purples, oranges, yellows — and went from there.
Decoration 
Karina: Keeping to our "home" theme, we searched for all things vintage that we'd typically buy for our home. Furniture, persian rugs, afghan blankets, colored glass dishes and vases, 1970s Playboy magazines… anything brightly colored or velvet was a plus. Everything was very "us" and we ended up keeping a majority of the decor to style and furnish our own home.
Food
Pizza is our favorite food! A variety of Pizzas from Pie for the People (a food truck!)
Wedding cake
One of the bridesmaids, who is a baker, baked the mini desserts for the guests and we chose a simple 3-layer "Celebration" cake from Susie Cakes with white frosting for the cake cutting.The cake itself wasn't the main focus, but simply a stage to showcase our custom-made wedding topper by Tamra Kohl of Clay Lindo. She created a Dia de los Muertos miniature of us in our wedding attire using polymer clay. It was an exact replica of us and our miniature dachshund Charlie and everything from the hair down to our boots was handcrafted with meticulous detail.
Entertainment
DJ Dennis Masuda
Who supplied the stationery?
Earthereal Design from Etsy for the invite design and gotprint.com for the printing.
Personal touches
My mom created all of the succulent centerpieces and decor. She spent hours helping us find vintage dishes and did all of the arrangements from her very own backyard! It was a beautiful touch that really helped bring the desert and retro vibe together in a personal way.
Special moments 
Karina: When planning such a big production, you start to underestimate how significant the ceremony will be since it's such a small fraction of the event's time frame. The whole thing felt magical, goofy, informal, personal, vulnerable, humbling — very hard to describe, except that time truly stood still in that moment.
Jon: Besides for the ceremony itself, it was when we walked out to the desert away from the party to take our newlywed pictures with our photographers. As we walked passed joshua trees together hand in hand, with the setting sun at our backs, it finally set in that our day had finally come.
Advice for other couples 
Stick to your guns, be unabashedly you and don't apologize for it. Say "no" when you know it's the right answer. It's a day to celebrate you and your special person. Everything else is just static. It's your love, your vision, your crowd, and ultimately your day — so make it a day YOU will remember with the people who make YOU happy.
Biggest surprise 
The biggest surprise of the day was watching everything come together. The thing they don't tell you when you are planning a wedding with a specific vision, is how it will actually look at the venue! You work so hard all year and have these mental images of what everything is going to look like but of course, abstract ideas and real life can have completely different outcomes. Luckily for us, everything felt and looked exactly how we'd imagine it but even better… the mild desert weather, the blue skies, the color of the desert sand, it all enhanced the effect of our game plan.
Supplier Shout Outs