Happy Friday everyone, I hope you have had a good week and that you are now looking forward to the weekend ahead of us! This month is flying by (thank goodness) I can't believe we have pancake day and valentines day next week, how exciting! We are finishing off the week with this lovely wedding from Danielle Smith. Jacqui and James chose to get married in Essex as that is where Jacqui is from  before moving up North. They chose a fun Alice in Wonderland theme for their day and mixed in a colour scheme of blues, greens and turquoise. They set about completing lots of DIY projects which made the day super personal and so special. With an afternoon tea, croquet and the cutest of cakes, this wedding is so much fun. Enjoy!
Jacqui and James were married on 2nd September 2017 at Little Easton Church and The Reid Rooms. 'I always imagined I would get married back home in Essex as I thought it was important for us to have a connection to the place we get married in. James is from Chesterfield and we live in Manchester so I knew we'd have better chances of good weather down south and a part of me wanted to change my friends perceptions of Essex! Little Easton Church and the area around is just so beautiful. I have lots of childhood memories from there and even though I hadn't been to The Reid Rooms before our first viewing; the venue had so much genuine charm and they gave us flexibility with suppliers etc to create our perfect day. We had 75 guests and it took 10 months to plan.
How they met
Our friends got talking on a night out on holiday in Ibiza and it wasn't long before they found out we had both been at the same University for the past 3 years but never met. We chatted and danced that night before me and the girls went back to our hotel. The next day we bumped into each other as it turned out we were all staying at the same hotel! James asked me on a date a few days later. He took me for a walk along Bora Bora beach and then we found some unattended pedalos and after waiting for a while for the owner, decided to 'borrow one'. After an hour at sea listening to Ibiza tunes from the bar nearby we we were met with an angry spanish man who turned out to be the owner of the pedalo. That was 7 years ago.
The proposal
James proposed while we were on a break in Cornwall. We had a lovely candlelit meal in a little castle and went up to the roof to look at the stars. It was quite cold so I started to head back inside, when James called out "Ooo Jacqui come back, I think I just saw a shooting star!" he then tried to point one out that had never existed, got down on one knee and popped the question. We flew to the Isle of Scilly the next morning and spent the day exploring the island on a golf buggy without telling anyone the news.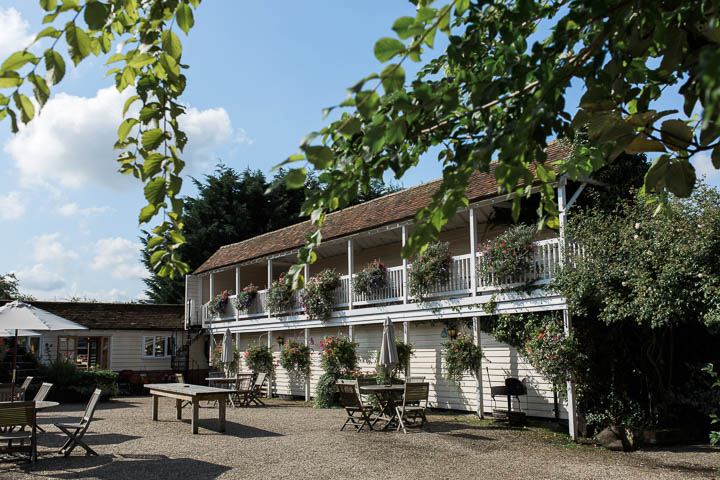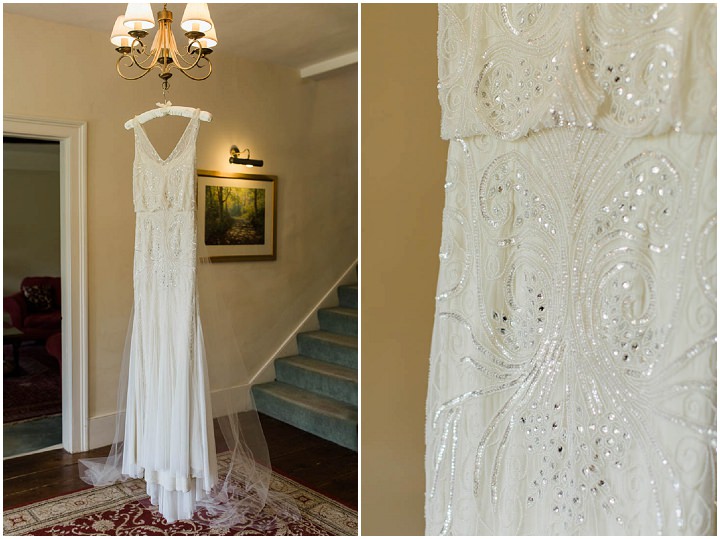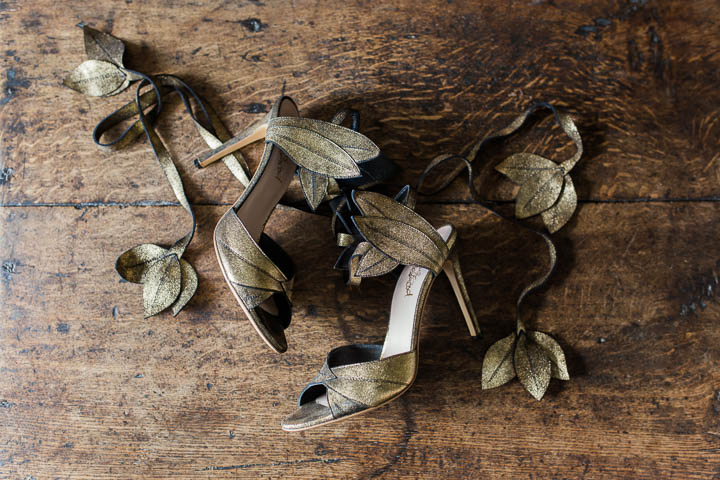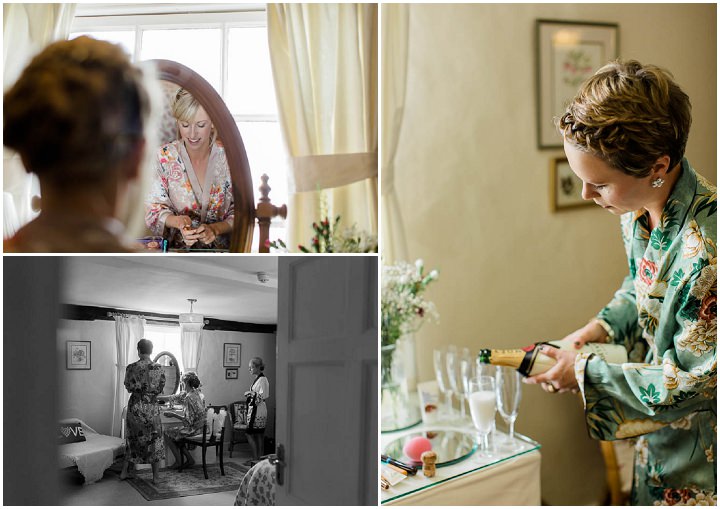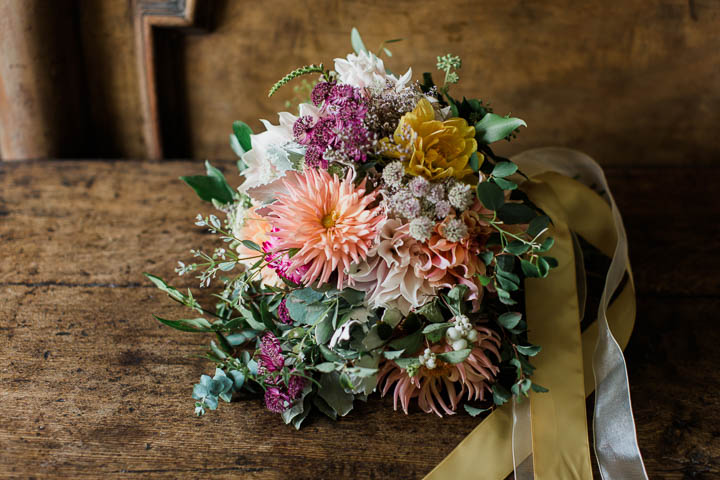 How did you allocate your budget?
One of the first things I did was plan an itemised budget. I was adamant to not pay over the odds for things, I looked up average wedding costs and then reduced every item apart from my dress and shoes! I had 4 columns in my budget: Average, Initial, Projected, and Actual which I found quite useful. Keeping the spreadsheet updated helped things to stay reasonably on track but not surprisingly we went over budget.
Where did you splurge and where did you save?
Despite giving myself a generous budget on my dress and shoes, my dress was off the shelf and my shoes were in the sale. We bought and borrowed vintage china, which was cheaper than hiring. I chose to do my own makeup and go to the salon for our hair instead of them coming to us. James also created playlists on Spotify for the entire day so we didn't need a DJ. Our venue costs were a lot more than we originally budgeted for but but we were able to supply our own day drinks which helped with the catering costs. Our only splurge was our wedding rings really, although we did decide to pay for our bridal party's accommodation on the night of the wedding which was quite a large sum and wasn't in our original budget but worth it.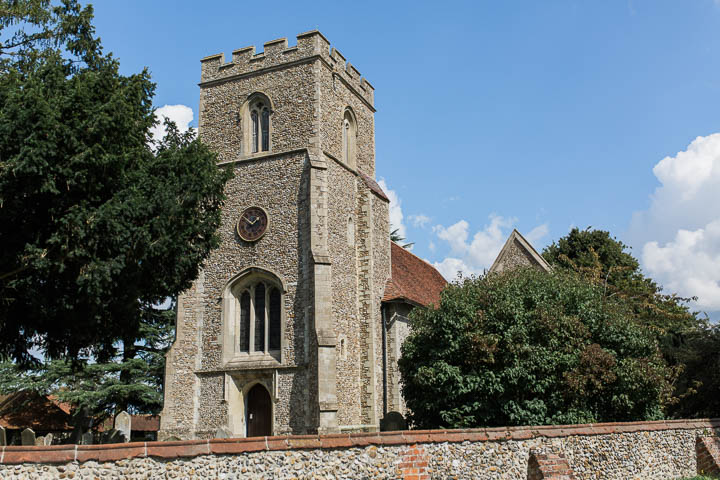 How did you choose your photographer?
Finding the right photographer was really important for me. I'm not the most confident having photos taken and wanted someone I would feel comfortable with. I'd been searching for photographers for a while with no real success and was getting quite worried at one point with the good ones getting booked up so far in advance and the date getting closer. I found Danielle from a photographers directory website. Her online portfolio simply stood out in comparison to all the others and when we met her, she was really lovely and professional. I knew straight away I had found the right lady for the job!
The dress
My dress was Cathlyn by Phase Eight. I had 2 pairs of shoes (because why not): Aphrodite by Vivienne Westwood and kitten heels for our dance by Kurt Geiger. I had a hair accessory from Debenhams. Earrings from Accessorize, necklace was my Mums.
The suit and bridesmaids
Mens suits were from Next which had a great fit and availability for the groomsmen – this was especially difficult and important with James being tall. Ties from Hawes and Curtis. Bridesmaids' dresses were Little Mistress from Amazon in a teal/aqua colour.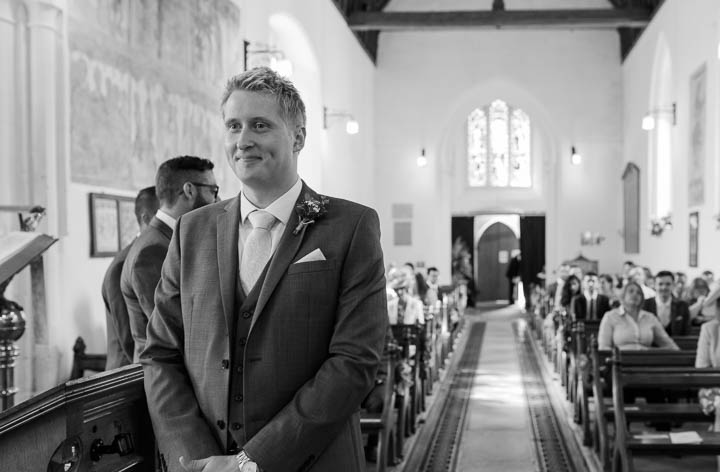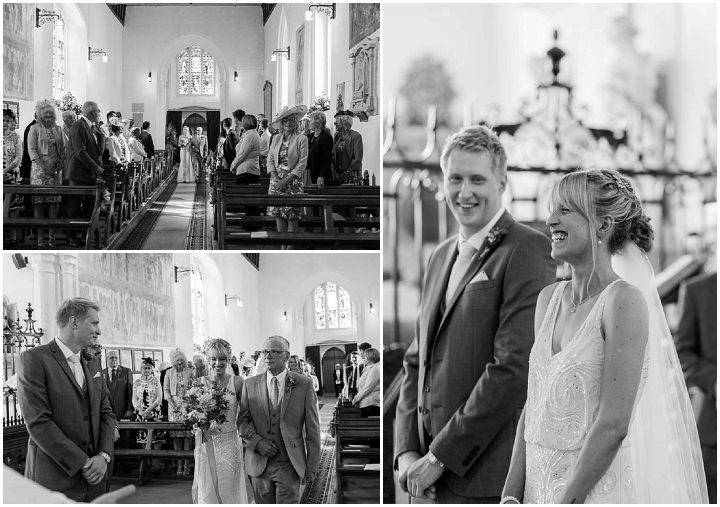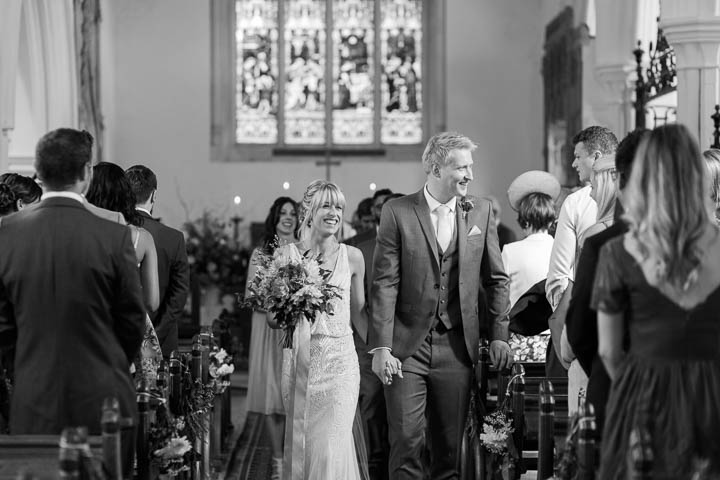 Theme or colour scheme
Alice in Wonderland was decided way before getting engaged but I didn't really want a colour scheme to begin with. The minty/teal/aqua green became a running theme to tie things together after making my invites with a specialised printed paper from Paperchase.
Flowers 
My flowers were a surprise on the day. I still don't know what half the flowers in my bouquet apart from the delilahs. I found my florist after my Mum suggested a local flower farm and after seeing the orchard where my flowers would be grown and speaking to Mike and Jackie; I knew I was in safe hands. I ended up liking too many different styles and colours but Jackie took the time to understand my vision for the whole day, I couldn't recommend her more highly!
Decoration
All our decorations at the reception were Alice in Wonderland inspired. We had croquet for our guests to play in the courtyard next to a lifesize flamingo and balloons. Then we had bunting in the bar area and I had playing cards everywhere, some as bunting outside, then a giant house of cards inside. Each guest table had flower arrangements in teapots and the bouquets sat in vases to decorate the top table.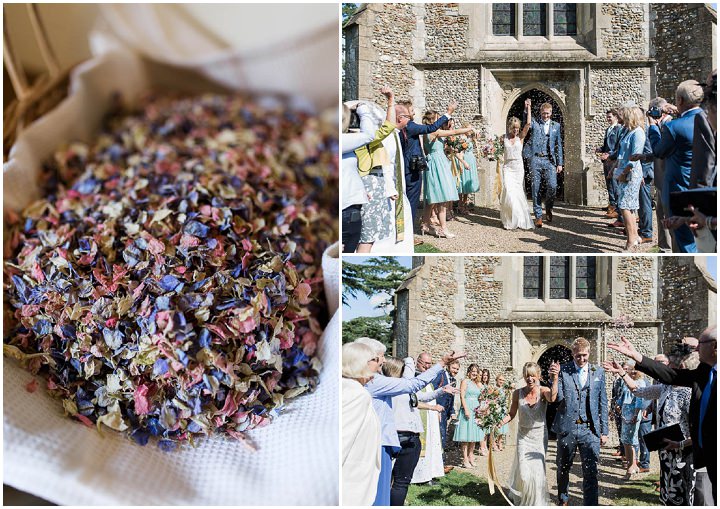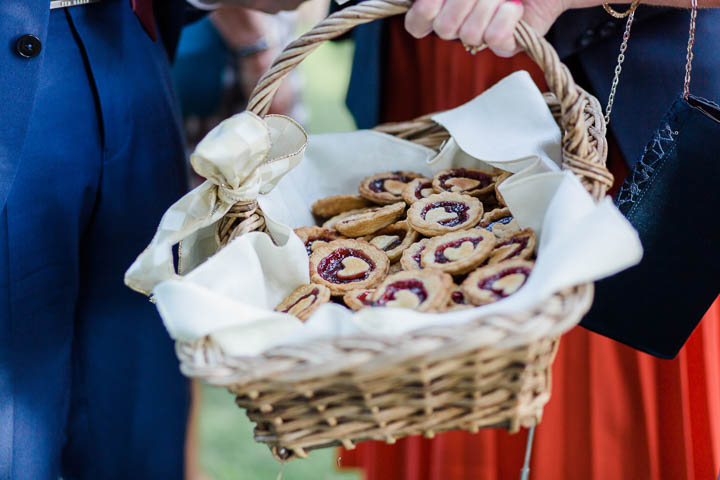 Food
We had afternoon tea as a nod to the Mad Hatter Tea Party. A selection of sandwiches, fruit scones with strawberry jam and clotted cream, gooey brownies, raspberry cupcakes with "eat me" flags, macaroons and chocolate dipped strawberries were served on cake stands. We then had homemade ice creams after the main meal outside and a hog roast in the evening.
Wedding cake
One of my beautiful bridesmaids made our cake. It carried on the Alice in Wonderland theme with hand painted roses, a fancy moulded lock and key and two big Ace of Hearts playing cards on the top. It was delicious!
Entertainment
We made our own playlists for each part of the day/evening and croquet was set up on the lawn outside. We had also had dance lessons for our first dance. Neither of us have any dance background and we kept it a secret, so our  3 minute choreographed dance (complete with lifts) came as a big surprise – especially to the parents!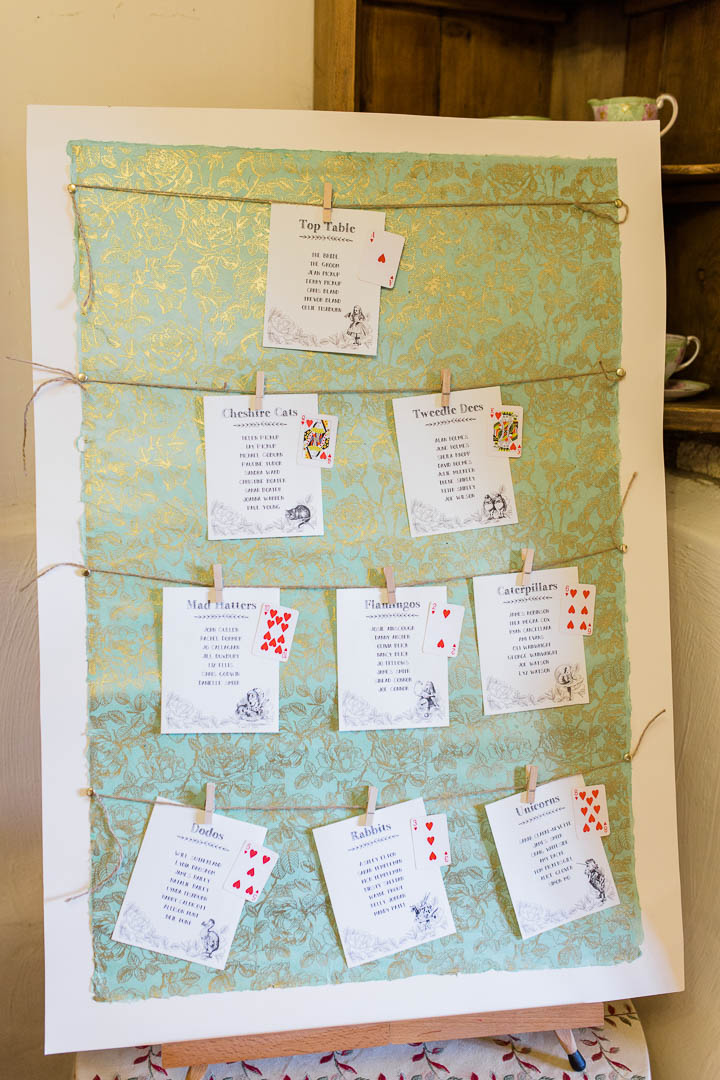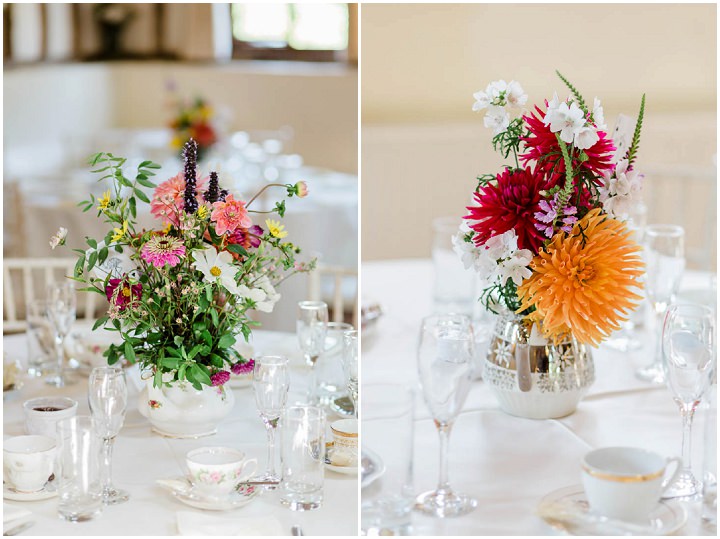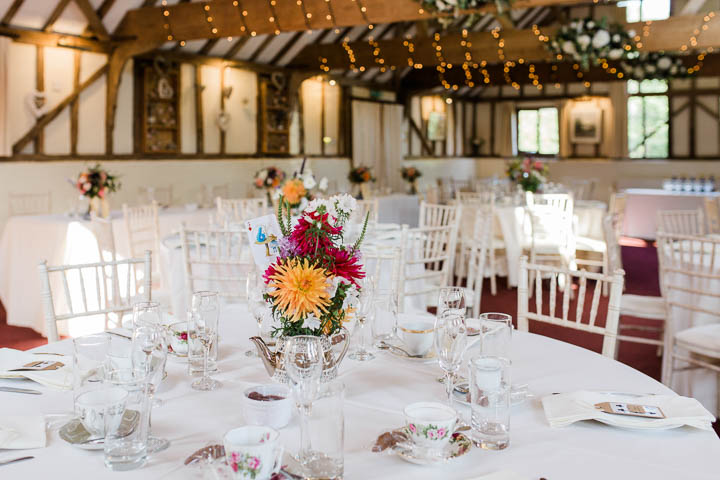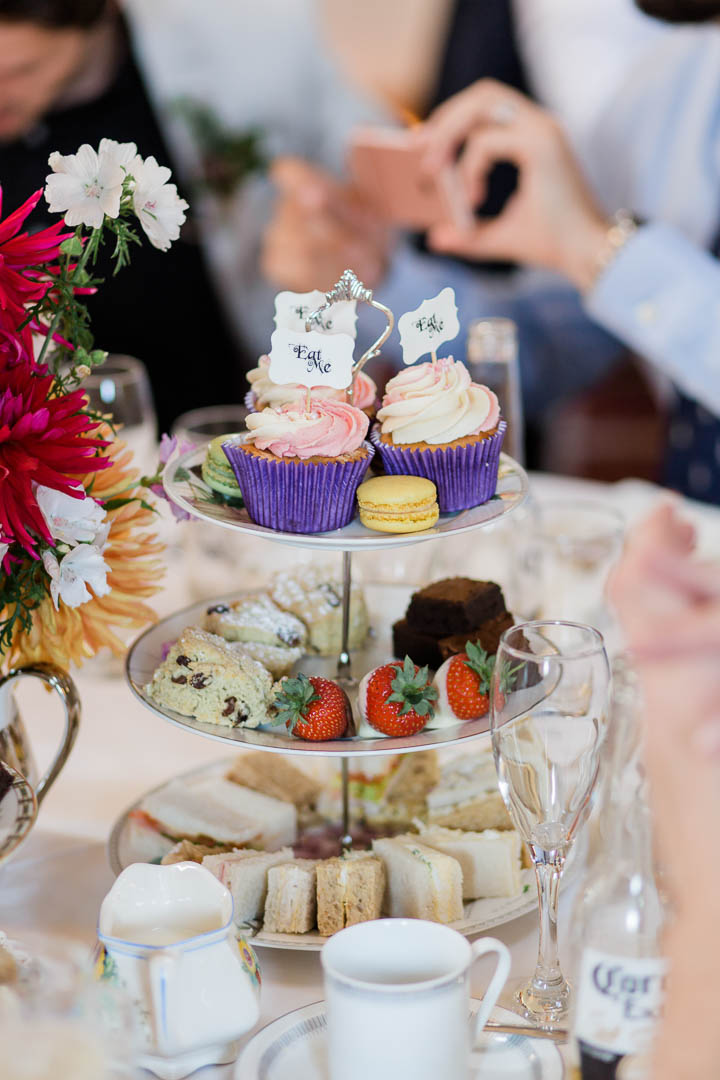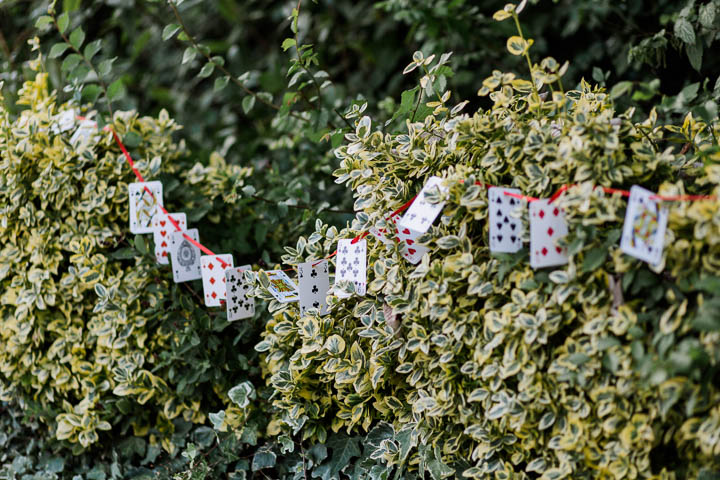 Who supplied the stationery?
It was all handmade by myself but sourced materials from paperchase mainly. 
Personal touches?
I handmade the invites, table plan, place cards, Order of Service and "Eat Me" flags for the cupcakes.
We had homemade chocolate popping candy lollipops as favors: dark chocolate moustaches for the men and white chocolate lips for the ladies made by me and my Mum.  Then my sister and Mum arranged flowers for the tables and church pew ends.
My Dad made us 2 wooden signs to direct guests to the church. My Auntie also baked some jam tarts for after the ceremony too.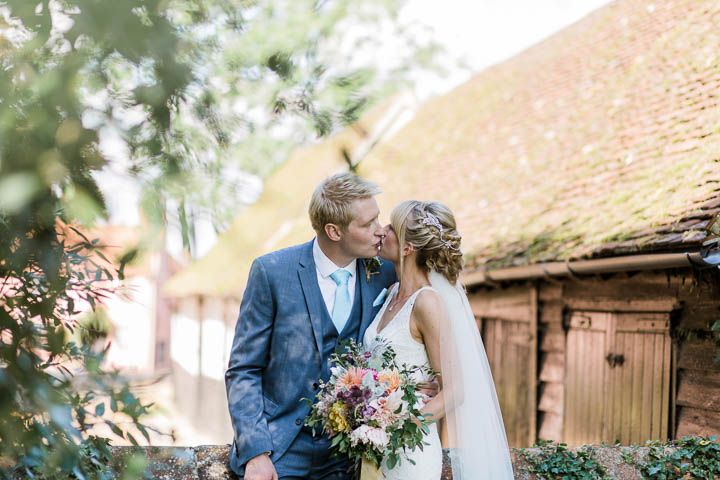 Special moments
The whole day was wonderful. We have friends from different parts of the country and having all our favourite people in one place to celebrate our marriage meant so much. Coming out of the church holding James' hand with confetti flying was pretty unforgettable though!
Advice for other couples
The most important thing on the day is to not let anything get in the way of spending time with your guests and just enjoying your day. Plan and do as much as you can before and make sure you hand over key responsibilities to the bridal party. If the bridal party, wedding coordinator and any suppliers at the venue on the day have a clear idea of how the full day flows, you have the best chance of things running smoothly.
When it comes to deciding on suppliers, always listen to your gut. If you have any doubts about their reliability, keep looking. There's nothing more annoying than someone proving you right and knowing you could've done something about it.
Prepare yourself for rain, it's out of your control so don't let it spoil anything. You can still get fantastic photos and have a great day.
Try to not let traditions and obligations get in the way of the day being exactly how you want it to be. Surround yourself with the people you have the best time with and the ones that care the most about you!
Biggest surprise  
The most amazing weather we could have wished for. Thunderstorms, torrential rain caused power cuts the night before, but we had perfect sunshine from sunrise to sunset on the day. Fabulous.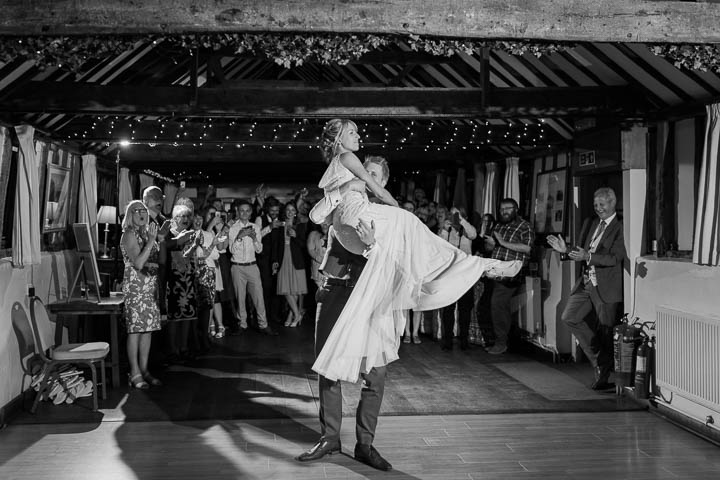 Supplier Shout Outs
For more information on Danielle's work go to
www.danielle-smith-photography.com / www.danielle-smith-photography.com/blog / [email protected] / 07706 251262 / FACEBOOK / PINTEREST / INSTAGRAM / TWITTER
I am based in Essex and photograph weddings all over the UK and beyond. I absolutely LOVE storytelling. For me, it's what wedding photography is all about- capturing the day as it unfolds, with all the little moments- the smiles, the tears, the laughter and everything in between. It's real and it's what makes you 'feel' the day again, every time you look back on your wedding photos. 
Due to an email issue if you have emailed me between the 2nd & 9th of December, please resend it.
X