Merry Christmas everyone! Welcome to a very festive edition of Boho Pins. If you're anything like me, one of the things you really look forward to at Christmas is all the delicious food! I have been on a diet now for 3 months but I have given myself 10 days off over the festive period, so I cannot wait to get stuck into all that glorious grub! From the cakes, to the dessert, the biscuits to the roast potatoes. As for all those Christmas cocktails, well I'm not sure which one to try first! Enjoy my selection but make sure you have eaten first, as this post will definitely make you hungry! Merry Christmas everyone, have a fabulous one!
Image Source: Gingerbread Topped Christmas Cake. This cake looks so delicious and so pretty
Image Source: Holiday Egg Nog. How totally traditional and so much fun
Image Source: Pigs in Blankets. For me the best part of any Christmas dinner, I bloody LOVE them.
Image Source:  Bailey's chocolate tiffin – Oh my how lovely does this look, so festive and so tasty.
Image Source: Cocktails in a bauble. Such a fun idea, put your cocktail / Gin / prosecco in a bauble, hang it from the tree and then drink it. What could be more festive!
Image Source: Smashed roast potatoes with garlic, bacon and cheddar. As if roast potatoes weren't amazing enough, these bad boys have taken the humble roast to another level!
Image Source: Cranberry and Oatmeal Cookies in a Jar. This is a super cute DIY idea and perfect for all those with a sweet tooth.
Image Source: Cranberry and brie pull apart bread. This looks amazing and perfect for any veggies in the family.
Image Source: Old Fashioned Gingerbread Cookies. These gingerbread biscuit's look amazing and oh so festive.
Image Source: Gingerbread Coupe cocktail – So festive and so tempting!
Image Source: The Ultimate Prawn Cocktail. The humble prawn cocktail has been the starter of choice for so many years. Are you having this on Monday?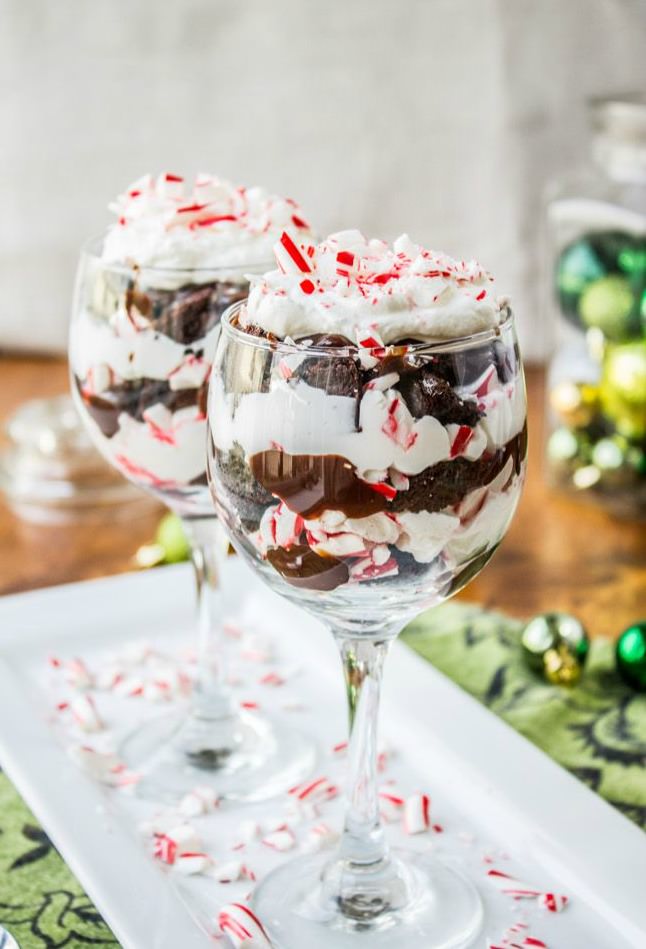 Image Source: Candy Cane Brownie Trifle – This looks Amazing! I love the layers and the candy canes make it super festive.
PIN ME
FOLLOW ME ON PINTEREST: