Happy Monday everyone and how are you all? Did you have a good weekend? Did you get snow? I had a great one, very festive! We went to a Victorian Christmas market, as well as a family Christmas rave with some friends and their children. We also put the decorations up and wrote all the Christmas cards! So feeling full on festive now with the countdown to Christmas well and truly started! We have a bumper week of amazing weddings to share with you, starting off with this rain filled wedding in the Lake District. Danielle and Mike chose a Boho style festival themed wedding, with tipi's, picnics, food trucks, DIY flowers and fabulous outfits, and of course a pair of wellies! A super fun, relaxed wedding, brought to you courtesy of the amazing Clara Cooper Photography.
It was a brilliant, relaxed, different, fun, outdoor, boho-styled wedding. The true 'traditional' family aspect of this wedding was the highest priority. 
Danielle and Mike were married on 27th May, 2017 at The Coppermines, Coniston, Lake District. We love the great outdoors, and we didn't want anything traditional for our 120 guests. It took 8-months to plan! We wanted to make sure that our wedding was family orientated, and one that everyone could enjoy and feel comfortable at. 
How they met
We met when we were 14 at a rugby club party, but we didn't start going out until we were 20 and 21 and made it official in November 2008. We were good friends up until then, so it was one of those moments that was unexpected.
The Proposal
Mike planned it well. He knew that I liked to go up to the Lake District and he decided that we would have a 'day trip'. The day of the the 'trip', it started raining. I'm not a fair weathered day-tripper, so I didn't see the point in driving all the way there from the Wirral to be rained on all day and walk round the shops soggy. He INSISTED that we go, and then told me that he'd hired a boat. Mike has never driven a boat in his life! I was a little shocked, but felt bad that he had planned this odd excursion, so we headed off to the Lakes. When we got there, we headed to the jetty where we were kitted up with life vests and were told what to do in an emergency. It was at this point that I really had thought he was joking, but he wasn't. Whilst out in the middle of the Lake, mike got down on one knee, and asked the big question.
How did you allocate your budget?
We tried to keep the cost of the wedding down as we are in the process of completing a project house.
We decided that the important things were the venue (The Coppermines), photographs, video and memories for us and the guests. This said, the venue was going to be top priority.
Where did you splurge and how did you save?
We splurged on the tipi. I'd always wanted a tipi. We thought we would be able to keep the cost down, but the number of guests dictated the size of the tipi. We had 120 guests so we needed two 'big hats'. We also knew that we wanted the tipi to look pretty, and cosy, so we also splurged a little on having a fire pit and disco ball inside it – all supplied by All About me Marquees. We splurged a little on the wedding favours. We made everyone a Lego person! 120 guest with accessories! Every guest still has their Lego 'mini-figurine' on display in their homes! We saved on the wedding cars. My dad is a bit of a petrol head, and loves his cars, or 'toys' as he calls them. One of his toys at the time was a Green Land Rover, and his friend was selling his Land Rover, so there were 2 available for us to use. The bridesmaids drove one (in their finery) and we drove up in the other along the bumpy dirt path up the mountain to the venue. They were very much at home in this terrain, and dad even enjoyed a little 'off-road' driving on the way up.
Why did you choose your photographer?
I wanted a photographer who would take photographs in the style of the wedding and that would match the relaxed, fun, and boho theme. We didn't want to pose like models, and have very staged photos, but we wanted some nice natural and candid photographs of us and our guests. We emailed a few photographers, but Lucy (Clara Cooper Photography) was exactly who we were after. We arranged to meet up with Lucy and when I walked into the coffee shop we immediately got on. She was fab!
The Dress
My dress was a Jenny Packham dress called Aspen. It wasn't chosen by choice out of being a label snob, but just on the off chance of visiting a wedding dress shop called the The White Closet on Rodney Street Liverpool. I popped in quickly after work after seeing a Facebook post about a rail sale. I photograph weddings myself, so I knew of brand Jenny Packham, and loved her style and dresses, but I always knew that they would be out of my budget. It was a fate moment that I went to the White Closet, and also that it happened to be a Jenny Packham dress that I picked off the rail. I loved it!The shoes were chosen to be practical due to the venue. I am not to much of a girly girl, and I was trying to keep the budget down, so I went to Marks and Spencers and bought the best shoes ever (or at least I thought so).
The Suit and the Bridesmaids
Mike knew that he wanted the suits to be 'country style', comfy and something that the lads might wear again, so the money we would spend wouldn't be wasted on hiring suits. He chose tweed jackets, waistcoats, ties and a pair of light coloured chinos. He picked the suits from Slaters menswear who were really helpful in helping the lads. Mike had 6 Ushers and my dad wearing the suits on the day and they all looked brilliant. I wanted the bridesmaids to feel comfortable first of all, and of course I wanted them all to feel good so I let them pick their dresses. I gave them a budget of £50 each and told them a colour theme of 'natural/neutrals', so grey, cream, white, blush etc. They did amazingly, and they all looked so perfect on the day.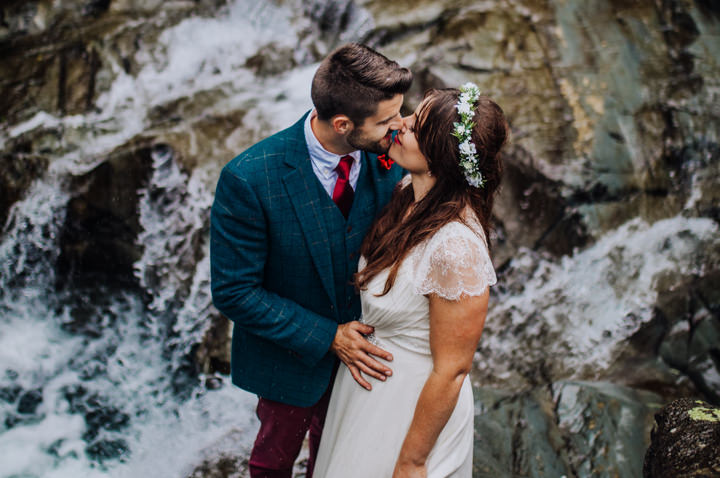 Theme or colour scheme
The theme was boho/festival style. I wanted the day to match our personalities and allow us to just enjoy it. The colour scheme was neutral and natural with nature, copper and boho being the inspiration. Copper aspect came from both my love of all things rose gold and copper, and also from the venue name The Coppermines.
Flowers
Along with the budget saving, and being a creative person, the flowers were something I did last. Crazy as it may seem. I decided that I could do them! I watched several Youtube videos on how to make a bouquet, and then tried to make one at home from a bunch of flowers I bought at Marks and Spencers! It was fab! The day before the wedding, me and Mike headed to Cheshire Oaks Marks and Spencer's and bought a whole trolley full of flowers, to which the lady at the checkout said jokingly… 'are you getting married or something', which we laughed and said yes! We made 9 bouquets for the bridesmaids and then one bigger one for me, with trailing ribbons. We also added to the bouquet with wild ferns that were picked on the day from the hillside at the venue.
Decoration
We had all sorts. We had bunting which was handmade by myself and the wonderful bridesmaids. Knitted flowers which were made by one of the bridesmaids and hung from a floral hoop in the centre of the tipi's. We had VIP porta-loos by Cumbria Loos, and decorated again by the wonderful bridesmaids. We had table centre pieces as empty bottles of our favourite drinks, and filled with faux flowers and gypsophelia.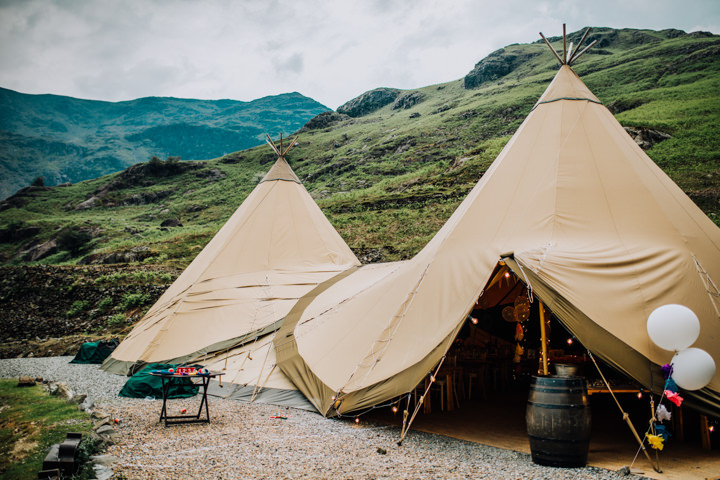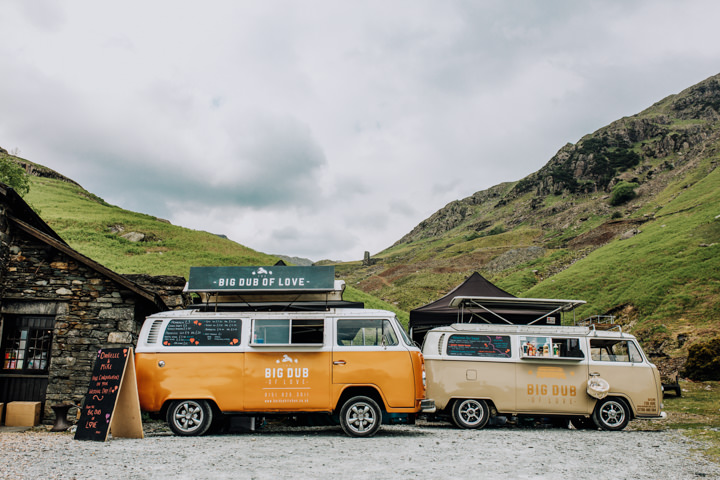 Food
The food! We hired a company called Hardys Catering, who have 2 VW camper vans called the Dub of Love. They cooked the evening meal which was amazing burgers, curry, and haloumi salad. We also had a picnic for the lunch time food. This was made with wooden crates from Ikea, and decorated with ribbon and flowers, and filled with traditional afternoon tea style food and drinks for each table. Often the dinner or 'wedding breakfast' is very formal, and people don't interact much, so we wanted them to be offering scones and fondant fancies to each other, and sharing in conversation. It worked a treat.
Wedding Cake
We weren't too fussed about a wedding cake, but my mum wanted us to have a cake… or two….or three…. she bought them from Marks and Spencers.
Entertainment
We couldn't afford a DJ so we decided to set up some speakers and play a home-made spotify list. We did this by asking our guests to get involved on the invites, and let us know their favourite songs, and then we added to them with our songs.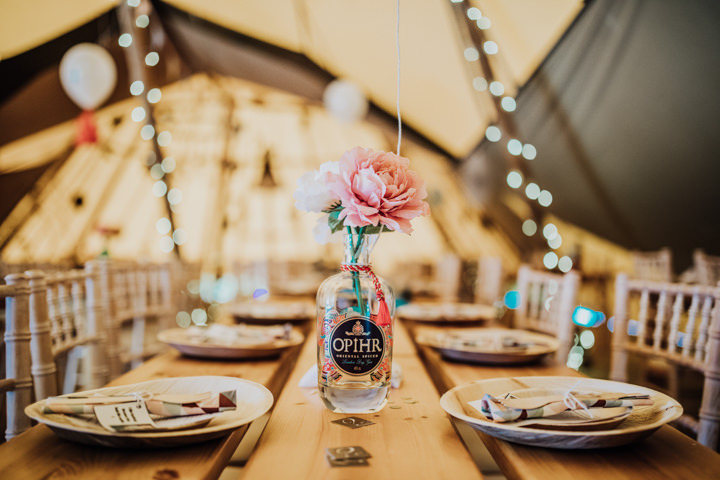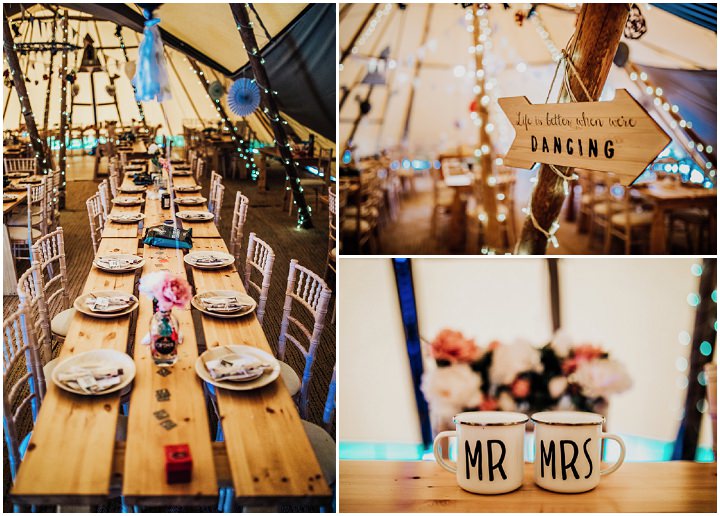 Who supplied the stationery?
I have my own creative design and photography company called Motif Productions Ltd. which specialise in all things creative and I am also an architect. The invites were a hand drawn map of Coniston and the mountains with decorations, directions and information about the history of our wonderful mountain side venue and our wedding day.
Personal Touches
We had so many. We made the button holes, using a technique known as Kanzashi, which is the art of making flowers from folded ribbon or cloth. Mike is in the RAF and wanted to make the botton holes as Poppy's, so we set about learning how to make them. They have also become something that the family members have worn several times since the wedding! I also made the 'guest globe'. It was a traditional spinning globe that we painted with chalk board black pain, and allowed the guests to leave a name on with a copper pen.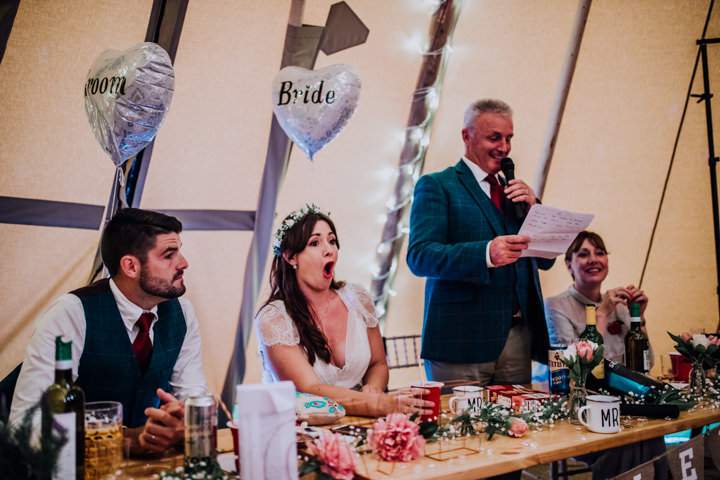 Special Moments
The weather. As everyone knows with the Lakes, it often rains… we had checked the weather a million times prior to the day, and it suggested a thunder storm! Great…. but it actually was! It was so magical and mystical on the day. I stepped out of the car, and felt the raindrops. It was at this point that me and my dad laughed, and said quick, we best get on with it before everyone gets soaked. The ceremony was half in half out of the little cottage's living room, and as we began to say our vows, the thunder began! It was perfect, and to be honest it relaxed me
Advice for other couples
Try not to get stressed. As a start, make sure that the day is about you and your partner, not about any one else, in terms of its styling and ethos. Obviously be accommodating where you can, and remember that some of the guests will have sometimes travelled a long way to see you on your big day, but make sure the day shows your personality. It's about a good-old celebration and a family occasion filled with special moments, love and memories! That's what a wedding is about. Oh and the photos, don't forget the photos!
Biggest Surprise
Sort of as above, the weather, the wow venue, and the stunning scenery.
SUPPLIER SHOUT OUTS
For more information about Clara Copper photography go to
www.claracooperphotography.com / www.claracooperphotography.com/new-blog / 07966066067 / FACEBOOK / INSTAGRAM 

I am a creative photographer, specialising in the love stories of people who love adventures and
doing things that little bit differently. My photographic style is bright and beautiful, focusing on
capturing the natural & candid moments of my couples big day. I am based in the Chester in the
North West, but I always jump at the chance to travel not only within the UK but abroad as well.

[jprel]