We have reached Friday already! How wonderful is it having a bank holiday to start the week, this week has just whizzed by! I hope you have had a good one and have a fun weekend planned. My weekend is filled with children's birthday parties, so lots of party food, bouncy castles and cake for me! We have a wonderful wedding to finish off the week with. This rain filled Tipi wedding in the Lake District. Beth and Mikey planned an activity filled day, incorporating the beautiful backdrop of the Lake District, however mother nature had other plans and filled their day with dark clouds and lots of rain. However this didn't stop them having the best day and a whole lot of fun. They danced, sang and enjoyed a toasty bonfire. All of which has been captured perfectly by Livvy Hukins.
 It didn't go to plan at all thanks to the Great British weather, but we wouldn't change anything about it. It was the most fun party we've ever been to!
Beth and Mikey were married on the 3rd September 2016 on a field next to Ullswater Lake, Lake District. 'We both love to be outdoors, I love the sky and water and Mikey loves mountains. The Lake District is the only part of the country that has mountains and so it seemed like the obvious choice, despite the fact that it's on the complete opposite side of England to us! Thankfully our guests weren't mad about the 6 hour drive when they saw the stunning views. We had about 120 guests. It took several trips up to the Lake District to find the right field. The whole thing took about a year to sort out, but there were plenty of gaps in between and it was very chilled.'
How they met
I moved to Southampton in 2013, and I met Mikey on my first day here at a party. He made it his job to get me a position in Starbucks where he was working, so we could hang out more. After a year of becoming best mates, we got together!
The Proposal
Beth actually worked out when I was going to propose before I did! I told her we were going to go explore some caves in a couple of weeks, before I had even planned on proposing. She sussed it out straight away! I decided a couple of days before that I would propose there, spent all my money on a ring and flowers. The morning of the proposal, I went and stashed a load of blankets, candles, fairy lights, wine, flowers in a cave overlooking the sea. I went and got Beth, and got back to the cave for sunset. After she said "yeah, alright then" we sat and watched a huge red moon rise over the sea. That bit I didn't plan!
How did you allocate your budget?
Ha, not very well! We had a budget to stick to, but kept going over by a little bit. Worth it, but has been difficult paying it off. Mikey's parents were really generous, as well as my mum – heroes!
Where did you splurge and where did you save?
We spent a week with our friends staying in cottages in the hills, leading up to the big day. That was a splurge well worth it! Also, we knew how unpredictable the weather can be up there. We didn't want white marquess ruining the beautiful mountain view, so we got tipis that blended in. And we got to have fire pits inside! We got friends and family to do stationary, flowers, cakes – great decision. Also, Mikey found a local who had a Land Rover Defender mountain rescue car – his favourite car! He knocked on the door and asked if the man who answered if he would be up for driving us away to our wedding night accommodation. Hooray for the kindness of strangers!
Why did you choose your photographer?
Being a wedding photographer (Mikey), this was a big deal! I spent days looking at websites, which was great for inspiration for my own photography. Livvy was who we contacted – we loved how she got all the details, but focussed most on people. For us, the whole day was about the people we were sharing it with! She was so so great, and we love the photos. Livvy was also really fun to have around on the day – the bridal party felt like she was one of the crew!
The Dress
The designer of my dress is 'Willowby', and I bought it from a little boutique in Southampton called 'Ava Louise bridal wear'. My accessories were very minimal, a flower headband that I found on Etsy, and a simple diamond necklace from Ernest Jones. The shoes were a very last minute find and an absolute bargain – only £20!
The Suit and Bridesmaids
My suit was simple. I wore a tweed waistcoat and charcoal trousers from Moss Bros, my shoes from Schuh, shirt from the cupboard and tie somewhere online. The bridesmaids wore matching grey tulle skirts from Etsy, I love the 50s style and how they looked when the girls twirled around. On top they wore mismatched cream/white tops to match their own preferences and shapes. They all looked amazing!

Theme or Colour Scheme
Picnic/outdoor games/garden party theme. We knew the surroundings would be bright greens and blues, so our own colour scheme was fairly neutral (other than bits of red here and there). Turned out it was a grey rainy day, so it all changed on the day!
Flowers
Daisies and gypsophilia.
Decoration
We had bunting, lots of lights (fairy and festoon), slate signs and silver buckets of flowers.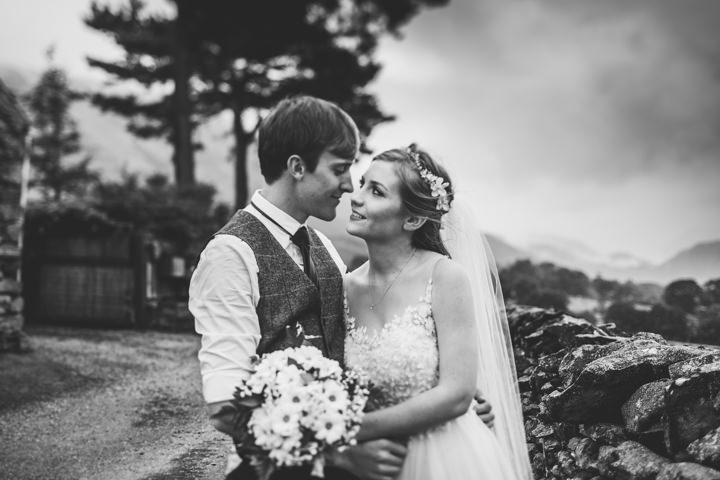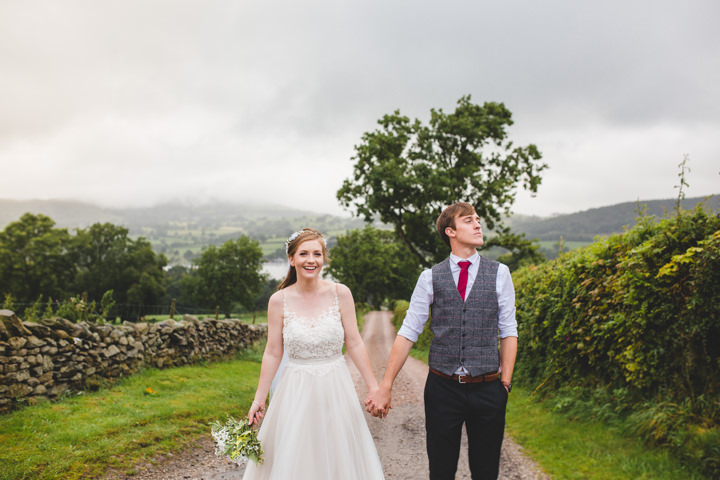 Food
We had a local butcher do us a delicious BBQ – rib-eye steaks, lamb shoulder, salads. So good.
Wedding Cake
In honour of the wonderful Mary Berry, we had our own Bake Off. People not only made these delicious and impressive creations, but transported them for 6 hours up to the wedding! One chocolate cake got a bit close to the fire pit, but still got a high score…
Entertainment
One of my very good friends is in a function band so we hired them to play for the first half of the party. They had the scary task of performing our first dance which wasn't as easy one – Love on Top by Beyoncé – but they absolutely smashed it! We had games on each table for everyone to play and kayaks on the lake. There was also a very small (and slightly underwhelming) firework display with sparklers and a bonfire when the rain stopped for a bit.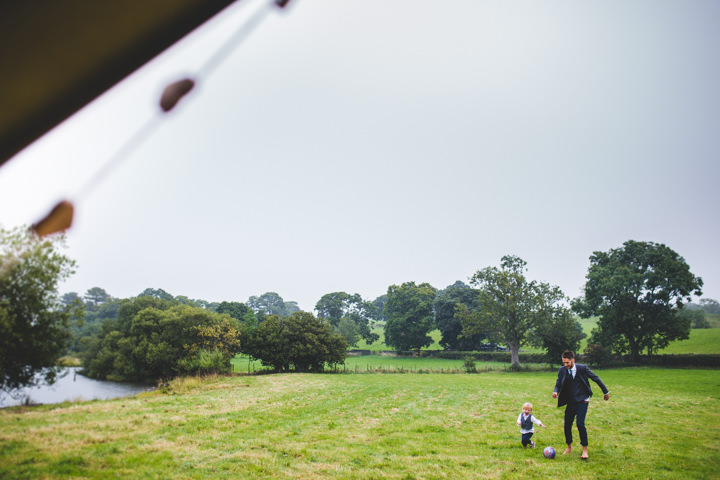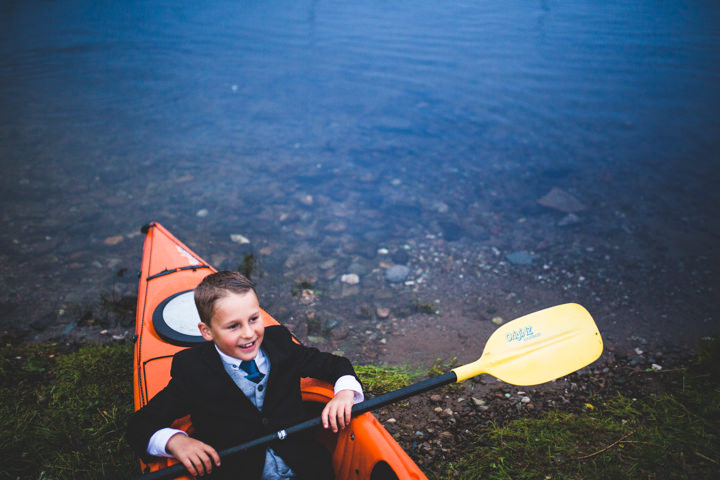 Stationery
Mikey put together all of our stationary and printed it, his mum is an artist so she illustrated mountains, lakes and trees to put on them all which added a lovely personal touch.
Special Moments or Highlights
We're both Christians so God was a big focus in our day. We had some worship songs during the ceremony which turned into a full on dance off which was definitely the highlight! Saying our hand-written vows was also a very special moment and had us both in tears which is very rare for Mikey!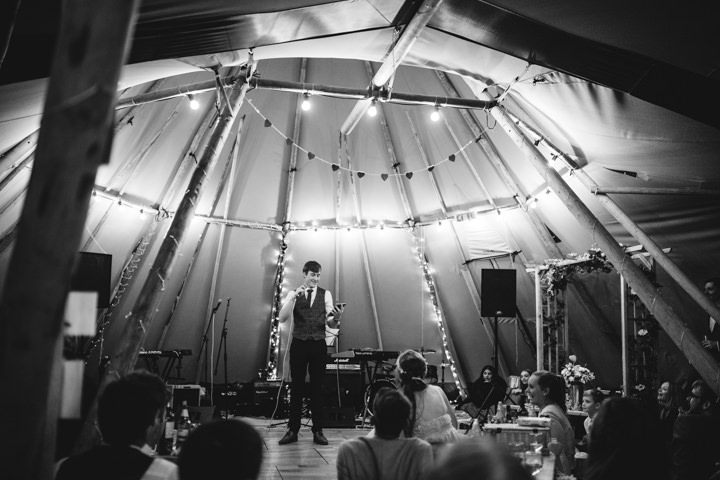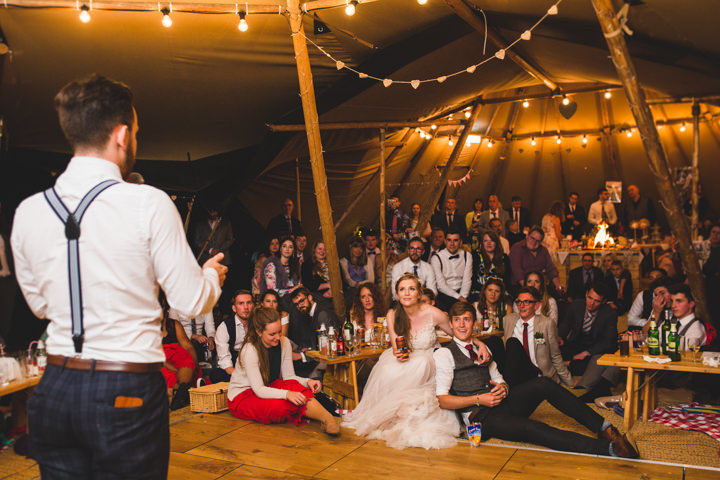 Advice for Other couples
It's your day so plan the day that you want, not what other people think you should have! Don't be afraid to be different or worry what people will think – if they love you, they'll love a day that reflects who you are and what you enjoy (even if they have to travel hundreds of miles for it!)
Biggest Surprise
Mainly the rain. We planned an entire wedding that would be outside without any doubt that the sun would be shining. Our plan had to be changed very quickly when we eventually accepted the forecast the day before. It ended up bringing everyone closer together, and there was plenty to do in the Tipis. When the rain cleared, people went swimming, kayaking and watched fireworks over the lake. Friends gathered around the campfire as people danced away in the tipi.
Supplier Shout Outs
For more information on Livvy's work go to:
 www.livvy-hukins.co.uk / www.livvy-hukins.co.uk/blog / [email protected] / FACEBOOK /  T: @Livvy_Hukins /
Hello! My name is Livvy and I'm a wedding photographer based in Kent (but always happy to travel all over the UK and further!). I have a very natural, relaxed and 'outdoorsy' style to my photographs – I love free-spirited couples and fun, quirky wedding days!