As the weather slowly warms up here in the UK, it's time to start getting ready for summer holidays and trips abroad. Well today's wedding will get you reaching for your passport and suitcase, as I'm jetting you off to Tulum in Mexico. It's a real stunner of a wedding! Kim and Lev were looking for a beach venue where they could hold their Boho chic wedding, and this they found with Akiin Beach. A totally jaw dropping location, with long white beaches, set against the jungle backdrop. They filled their day with a dusty palette of pale blue, beige and cream, filled it with macrame, rustic wood, vintage suitcases, a coconut bar and so many beautiful flowers. The whole day looks amazing, as do Kim and Lev, all captured perfectly by Fun in The sun Weddings.
Loved ones gathered from all over the globe to celebrate a non traditional wedding day, on the beach and under the stars.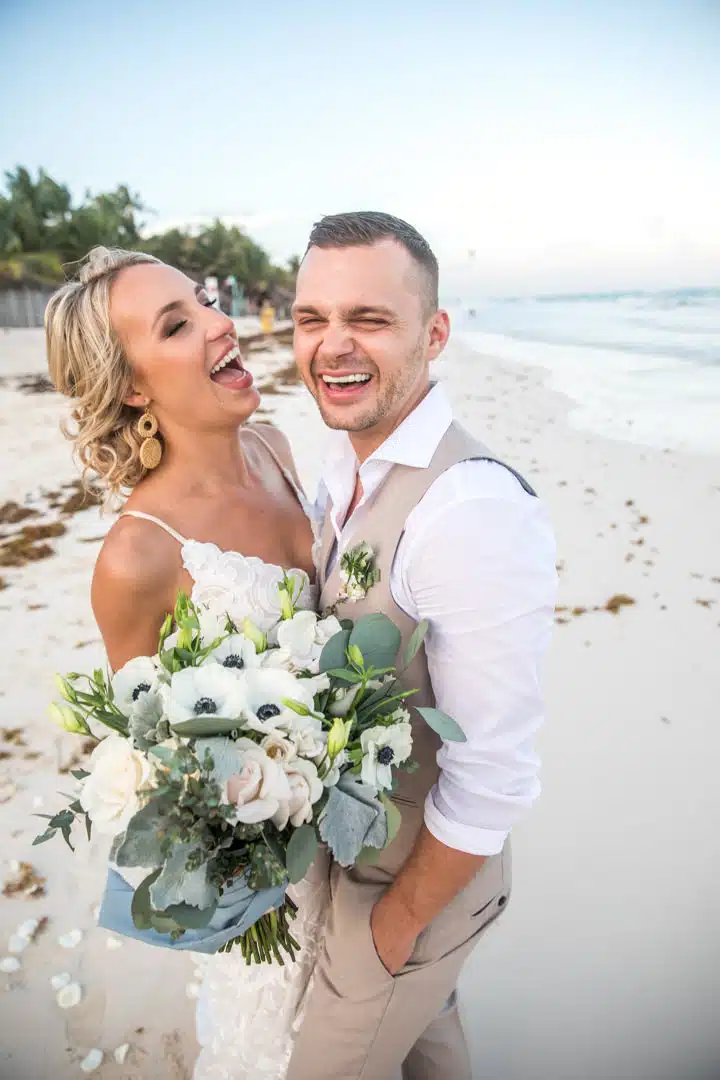 Kim and Lev were married on 8th December 2018 at Akiin Beach Tulum, Mexico. 'We decided on Tulum because it really fitted the bohemian theme we were going for! It also has a perfect combination of sandy white beaches and lush jungle. We had 36 guests and it took 9 months to plan'
How they met 
We were both head hunted from Vancouver, by a company in Mexico. Having both grown up in the same city for many years, we didn't meet until the first day of work at our new job in Mexico.
The proposal
We were on vacation in Asia and were doing a trip of Tokyo, Vietnam, Singapore, Malaysia and Thailand. By the way I was planning the trip, he knew Singapore was going to be my favourite destination (for so many reasons). On our second day in Singapore, we decided to go up all the way to the top of the Marina Bay Sands hotel. It's a staple in the city because it looks out over the whole marina, and has the worlds highest infinity pool on the roof! We sat down at the restaurant up there and I noticed Lev was REALLY uncomfortable, quiet, and sweating! like crazy. He had a good cop out blaming his weird behaviour on being freaked out about the height. Lies. After about 15 mins he was adamant about getting a good photo with the right lighting. He gave his phone to a nice American guy sitting near us and asked him to take the photo. I was thrown completely off guard when he got down on one knee and started rambling nonsense that didn't make any sense. Then finally said "Will you be my wife?" at the end. The restaurant went crazy with everyone clapping and cheering and we were  sent a bottle of champagne on the house! I was mortified by attention but it was well worth it.
How did you allocate your budget?
We didn't really set a budget because what we had originally estimated the cost would be – was way more. I think that's where a wedding planner would have helped! Giving us realistic numbers. So we did our best to keep costs low for everything and price compared with other vendors.
Where did you splurge and where did you save?
Definitely splurged on the dress! You can't put a price on how you feel in the perfect dress. We saved on the bridal party. We didn't land up having bridesmaids or groomsmen because we had so many people living in different countries – it would have been hard to coordinate. So we really saved on bouquets, hair/makeup, gifts, dresses, suits, etc.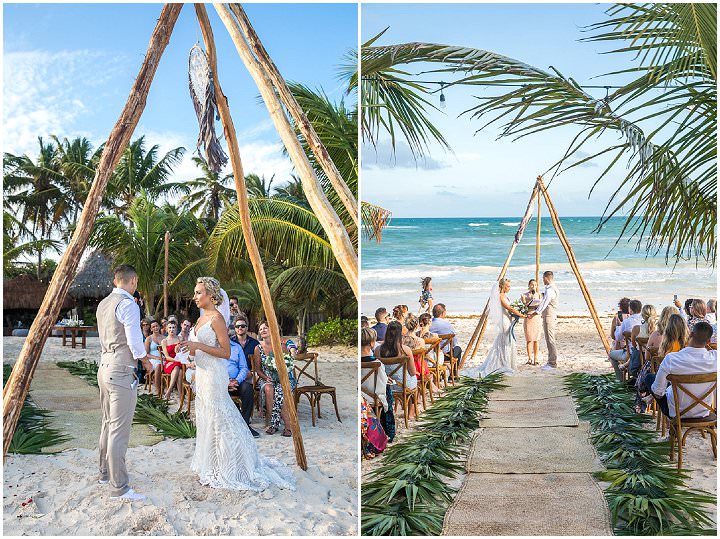 How did you choose your photographer?
The photographer we chose is not only a personal friend of ours, but one of the best wedding photographers in the Riviera Maya. I had done photoshoots with Marc before and I loved how he made us laugh and really went out of the way to get the perfect shot. He takes control and really knows what looks best on camera.
The dress 
My dress was made by Allure Bridal and was so so perfect for the bohemian look I was going for. I walked barefoot down the aisle but for the rest of the evening I wore a pair of Steve Madden nude heals.
The Suit
Lev's suit was actually from Zara! And he wore a white Calvin Klein button up underneath
Theme or colour scheme
The colour scheme was dusty blue, beige, and cream. The theme was very Tulum Boho- Chic. Lot's of wood details, macrame, and vintage frames/accessories.
Flowers 
The bouquet had a lot of greenery in it with a mix of eucalyptus, lambs ear, and silver dollar to give it the nice dusty blue tones.
Decoration 
We had large custom pieces of macrame hanging all around, vintage suitcases, coconut stand, string lights, vintage couch seating area with Acapulco chairs and floor poufs to sit on.
Food 
Vegan! We did a whole plant-based menu that the chefs weren't familiar with but really pulled it off! For cocktail hour we had mini "pastor" tacos with cilantro and pineapple, and coconut meat ceviche.
For dinner we had 3 different salad options, mushroom risotto, stuffed mexican pepper, cheesy vegan lasagne, and a poblano fettuccine dish.
Wedding cake
We had a 2-tier vegan cake with yummy vanilla frosting
Entertainment
We had a couple of games on the beach for guests to play during cocktail hour. Our MC's were really interact with everyone, one of our friends decided to sing us a song as herspeech, and we had an awesome DJ that kept the party going all night!
Who supplied the stationery?
The stationary we designed ourselves, but we had everything printed at Hiplot in Playa Del Carmen.
Personal touches
There was a lot we did ourselves! The guest book was custom made with all our photos in it, we made the wooden card box, the seating chart, #makieverafter signs, customized coconuts, and the table name signs we made ourselves. Each table was a different country we had been to.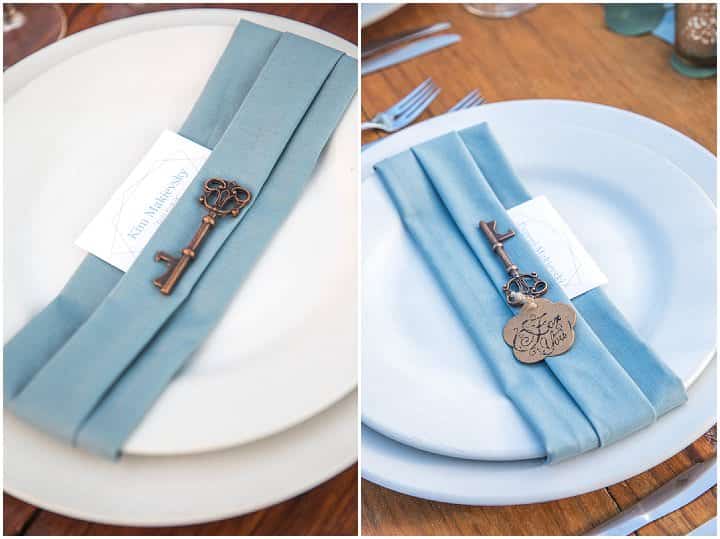 Special moments 
A special moment for us was the dances with our parents. We've lived abroad for many years and don't get to spend much time with them anymore. Another highlight was definitely when our friend decided to surprise us with a song that was entirely not planned.
Advice for other couples
Get a planner! Honestly you save a lot of headache from trying to do everything yourself. Also, we realised that a planner gets really good discounts from vendors/suppliers that you land up saving a lot. Also – be present as much as you can. Don't rush the step by step of the day because it'll be done in the blink of an eye! You can shop for wedding resort in the Riviera Maya to get ready for your destination wedding. It's time to get excited!
Biggest surprise 
My biggest surprise was how helpful my hubby-to-be was. He got to the venue hours before everyone else, helped set up, made sure everything was perfect, and took on so much of the stress. It was surprising because he wasn't very active in the planning for the entire time leading up to the big day!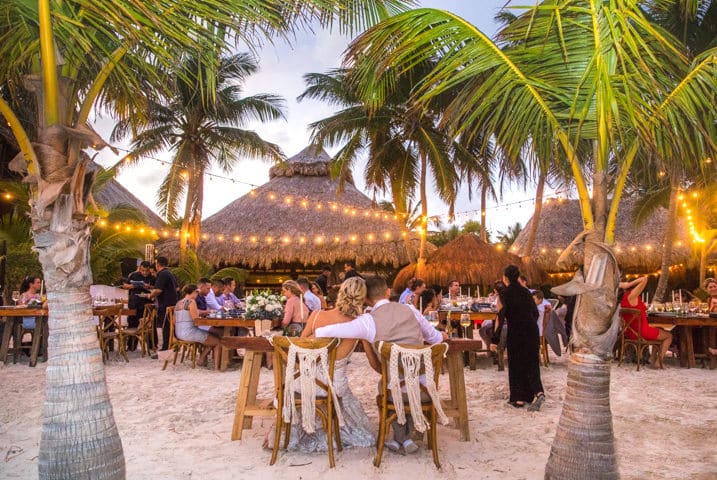 Supplier Shout Outs
Photographer: funinthesunweddings.com
Florist: cherryblossom.com.mx
Furniture: kldesignevents.com
Macrame: Maca Diseño Maya
Vegan Cake: Sally Turquie
DJ: EvolutionMix Audiovisuales
For more information on Fun in The sun Weddings go to
www.funinthesunweddings.com / www.funinthesunweddings.com/blog /  [email protected] / FACEBOOK / INSTAGRAM / PINTEREST / TWITTER
Fun In The Sun Weddings is based on the sunny shores of Playa del Carmen, Mexico, specializing in destination wedding photography from Cancun to Tulum, and all along the beautiful Riviera Maya. We like to keep it real by capturing the essence of Mexico in our images: the relaxed vibe, the bright colors, the laughter and the fun.