Today's wedding is pure, simple and totally beautiful. Both Jenni and Nils wanted a fuss-free, natural wedding that focused on their love, and not on blowing the budget. They kept things simple and Jenni utilised her creative side by creating a lot of the decorations herself. The end result is this amazing Swedish wedding that is effortless in it's design, yet filled with the most amazing details and wonderful design ideas. I am loving the use of the eucalyptus and flower crowns within the decoration, the white wedding henna and the white barn is absolutely stunning. Big thanks to Mathilda and Fredrik from Photo Design for capturing this day so perfectly. Jenni and Nils both look amazing!
A wonderful celebration of life and love. An unconventional DIY country wedding in Sweden surrounded by closest friends and family.
Jenni and Nils were married on 29th July 2017 in  Sandviks Herrgård, Stjärnorp, Sweden. "Stjärnorp is a small village located on the countryside. It is surrounded by forest, fields and a lake named Roxen. Nils grew up in Stjärnorp and his family house lies nearby the glace and the barn at Sandviks mansion where we got married. We wanted a relaxed, personal, non-traditional country wedding. We love the environment and nature of Stjärnorp. It took 6-months to plan and I did it by myself. I booked everything and did all the purchases plus the DIY-projects as well. I'm a creative control freak! Nils and his dad built the wedding-bow made out of Birch trees that they had cut down."
How they met
We met through common friends in 2008 and we have been a couple since 2010. I guess we like to do everything backwards in an unconventional order as we had our first daughter in 2012 and bought our house before we got married! 
The Proposal
We were never engaged. Nobody proposed! We had been talking about marriage and we always made jokes saying we'd get married if our love still was strong after going through the toddler-years. With all facts on hand, luckily we found out we're a great team! So one day we went to the jewellry store and tried out our wedding rings with the 1-year-old dangling from Nils bosom and the 5-year-old pulling my hand. Not the most romantic scenario but still a very, very happy moment!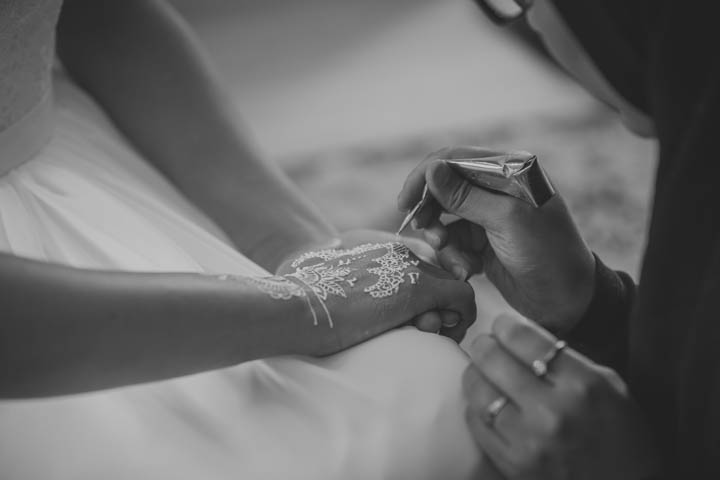 Where did you splurge and how did you save?
I'm not the girl who dreamt about an expensive ring or dress. I rarely wear jewellery. I'm the girl who choose jeans and comfy sneakers above stilettos and beautiful dresses. I like it simple and I really didn't want the quality of the marriage to be linked to the value of our rings or the size of the diamond in it. Our clothes, the bridemaids dresses and the flower girls dresses were all budget.
The white painted barn in which we held the dinner and party was totally empty when we rented it. Flowers and greenery were important additions to the transformation of the barn. Me, Nils, his friends, my bridesmaids and my other friends decorated the barn and made it look beautiful. We climbed ladders to put up hanging vases from the beams, and filled the place with decor. I bought 140 pieces of cheap white KNOPPA-sheets from IKEA. (Yes, I'm Swedish….) and used them as tablecloths and tied them as chaircovers. I bought small, cheap gold frames from IKEA and printed the table numbers myself. I borrowed loads of antique brass chandeliers from my mother, Nils mother, friends and family. I visited several flee markets collected mix-matched vintage-porcelain in the colours of blue, purple, grey and gold.
I designed our wedding programs on myself and my Maid of Honor helped me to tie them together.
I made my own signs out of old driftwood laying around in our garden and made my own photobooth and seating plan sign.
We made our own eucalyptus crowns and our own bouquets. I didn't want the wedding to be all perfect and elegant. Our amateur bouquets looked like sloppy broomsticks but I still love them and we had loads of fun making them together!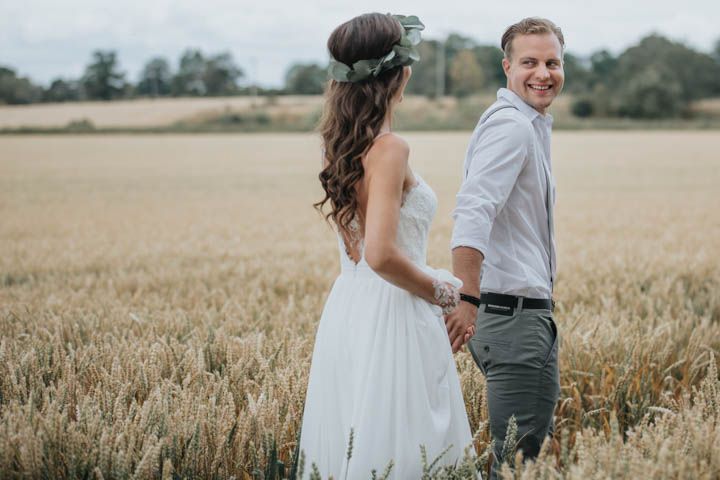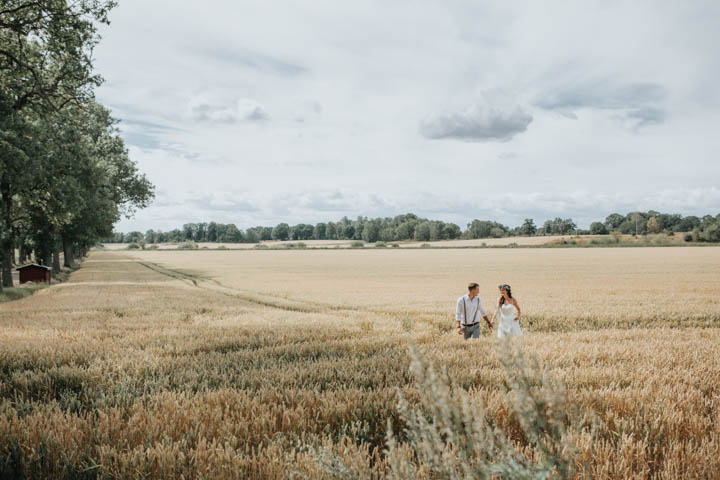 Why did you choose your photographer?
Mathilda Andersson is a great photographer and I appreciate that she has an eye for the smaller, beautiful details. She is a humble and gentle person and I love her work! She captured many precious moments and we are so happy she captured our day.
The Dress
I found my dress at Lace Bridal. It's made out of chiffon, with spaghetti straps and an open back. Karen Wu who runs the company Lace Bridal made it for me.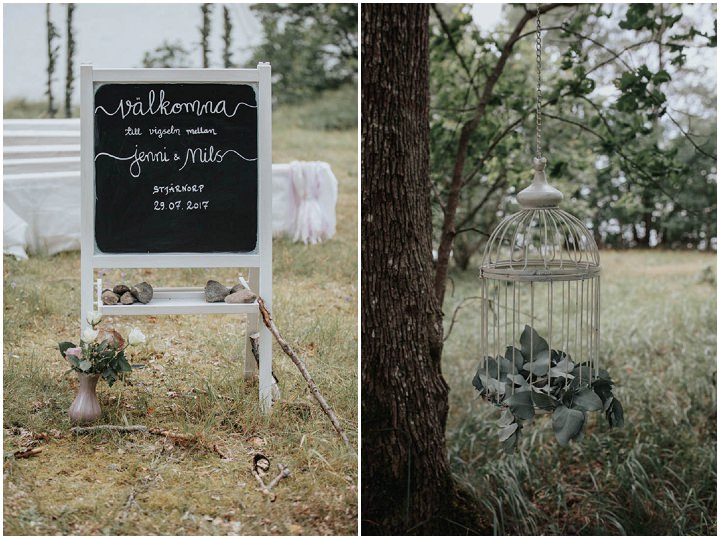 Theme or colour scheme
Our theme was to have a bohemian barn wedding! Our colours were grey, purple (lavender), blue and gold shades. I even ordered freeze dried rosepetals in lavender from the US, just to match the flower girl's dresses.
Flowers
Snapdragon, astilbe, dahlia, roses, eucalyptus and some which I've forgotten the name on. Our flowers were arranged by Adolfsnäs Handelsbod.
Food
We had a varied summer buffet.
Wedding Cake
My friend made the wedding cakes and decorated them with real flowers. Unfortunately someone had used the eucalyptus I saved for the cakes using it as wedding bow decoration instead!
Entertainment
Mats Lideborg, an amazing singer/songwriter/guitarist played and sang a couple of hours. Later on we used our own party playlist when people got drunk (free bar!) and the party accelerated!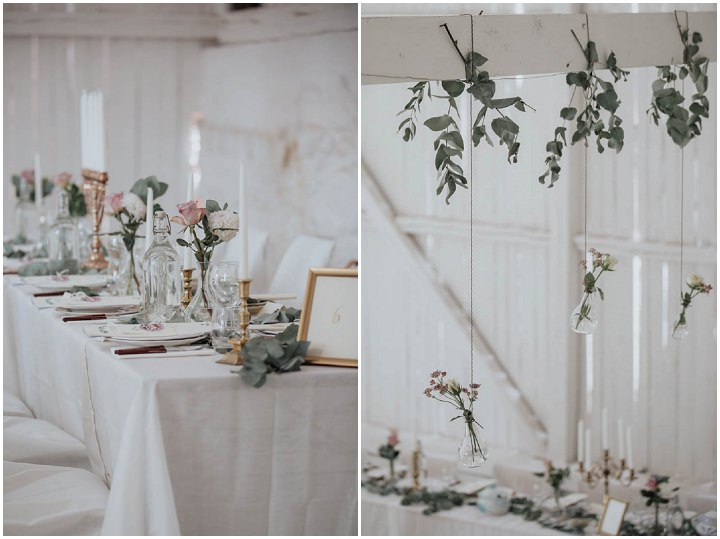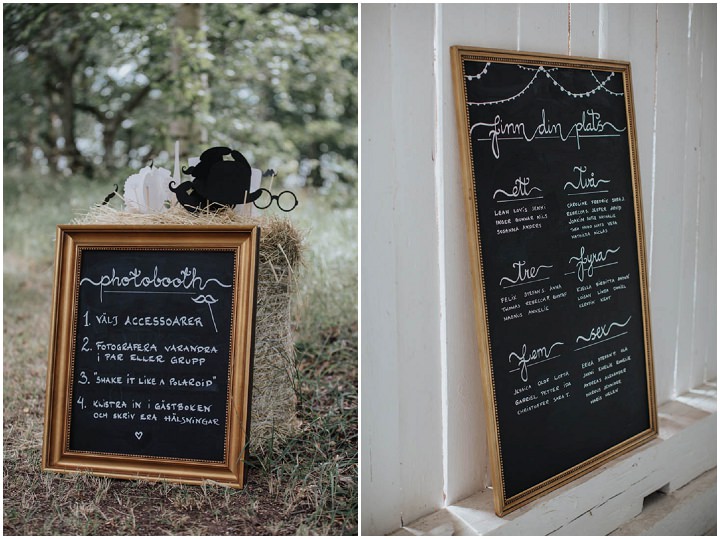 Special Moments
Since my dad passed away last year I put his portrait in a small charm which I attached to my wedding bouquet. He was with me in his own way, during the day. I never did the 'throw away the bouquet' thing. I saved it and visited his memorial a couple of days after the wedding where I placed the flowers.
My eldest daughter and my nephew were our flowergirls. Me and my sister both have given birth to two girls. It's 3 months between our first girls and 5 weeks between our youngest girls and they are more like sisters than cousins. Seeing them in their little dresses and flower crowns made my heart melt!
Mats Lideborg, the singer/guitarist, performed an acoustic live version of Kings of Leon's "Use somebody". It was our wedding dance and the people we love lit large sparklers and formed a circle around us. I felt so happy while we kissed, danced and laughed to our song – we listened to a lot when we were newly in love.
Advice for other couples
Perfect is boring. If you trip or the cake slips then never mind! My dress was dirty when it was time for the wedding ceremony since we'd been doing a photo shoot in the oat field during the morning of the wedding. The most important thing is that you get to marry the love of your life! Enjoy! The big day goes by too quickly.
Our photographer came up with the idea that we could serve the wedding cake before the dinner, right after the ceremony in the glace. People are more likely craving for something sweet during the afternoon than at the evening, when they've been drinking and they are full of food. Besides, the pictures of the cake get more beautiful in daylight compared to the dusky evening.
Biggest Surprise
Neither me or Nils are the romantic type. Two tired toddler-parents most of the time! But the love we share is true and strong. I still got surprised when he turned around during our first look and burst into tears. I cried too. I expected it to be a special, happy and cosy moment but all the tears and overwhelming feelings surprised me. He cried during the wedding ceremony as well!
Our toastmaster knew we wished for a fun and easygoing dinner and they had prepared several surprises and activities during the evening. Everyone enjoyed it, laughed and had a really great time while they were eating!
SUPPLIER SHOUT OUTS
For more information about Mathilda and Fredrik's at Photo Design go to:
www.photodesign.nu / www.photodesign.nu/blog / [email protected] / FACEBOOK / INSTAGRAM

We are Mathilda & Fredrik – a photographer duo, engaged and best friends! Every couple is unique and so are the way they hug, kiss and hold their hands. We what to tell Their lovestory – just natural, relaxed and with real love! We are based in the southern part of Sweden (Helsingborg) but travel all over the world for our couples. No wedding is to small, to big, to close or to faraway!

[jprel]