We all know about the programme 'Don't tell The Bride' don't we? The groom gets £14,000 to plan his fiance's dream wedding in just 3 weeks! What could go wrong? Well normally everything goes wrong, but in today's wedding everything went right! Chris was left responsible for the budget, and in return, his bride Charlotte got a wedding she will remember for ever! It's a wedding of two halves. The first starts with a giant inflatable obstacle course which probably sounds like some bride's worst nightmare! Thankfully though, Charlotte is a P.E teacher! They held their ceremony in pink and green leotards and the rest I will leave for the photos to explain! This was followed by a sophisticated 1920's style reception, where the winners of the obstacle course got to dine on a deliciously fancy dinner, while the losers got to eat soup and bread in the other half of the reception area! A super fun day was had by all and I think it's clear by the smile on Charlotte's face, that Chris got it right on every level! Big thanks to Joanna Cleeve for the photos.
A wedding of 2 halves….a fun-filled day with an inflatable obstacle course followed by fine wine, dining and a beautiful 1920's themed reception.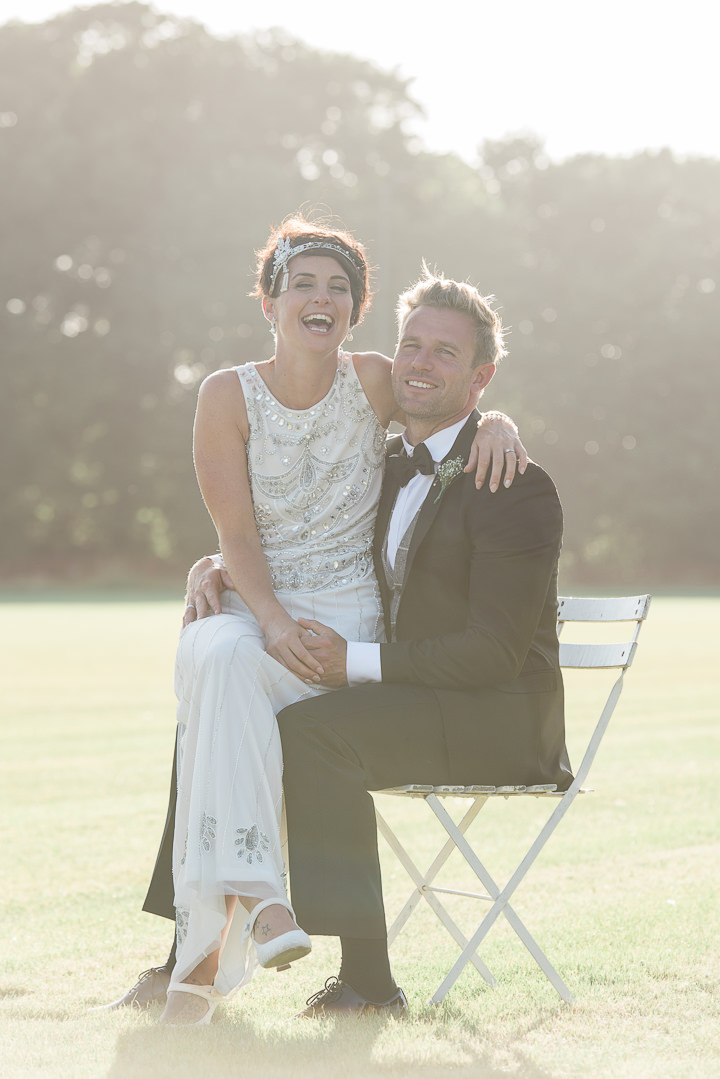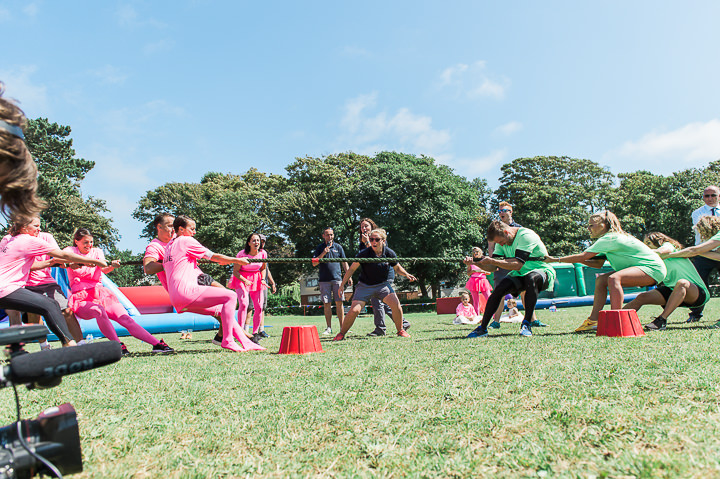 Charlotte and Chris were married on 12th August 2016 at Hove Rugby Club for the TV show Don't Tell the Bride and then officially got married a few days later in Horsham Registry Office. 'My husband planned our wedding after being given £14,000 through the show! It took my husband 3-weeks to plan the wedding from start to finish and we had around 100 guests attend'.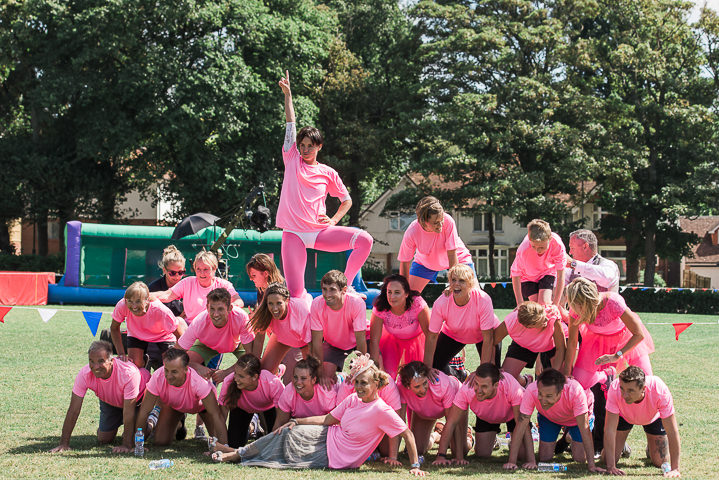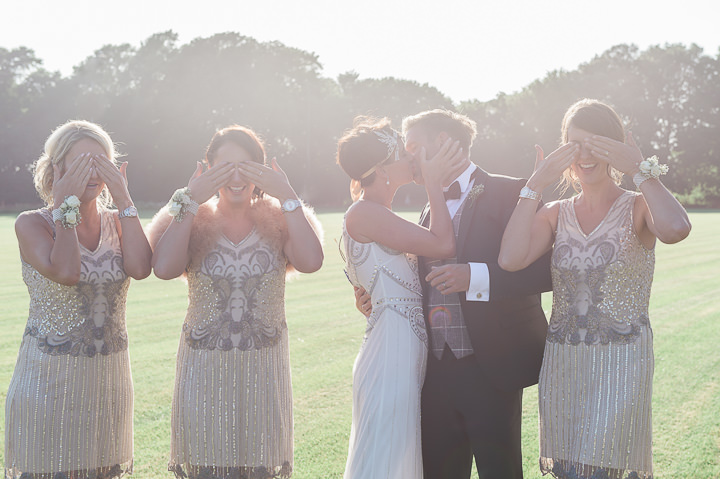 How they met
We met when we were both teaching at a local secondary school as PE teachers. We've been together for 6.5 years. We had a little girl before we got married and now have a second little girl.
The Proposal
It was a huge surprise! We'd agreed not to do Christmas presents and just spend our money on gifts for families. As we left on Christmas Eve to go and stay with my parents, we had to turn back in the car for him to go and get the ring from the house, which he had completely forgotten about! All I was to know was that the present hiding the ring was just a funny, cheap one – a game we could play at my parents house on Christmas day. I was totally unaware that inside this engraved box and beneath the Christmas beads was a box with a ring in It!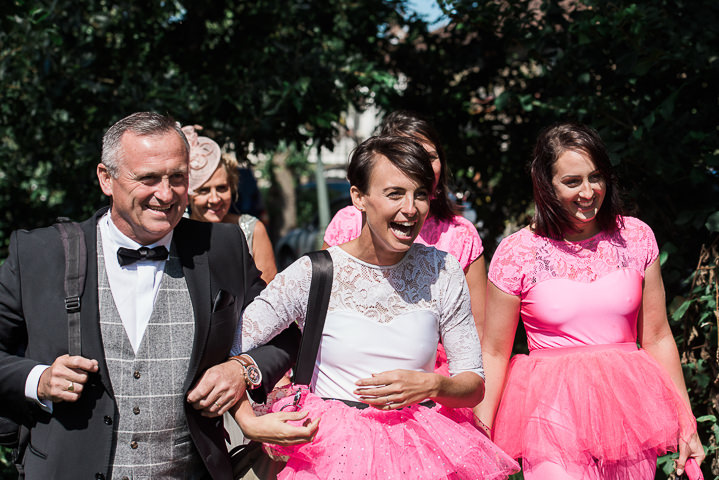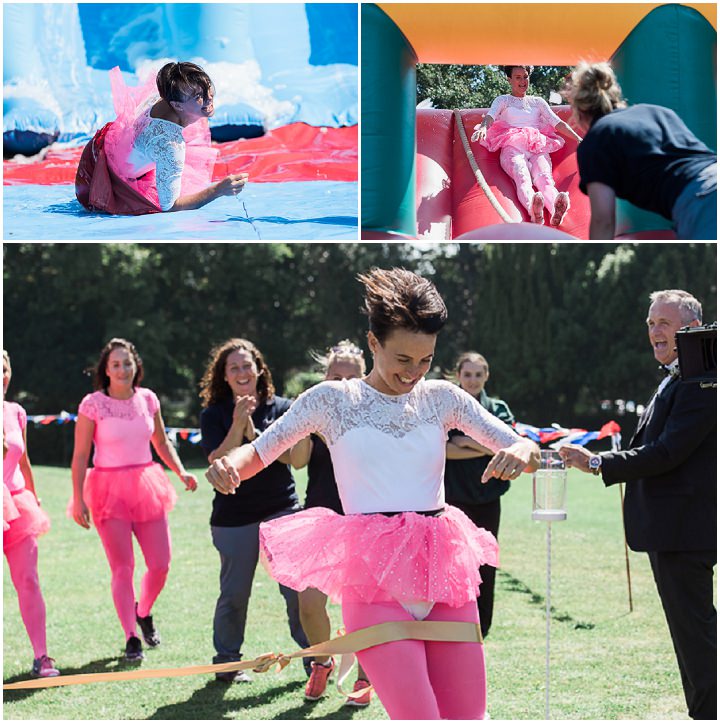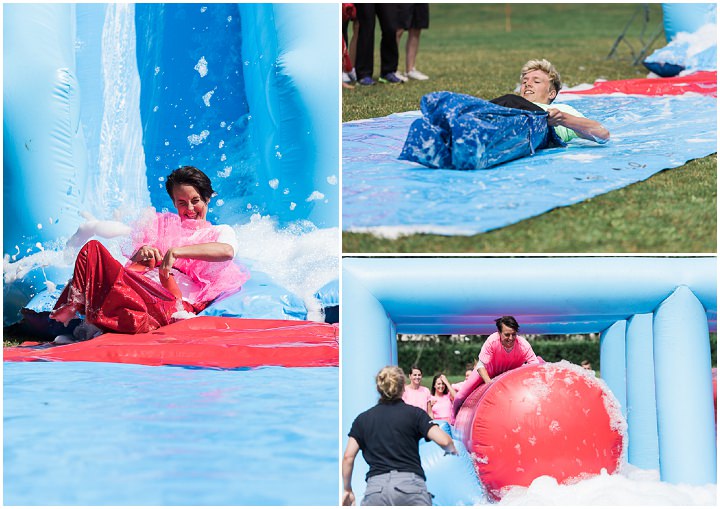 How did you allocate your budget?
Chris was given £14,000 from the production company. We were desperate to be a 'real family' and share our family name, but with a little girl, child care fees and saving for our first home we just felt we were along way away from having the finances to get married… so we applied for the show on a whim!
Where did you splurge and how did you save?
The majority of the money was spent on the inflatable obstacle course….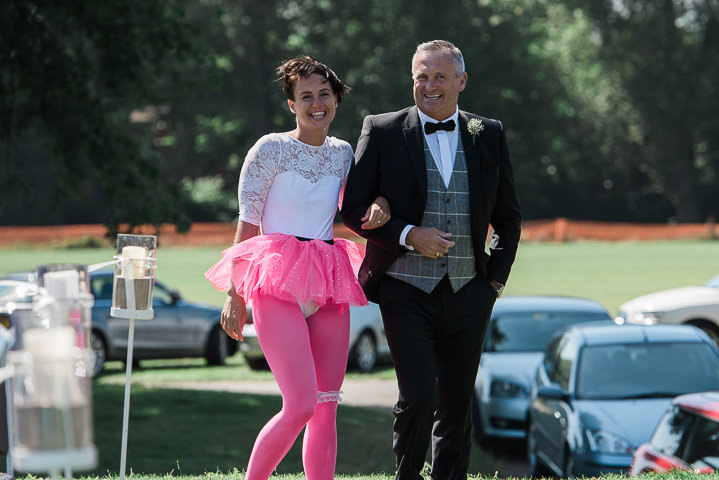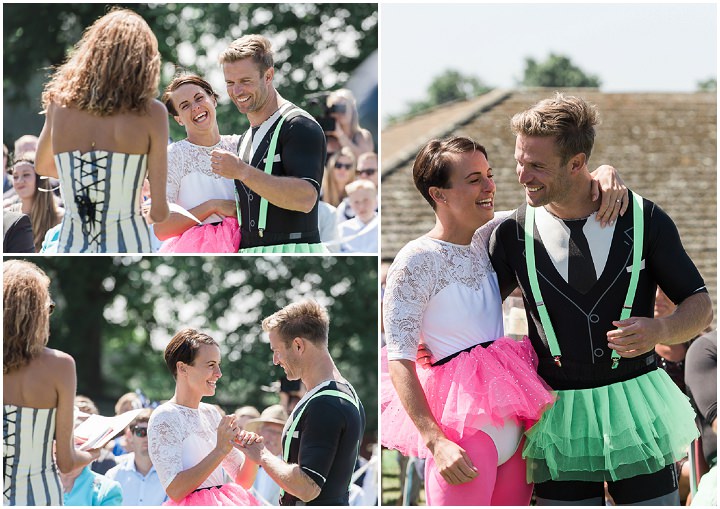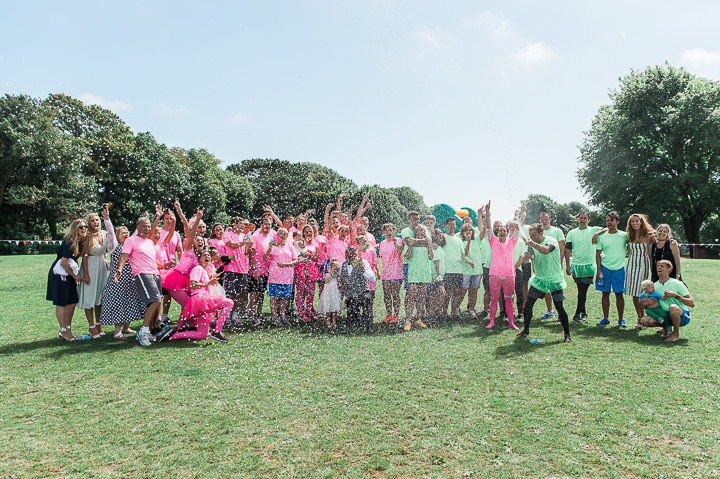 Why did you choose your photographer?
When we were accepted on to the show, the only stipulation I made, was for him to promise he would get a me a good photographer. I was concerned that the show wouldn't perhaps capture us in the truest light. Having real images of us, our family and friends was the most important thing to me.
The Dress
The leotard was made by a school and dance wear company in Littlehampton with the official dress and bridesmaid dresses purchased from Pretty Eccentric in Brighton. My dress was £200 with the bridesmaids dresses slightly more expensive.
The Suit and Bridesmaids
The men's suits for the reception were from Astares Menswear and the bridesmaid's dresses were from Pretty Eccentric.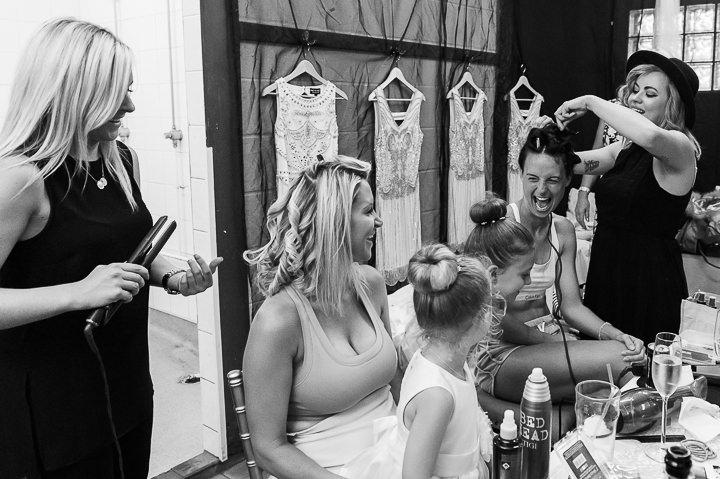 Theme or Colour Scheme
We didn't have a colour scheme however the theme for the reception was 1920's, inspired by the Great Gatsby. I adore that era and Chris delivered. Every inch of the wedding, from the favours, centres pieces, personalised frames and quotes, photobooth, typewriters even the dressing room where I ended up changing from the leotard to the dress was perfectly themed.
Flowers
We all wore wedding wrist corsages.
Decoration
All 1920's theme in the evening!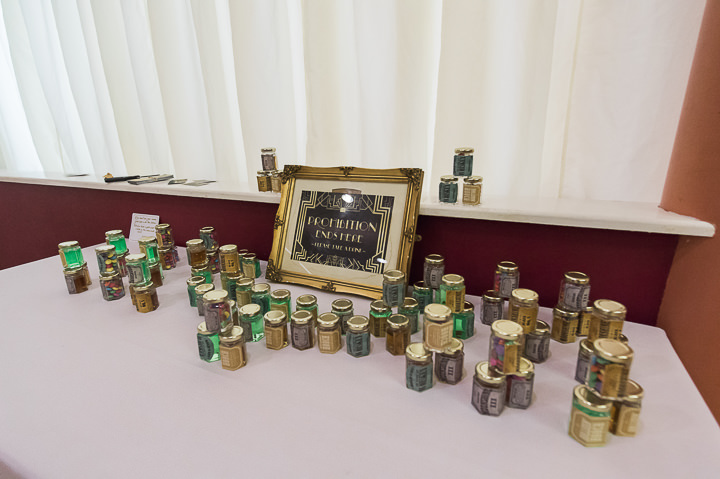 Food
As you can imagine, we had a very different and unusual wedding! After we were married, all my guests had to compete against my husband's guests on each of the obstacles (10 in total!) .The winners were served a 3-course meal, champagne, the whole works, whilst the losing team ate as paupers with soup from brown bowls and stale bread. Needless to say I won (with some help) and my side of the family ate salmon, lemon posset and drank French 75! 
Wedding Cake
The wedding cake was very simple and elegant and was made by a friend of Chris's from work with an amazing black silhouette of the three of us.
Entertainment
We had a live band in the evening playing current music with a 1920's twist.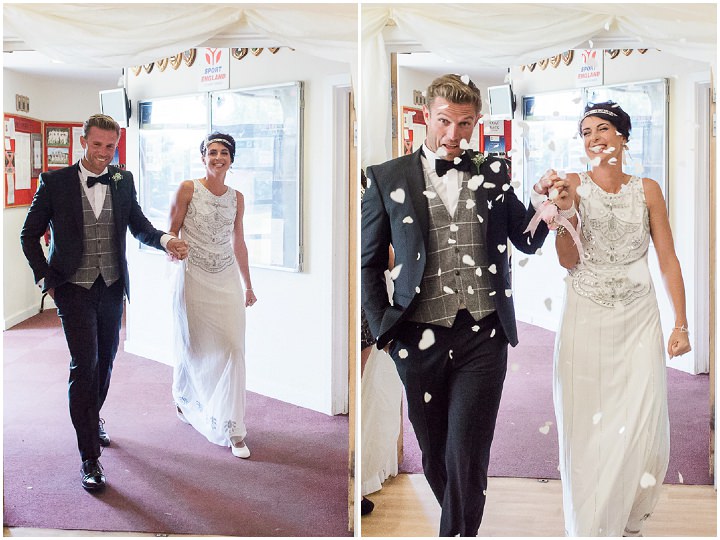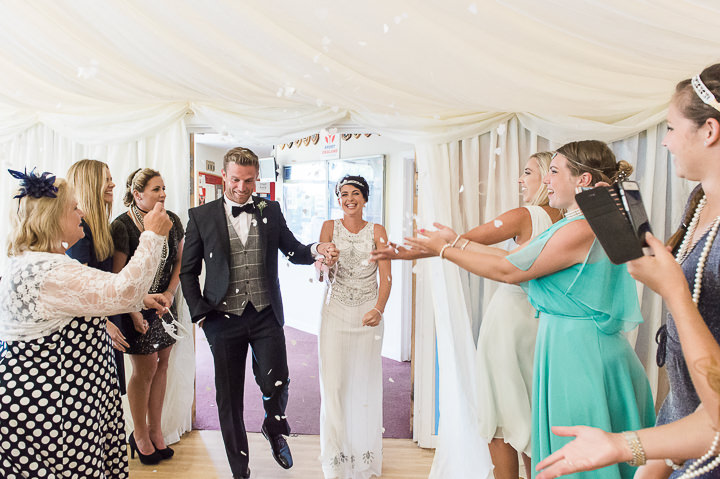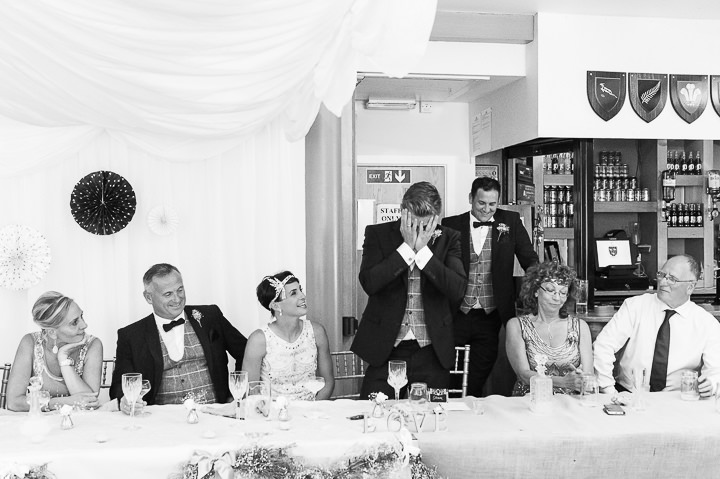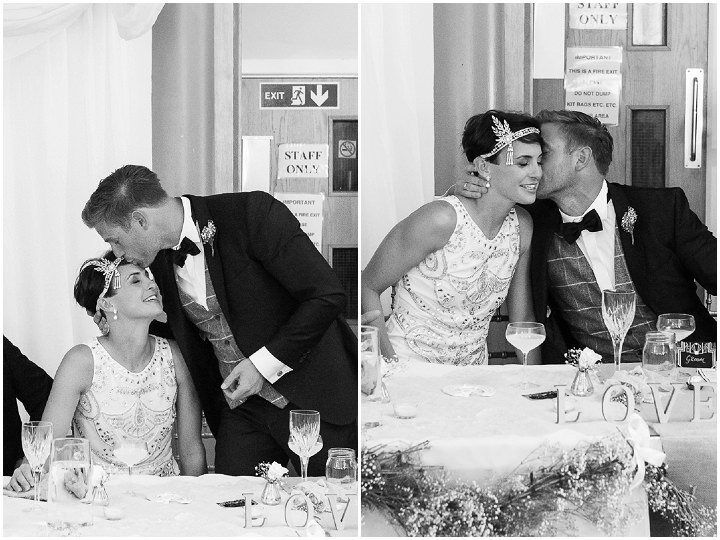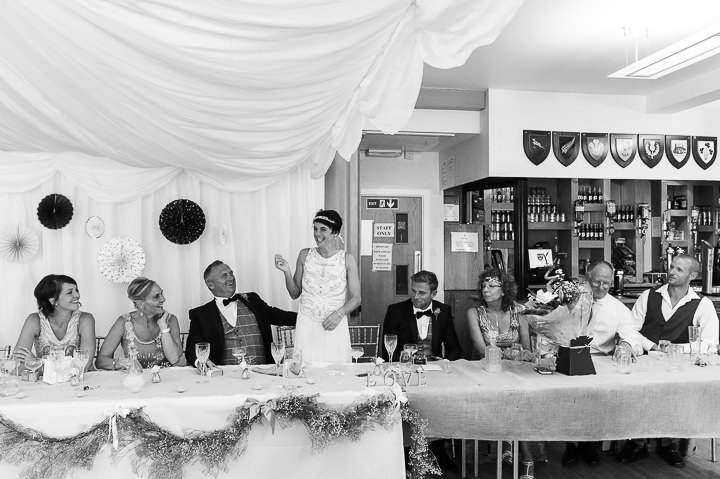 Who supplied the stationery?
A friend's sister is a graphic designer and designed all the posters, quotes and frames. No invites were given… just an email sent 3 days before the wedding to all the guests.
Personal Touches
I did absolutely nothing! 
Special Moments
The images captured by Joanna really show exactly how beautiful and amazing the day was. Honestly, every second of the day from the moment I got up and put on the leotard to the moment I closed my eyes and went to bed, was absolutely incredible! I would have not changed  a single thing or detail. This was all down to Chris, his best man and our friends who were very supportive throughout the wedding planning.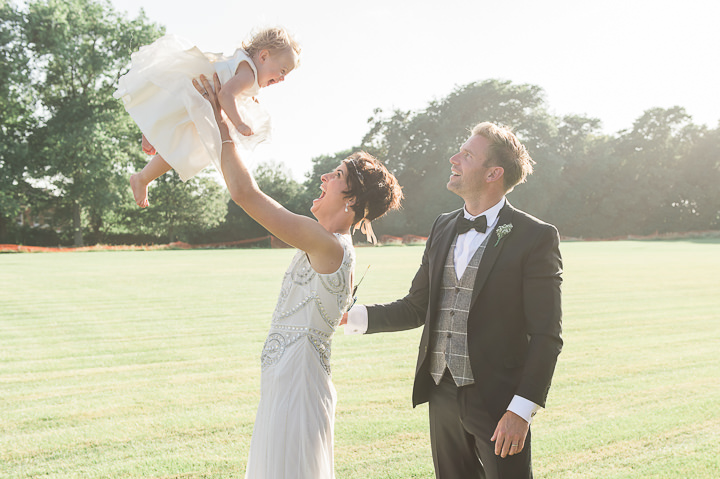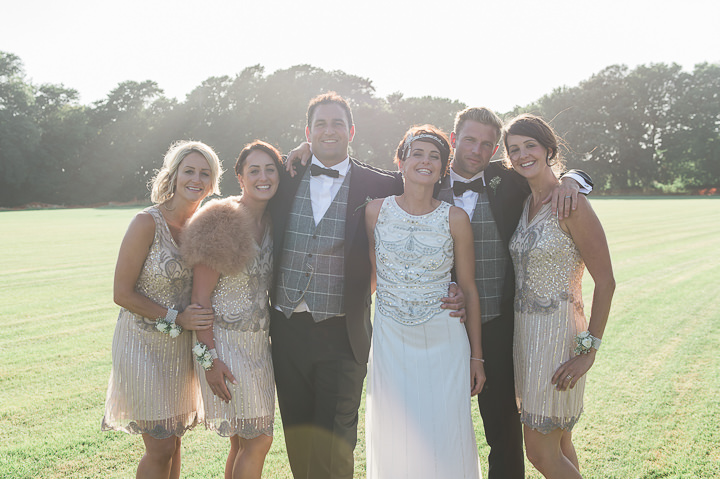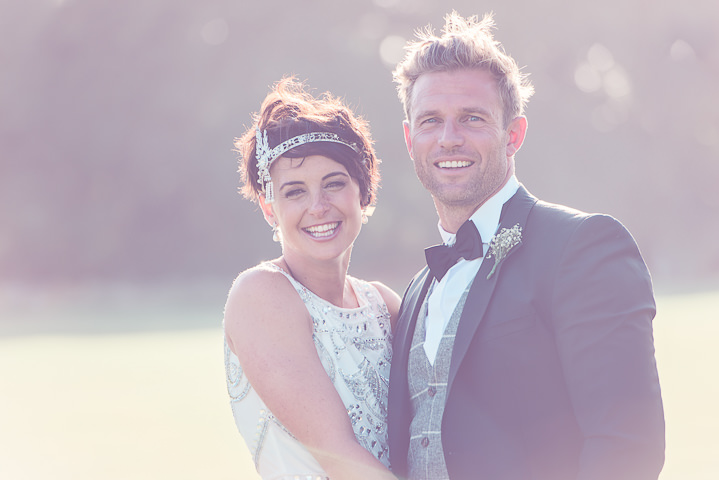 Advice for other couples
I see too many brides get wrapped up in the tiny details and spend months, even years planning their big day. This is OK until the point where you become anxious or stressed. My advice is to save yourself the worry. As long as your marrying the person you want to spend the rest of your life with and your surrounded by your friends and family, nothing else matters! Finally, find an amazing photographer. I wish I could bottle up the way I felt that day and relive it every day, but I can't. However, a good photographer can capture all those moments that evoked those emotions. I look at the images we have around our home and instantly get butterflies reliving that day.
Biggest Surprise
ALL OF IT!!!!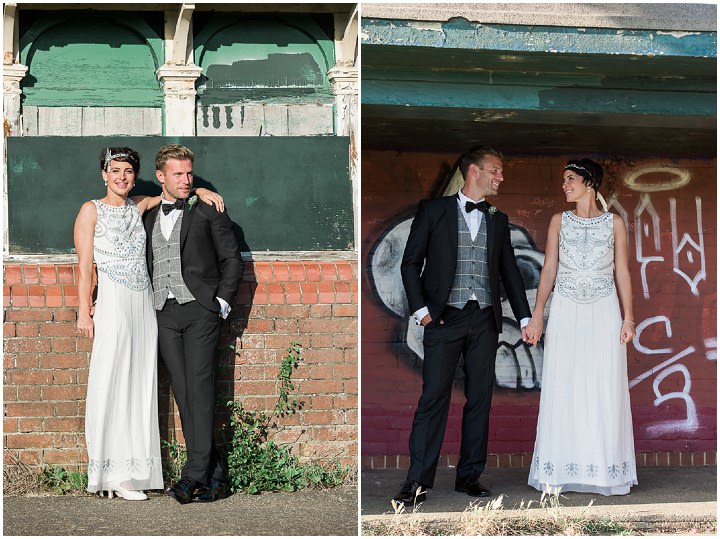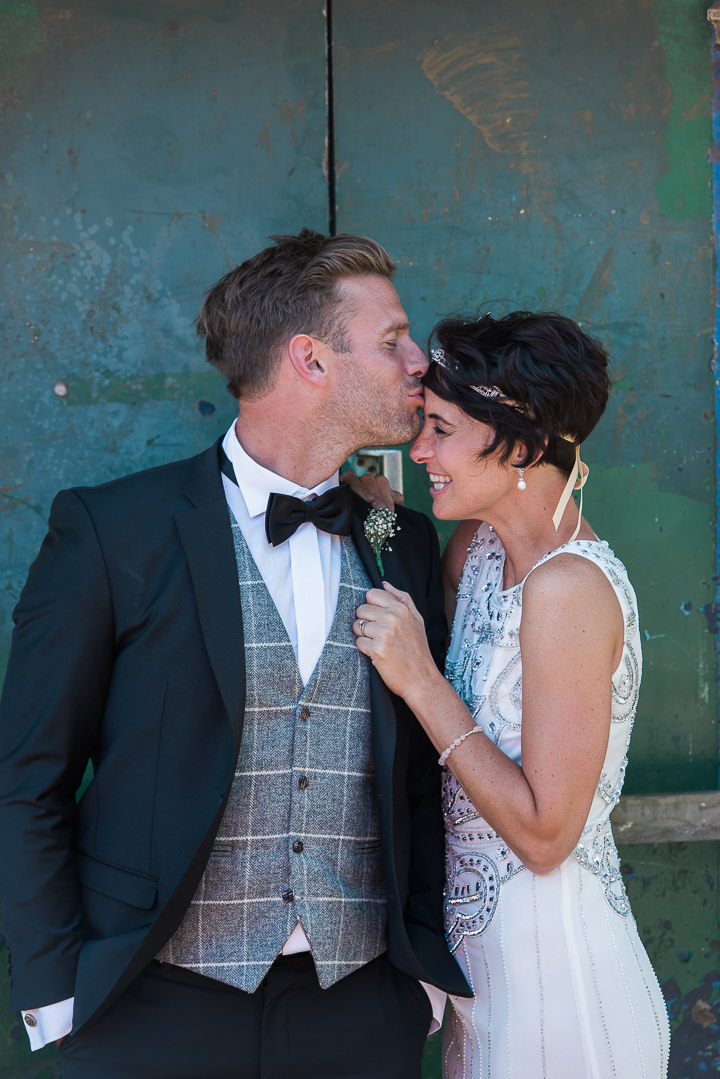 SUPPLIER SHOUT OUTS

For more information about Joanna's work go to:
www.joannacleevephotography.co.uk / www.joannacleevephotography.co.uk/blogs / FACEBOOK / PINTEREST / INSTAGRAM
When it comes to capturing your big day on camera, I take a relaxed yet professional approach to
perfectly capture every aspect of your special day, combining romantic and natural images with artistic
and posed shots. Wedding photography comes with great responsibility, but I feel truly honoured to be involved in one of the most important occasions in a couple's life, and privileged to have the opportunity to make a career out of my passion.
I'm based in Midhurst, West Sussex and cover Sussex, Hampshire, Surrey and Berkshire but willing to travel too if a couple loves my style.