Is it just me or is anyone else a tad bored of the word VINTAGE????
I'm going to put my neck out on the line today and probably commit wedding planner/wedding blogger suicide and tell you all that I'm not a massive fan of vintage!……………….there you go I said it!
I've been wanting to say something for a while now, as I feel that recently the word vintage is being used way to much and quite often in the wrong context, but the nail in the coffin came last week when I received yet another email from yet another company setting up in vintage tea set hire. I am from Sheffield and I can tell you we have a HUGE range of companies offering this service, so why do we need another one I asked myself??
So I decided I would open up a discussion on this subject today and see if I was the only person who was left cold my 2nd hand shops, and who preferred new stuff to old!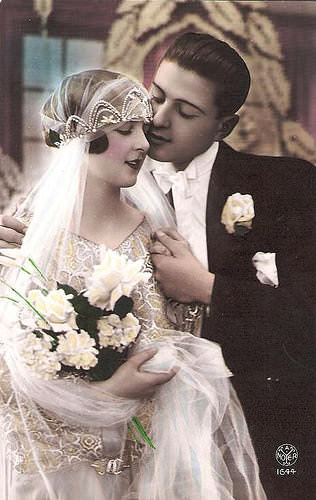 Image found on Amy Inspired
Now I have to admit there are some levels of Vintage that I like and I really can appreciate the way that Vintage has inspired and affected the wedding industry as it is. I'm a big fan of introducing elements of vintage into weddings and turning it around, I adore rustic weddings, as well as country garden weddings, country cottage and Village fete themes.
I love the glamour of the 1920s and about 15 years ago I actually designed (in my head) a whole 1920s wedding……see how ahead of my time I was. I loved the 50s when I was little girl and always went in a rockabilly outfit to any fancy dress parties I was invited to. Now I love the styling of the 60s and I also love the 70s…………..BUT I still have an issue when everyone uses the word vintage to describe their wedding!
I guess my main bug bear is how people have jumped on the Vintage band waggon who don't really understand it! I completely get that there are experts out there who live and breathe Vintage, Tiffany from Grant Riley weddings  is a great example of a planner who specialises in Vintage weddings,  she knows her stuff and she produces some exquisite weddings from real Vintage loving brides. Jenny from Hansley Beard  who specialises in vintage crockery and prop hire, lives and breathes Vintage there isn't anything that lady doesn't know about Vintage.
But there are so many people out there who don't understand vintage suppliers and brides together. I do feel that the Vintage is being thrown around way to much to describe stuff that…well just isn't vintage at all!
So many times I have been told by a bride that she wants a vintage wedding when I ask her to go into more detail and ask about the era she is looking for, it turns out it isn't vintage she wants at all, village fete themed, or country cottage……Great! I LOVE these sorts of wedding, but they are vintage inspired and there is a BIG difference! People want to put the tag Vintage onto everything these days it seems as Vintage sells!……Vintage inspired can mean anything and covers a whole range of eras! But it's not vintage and that is where the difference is!!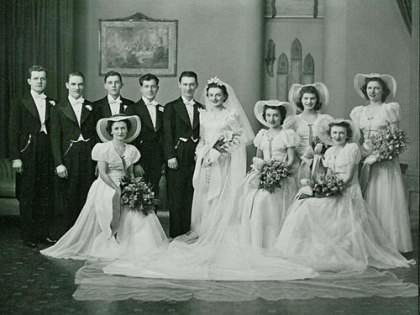 image found on Bianca Vintage
Personally I prefer the word retro….looking at more of a 70s and 80s vibe…..the 1930s and 1940s does nothing for me at all, in fact it leaves me cold!…………..sorry again to everyone out there who loves it! I don't get the whole nostalgia thing, maybe it's the planner in me I always look forward………….I prefer modern clean lines, minimalistic, un cluttered looks, I don't like 2nd hand shops, or the smell of moth balls, I don't like antiques and if it belonged to my Gran there is a strong chance that I won't like it……this may make me totally un cool, and may lose me a whole heap of followers on twitter but I have to speak the truth!
I guess we are all guilty though, I told my sponsors the other day it seems that if you put the word vintage in an advert it gets more click troughs?? Go figure!! So yes the 'vintage inspired' companies do seem more popular at the moment! The same happens when I tag a blog post, if I add the word Vintage in to it…more hits! Simples!
The Queen Mother
It seems the wedding world has gone Vintage mad….it's becoming the norm now, and I do ask myself when will it end? And when it does what will happen to all these companies who have set up a business on the back of Vintage??
And I guess this also begs the question what the next big thing will be!
Personally I think vintage is here to stay for quite a while longer, and I guess that is something I am going to have to live with! But if one more of my friends suggest a 40s themed party for their 40th Birthday I will scream…and no I won't be coming in fancy dress…..I will be coming in something new and freshly bought from the shops in this decade!
So bring on the new…bring on the modern, lets celebrate what is about to happen instead of living in the past…….because really were things that much better then??
image source Style Me Pretty photo by James Christianson
So now let me know what you think! Shoot me down in flames I'm sure many will, but let me know if it's a bug bare of yours! Do you dislike Vintage? Or are you tired of people just not doing it properly? Would you like to see something new? If so what?