I have something a little different for you as we head across to the States for this dark and eclectic wedding in Texas. Laura and Matt were married at McKinney Flour Mill, Texas on the 16th October 2016, and their day is filled with vintage touches as well as an eclectic mix of decoration. A stunning ceremony area in the old mill, mixed with deep tones, candles and beautiful flowers. As for Laura's dress, WOW! one of my favourite dresses I've seen in a long time, I just love the macrame type fringing on the sleeves and her bouquet is stunning. Big thanks to Nicholas L Photo for the images and the words below.
Eclectic Vintage Wedding  
More about the day from Nicholas the Photographer
Laura has been a long time friend and is an endless source of inspiration. As a makeup artist and a fan of the antique and creepy, she allowed us to shoot darker than we normally get to chance to shoot and play with a side of our creativity we're usually holding back. Of course, that didn't take away from the absolute magic of the day. Champagne and snacks were all around as Laura and her bridesmaids, all makeup artists, theater actresses, or both, got ready at the Flour Mill. The whole venue was covered in little white pumpkins, candles, and antiques, transforming the already lovely Flour Mill into something out of a fairy tale for the dark and beautiful. Laura's dress from A&BE Bridal was (and still is) one of the most unique dresses we've every seen and we're still thrilled she trusted us to document it.
The ceremony was sweet and emotional as I think everyone in the room was crying from the moment Laura walked down the isle. You could tell they were both over the moon to have found each other and to be standing there in front of family and friends promising forever. With candles still lit, flowers of shades of deep purple and ivory, and lace everywhere, the reception commenced. Everyone in the hall danced late into the night in front of a curtain of lights to Prince, The Spice Girls, and Beyonce. From beginning to end, a perfect day.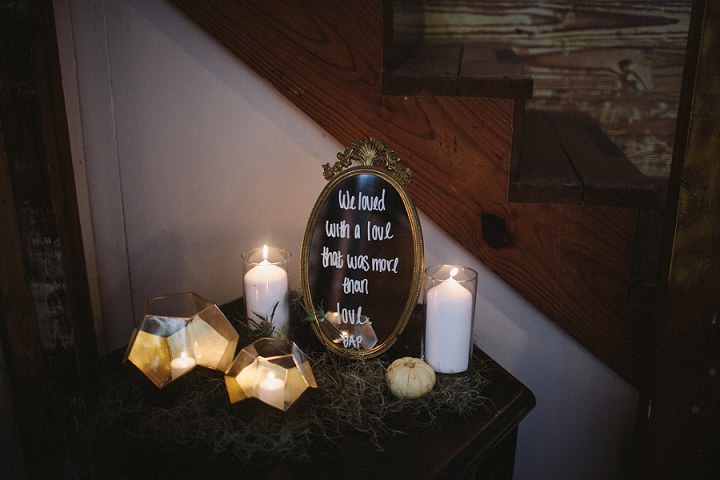 Supplier Shout Outs
For more information on Nicholas' work go to:
www.nicholasl.com / www.nicholasl.com/journal / [email protected] / FACEBOOK / I: @nicholaslphoto / T: @nickleitzinger / PINTEREST