I have a real treat of a wedding for you today, courtesy of Bright Girl. This South African wedding really is divine, from the relaxed getting ready shots, to the bouquet toss. I just adore everything about it! Courtney and Brian really are love's young dream, as they look so happy together and really do make a stunning couple. There are so many super cute elements to this day; Courtney's amazing gown, the bridesmaids powder blue outfits, the wild flowers, mismatched crockery, the portrait shots in the woods, the amazing first dance….but my favourite part has to be that Courtney had her Grandad as ring bearer and her two Grannies as flower girls. Such a lovely touch! I know you are going to love this wedding as much as I do. Enjoy! 
 A dreamy South African wedding that united everyone under clear skies and beautiful sunshine. A wonderful day full of love, family and friends.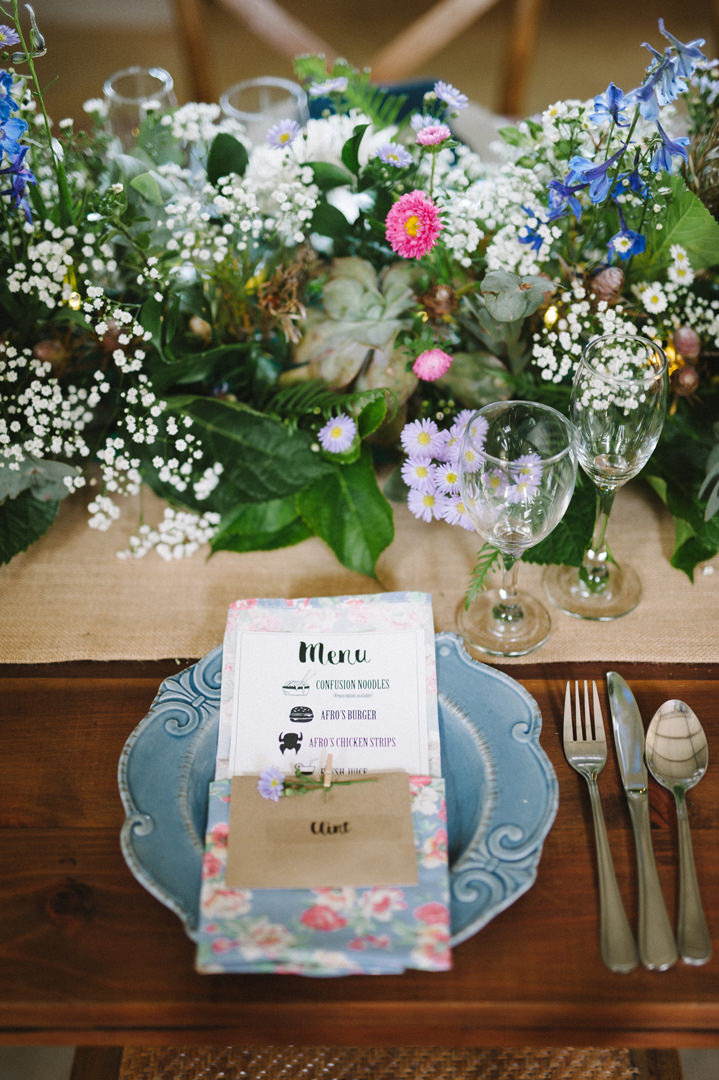 Brian and Courtney were married on 14th January 2017 at The Glades Farm, Midlands, South Africa. 'I first saw this venue in pictures online and fell in love with it immediately. We wanted a very natural, fresh feel and the big trees and open grass was perfect for that. Then we went to go see it in person and everything was as perfect as in the pictures. The venue also allowed us to do our own thing in terms of food and décor, and Gabi was AMAZING to work with. The other thing that had us sold was the accommodation on the property for the bridal party – it was so special to all be there for the night before the wedding. We got engaged in August 2016, so about 5 months of planning. We had originally planned to get married in June/July but everything worked out better to have it in January, so we just thought "why wait?". We had about 120 guests. Our idea was to try to keep it as small as possible rather than filling up the spaces of those who couldn't make it.'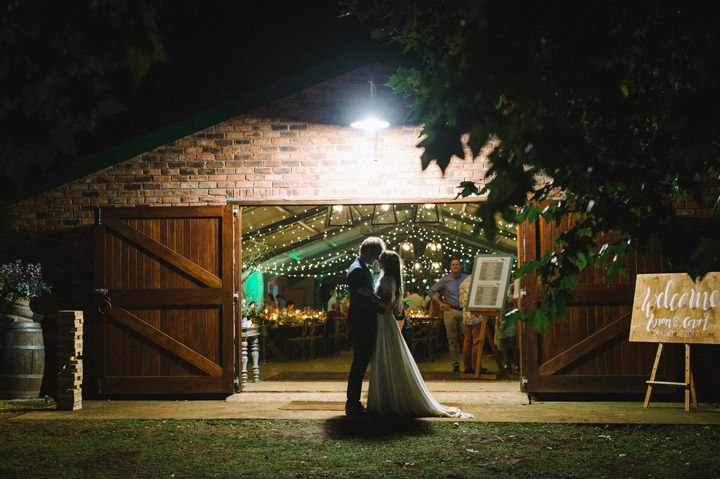 How they met
We met when I was about 12 and Bri was about 16. We grew up in the same church and similar friend groups but because of the 4 and a half year age gap we were always in different life stages. After many years of just being friends (with slight crushes on one another) we were brave enough to tell each other how we felt. At this time I was still in high school in Durban and Bri was in University in Stellenbosch so there were many challenges to face. But through a lot of commitment and love, we made it through two years of long distance until I joined him at Stellenbosch when I finished school. We started dating on 2nd December 2011 and were together for about 5 years before we got engaged.
The Proposal
We got engaged on the morning of my 21st birthday party. Bri set up a breakfast with all my favourite things to eat and had pictures of us from all through the years hanging around his lounge. He had a present for me to open after our breakfast which was a wooden board that he had made on a youth camp many years back. The board had promises written down to his future wife, and he had been saving it for the one he wanted to marry. I was a bit confused when I opened and read it, but then he said "if you are going to be my wife…" and got down on one knee with the most beautiful ring I had ever seen. Needless to say, there were many tears and too much excitement. Then at my birthday party Bri was the last person to say a speech and ended it with "I know many of you thought that I was going to propose to Court at her party, but I'm not…because I already did this morning" It was such fun to surprise all our friends and family and celebrate with them afterwards. One of the best days ever!
How did you allocate your budget?
We laid out a couple of things that were the most important to us and then went from there. Because of the type of food we went for, we were able to get great value for money. We knew we wanted a great photographer, lots of food and lots of flowers and we were lucky enough to not have to skimp on anything.
Where did you splurge and how did you save?
One of my mum's friends doubled as our wedding planner (Les) along with my mum so we saved a bit on that. We also had quite a mix-match style on the tables and used a variety of plates and napkins from my parents' home and Les's home so we didn't need to hire too many things. Les also did our flowers for us so that was a cost saver as well.
Why did you choose your photographer?
We stumbled upon Brightgirl's website when browsing for photographer's and loved her natural style. Her photos are so fresh and light and were exactly what we wanted. We are SO glad we decided to go with her. Eileen was amazing on the day and made us feel so comfortable about everything.
The Dress
I absolutely LOVED my dress. Julia Ferrandi (based in Durban) made it and I wouldn't have changed anything about it. I wanted a classic style with hints of bohemian and she nailed it. It was comfortable and most importantly I felt like me. She also made it in a short number of fittings and never made me feel stressed about anything. My jewellery was very simple: just my engagement ring and another tanzanite ring that Bri had bought me for one of our anniversaries. My necklace was a bespoke piece that my parents gave me for my 21st birthday. My shoes were wedges that I ordered off Superbalist. 
The Suit and Bridesmaids 
The suit was from Studio W and was tailored in Durban. The groomsmen wore chinos, collared shirts and ties from Trenery/Country Road. The bridesmaid's skirts and shirts were made by Bianca Warren in Durban. She made them with only one fitting as all the bridesmaids were from Stellenbosch, which was amazing!
Theme or Colour Scheme
We sort of worked with shades of blue as the colour throughout, but because of the wild flowers, there was a big mixture of colours. We just wanted a natural feel rather than the classic wedding style.
Flowers
From the beginning I had wanted lots of wild flowers all over. Les did an amazing job and it was such fun going to the flower warehouse with her and my mum and picking out all my favourite ones. My bouquet was a mixture of colours and the bridesmaids all had plain white bouquets. We loved the end result, especially the wall of flowers which hung behind our table and the flowers which covered the cross in the chapel.
Decoration
We wanted the day to reflect our style and our age. Because we are both quite young, we wanted the décor to be fun. We used a mix match style for the tables and napkins and lots of flowers. The venue is already so beautiful so we didn't have to do much to the reception area or the chapel.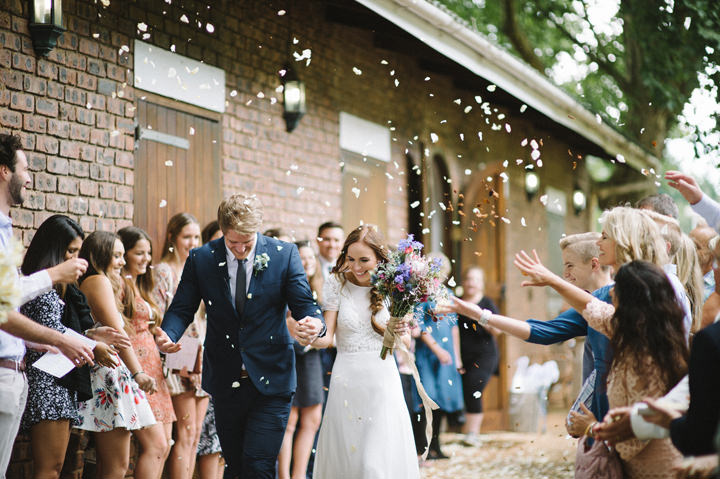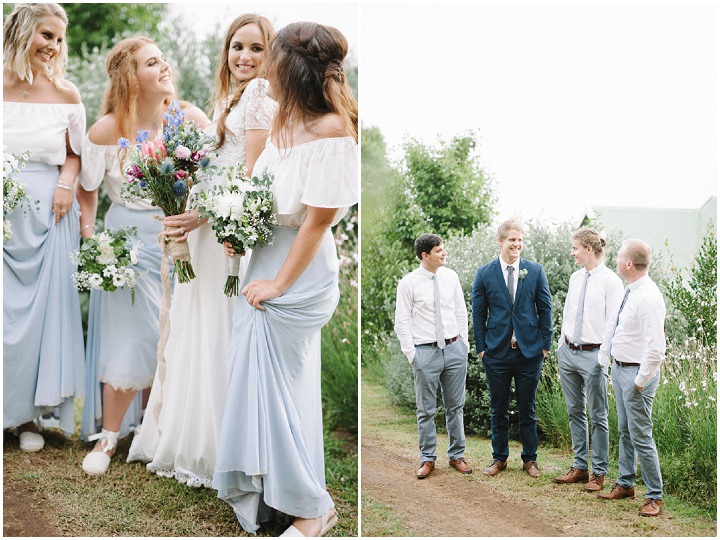 Food 
This was one of our favourite parts of the wedding. We had food trucks serving a number of food options which the guests could choose from – burgers, chicken strips and noodles. At each seat, there was a little envelope with the guest's name on it with a "token" for each type of food, an ice cream from the soft-serve truck and two coffees from the coffee truck. We were always wary of the awkward time at weddings when the bridal party is having photos and everyone is waiting to eat, so the food trucks were open from directly after the ceremony until the end of the evening. This allowed people to use their food tokens whenever they wanted to depending on when they were hungry. Because each guest could have one of each kind of food, they could spread their three meals over the course of the evening. There was also a snack table of samosas, spring rolls and fresh fruit for those who didn't want to eat something big after the ceremony.
Wedding Cake
Our Wedding Planner's sister is a baker and made us the most delicious pudding table. The main cake was a vanilla and white chocolate chips flavour and then we had a bunch of other smaller cakes, millionaire shortbread, macaroons, meringues etc. We love pudding so we wanted there to be a lot of it!
Entertainment
We had a DJ who played music throughout the day and evening. We also had some games on the grass area which included giant Jenga and a corn toss – my mum had the corn toss games personalised with "14 January 2017" which is special to have forever. We also had a photo booth with personalised print outs that the guests could take home.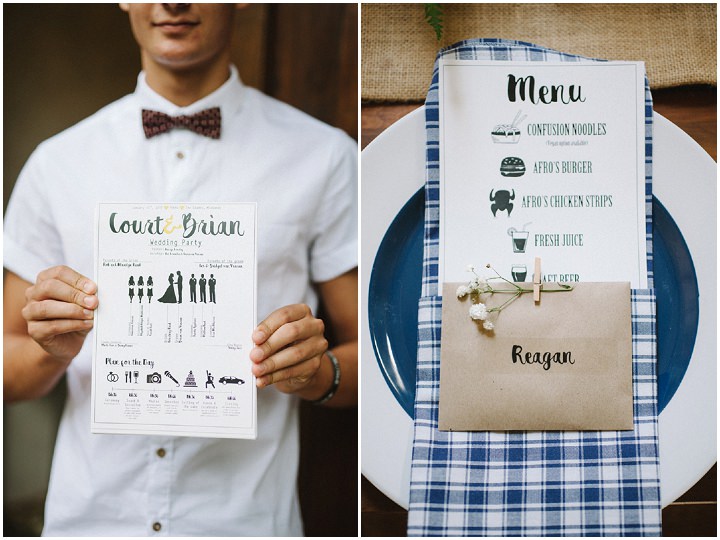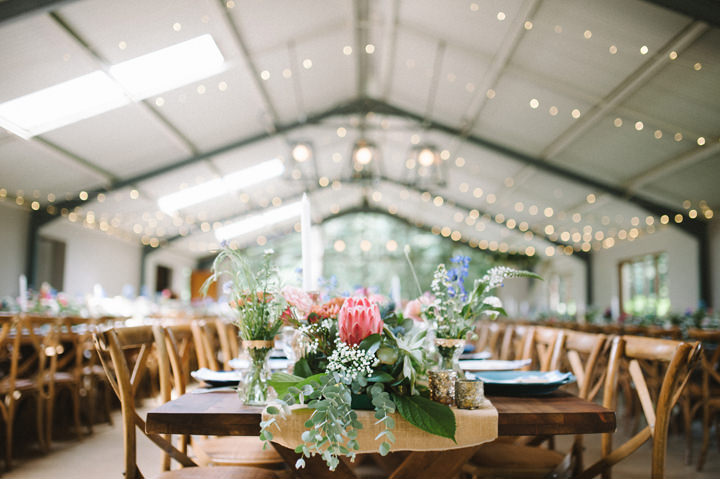 Who supplied the stationery?
We did the save the dates and invitations through Esty. Bri is also amazing at design so he made the programmes, drew the food icons for the menu and designed the seating chart. We both designed the menus. We had such fun working on this stuff together and it was special to have these elements done by the groom himself.
Personal Touches
The seating chart that Bri designed was quite personal because it had the real name of the guest along with the nickname that we have for them. Another personal touch was the confetti – throughout our years of dating I had saved almost all of the petals off of all the roses that Bri had ever given to me. This was my mum's idea and these dried petals were our confetti. It was special to think about all the time that had brought us to our wedding day.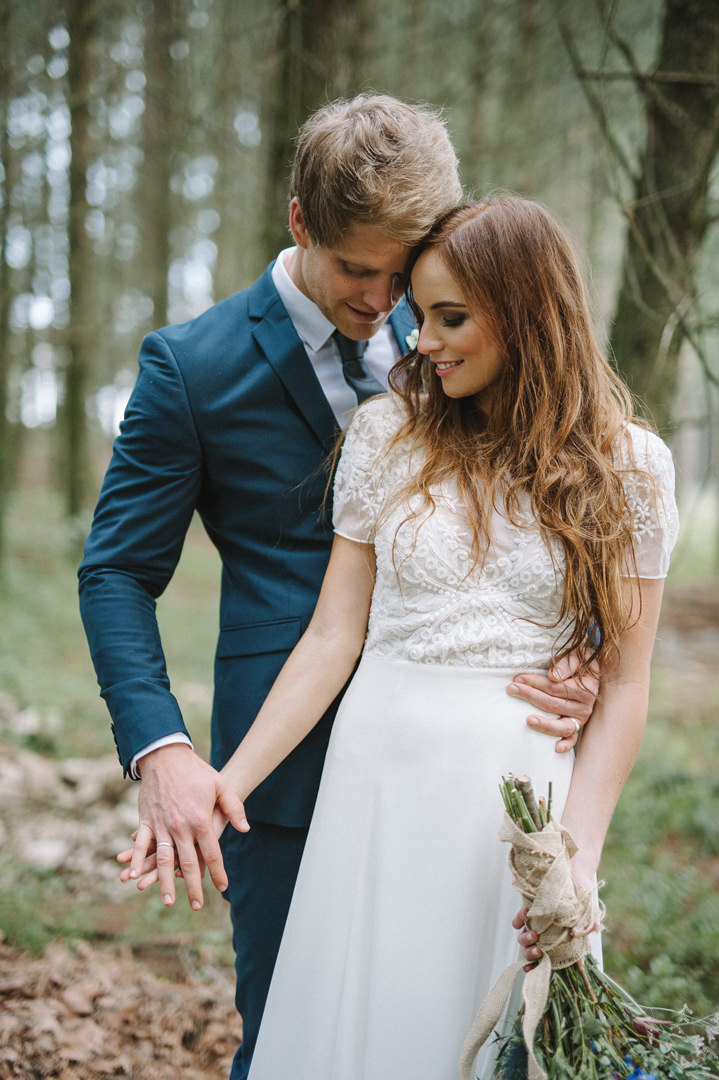 Special moments 
We asked our grannies to be our flower girls which was very special, and my Grandpa was the ring bearer. It was very cute to have them be part of the day. Walking down the aisle with my dad was also really special for me and I'm so glad I could share that moment with him. We also loved being able to spend time with our guests because we didn't have too many formalities. The night before the wedding was also a highlight for me because the bridal party was all at the venue together and helping with some of the set up and laying out the tables.
Advice for other couples
I think the most important thing is to have the day reflect both of your styles. The day is about you guys and your favourite things. If you don't like the rules, break them. And while it's true that you don't notice small things on the day, I think it's also okay to have things (big or small) that you really want. But the best part is that the fun doesn't stop after the wedding – you get to spend the rest of your life with your favourite person in the whole world, and nothing is better than that!
Biggest Surprise 
The weather! We arrived on Friday in thick mist and pouring rain. But we woke up on Saturday morning to clear skies and beautiful sunshine. Another surprise was that nothing went wrong – no big disasters or last minute fixes.
SUPPLIER SHOUT OUTS
For more information about Eileen's work go to:
www.brightgirl.co.za / www.brightgirll.co.za/blog / [email protected] / FACEBOOK
I am a wedding photographer in Durban, South Africa who loves photographing real people, with real emotions, capturing real moments. I am a story teller, with a fine art / documentary style, helping couples remember all the feelings. I love traveling to new places to capture the love.