Today we are heading across to California for some much-needed sunshine, with this gorgeous wedding from Alexandra Wallace and Grace Kathryn. After winning their photography in a competition, Megan and Jason were able to spend more of their budget on other things to keep their guests happy and indulge on the food and decoration spend. With amazing blooms, delicious catering and the most gorgeous rustic farm location, this wedding is super pretty and totally laid back – the perfect late summer wedding in California.
It was the best day of our lives together! We were able to have the day reflect who we are as a couple and bring everyone we love together.
Megan and Jason were married on 9th September 2017 at Duveneck House in Hidden Villa, Los Altos Hills, California. 'We're both from the bay area and fell in love with the mission of the Hidden Villa and the location nested in a secluded valley. We had 100 people and it took us roughly 8 months starting after the venue was booked.'
How they met
We met in our freshman year in college. There was a ping pong table in community lounge where played against each in doubles. We realised we had the exact same birthday and start dating after that, and we were together for 9 years before we finally tied the knot.
The Proposal
We had just purchased a home together and it was on the night we received the keys. I'd been walking around the house when I finally walked into our empty living room and Jason is on his knee with a beautiful ring. He asked that we start this next huge adventure together as husband and wife.
How did you allocate your budget?
Spreadsheets! But we took a hard look at what our parents and our savings would allow and worked within our means on every single detail.
Where did you splurge and how did you save?
We splurged a lot more on our clothing and the flowers which neither of us expected to do! When it came down to it, we realised those were both important factors to help make the day special. We found a reasonably priced venue in a perfect location, hunted for decorations on Craigslist, asked friends with excellent penmanship to help with signs, but most of all we really didn't sweat the small stuff. We saved HUGE with our photographers – we won a contest they had put on which made a huge impact on the budget and our pictures turned out so amazing.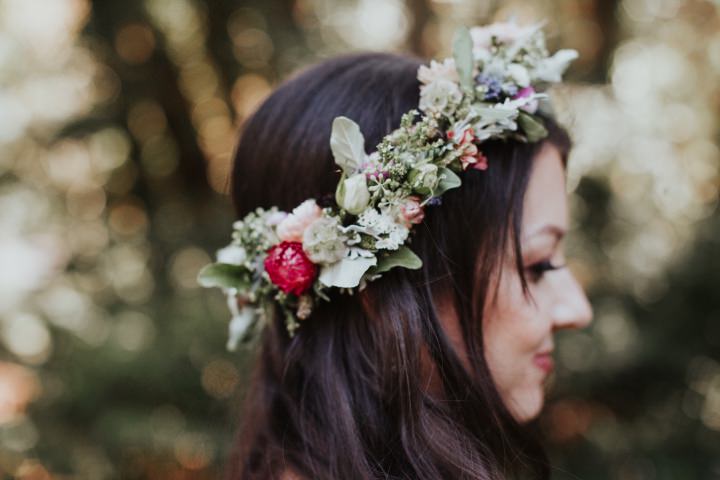 Why did you choose your photographer?
We'd been looking around at several options and Megan had entered in a contest to win free photography services. Luckily for us, Alexandra Wallace and Grace Kathryn chose us from their contest participants! They were incredibly professional and a pleasure to work with.
The Dress
I purchased my dress and my wedding sash from BHLDN.
The Suit and the Bridesmaids
The suit was from Men's Warehouse, and all my bridesmaids purchased their own dresses from various places (all within 2 weeks of the big day).
Theme or colour scheme
Not too much of a theme as we really didn't try to have anyone or anything match a certain colour. In the end we drifted towards purple but it was such a beautiful natural setting that it didn't need added colour.
Flowers
Our flowers were all grown at the venue (Flowers at Hidden Villa), and the in-house florist put everything together. I had very little input on what I wanted since I wasn't too picky, and everything turned out so beautiful. She used so many local plants that were both seasonal and colourful.
Decoration
We had a rustic theme as the venue was a working farm, and our taste is very easy going and simple.
Food
We had a great taco bar with all the fixings, and a wonderful set up of appetisers followed by a donut bar.
Wedding Cake
We purchased all the donuts from a local spot in Oakland, Donut Savant – a true gem.
Entertainment
We used a great DJ company called Sound in Motion (SIM), and they were able to help coordinate all the key moments of the big day.
Who supplied the stationery?
We purchased most of the stationary through Minted.
Personal Touches
A few nights before the big day, my Maid of Honour and I hand wrote icebreaker questions on every single name placeholder card. It was great for all the tables to have something to talk about while they waited for dinner and it reflected our style and humour.
Special Moments
There were plenty! One great highlight was during the ceremony when it was quiet and a large sheep went "baaahh" super loud, reminding us all that we were on their farm witnessing a wedding! Another great moment was our first dance, which we had only really started practicing for the week of the wedding. It was even more special since we had been able to keep the song a secret up until then, and it made several close family members tear up.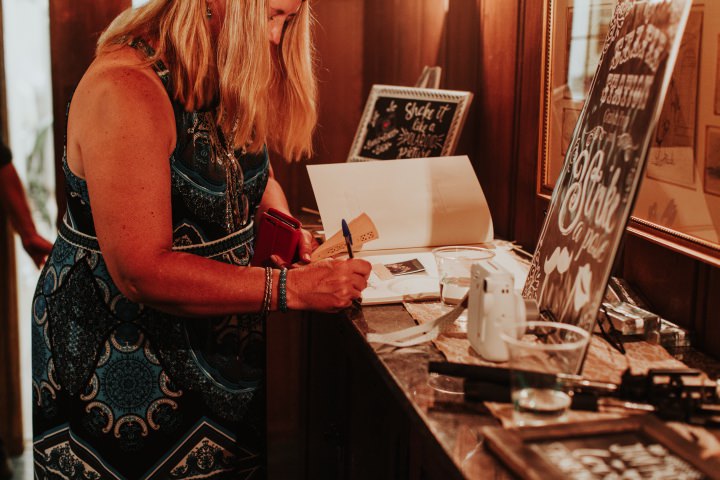 Advice for other couples
Don't worry about the small details as no one notices too much, and it adds too much stress to the day. We really focused on planning a great party and making sure all those needs where met, after that it really was just icing on the cake.
Biggest Surprise
Jason forgot to set up the "alter" to incorporate an element into our wedding vows that we had planned and rehearsed – a ceremonial planting of a shrub. Megan had to whisper to our officiant to skip that passage of the ceremony. Nobody noticed and we all had a good laugh about it later!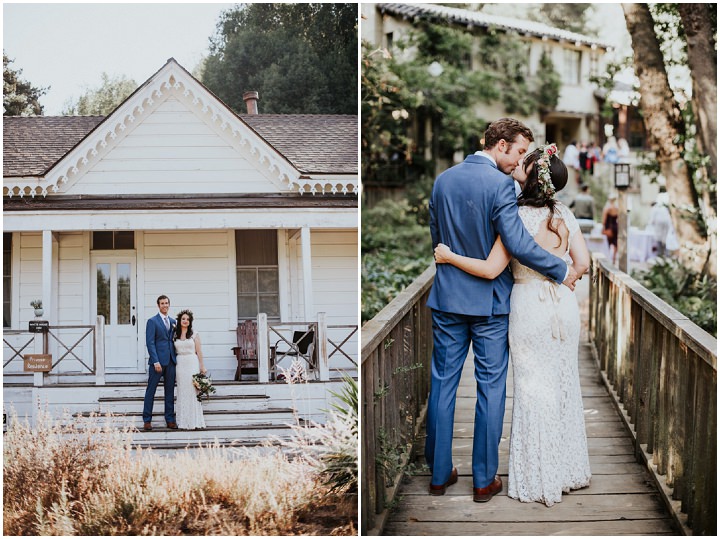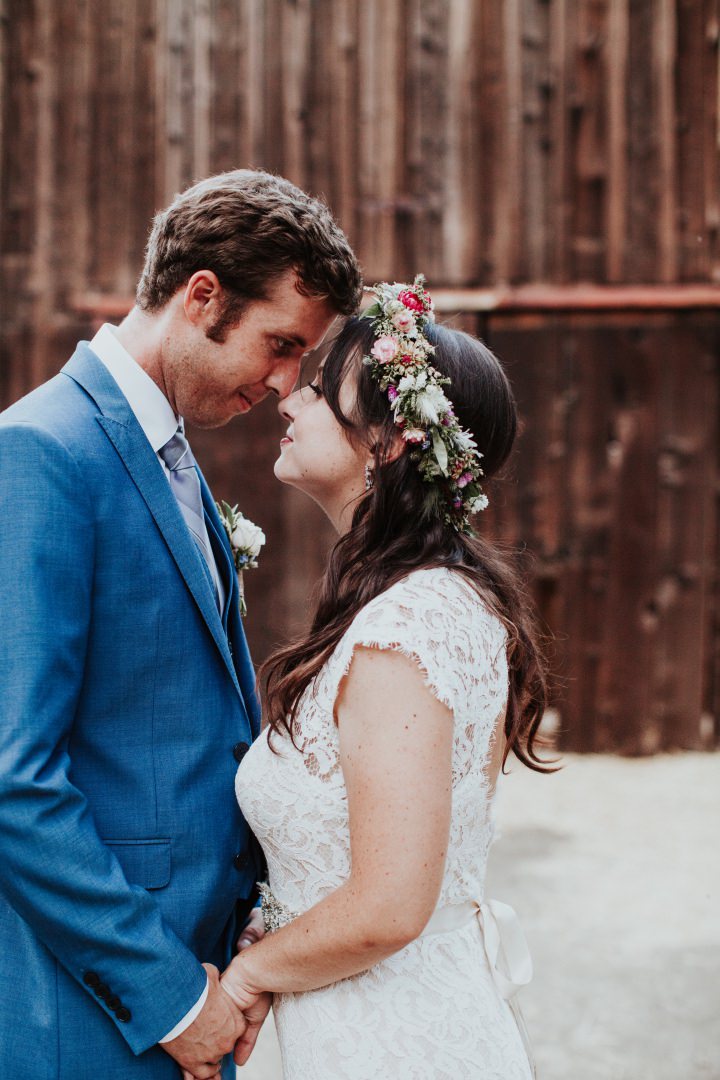 SUPPLIER SHOUT OUTS
For more information about the photographer's work go to:
Alexandra Wallace / Grace Kathryn  / [email protected] / [email protected]



[jprel]