Happy Friday everyone! How are you and how has your week been? It's been a busy one here at Boho HQ but I'm now looking forward to what the weekend has in store. So far I have lots of family time planned and also meeting up with friends, eating good food and hopefully enjoying a bit of the outdoors if it doesn't rain too much.
Today we're heading off to Manchester City Centre for this wonderfully laid back and relaxed wedding from Blog sponsor Dan Hough. Neill and Pip wanted a fun packed day but also wanted to keep to a reasonable budget, which they did by hiring street food instead of a traditional wedding caterer, and from these pictures they made the right decision! They also did a lot of other things themselves, like sourcing the food for the dessert tables, arranging the table flowers themselves and not going over board on the wedding outfits. A really fun and stylish wedding – the perfect way to finish off the week!
Relaxed, informal city wedding with great street food and party vibes. 
Neill and Pip were married on 24th June 2017 at Manchester Town Hall with a reception at Hope Mill Theatre in Ancoats. 'We were engaged for around 20 months but we planned all the big things within the first month. I then started to look at the smaller details around 3 months before the wedding. We didn't want it to take over our lives so didn't spend that much time planning it. We really just wanted a party! We chose Manchester Town Hall for it's beautiful architecture and Hope Mill for its wonderfully relaxed vibe. We had 90 guests in the day, and 110 in the night.'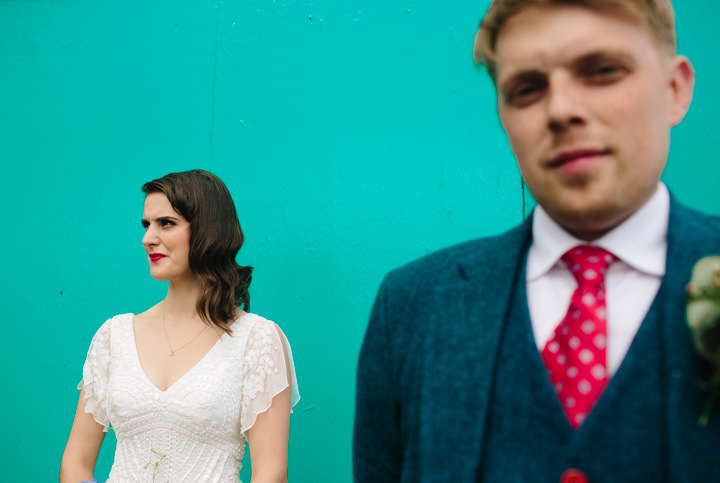 How they met
We met when we were both living in West Didsbury but realised we must have crossed paths loads of times as we both loved the same dodgy Liverpool night clubs in our uni years.
The Proposal
Neill had asked me to pick 3 rings for him to choose from so I knew he was going to propose but wasn't sure when. One day I was sorting out the washing upstairs and turned round to find him down on one knee. It might not sound very romantic but it showed how well he knew me as I would have hated anything fussy or too public.
How did you allocate your budget?
We wanted the food to be good. We had a quote from a traditional wedding caterer but the price was extortionate and the food sounded quite average. So, we went for street food! We knew it would be good quality without breaking the bank. We were quite strict with the budget as I wanted everything to have been paid off before the wedding. The whole day cost around £8000.
Where did you splurge and how did you save?
Neill's suit was a bit of a splurge but he's already worn it another 4 times so has been worth the investment. My dress was a bargain as the people I bought it from had closed their bridal shop. It cost 1/3 of the usual price but was brand new and didn't need altering. My shoes were £20 as I'm not really into shoes so didn't care what they looked like. We made sure we spent a decent amount on photos as they're one of the few bits you can keep.
Why did you choose your photographer?
We were feeling a bit overwhelmed when we googled Manchester wedding photographers. We met Dan at a small wedding fair at Hope Mill. We mainly picked him as we really liked him. He was really friendly and seemed pretty chilled and we also loved his style. I'm notoriously grumpy when I'm stressed so didn't want someone who would irritate me on the morning of the wedding. Dan's photos really tell the story of the day and capture the personalities of our family and friends perfectly. We loved having Dan around and he made us feel at ease at all times. He was also super helpful shutting windows etc. in the rush to leave in the morning. My mum calls him 'That nice boy that took the photos'.
The Dress
My dress was 'Lucille' by Eliza Jane Howell. I bought it from the ladies who run Sasso Bridal. I'm not sure what brand my veil was but I bought that from them too. My headpiece was from Etsy seller MariaFelea. She customised it with a brooch of my late grandmas. My daytime shoes were from ASOS. I ended up wearing a pair of Primark flip flops for most of the day but I changed into a pair of Zara flats in the evening. My jewellery was a gift from my Auntie and Uncle, also by Etsy seller Grey Goose.
My hair was done by Sonya from Brandon May Hairdressers in Didsbury. She's Neill's old housemate and an amazing hairdresser. My make-up was done by Soiree make up. They were brilliant as two previous make-up artists had let me down. They were great fun to have around on the morning of the wedding too.
The Suit and the Bridesmaids
Neill's suit was bought from Victor Valentine. The ushers suits were the Ted Baker Lounge Lizard suits hired from Moss Bros. The bridesmaids all picked their own dresses but in the end they all ended up choosing ASOS dresses. Our page boy was only 2 so I didn't want him in a formal suit. He wore shorts from Marks and Spencers, a white shirt and brown boots from Next, braces from John Lewis and a cardigan knitted by my mum. His braces were another bargain. I got them for £2 in the John Lewis Sale!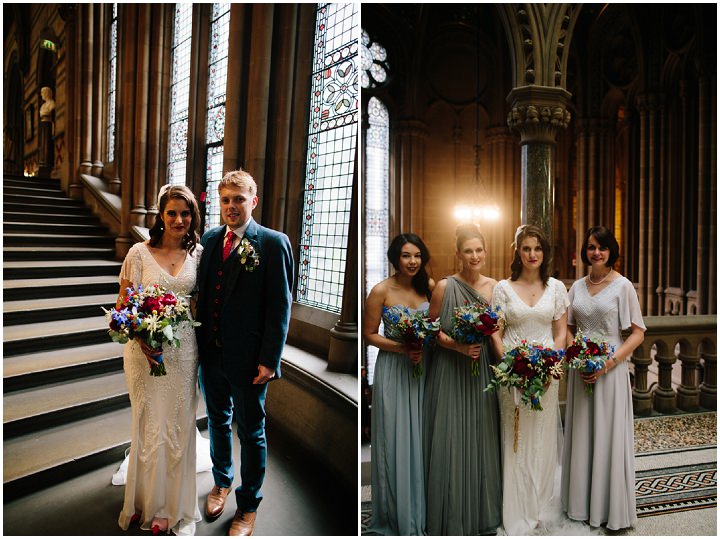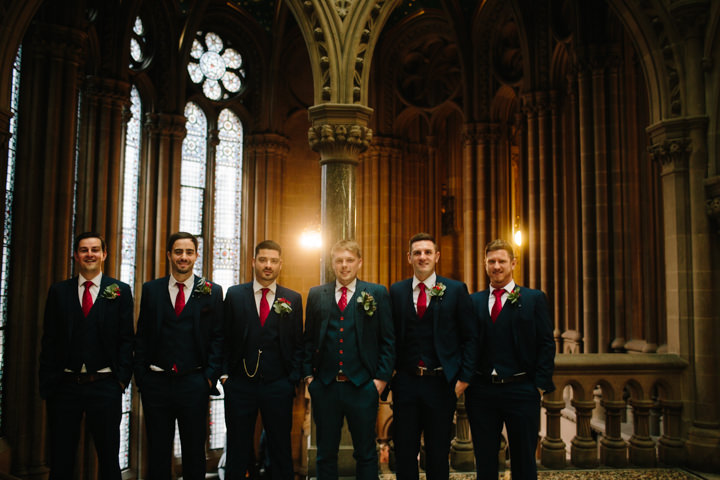 Theme or Colour Scheme
We ended up with red being sort of an accidental colour scheme. I'd picked red shoes and asked for red in my bouquet. Neill separately picked red ties so we bought the page boy red braces to tie in.
Flowers
Our flowers were provided by our local florist 'Moss and Maple Flowers'. I wanted bright flowers that made a statement. The feature flower in my bouquet was peonies but there were also thistles, wax flower, carnations, craspedia and corn flower. I chose thistles as I was really close to my grandma who was Scottish and we had used thistles in the arrangements at her funeral.
I bought all the flowers for the venue from Triangle Nurseries and spent the evening two days before with some close female friends and plenty of wine to do the arranging. I thought it would be stressful but it was actually really fun and was one of my favourite bits about the run up to the wedding.
Decoration
We didn't have much decoration. I just wanted candles and flowers. We had tealights and brightly coloured flowers in vases. Dad and me made a copper candle holder but it involved a lot of welding so we only had time to do one which sat next to the cake. I wood stained a wooden pallet and attached pictures of our grandparents and parents weddings.
Food
We bought canapes from Marks and Spencers and then had pretzels and olives on the tables from Costco as a starter. The Hip Hop Chip Shop provided fish and chips or halloumi and chips as our main. We then bought the puddings from Costco, Marks and Spencer and Iceland. People helped themselves from a pudding table. Lots of people commented on a chocolate pudding they thought must have been expensive but was actually from Iceland! Pastrami Now did our evening food. I've had more comments about their sandwiches than any other part of the day!
Wedding Cake
My Mum made it. It had two tiers of carrot cake and two tiers of fruit.
Entertainment
We had Outrageous Fortunes Fun Casino from 5-7pm as we'd got married at 12pm and were worried about an afternoon 'lull'. This was a surprise for our guests and it went down a storm!
Hipswing Entertainment provided our DJ. We had booked a band but they let us down a couple of months before. 
Who supplied the stationery?
I made the stationary using design programme Canva. I then printed it using printed.com who were very speedy, great quality and a good price.
Personal touches
My dad made us a Welsh love spoon which I carried after the ceremony (we're not Welsh but he is very talented at carving and wanted to make us one). He also made the box our page boy carried our rings in. My maiden name was Birch so he made it from Canadian Birchwood.
We did quite a lot ourselves to keep costs down e.g. flowers for venue, stationary, mum making the cake.
Special moments 
I loved the whole day but getting ready in the morning was fun and I felt surprisingly chilled. Probably my favourite bit was having our photos taken down by the canal. I got the chance to speak to Neill properly and Dan made it fun.
Advice for ther couples 
Make sure the day is what you want not what other people think you should do, but also pick your fights carefully. We didn't want a day full of extended family that we didn't know well but did give in and had a few members of extended family there in the evening to save the arguments.
I also caused some controversy by wanting to stay alone the night before but in the end I'm glad I did as I felt surprisingly calm in the morning.
Biggest surprise
Our reception was quite informal so I was worried how that might go down with older guests but it was lovely how people just got on board with the day.
It surprised me how well the casino went down. I think most people had a go and it really got the different generations talking to each other.
FOR MORE INFORMATION ABOUT DAN'S WORK GO TO:
www.danhoughphoto.com / http://www.danhoughphoto.com/blog /  FACEBOOK / INSTAGRAM

[jprel]