I have a fab wedding for you today courtesy of Daniel Hough Photography. Set in Cheshire this gorgeous day has a rustic feel to it as well as being filled with little vintage touches, from the Calais lace used to make the bespoke wedding dress to the fabric used to make the bunting. A homemade wedding full of DIY details that Sally the bride worked so hard to pull together. Plus check out her two cute sons, AND yes that is her 5 year old playing DJ! The wonder of an iPad. The most remarkable thing is that their original wedding venue caught fire 8 weeks before the wedding so the reception was moved to the village hall.
Our wedding was a personal, rustic, relaxed, wild-flowered Mexican barn dance!
Sally and David were married on the 1st of June at St Bertoline's Church followed by a reception at Wychwood Village Hall, Weston, Cheshire. 'We fell in love with the church many, many years ago on a summers evening walk. We always said that if we married one day it would be in St Bertoline's. The reception was due to be held in the beautiful thatched coaching inn, the White Lion Inn, that is opposite the church, but unfortunately 8 weeks before our wedding the chimney caught fire taking the thatched roof with it!! The village hall came to our rescue and as it was a blank canvas we could take most of our original plans with us. We ended up with 120 guests and spent 8 months planning.'
How they met
We met in the café/bar that my husband owned. I called in for a coffee one rainy Saturday afternoon with a friend. I left knowing that the guy who served me was pretty special. It took over a year and plenty more coffees and a few rosé wines before we finally got together for a date. That was 10 years ago at the end of October this year.
The proposal
We had been together just over 2 years. David kept asking me what I wanted for Christmas and all I asked for was snow! Unbeknown to me he went and bought me an antique diamond ring that was the shape of a snowflake. On Christmas day morning he told me he couldn't promise snow but he could give a snowflake and produced the box. I was speechless! But not as speechless as I was later on that afternoon we went for a Christmas Day walk and on our return it started to snow! It was unbelievable! Perfectly silent with snow starting to flutter in front of the street lights, perfect end to a perfect day!
How did you allocate your budget?
Our budget was £7000, but with 120 guests that was hard going! It's ridiculous how much a wedding can cost! We cannot thank my parents and David's parents enough. We would not have had the most amazing day of our lives without them.
Why did you choose your photographer?
By chance I heard about Dan before I met him! I had the pleasure of briefly working with his mum. We hadn't booked our wedding at this point but there was something about our conversation that didn't leave me. Fast forward 12 months and I contacted Dan. My fiancé thought we should 'shop around' but as soon as we met him we were both bowled over. Our 'shopping' was done! He was so, so relaxed and genuinely happy to be photographing our day. He talked us into a complimentary engagement shoot and it was the best thing we could have done, it put us at ease and gave us a small glimpse of how it would be on the day. He was amazing, and for the best part of our day I didn't even realize he was there! Our photographs are now our most treasured possession. They adorn our walls, our parent's walls, and at any opportunity they are shown off! They are everything that Dan is; relaxed, happy and utterly professional. We both cannot thank Dan enough.
The dress
My dress was bespoke and made by an amazing seamstress called Victoria. I knew I wanted lace and that I didn't want a strapless dress. My dress was floor length, vintage Calais lace with a deep low back cut to the base of my spine. My single tier veil was made to compliment and edged with the Calais lace. I initially wanted a fresh floral crown but decided that as my bouquet was to be quite big, it all might of looked a bit well, florally! So I scoured vintage fairs, shops and eventually stumbled upon a 1930s wax flower crown. It was quite damaged and a little too antique looking but I loved the flowers and blossom on it, so with my own fair hands I unwired all the individual flowers and remodelled it.
My main concern with my wedding shoes was to find a pair that gave me a little height (I'm 5' 9"), to make me walk elegantly but not have me in agony all day. I eventually found a dance website that sold tango shoes and you could order them by the heel height. In nude satin, peep toe, T-bar and with a 1.5 inch heel! My jewellery on the day consisted of a 'borrowed' diamond tennis bracelet from my Mum, and tiny Victorian turquoise studs, my something 'blue'.
The suit and bridesmaids
David's suit was by Paul Smith in a lovely mid blue colour. He really wanted to wear tan shoes and they looked awesome against the ink blue. He chose a crisp white shirt to go with his mulberry pin dot tie.
The bridesmaids wore nude pleated trapeze knee length dresses from Hobbs. They came with black silk belts but my seamstress made nude satin ones from Berrisford ribbon.
Theme or colour scheme
We wanted a relaxed feel and would have loved an outdoor wedding if the British weather was more reliable! I knew I wanted my bridesmaids in a nude, blush colour and tried to compliment that. We tried quite a few colour combinations out before we settled on the grooms navy suit. The blush colour popped up a few times on invitations, pom-poms, bouquets and buttonholes. My biggest success has to be our boy's outfits. The gingham shirts and mulberry polka dot bow ties don't sound the most complimentary but they looked fabulous especially with the braces!
Decoration
We had bunting, bunting and bunting. Over 300 metres of the stuff! All handmade by myself using vintage materials I had gathered over the years. One of the things I'm most proud of is that during the planning I self-taught myself how to use a sewing machine. My mother in law blagged a vintage Singer off a friend of hers who was throwing it out! I used internet tutorials to learn the basics and off I went! My sister in law also helped me to make the 100 pale peach tissue pom-poms that we hung from the ceiling.
The tables were dressed with white table linen and burlap runners (me and the sewing machine again!). I decorated jam jars and vintage bottles with pieces of lace and twine and filled them with cow parsley, peonies and dahlias. The church pew ends were also decorated with large jam jars wrapped in lace filled with the same flowers of my bouquet.
Flowers
My bouquet was my 'star piece'. I loved it! It was very natural and rustic and shades of peach and greenery. The main flowers were 2 huge peonies accentuated with dahlias, sweet peas, roses, berries and greenery. The bouquet was wrapped with lace that had been stained with teabags to achieve the right shade of peach. My bridesmaids carried similar bouquets but on a smaller scale. I didn't want the buttonholes to all be identical so my florist had fun making them all a little different and wrapped them with twine. I was blown away on the day by my flowers and still am today when I look at the photos!
Buy or DIY your Stationery?
I DIYed my stationery as I couldn't find what I wanted in the UK. Everything seemed too formal and contemporary; I also wanted our own unique use of words and sense of humour to come through so it seemed the most natural thing to construct my own. I used a 'carnival' type font and sent the save the dates out on pale peach postcards. The date was punched out to look like a carnival ticket. My invitations were the same font but were on pale peach card mounted upon burlap. The invitations, RSVP's and Menu cards were all wrapped together with bakers twine to add to the rustic feel.
Food
We had reception drinks of rose beer cocktails (my favourite), bottles of peroni and mini coco-colas with peach striped paper straws. We started with a 'barn picnic' canapé table. Very rustic with lots of different chutneys and jams, all homemade! We followed this with a street food van called El Kantina serving a stunning Mexican menu consisting of sourdough bowls filled with chorizo chilli, 12 hour slow cooked Pulled pork sliders served with sweetheart slaw, Feta and Watermelon stacks served in nacho baskets, all served with sour cream, guacamole, jalapenos and chilli jam. Dessert was an ice cream van that served traditional ice cream with a choice of toppings, hundreds and thousands, chopped nuts, sherbet, chocolate sprinkles and raspberry sauce. Our boys even got to serve the guests an ice cream or 2 or 3! Our evening food was an oatcake man. I'm from Staffordshire and our local delicacy in Stoke-on-Trent is an oatcake (like a savoury pancake) served with cheese, bacon and sausage. They went down a storm especially after a few too many beers!
Wedding Cake
Our wedding cake was a 3 tier 'naked' Victoria sponge decorated with fresh berries and buttercream. We also had 7other cakes as we couldn't decide on a single flavour! We had Banoffee pie, Sicilian lemon cheesecake, Blueberry cheesecake, Salted chocolate torte, Lemon drizzle, Key Lime pie and Peanut butter tart!
Entertainment
We hired a toy grabber machine and filled it with toys that we had bought. It was put on free play for the day and it kept the children (and adults) occupied during the reception. Our 5 year old son decided during the wedding planning that he wanted in on the action and announced he was going to do a DJ slot. We were a little apprehensive to say the least but he has an amazing ear for music and after a bit of practice on the ipad decks he had it perfect! He threw a bit of Calvin Harris, Swedish house mafia and One Direction together! The guests loved it and so did he! We had a local band called Sway. They do covers of indie, rock classics from Paul Weller, to Kaiser Chiefs. They kept our dance floor packed all night.
Personal or handmade touches
• We did our own stationery, orders of service, menus, invites, RSVPs.
• I made confetti bags to give out with the orders of service and these had the bridal party printed upon them and a little prayer for my lovely godfather that we so sadly lost a few months before the wedding.
• I remodelled my antique floral crown.
• I made our boys bow ties and the grooms, ushers pocket squares.
• I made the bunting and poms-poms.
• We spray painted the cake stands a lovely mint green colour.
• We added framed wedding photographs of our parents and grandparents to the cake table.
• I made our table runners and flower jam jars.
• We made 120 cupcakes for the wedding favours.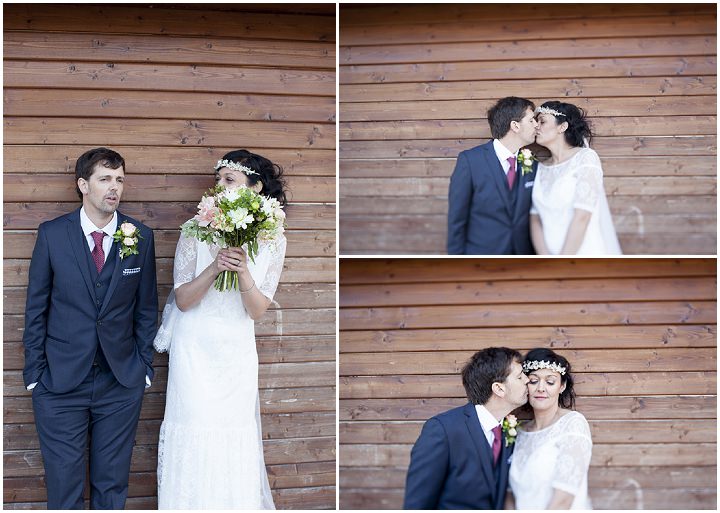 Special moments
My highlight would be the journey to church in my dad's best friends VW camper van. It was so surreal and lovely that we all travelled together. As the van entered the village of Barthomley all we could hear was the church bells and it still makes me tingle now! Also, after the service the look on our boys faces! They were both beaming from ear to ear. That's when we both realized it had been worth all the hard work! The time we spent together just the 2 of us having photos taken later on in the day was pretty special because up until that moment you've both been whisked from one place to another. It was lovely to just look at each other, your husband and your wife!
Biggest surprise
The sun shone! It rained solidly every day for 3 weeks up to our wedding day eve and then the sun came out! Admittedly it was windy but the sun was shining! A day after our wedding and it went back to rain! Funnily, my Dad always said it would be sunny, right from day one! Maybe we should be asking him for lottery numbers!
Advice for other couples
Just enjoy it! It's really cliché but it does go so, so quick. And do remember it's just one day. All that matters is the people around you the rest is a bonus!
Supplier Shout Outs:
For more information on Dan's work go to:
http://danhoughphotography.com/
FACEBOOK