Yesterday I took you off to beautiful Italy, well the travel hasn't finished yet, as today I am jetting you off to the gorgeous beaches of Greece. Whitney and Evan LOVE Greece, especially the island of Ios, so they decided to hold a destination wedding and make it all about the guests. With lots of personal touches and a real focus on making their guests welcome and comfortable this wedding is filled with love, laughter and the most gorgeous beach ceremony location. Big thanks to Sotiris Tsakanikas for the beautiful images.
We were absolutely blown away by the destination wedding experience. The time together was special, and the moment was incandescent, but the best part was how sixty people from different parts of our lives all came together and embraced us and each other.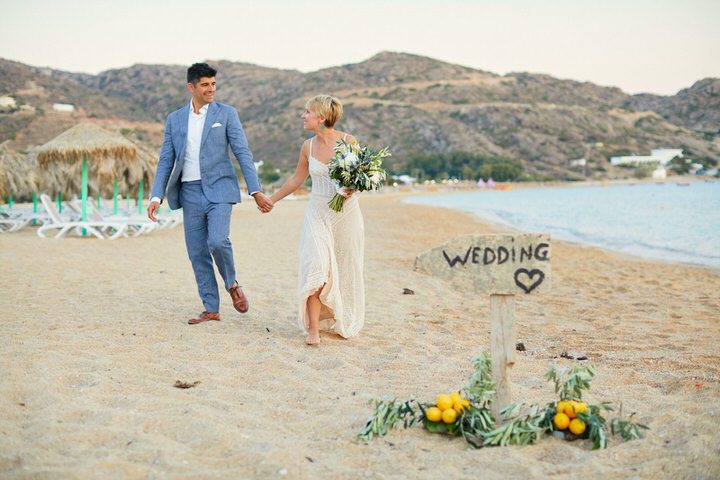 Whitney and Evan were married on the 22nd June 2017 in a ceremony at Mylopotas Beach, Ios, in Greece, followed by a reception at Harmony Ios. 'We first visited Ios in 2011 and fell in love with the island. We learned to Scuba Dive there, and have been back several times. We had 60 guests in total, 11 from Greece and the rest from all over the US. Once we settled on Ios the planning went fairly quickly. We started actively planning in February 2017. The biggest challenge for us was the ceremony. We didn't want to do a traditional ceremony, but also wanted to make sure we marked the moment appropriately.'
How they met
Our wedding was exactly ten years from the day we met! A long time ago, in a District far far away…
Whitney's version:

I was spending the summer before my senior year in Washington, DC. Dartmouth had awarded me a grant to study the personal papers of Elihu Root at the Library of Congress.
On the evening of Friday, June 22 my fratmates insisted on going out to Dupont Circle. When we were switching trains at Metro Center, we ran into a new dude joining the party. We finally got to Dupont  when I realized that New Guy wasn't with us. I snapped my fingers and politely shouted "yo – new kid – this way" and continued to the bar with the group.
Flash forward to a few hours later and it's time to leave the bar. New Guy came by and said "everyone else is ready to go – are you going to sip that all night"? I downed the drink, slid him the empty glass across the bar, and said "we can go." And that,is the day we met and our anniversary. The ensuing journey over the past almost decade has been incredible and I couldn't ask for a better drinking buddy. I'm so excited to marry this man ten years to the day since I first annoyed him.

Evan's version: 

Collars were popped, Drinks were downed, My game flopped, True love was found.
The Proposal 
Evan proposed on January 3, 2016 during an incredible vacation in the Maldives. It was a scuba diving trip in a beautiful place, so he had lots of great plans to propose. Howver teh first two plans fell through. Finally we had reservations for dinner at a lovely restaurant on the island, and they put us at a table out on the sand all by ourselves. Evan pulled a ring from his pocket and asked me what I was most excited for in the next year. While I was thinking about it he said "because I think it should start with this" and pulled the ring out of his pocket!
How did you allocate your budget?
We started with an overall budget goal and divvied up accordingly, keeping an eye on the total number and adjusting as necessary.
Where did you splurge and where did you save?
Splurge: We knew we wanted a great photographer, but were on the fence about a videographer. Looking back at the incredible trip, we are SO glad we did video too!
Save: Even though it was our first choice for location, choosing Ios was a great savings as well. It was more affordable than one of the more well-known islands, and the hotel/reception/catering costs were definitely cheaper than we would have found in the USA.
Why did you choose your photographer?
Our wedding planner (Anna) recommended Sotiris and we were thrilled with him. We had interviewed several photographers, but we just loved Sotiris's composition and color balance. And he was a joy to work with!
The Dress
Dress – Alexander McQueen. I found it at Neiman Marcus in Beverly Hills – it was part of his Spring 2017 Ready-to-Wear Runway Collection . Handkerchief – the Mother of the Bride found and embroidered our wedding logo on it. Shoes – Toms, purchased from Nordstrom Rack
Earrings – by Vally Kontidis  purchased at Theros Jewelry in Ios! (Sotiris has photos of us picking them out.)
The Suit and Bridesmaids
Suit – Ralph Lauren Purple Label, Tom Ford shirt, Allen Edmonds shoes
Pocket square – the Mother of the Bride made for Evan from a sheet of lace and embroidered our wedding logo on it.
Theme or Color Scheme
We wanted everything to be natural but classy – accenting the venue, not overpowering it.
Who supplied the stationery
We designed everything ourselves on Moo.com.
Entertainment
Live Music: The Soulies and Bob Sezibwa. DJ, lighting, and production: Sounds Good. Evan created the playlist for the DJ.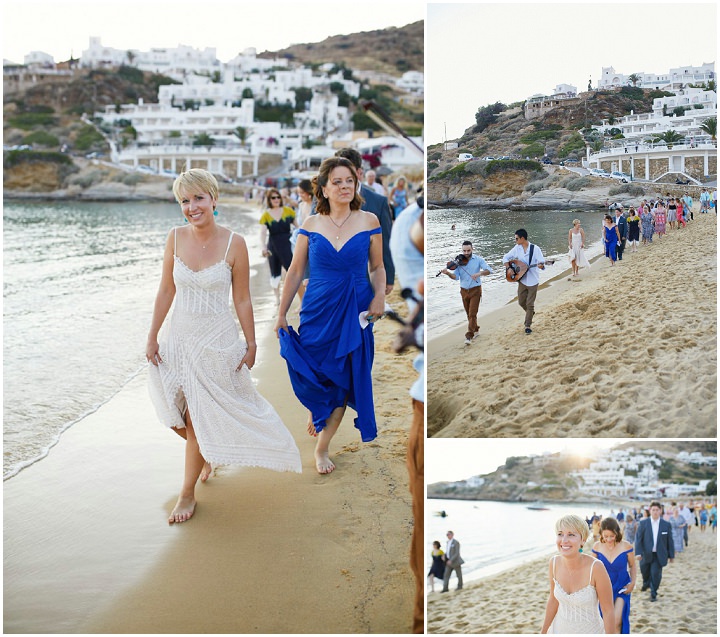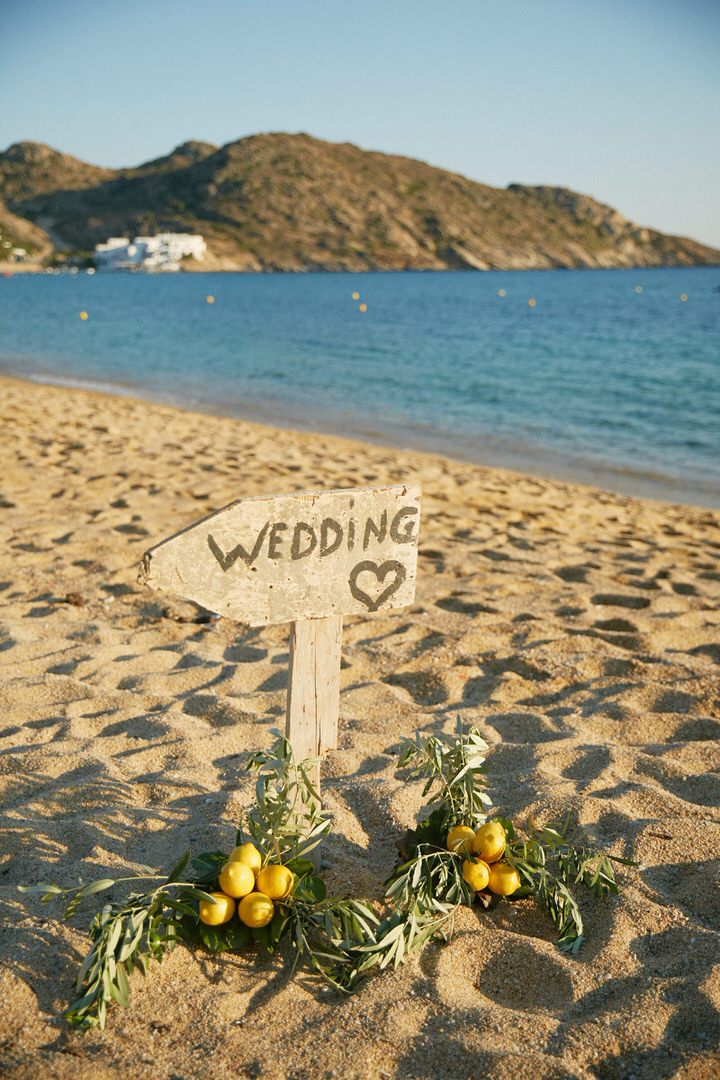 Food
Kathleen (the owner of Harmony) prepared a wonderful menu for us! She was a true rock star. She didn't sleep for 36 hours because she let our party stay at Harmony until sunrise, then had to open the restaurant for the next day! She definitely worked the hardest of anyone there. Dishes included: Selection of Dips, Greek Salad, Xino & Peach Salad, Pinto Bean Salad, Honey Lime Chicken, Herb Crusted Pork Tenderloin, Grilled Steak with Mango Salsa, Roasted Local Seasonal Vegetables, Sauteed Green Beans with bacon shallots and toasted almonds. Kathleen also brought out a round of late night snacks at 1am that included quesadillas, Mexican rice balls, nachos, and chicken tenders. Those snacks were KEY!
Wedding Cake
We did not do a wedding cake, but Kathleen put together a lovely dessert table with cheese, fruit, loukoumades, chocolate ganache pie, and yogurt with local honey.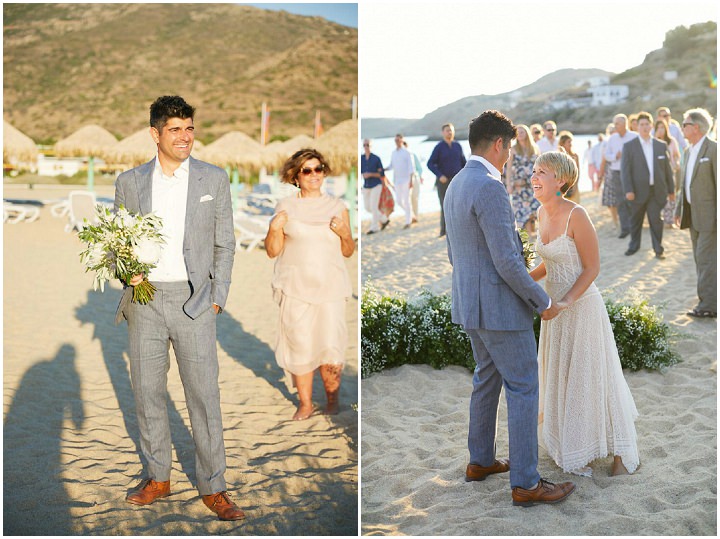 Personal Touches
Designed logo (origami boat – full color version and outline version)
Bandanas – we made custom fabric using our boat logo. Whitney's mom then cut the fabric into 60 bandana-sized pieces and sewed the edges.
Welcome bag (bag designed at CustomInk.com) included:
Ios guide book printed at Fedex – we designed the text portions and our friend Lauren who is a graphic designer did the inside map for us.
Embroidered towel (purchased on Amazon and embroidered locally in Los Angeles)
Ping Pong balls with our logo and hashtag (designed on Zazzle.com)
Cookies (koulourakia) and breadsticks made by a local bakery in Glyfada.
Mastica and Ouzo hard candies purchased in Athens
Advil purchased in Athens
Mastica ELMA gum purchased in Athens
Small bottles of Ouzo and Mastica purchased in Athens
Piz Buin sunscreen purchased in Athens
Water bottles
Placecards – these were folded fortune tellers. We bought the materials at PaperSource and heat embossed them. Evan's mom wrote all the names for us.
Beer Koozies – we had koozies made with our logo that we gave to guests on the bus to Manganari.
Guest book boats – instead of having a guest book, we asked all our guests to write their wishes or advice for us on a piece of origami paper and fold it into a boat. The origami boat was our wedding logo and so it was a consistent theme throughout the event. Each of the speakers also read their boat during the ceremony.
We set up a GroupMe.com message chain for everyone to communicate throughout the week. People arranged plans, shared photos, and kept in touch!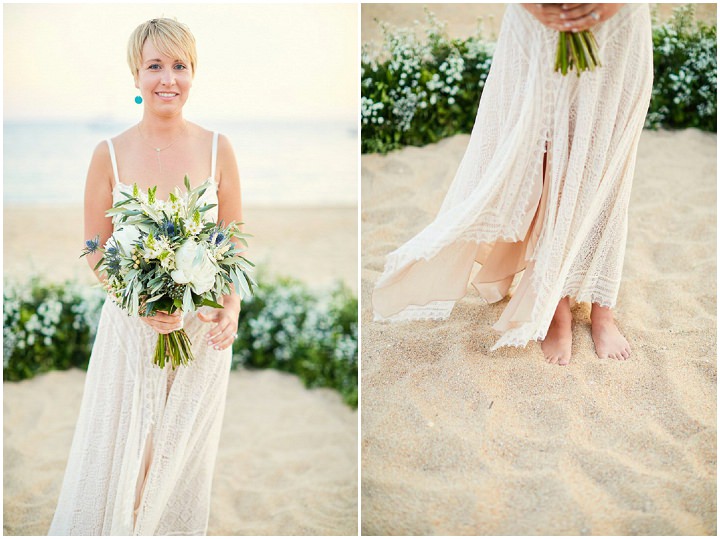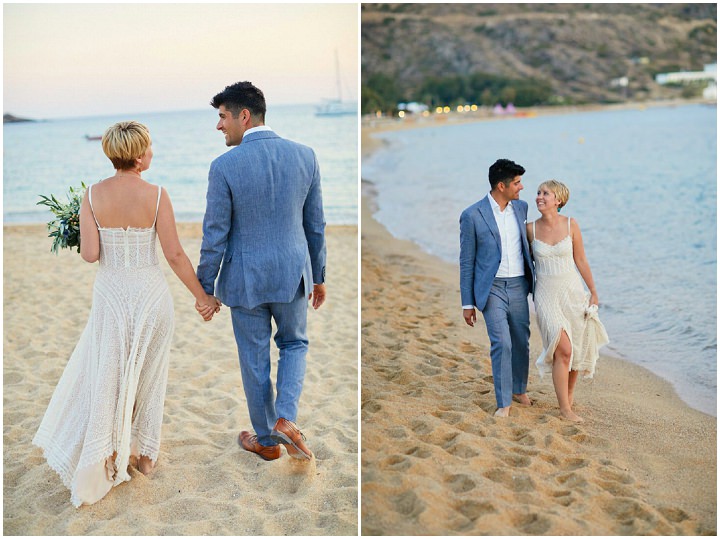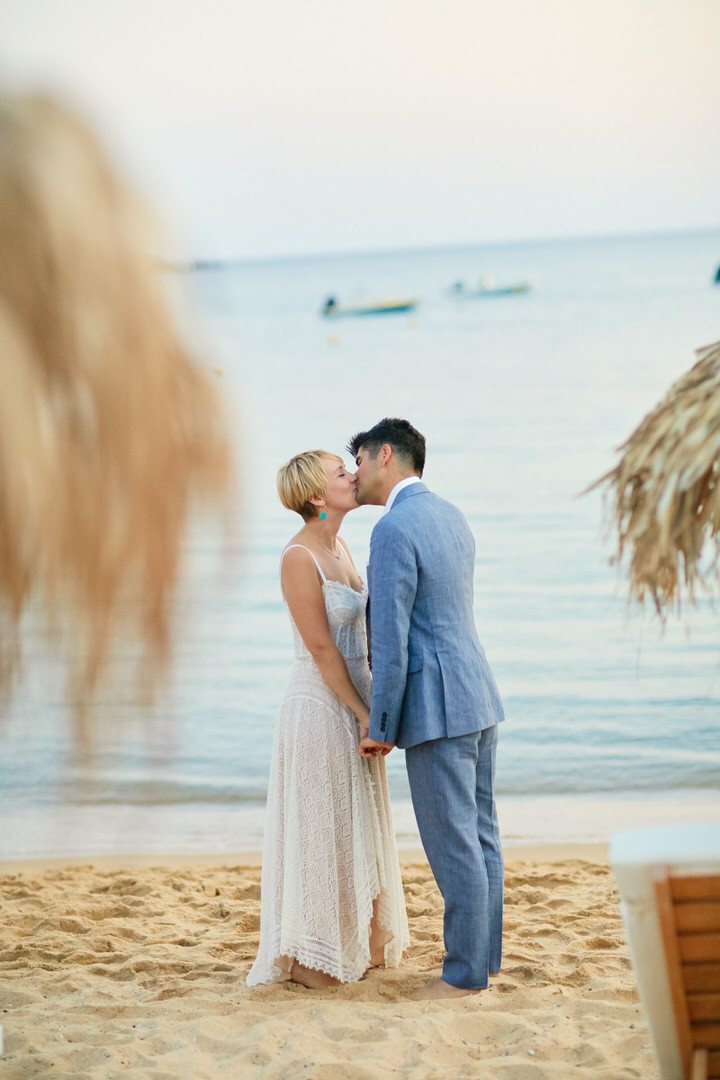 Special Moments or Highlights
The entire trip was just incredible. The best part for us was that all our guests thoroughly enjoyed themselves. We have lived in several different places (Minnesota, California, New Hampshire, Washington DC, Vouliagmeni (Athens), New Jersey) so our friends are from all over. It was amazing that by the bar crawl on the first night our friend groups were hanging out like they had known each other for ever. At Manganari the next day Evan and I had to keep reminding ourselves that these people had known each other for less than 24 hours.
Advice for Other Couples
For us, this was a celebration of our circle, and of all the people who support us individually and in our relationship. We found it to be much more fulfilling to focus on our guests and their experience. We know and love Ios, and it was wonderful to be able to share it with friends and family. We were asking people to fly across an ocean to come celebrate with us. We wanted to make sure they knew we appreciated the significance of that investment.
Biggest Surprise
Whitney's dad threw out his speech that he had written because the night before the ceremony he had "dreamed 13 haikus"!! So his speech during the reception was reciting these haikus that had to do with both of our childhoods, our time together, and the final one was about the incredible experience we all had on Ios together. AND one of Kathleen's staff helped him translate the last stanza into Greek for our Greek guests!
Supplier Shout Outs
For more information on Sotiris' work go to:
www.sotiristsakanikas.com / www.sotiritsakanikas.com/blog / [email protected] / +306936986155 / FACEBOOK / I: @Sotiris_Tsakanikas

A Greek wedding photographer, born of humans and tamed by wolves, an agent of passing time, a hunter and gatherer of natural light, eloquence and spirit. With an appetite for the perfect, candid moment, with a whiff for the yet undiscovered detail, and a taste of home,  the beating hearts of the adventurers we all are take my pursuit further, to travel the world and to capture the vibrant, breathing energy, the delicacy, the panache and the joy of life. 

[jprel]