We are in the West Midlands for todays wedding, and it's a super chilled out, homemade wedding, set in the bride and grooms family's back garden. Both Stephanie and Jonathan wanted a wedding that was un fussy and 'un wedding' and the results are this laid back day that they manged to plan in a short space of time with minimal fuss. They did this by carrying out a lot of the work themselves, as well as calling in lots of favours from friends and family. Big thanks to Joshua Wyborn for the images.
Beautiful, a bit bonkers, fun and informal but meaningful in all the right places.  It worked for us.
Stephanie and Jonathan were married on the 8th July in a family member's garden in the West Midlands. 'It is a really beautiful space, that holds a lot of memories for both of us – not only from Jon's childhood, but also for the two of us as we first got together and beyond. We had 200 guests. When we got engaged in October we really didn't want wedding planning to consume us.  Our ideal wedding was something relaxed, rather than immaculate.  So we started planning in January, and it spread out over 6 months.  But that was more to ensure we had the suppliers we wanted, rather than because we were agonising over every little decision.  We maintain the wedding we wanted could have been planned in two weekends, we just didn't get on with it in a condensed chunk.'
How they met
We met at a friend's birthday upstairs in a pub.  It was circus themed so Steph was dressed as Britney Spears (in the video for Circus, complete with bull whip and top hat).  Jon was dating someone else, and Steph was hitting on one of his musician pals.  Jon thought she was fun but a handful, Steph thought he looked like a mad old hippy.  Turns out we were both right! We got together about a year after that, and have now been together about four years.
The Proposal
To set the scene: we were up in Scotland, staying on the Loch where Jon's Gran had used to live, which is one of his most favourite and memory filled places. He suggested we walk up onto the hill fort, Steph was up for it because she loves walking.  But it turns out our definitions of walking are not the same: Jon believes strongly in going off piste, Steph is terrified of heights and likes to stay on the path.  Importantly, Jon also had waterproof socks on but Steph did not.  After leaving the path, wading through an icy cold bog, hauling ourselves up two incredibly steep hills by our arms because there was no path, striding calmly across an edge (Jon)/ crawling weeping across an edge (Steph), we reached the most beautiful view of the Loch and sea.  Steph sulked for a bit, while Jon hid the ring in a cairn.  It got better after that and finished with us swimming in the sea.
How did you allocate your budget?
We were really conscious of not going overboard on anything, because we wanted to stay inside our budget. We didn't pore over spreadsheets though or set limits on specifics, we just tried to be aware of how much things cost in relation to each other, and whether in that context we could justify having something.
Where did you splurge and where did you save?  
We wanted an informal, relaxed day, which meant it was easier not to get carried away.  For example, feeding and sheltering 200 people costs a certain amount, and there's no getting around that – but we didn't want the fanciest marquee set up, and we didn't want a three course sit down meal.  We kept things simple wherever possible:  we had a chef  come with her festival setup to do a takeaway style evening meal; we hired a few individual waiting staff rather than a whole catering company; we got kegs of beer from the local brewery and bulk bought our wine; and we asked our friends to help out – lending us stuff, baking us things for the afternoon.  All of those choices felt like an authentic  reflection of who we are and what we wanted,  rather than scrimping and saving.  Also, importantly: two of our friends, Michaela and Pippa,  are event managers, so they oversaw the whole day for us.  That made a huge difference in terms of making it work.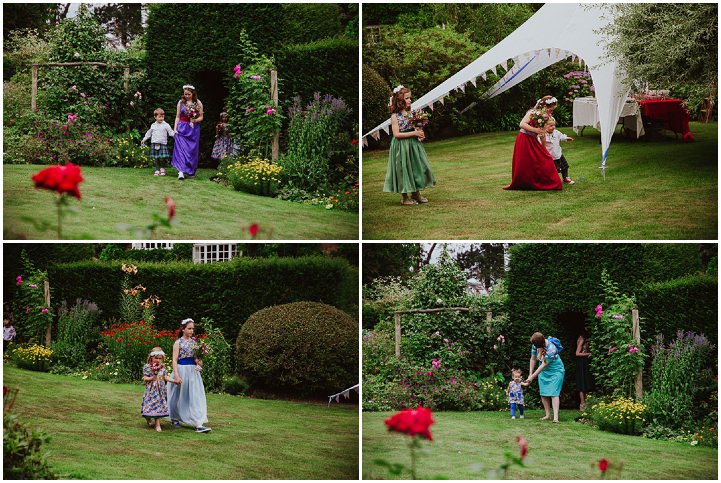 Why did you choose your photographer? 
We weren't going to have a photographer, as we thought friends would take lots of photos so it was an unnecessary expense.  But a few of our good friends who had recently got married told us that wedding photography was a separate skill, and we would regret not getting good photos.  Our friend recommended a few people, and of those we chose Joshua because we loved the way he captured a range of things – from really personal moments to dramatic scapes, but all framed beautifully and thoughtfully.
The Dress
My dress was by Halston Heritage, ordered from theoutnet.com. I'd spent a couple of hours trying dresses on in store and decided that experience just wasn't for me.  My veil was my sister's, shoes were New Look via ebay, and my feather cape came from Rosa Bloom.
The Suit and Bridesmaids
Jon's kilt and jacket came from Highland House in Kirkcaldy.  The older bridesmaids chose their own looks completely, the only rules were that they couldn't match, and that their outfit should have teal or forest green in.  I wanted fun print outfits for the smaller bridesmaids, so my sister and I found a fabric, then found patterns that would work together.  Various family members then sewed them for us.  The little kilts came from Young's Hire and Little Legs.
Theme or Colour Scheme
Untamed, colourful, organic, folksy and a tiny bit bonkers
Flowers
I made myself a brooch bouquet out of jewellery from family and friends, with a bit of charity shop thrown in; my bigger bridesmaids had huge white and cream meadow style flowers, and the smaller ones had colourful posies.  The garden was in full bloom, but we also had beautiful meadow flowers scattered around in jam jars, wheelbarrows and whatever else we could find.  Our button holes were origami, made by Jon in memory of his Dad.
Decoration
Bunting, balloons, parasols, streamers, fairy lights.
Food
In the afternoon we had cake made by our friends, and in the evening we had Steph's favourite food – Ethiopian stew with injera and rice.
Wedding Cake
Made by Jon's Mum, and decorated with lego from our personal collection.  We don't love traditional wedding cake, so we had a simpler fruit cake that would still keep.
Entertainment
During the afternoon people milled around and played games on the lawn, but later we had a Cabaret put together by our friend Steve, then a Swing Dance lesson taken by our friends Michaela and Jay, then a Ceilidh played by our friends and called by Jon's sister.
Stationery
Jon designed the invite and we had it printed online.  My Aunt designed and printed our orders of service.
Did you have any personal touches?
Pretty much everything.  We didn't want the occasional small personal touch – we wanted the whole day to be a reflection of the things we hold dear, and an opportunity to share those things with people.   Pippa and Michaela did most of the hard lifting in terms of set up, though.
Special Moments or Highlights
Our ceremony.  We'd put it together with our vicar, Ali, so it was really special.  But two moments that stick out are: the congregation singing the chorus to 'Into My Arms' as Steph walked in, and later on in the ceremony when Ali told us to look around at everyone who was promising to love and support us, as they stood around us, all holding hands.  Our cabaret was also brilliant – so many of our friends had put time and effort into doing something special for us.
Advice for other couples
Relax and breathe.  Keep things in perspective.  For example: your guests don't care what you feed them, so long as it is hearty and you don't run out.  Nobody keeps their wedding invite, and barely anyone can tell the difference between champagne and an alternative.  Don't fall into the rabbit hole of trying to make things perfect or other people happy.  Because you can't, and, let's face it: perfection is pretty boring.  Oh, and make sure you like your photographer.  Aside from your spouse, that's who you spend most of your wedding day with.
Biggest Surprise
How quickly it went, and how little time we actually spent with our guests.
Supplier Shout Outs
FOR MORE INFORMATION ON JOSHUA'S WORK GO TO
www.joshuawybornphotographic.com / www.facebook.com/JWPhotographic / T: @JoshuaWyborn / I: @joshua_wyborn_photographic / PINTEREST