Good afternoon everyone, how are we? Now this post might not be ideal if you've overdone it a little this weekend, or on the other hand it might be totally up your street if you're already thinking about Friday, the Bank Holiday weekend or even your wedding wine tasting? Today we are joined on Boho by the lovely Ruta from My Uniq Wines to tell us all about her amazing wedding wine personalisation service! I know lots of people that would be thrilled with one of these as a gift, so without further rambling from me, over to Ruta to tell you more!
My Uniq Wines e-shop is a personalised wine destination for couples who would love to have their own branded wine for the wedding day and share a very unique story with their guests. Everyone can create personalised wine labels and order wine online in minutes using My Uniq Wines online design tool. The best thing is that couples now don't need a professional designer to create it all. Our designers crafted beautiful trendy templates so you can simply personalise your favourite one and we will take care of the rest. Of course, if you have someone working on your stationery design already you can simply ask them to upload their suggested label design on the My Uniq Wines tool and we will send you the wine of your choice with that label. We can also help you plan your wines for weddings, help to calculate how much you need, and what kind of wine! Please contact us asking for advice and we will arrange suitable time to have a free consultation.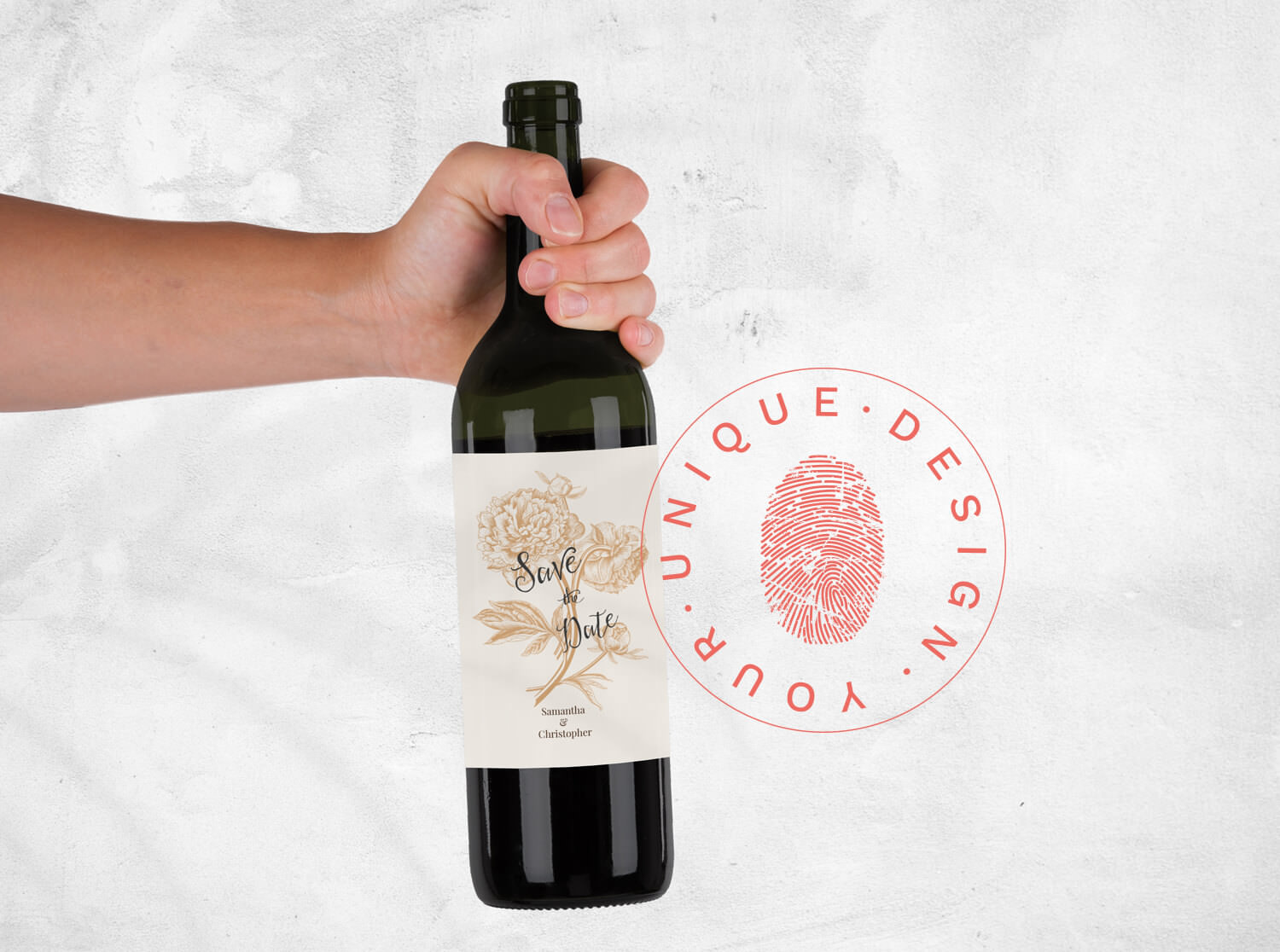 What made you start your business?
Me and my friends have spent a lot of time travelling through vineyards across Europe thinking of a unique idea of how to turn our love for wine and creativity into something that would create memorable moments for others. This is how My Uniq Wines was born. Our key aim is to bring quality service and product to you, because we know that happy moments turn into memorable ones and we wish you to collect as many of them as you can.
When did you start?
It all started on a long flight to Colombia in winter 2017, when bored of inflight entertainment, me and my sister Marija started discussing different business ideas. Over the month traveling in South America, I have developed the idea and started implementing it as soon as I got back to Europe. Together with a team of designers and wine enthusiasts, we are happy to have managed to develop this idea into a product that creates memorable moments to our dear customers and friends. We launched our e-shop platform in June, 2017.
Where are you based?
We are a London based company, however our online operations allow us to serve customer anywhere in Europe and work independently from location. Although our biggest client base is in the UK I spend most of the time living in Vilnius, Lithuania or travelling around the Europe and the rest of the world.
What sort of geographical area do you cover?
We cover all postcodes addresses in the UK and deliver anywhere in Europe.
What were you doing before?
Since graduating University of the Arts in London I've been working in Facebook's marketing technology companies helping brands to grow and scale their marketing activities online. I'm currently leading digital department in the creative advertising agency and consulting my own clients as well as running My Uniq Wines business.
How would you describe your style?
Personal, trendy, creative, to be honest it can be anything our customers want because they are the ones who brand their wine. Check out our wine label gallery and find your favourite the style.
What makes you different to your competitors?
Genuine passion for wine and design. First of all we have personally selected the best winemakers and wines while travelling in Portugal over the years. Secondly, we have a professional design team with broad range of skills and experience working with world's leading brands so we can be 100% sure we can offer you the best, most up to date design trends. And finally our simple online tool allows you to create personalised wine and order it online without having to hire a designer or call us to ask to design the wine label. You can create your own wine in minutes yourself.
What do you enjoy most about your job?
Firstly, delivering superb service to our highest expectation clients. The second thing that drives us most is the fact that these personalised bottles will be long remembered and will create memorable moments to those who buy. Last but not least, we love meeting people and travelling. Our entire team, apart from people who look after the wine cellar and shipping in Lisbon, work remotely. We are happy to be free and be be working with people who look for new ideas, creative solutions. We hope that this love is evident in the product we have created.
What sort of couple do you think you attract?
This is definitely a product that could suit everyone who is looking to add creative personal touch to their special day. Not only their guests will love hand crafted personal labels but also the quality of wines. We worked hard to select best wines to delight even the most picky wine lovers.
What would be your ideal wedding to work on? 
We love all things creative and unique and are happy to inspire others with new ideas and personalisation. We believe that every wedding means a lot to the specific couple and are simply happy to make their day even more memorable.
Can you give me some information on your pricing structure?
Our wine selection is narrow yet extremely focused to bring the best price in that quality level. We have 13 wines to choose from online that a person can personlise. Bottle of wine (+ FREE custom labels) starts at £12.50. Premium and toast wines range from  £20-£29 per bottle (+ FREE custom label)
Minimum order is one case that contains 6 bottles. Our customers can mix&match their cases and have different labels for different wines. Explore our wine cellar.
What is your ideal way to spend a day off?
We are a very active team. We love working in the vineyard, we love travelling, exploring new places, running in the mountains, meeting new people, exchanging ideas. So probably whatever allows us to spending a lot of time outdoors, alone or with a quality bunch of people would be the ideal way to spend a day off.
Who would be your 5 dream dinner guests dead or alive?
Jim Rohn (a famous motivational speaker, american entrepreneur and author), Gurdjieff (ancient philosopher, mystic and teacher) and Dalai Lama + my sisters Marija and Gabrielė
What would you do if you won the lottery?
I would invest more money into My Uniq Wines so I can tell more people about us and ultimately make more people happy with this unique product. Then, if I have money left, I'd  open a luxury 5 room hotel somewhere in a very beautiful place in nature where people could fully relax, disconnect from digital world and probably meet other people that will inspire them to explore and create more.
If you weren't running your business, what would you be doing?
I would probably spend even more time running in the mountains. Actually, If I didn't have this business, I'd probably be brainstorming and thinking of where to direct my creativity to set a business that makes others happy.
For more information on My Uniq Wines go to:
www.myuniqwines.co.uk /  [email protected] / FACEBOOK / I: @my_uniq_wines / PINTEREST
this is a sponsored post