After the horrific news from Manchester yesterday we are now carrying on with our normal blogging schedule. Our thoughts and prayers go out to everyone involved in Monday night's atrocities, such sad times for everyone involved. Today though we are here to shed love and happiness to everyone and remind you all that life goes on and we must all stand together to unite against such evils.
Amanda Balmain brings you today's summery wedding in Cheshire, a relaxed day with a garden party theme, with a pretty pink and navy colour scheme. With Hannah and Matthew starting off their celebrations on the London bus journey, this wedding is full of love, smiles and a summery colour pallette, just what we need today!
Absolutely fantastic! We had the most fun ever, and wouldn't change a thing (maybe to be less stressed in the run up to it!)
Hannah and Matthew were married on the 30th July 2016 in a ceremony at All Saints Church, Odd Rode, Scholar Green, Cheshire followed by a reception at Haslington Hall. 'We wanted to get married in a church, and luckily our local parish church is beautiful! We didn't want to travel too far after the service, so with Haslington Hall only being 15 minutes away was a really big plus. We both grew up 5 minutes away from Haslington Hall and cycled passed there as children so we knew the location very well. We had 70 guests in the day and 110 in total in the evening. We have mutual friends so it felt like one big party rather than 2 groups of people not really knowing each other. We were engaged the night before Hannahs 28th birthday, and were married 15 months later. We had booked the venue and church within 3 weeks of getting engaged, then took a few months off planning. I'd say we started to properly plan around 10 months before the wedding.'
How they met
We met in 2007 when Hannah was 19 and Matt was 21. We were always close but it was never really the right time. We got together 6 years later and were engaged 2 years after officially getting together!
The Proposal
It was the evening before Hannah's 28th birthday. We had talked about marriage and knew it was on the cards, so Hannah had hoped that a proposal would come soon. Hannah came home from work and Matt suggested going to our local pub for tea. We enjoyed a lovely and relaxed meal, then came back to our house. Was nothing fancy though, had jeans on and no make up. Back home with our cat Harry sitting on my lap, Matt asked if I would like a birthday surprise early and I said no not really! Matt said well just close your eyes, which I did and when I opened them he was down on one knee. I screamed a lot, didn't see it coming that evening! He had asked my parents earlier in the day, and we had half an hour to ourselves before ringing everyone which was such a lovely time before the crazy started.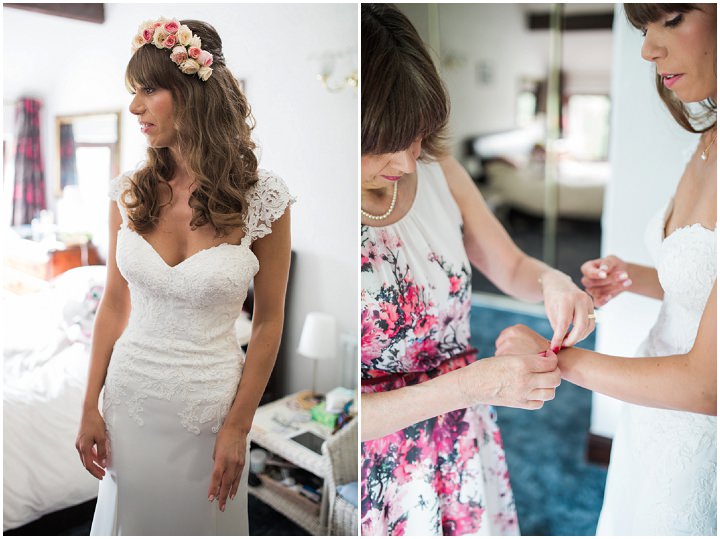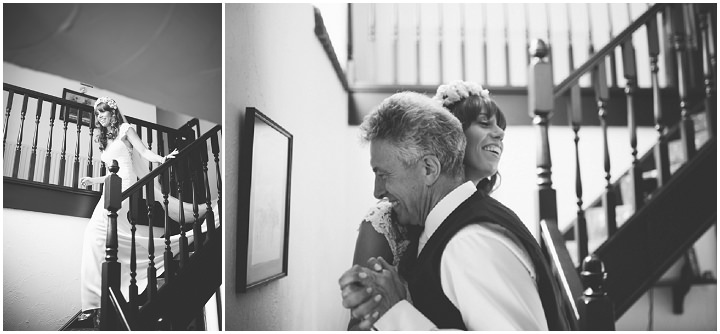 How did you allocate your budget?
We were very lucky to have help from both of our parents, but with knowing that we didn't want to spend money unnecessarily. We didn't go crazy over the top with anything. Had originally thought of hiring a field and marquee, but the costs of that were too expensive for us.
Where did you splurge and where did you save?
The biggest splurge was my wedding shoes – was lucky enough to walk down the aisle in Jimmy Choo's! Hannah's brother works at Bentley, and he very kindly organised a car to take Hannah to the church. This was a lovely gesture, and felt special on the day. We had a big red London Bus take everyone to the church to the venue, which worked out the same if not cheaper than if we were hiring a fancy car to take just the 2 of us! We were also able to offer our guests an extra tipple relatively cheaply, as we gave them gin and pimms in a can to enjoy on the journey. This was one of our best decisions and something that a lot of our guests commented on was the best part of their day.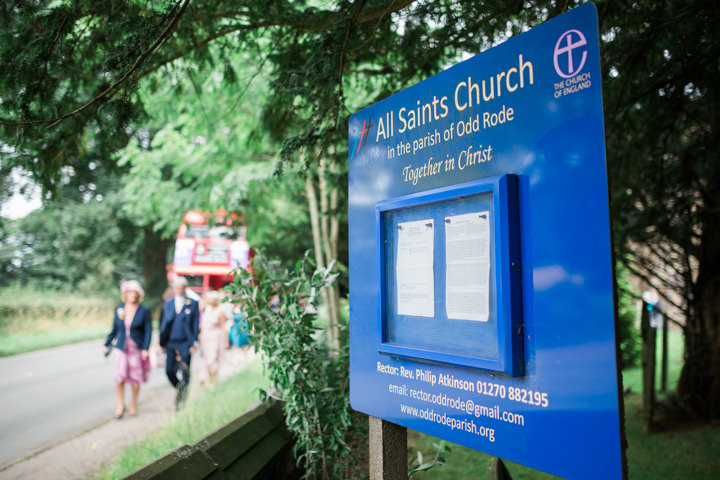 Why did you choose your photographer?
I read many wedding blogs, and knew there was a specific style that I wanted. I searched locally about Amanda Balmain was based 10 miles from us and I could believe our luck! Her style was relaxed and captured such lovely moments. Didn't speak with anyone else once we saw her page and luckily she was free on our date! On the day Amanda was totally relaxed, and let us enjoy the time with our friends instead of whisking us off for photos. She cleverly chose the time to take the snaps, as guests were being seated for food, and just before our evening guests arrived. We will forever be grateful that she allowed us to have such a relaxing day rather than be ordered about.
The Dress
My dress was Essence of Australia. I only visited 1 bridal shop with my mum, Bridal Lounge in Newcastle under Lyme. The girls there were fantastic, and after looking quite out of our depth when we walked in they helped us out and actually picked the dress I eventually went with.
Wedding shoes – again after shopping with my mum we thought it would be fun to try on Jimmy Choo's as when would I ever have a good enough excuse to! Wrong idea – how would we not fall in love with them! They were SO comfortable, and had the excuse that they would be my forever posh shoes.
The Suit and Bridesmaids
Bridesmaid dresses were slightly trickier than I had hoped – 2 ladies with very different styles! I wanted summer dresses more than a classic bridesmaid gown, and after many months found this lovely style from ASOS.
Navy suits was a style that we liked. We hired suits which worked the best for us. Matt had 3 best men, 2 ushers, himself and our Dads to dress, so it was an expense but was worthwhile as they all looked handsome on the day.
Theme or Colour Scheme
Navy and pink was a style that I was always drawn to when looking at wedding blogs. We were quite relaxed, however pinky/peachy tones were seen throughout all aspects of the wedding.
Flowers
Our local florist Honeysuckle was fantastic. I was after a 'wild meadow' theme, with lots of foliage yet pretty pinky/peachy flowers. She was fantastic and when they delivered the bouquets to us that morning the lady said that she had never heard such loud squeals with delight!
Sarah was also spot on with my flower crown-it's quite a gamble as of course you won't see it until the morning of the wedding and it is such a big part of my outfit, but I loved it so much. So sad that it's not acceptable to wear them all the time!
Decoration
A relaxed summers wedding/garden party was what we were looking for, full of bunting and flowers. After visiting a local wedding fayre, we met with a lovely brother and sister duo Jenny and Jason, otherwise called Lumiere. They were both wonderful and full of such lovely ideas and were able to transfer the ideas in my head to real life! They dressed the venue the morning of the wedding. They also worked out very similar in price to if we were to source everything ourselves – fantastic, they were worth every penny!
Food
Haslington Hall were able to modify the menu for us. Our canapes weren't what we originally requested but everyone commented on the day that they were tasty and lots of them and that's all you want really! We wanted our favourite food really, so had Thai fishcakes for starters, Beef Dinner as main and Eton mess for dessert. Evening food was fish and chip cones and bacon baps.
Wedding Cake
After visiting wedding fayres we were slightly put off with how far in advance you had to reserve your cakes, and how expensive they were! We chose a cake from M&S and were lucky enough to use my Aunty's staff discount. Collected the cake the day before the wedding and was all relatively stress free!
Entertainment
During the day we played music around the grounds, and supplied garden games for our guests to play with and paper aeroplanes for the children to play with.
Our evening band were a great find. A local band called Baxter Duo were quite well known with our friends – they had played at another of our friend's wedding and we had seen them at local festivals that they played at and were always very memorable! They were also able to provide a DJ service as well. They played long after our official closing time of 1pm (was more like 2pm!) They were brilliant.
Stationery
Our save the dates were fridge magnets-we collect fridge magnets from our holidays so thought this would be a nice magnet to save for our own collection! After many samples from Not on the High Street, we went with Norma and Dorothy for our invitations. We made the order of services ourselves, and the name tags were hand written as part of our favours which were jars of bonbon sweets.
Personal Touches
We wanted the day to feel quite relaxed and not too fancy, and we always wanted everyone to get drunk! We would love to have had a free bar, but felt this may have ended in tears with some people! We gave the best men some money to buy people the first round with which resulted in shots, shots and more shots.
Our table plan was one of the most enjoyable things to make – it was a 'find your face to find your place' board. After stalking everyone's facebook page to get the most embarrassing photo, Hannah chose the girls, Matt chose the boys, the photos were printed off as polaroids and attached to old apple crates which we bought from ebay. On the day it was fun seeing everyone's reactions, hopefully it was a nice added surprise for our guests.
Special Moments or Highlights
Gosh-everything really! We had the best time all day. Travelling on the bus with our guests was something that we are glad we did. We travelled with our guests, with champagne and smiles on our faces and it was one of the best parts of the day.
Advice for other couples
Hannah works with events, and was aware of how much planning goes into every little detail, so in the run up to the day was slightly high on the bridezilla scale much to Matts delight! We would suggest to follow what you both want in your hearts, we wanted the day to be a celebration of our marriage and it definitely was that. On the day itself, we were both so happy that all the little niggles really didn't matter. My dress strap broke-if you had told me that a week before the wedding I think I would have exploded! However on the day I laughed it off, it really didn't matter.
Biggest Surprise 
Matt's thoughtful gifts on the morning – definitely beat Hannah's gifts. One of our best men Mark loves photographs and all things go pro, and he offered to record our wedding day. He did a fantastic job, and put together our video a few days after the wedding. I must have watched it around 50 times-instantly takes us straight back to that day.
Supplier Shout Outs
 For more information on Amanda's work go to:
www.amandabalmain.com / www.amandabalmain.com/blog / [email protected] / 07738 166374 / FACEBOOK / T: @amandabalmain / I: @cheshireweddingphoto / PINTEREST
I am based near Crewe and shoot weddings throughout the UK. My style is relaxed and authentic with minimal posing. I love nature and the outdoors and like to include natural elements whenever I can. I prefer to work with natural outdoor light but also can't resist sparklers and fairy lights.