Happy Monday everyone and welcome to another wonderful week on the blog. I hope you all had a good weekend and that you're ready for the week ahead! I'd like to welcome my lovely new assistant Roxy to the blog. She will be taking over from Laura, so please make her feel very welcome as she gets to grips with all things Boho. I'm sure she is going to do a fab job for all of you!
Today we have the lovely Mariam and Liam's Cumbrian Tipi Wedding. A gorgeous outdoor ceremony with a blue and pink colour scheme and lots of Arabic elements to infuse their cultures. Alongside their pretty wedding, the couple certainly got their fair share of rain. However in my opinion, this only adds to the amazing photos created by Craig Richards.
A perfectly intimate and beautiful wedding. We loved that we were able to talk and socialise with everyone, as our wedding wasn't too big or overwhelming.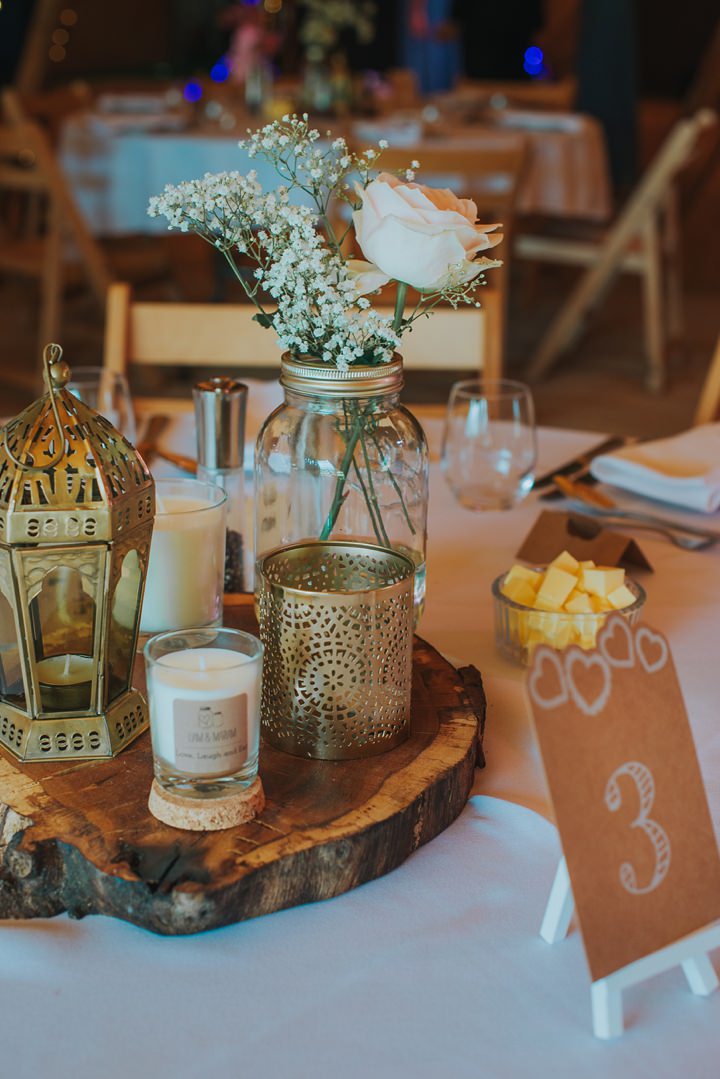 Mariam and Liam were married at Thwaite Hill Bay in Ullswater, in Cumbria on the 7th July 2017. The wedding took place in a rented farmer's field on the banks of Ullswater Lake. 'We always loved the natural beauty of the Lake District and really wanted to have an outdoor venue – so the Lake District was a perfect option for us. We chose Ullswater specificaly because Liam used to always go there as a kid and we used to go there a lot when we first met. Our wedding took us approximately one year to plan and we had 70 guests.'
How they met
We met in Durham when I was studying at University. We've been together for 3 years.
The Proposal
Liam proposed on the rooftop of my house in Qatar after asking my father for my hand in marriage!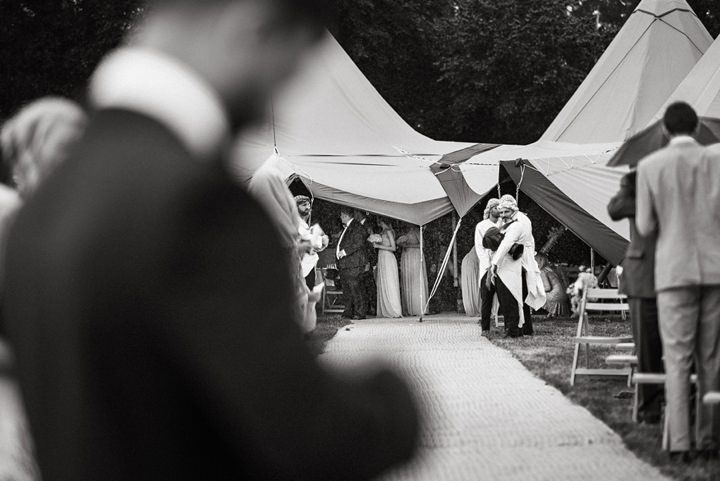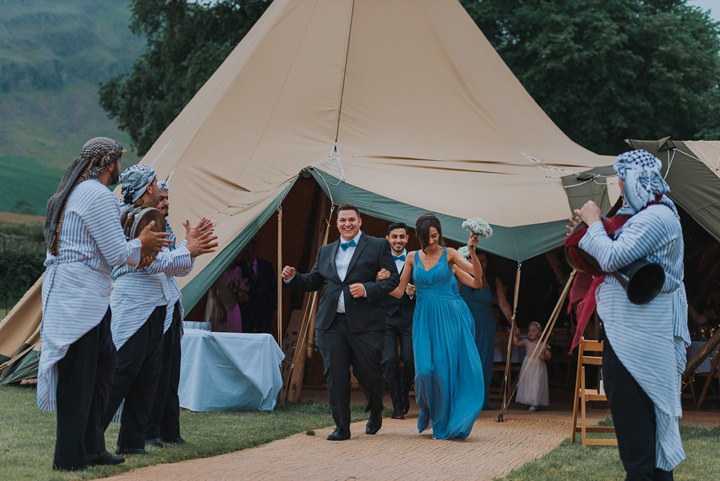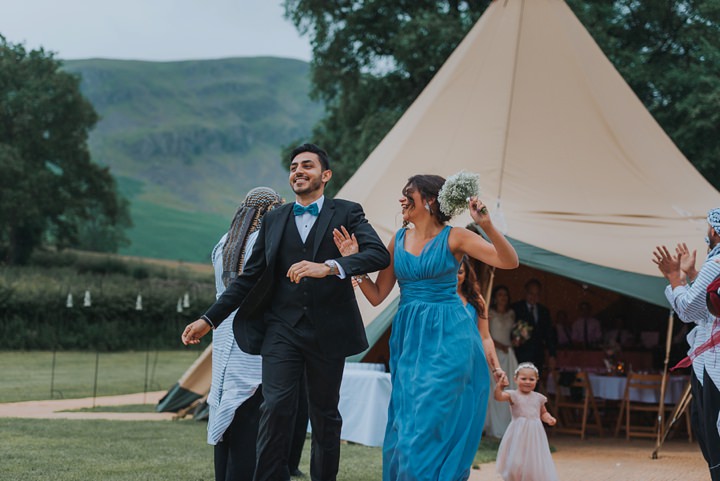 How did you allocate your budget?
We prioritised the important things such as venue, photography, catering, DJ and videography and then tried to do the other things on our own – such as decorations etc. We also chose not to have a wedding planner and coordinated things on our own.
Where did you splurge and how did you save?
We didn't 'splurge' on anything in specific, but made sure not to be too restrictive with our budget when it came to the big things and things that we liked/wanted.
Why did you choose your photographer?
We chose Craig and Andrea to be our wedding photographers after seeing their Facebook page and website. We were really impressed with both their portfolio and their style of photography. We also liked the idea that they offered a complimentary engagement shoot. Once we met them we were sure it was a perfect fit as we were so comfortable around them.
The Dress
I designed my own dress with Caroline Arthur Couture (Based in Surrey) – I loved the experience of being able to see all the stages of my dress being made. My veil was from Joyce Boyce and my Valentino studded shoes were a gift from my Mum! The accessories were from Ivory and Co online.
The Suit and Bridesmaids
We rented the suits from Moss Bros which were Ted Baker. The dresses were made for the bridesmaids and they were from Dessy Group.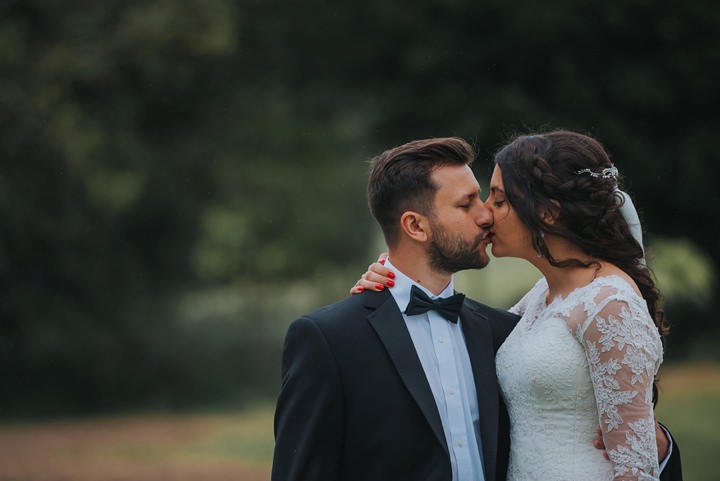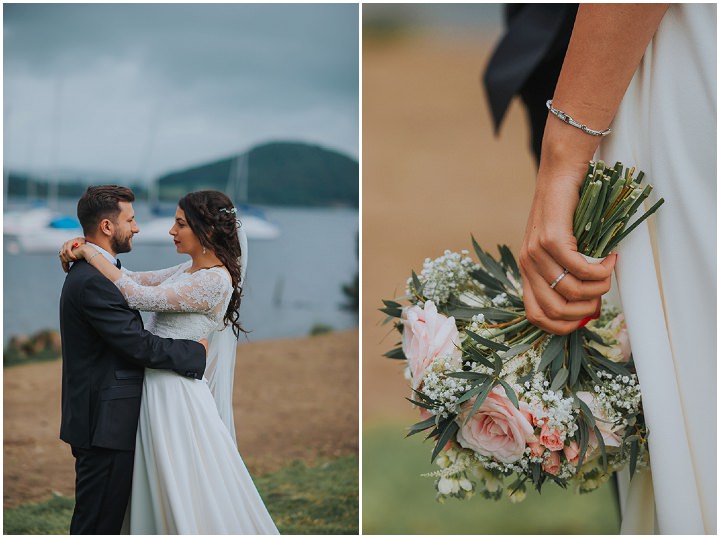 Theme or Colour Scheme
We had a slate blue and dusty pink colour palate which we tried to work towards. We also wanted to bring Arabic elements to the wedding and bring our cultures together.
Flowers
The bridal bouquet was by Valerie Ann's Florist in Windermere. They also did the bridesmaid bouquets (which were just Gyp) – we sent in a picture of the bridal bouquet that we saw on Pintrest and they re-created it perfectly. We also just asked for 30 spare flowers (in keeping with the bouquet colour theme) and lots of Gyp Sprigs to decorate the venue ourselves on the day We created the centerpieces and dotted flowers around the venue.
Decoration
We had lot of candles, and we also bought lanterns and mason jars for the centerpieces from TK Maxx, which we decorated with lace and some twine. We made a candy bar and ordered the jars from Amazon and bought the candy from Poundland and Home Bargains. We had sparklers that we labelled with tags that we bought from 'Not on the High Street'.We had chalk arrows dotted around the venue, which we also bought from Poundland!
Food
We had a mixture of Arabic and Mediterranean themed Mezze Starters. We then had Moroccan Cos Cos/ tagines for the main course (Lamb, chicken and a Vegan option). There was a dessert trio (sticky toffee pudding, lemon posset and apricot stuffed with walnut) and then a cheese board for later on during the evening. We had a dry bar (no alcohol), which served a mixture of soft drinks and fun mocktails throughout the night.
Wedding Cake
We had a naked wedding cake which was just chocolate with summer fruits and cream in the middle (we wanted something small because we knew that there was a lot of other foods).
Entertainment
We had a Palestinian Dabkeh Group (Dabkeh is a traditional Palestinian dance which is usually performed at weddings). We also had a DJ who provided an amazing silent disco.
Who supplied the stationery?
We used Paperlesspost.com and chose a free card! We paid nothing for our invitations.
Personal Touches
The decorations were created by us. We loved this because we could make it so much more personal.
What were your special moments or highlights of the day?
We can't really choose! We loved our ceremony with our celebrant Heather because it was so personal. We also loved the Zaffeh (traditional Palestinian entrance) and the silent disco!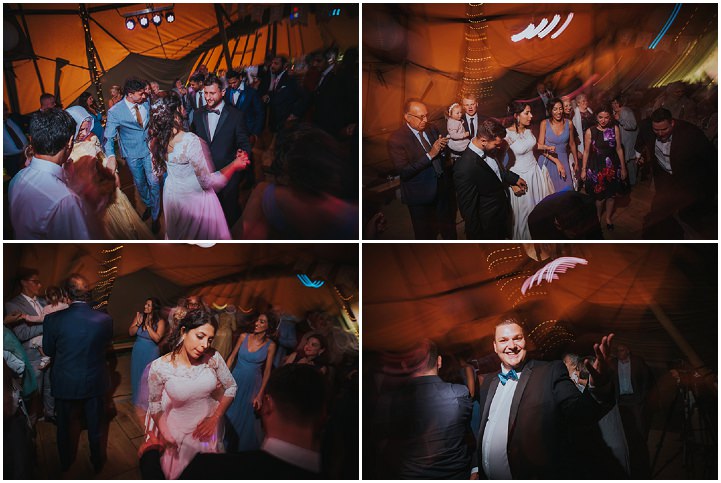 Advice for other couples
Try not stress on the day because; 1. It's too late to change anything then and 2. It flies by, so just enjoy it! Don't get too pressured by all these "wedding time lines" you see online that tell you when things should be done and that you need to do everything years in advance – it will all come together if you just tackle one task at a time.
Biggest Surprise
Rain (even though we were in the Lake District and we shouldn't have been surprised!). But, it ended up adding to the day and making it funner – we also got some awesome pictures! Our friends coordinated a dance to the Spice Girls song Wannabe and that was such a fun surprise.
SUPPLIER SHOUT OUTS
For more information on Craig and Andrea's work go to:
www.richardsandcophotography.co.uk / FACEBOOK/ www.instagram.com/richardsandcophotography 
We're Craig & Andrea; husband and wife wedding photographers, based in Co Durham. We love to tell wedding stories across the North East, including Co Durham, Newcastle upon Tyne, Northumberland & North Yorkshire and the rest of the UK. As a North East Wedding Photographer (or should I say, North East Wedding Photographers considering there's two of us!), we understand the difficultly in choosing the right photographer for your wedding. A wedding is over so quickly – in the blink of an eye, it's so important to have your special day beautifully documented; We document your day as it happens, telling the story of the day with beautiful, timeless and creative wedding photography.
Due to an email issue if you have emailed me between the 2nd & 9th of December, please resend it.
X