Happy Monday folks, how was your weekend? Did it fly by as quickly as mine did? I spent some of the weekend on board a narrow boat dressed as a pirate (the things I do for friends eh!), which was thoroughly enjoyable if a little dangerous as we dodged the thunder and lightning. Today's wedding will definitely bring cheer to the grey skies, if there are any where you are. Anna and Henry's wedding was captured by Kev Elkins and just goes to prove that no matter what the weather, nothing is getting in the way of two people so very much in love.  This wedding is truly homespun, in every sense of the word. Anna made her own dress and lace bolero. I particularly love the origami bouquets and buttonholes too.
'The best day ever. Exactly the kind of wedding we wanted.'
Anna and Henry were married on the 24th May at Masham Methodist Church with their reception shared with 100 guests at Hill Top Farm in Masham, North Yorkshire. "The venue and the views were incredible, we wanted something a bit different."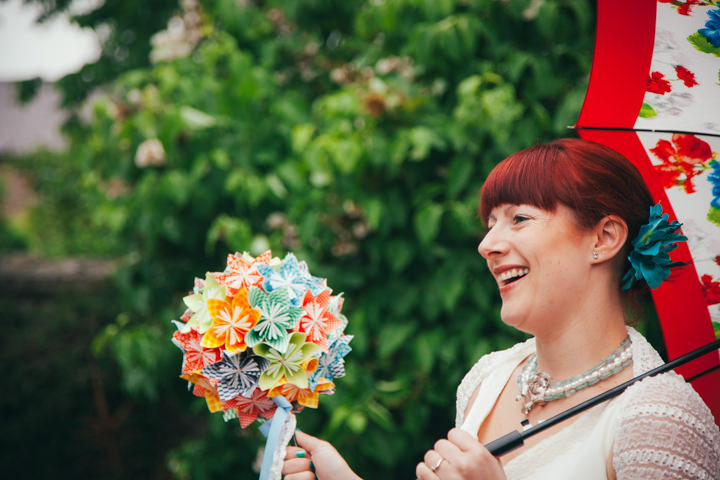 How they met
We met at school then got back in touch via Facebook.
The proposal
Henry finished work early and went home to cook a romantic meal of chickpea and courgette curry with courgette naan (the naan didn't quite turn out right though!), brought out 'dessert' in a dish with a lid on but inside was an engagement ring!
How did you spend your budget?
We mostly spent it on the venue hire, caterers/drinks and the honeymoon as we made almost everything ourselves from things we collected or upcycled or had already.
Why did you choose your photographer?
Kev is the husband of a friend I used to work with and he's just started his own photography business, I saw the pics on his blog and Facebook and liked his style.
The dress and accessories
I made the dress myself and a lace bolero. I borrowed a necklace that was handmade in Venice from my mum. My shoes were green Irregular Choice ones with blue swallows on, they were the first thing I bought for the wedding and cost more than my dress!
The suit and bridesmaids
Henry wore tobacco cords by Viyella, navy tweed jacket by Hawes & Curtis, green Jeff Banks tie and a white linen shirt. My best friend Ruth wore a wine coloured dress from monsoon.
The theme
Just a handmade, vintage-style theme, though Henry and the best man wore green ties to match my green shoes.
The flowers
I made an origami bouquet and a mini one for the bridesmaid and origami buttonholes for the men
The decoration
Lots and lots of bunting, table decorations were plant pots with violas, pansies and sweet william in and decorated with lace, origami hearts or paper butterflies.
The food and wedding cake
Hog roast for the wedding breakfast, with a huge dessert table full of cakes, pavlova, millionaires shortbread, rice krispie crunch and mini meringues all made by my mum and grandma. During the evening we had pork pies, cheese and crackers with chutneys we made from things we grew in the garden. The cake was actually a stack of pork pies and cheeses, which we served during the evening.
The entertainment
Kids' garden games (we had quite a few children there), DJ Rob (the farmer who's barn it is), and a dressing up box!
Buy or DIY your stationery?
I made save the date cards then we ordered invitations from vistaprint. We made the hymn sheets ourselves.
Personal or handmade touches
Everything about it was personal as almost everything was made by us or family. The dress and flowers were homemade; the table decorations I planted; the puddings were made by my mum and grandma; the chutneys I grew ingredients for and Henry made; place names were discs of wood from a branch we found on a walk one day, my grandad cut it up and I burned the names into the wood; glasses for the toast were baby food jars that I decorated with mini pegs and a luggage tag with the guest's name on, the children had a colourful 'decopatched' version with a loom band bracelet made by our 8 year old; we decorated a big branch with decopatch and had it as a message tree that people could hang messages written on luggage tags on; I made a felted guest book; my grandma and dad made miles and miles of bunting to hang up; we prepared our canapes and made 3 different punches to have when we all arrived at the venue; we had the punch out of jam jars collected by friends and family over the previous few months; Henry made a lot of signs out of some roof slates that we found in the garden when we moved into our house; the table plan was made by Henry -a big board with beer mats of yorkshire beers (one for each table) and on the tables we stuck a beer mat onto a chopstick and put it in the plant pot. It was a truly handmade wedding -mainly because we wanted to save money and avoid the 'wedding conveyor-belt' by having a chilled out wedding that was a bit different!!
Special moments
Peeping through the church windows before going in to see everyone waiting (and getting spotted); the ceremony -great readings and music; everyone walking into the barn freezing cold after having canapes in the cold rain and huddling around the log fires; our first dance -we practised a dance like the one on Pulp Fiction; seeing all our friends and family and having a fab time.
Advice to other couples
Just don't stress about it -we managed to stay relaxed and enjoy planning our day together, it's just a shame it went so quickly!
Biggest surprise
The weather -it was a surprise how cold it can be at the end of May when it's supposed to be summer!






For more information about Kev's work please go to:
Website/Blog: www.kevelkinsphotography.co.uk
FACEBOOK 
I am a photographer based in the city of Lincoln. I offer unobtrusive, natural and timeless wedding pictures for you to share with your friends and family.