Happy Monday everyone, how are you and how was your weekend? I would love to hear from you if you got married this weekend ahead of the new wedding restrictions coming into force today. I heard of quite a few couples who pushed their weddings forward to this weekend, so they could get their 30 guest count in, good for you if you were one of them! I am starting the week in a positive frame of mind. I have had a lovely weekend with Dexter. I took him out on Saturday just the two of us for a mummy and Dexter day and it was lovely. Saturday night Dexter's Nana came for dinner and then we all went out on Sunday, which was just what we all needed. I now feel refreshed and ready to start the week and face whatever life throws at me. I have the most gorgeous wedding to share with you today. I always love it when I get sent weddings that have taken place at home, either at the couples garden or their parents. Katie and Dom were lucky enough to use Katie's parents' garden and from there they really went to town making their day as personal as possible. Adding in as much colour as possible and really embracing every element of a DIY wedding. They did so much themselves, as well as enlisting the help of many friends and family. What a joyous day, so much colour, gorgeous decor and a whole lot of fun. Big thanks to Aaron Collett for the wonderful photos.
It went better than we could have ever dreamt. It made having to do absolutely everything (we mean absolutely everything) ourselves and think about every single detail, all worth it in the end!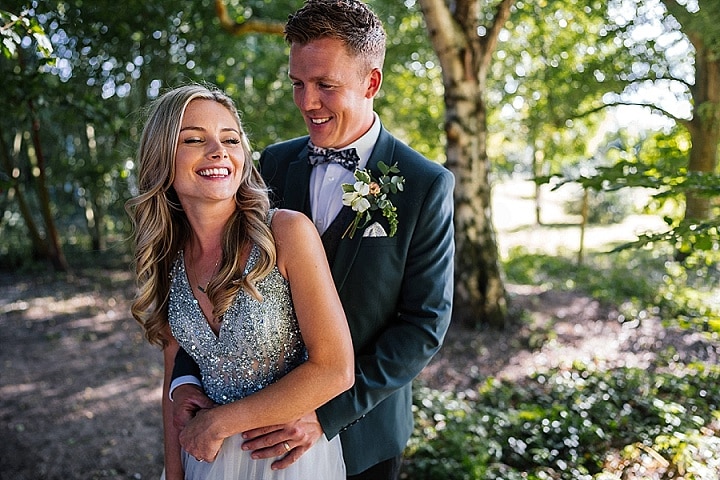 Katie and Dom were married on 14th September 2019 at Katie's parents garden in Bicker, near Boston in Lincolnshire. 'We wanted it to be unique and special to us, not a place that is a typical wedding venue – allowing us to run things how we wanted and an attempt to save money! Knowing that we will be the only people to get married there is special to us – the first and probably the last people! We just wanted a big party with our friends and family. We had 100 guests and from engagement to wedding it was 17 months of loose loose planning.'
How they met
On a night out in Stamford in the only nightclub in the town (very romantic!). Went for a date two days later and that was that – Katie was practicing her signature as Mrs Jones just a week later…We have been together almost 8 years (7 years prior to the wedding).
The proposal
We had the engagement ring in our house for a while as it was Katie's Mum's engagement ring which she wanted to pass down – we were storing it safely in our house whilst their house was getting renovated. We decided that we were going to get married and agreed on a date. Then Katie kept saying that she might as well just wear the ring, to which Dom kept trying to stall. Dom kept managing to stall it, but one day Katie said that she was just going to get it out and start wearing it, so Dom managed to get home from work before Katie and persuaded her to go for a run in our local woods – he said he would cycle alongside to support her. Dom cycled ahead down a hill at one point, got off his bike and waited for Katie after he got the ring out of his shorts pocket. As Katie approached him, sweating and out of breath, she decided to grab his bike as it was going to be easier and tried to start cycling away. Dom stopped her and got down on one knee, much to Katie's confusion. She then clicked what was going on and she could finally wear the ring!
How did you allocate your budget?
Our wedding was based around the 3 most important things – food, drink and music! We paid for the essentials, trying not to go over the top and not pay for things/details that we haven't necessarily noticed at other people's weddings. As many favours as possible were used and contacts through friends and family so that we could give them business. We aimed to just keep costs down in all areas and bought certain things that we could keep and use again in our home, rather than just hiring.
Where did you splurge and where did you save?
Had to splurge on a marquee to guarantee that people could be dry and warm in the British summer. One of the main things we wanted was good music, so getting a band that we liked was important, so that was as far as splurging went. Saved on flowers – no florist, Katie's Mum went to the market the day before and bought a variety of flowers for £10. The morning of the wedding, the bridesmaids then used these to make their own bouquets, as well as the buttonholes. We also planted and grew a variety of dahlias, and a eucalyptus in our garden which were used to decorate the marquee and tables. Saved on wedding dress (£400) and not having a cake.
How did you choose your photographer?
Dom's Best Man's sister, a very close family friend is a wedding make-up artist and recommended Aaron from a wedding that she had worked at! We saw his work and loved it, then got in touch and get a really cool and relaxed vibe from him which is just what we were after!
The dress 
Fancy Frox in Spalding – it was actually a prom dress and was from the same place that Katie got her prom dress from 15 years previously. First place that Katie shopped and first dress that she saw. Shoes from Accessorize and there were no accessories.
The suit and bridesmaids
Mix & match jacket (River Island), waistcoat (Moss Bros) and chinos (Asos) based around the colours that Dom wanted. Bridesmaids dresses were from isawitfirst.
Theme or colour scheme
As colourful and bright as possible – there was a slight Moroccan theme with the decorations. We wanted lots of it to be outdoors with the trees around and had elements of wood in the marquee with Dom being a tree surgeon.
Flowers 
Dahlias, eucalyptus, random mixture from the market.
Decoration 
Bright tassels hanging from the marquee ceiling and trees, combined with some gold hanging decorations. The tassels were handmade individually by the best man's wife and best man. Moroccan lanterns hanging above the top table. Coloured water in vases to carry on the colour theme. As many lights as possible in trees outside and in the oak tree in the marquee that was next to the top table and the band.
Food 
Greek – chicken & pork souvlaki or halloumi kebabs with Greek salad and chips. Baklava for dessert. Hot dogs in the evening and chocolate brownies. We didn't have a cake.
Entertainment
Live band and music.
Who supplied the stationery?
We didn't have much – place names were laurel leaves from our garden with names written on them by helpers on the night before.
Where did you go on your honeymoon?
Minimoon straight afterwards to Peak District and then honeymoon in New Zealand.
Personal touches
Most stuff was done by us! Instead of confetti, we had paper aeroplanes folded by Dom's family. Full size cartoon cut-outs of us (drawn by Dom's mate) to greet guests and allow them to have photos of us without the need for us to be dragged away from the dancefloor! Wedding favours were personalised K & D cups with the date on for guests to use throughout the day and take home to keep as mementos – pint cups for beer drinkers and white glasses for spirit/soft drinks. Homemade jam made by Katie's mum was another favour and was made from homegrown plums and grapes. Dom made a bar out of pallets and a slab of eucalyptus with K & D written on it and put the tap on – friends who attended the wedding that work in the industry helped us to buy the drink in. We made the table plans from coloured Perspex and dangled them off an apple tree by the marquee. The table runners were sewn by Katie's colleague after we chose a couple of different pieces of fabrics that we liked. Our guest book was an oak slab that is to be turned into a coffee table for our extension – cut by Dom from an oak tree that he cut down at work. Welcome drinks were served out of Betsy the VW camper van, which is owned by a close family friend who was also a wedding guest. One of Dom's best mates performed the ceremony, which we wrote and he added a few personal touches in there. The first dance was performed by Dom's best mates who are in a band (one of them was his Best Man) and played their own version of Bryan Adams – Heaven, they then went straight into another cover (Walking on Sunshine) to keep people on the dancefloor before the main band started playing. We had music playing all day and after the band for dancing, which were different playlists consisting of songs chosen by us creating the atmosphere that we wanted at different times of the day.
Special moments
Dom's mate performing the ceremony, our friends performing the first dance song. Everyone coming up to us saying how amazing everything was and seeing them all having a great time – people were on the dancefloor all night, song after song.
Advice for other couples
Cover the essentials and make sure everyone has a drink and a full stomach as early as possible! Then do what you want to do and not what should be done at a wedding.
Biggest surprise 
Everyone coming up to us to say how it was genuinely the best wedding that they've ever been to! Who knows if it was true, but it was nice to hear!
 Supplier Shout Outs
For more information on Aaron Collett Photography go to
www.aaroncollettphotography.co.uk / www.aaroncollettphotography.co.uk/blog / [email protected] / 07769 714716 / FACEBOOK / INSTAGRAM / PINTEREST / TWITTER 
Aaron Collett Photography specialises in fun, emotive and creative documentary wedding photography. Based in the Midlands he covers weddings throughout the UK and beyond.