Happy Monday everyone, I do hope you had a fabulous weekend? I am super excited as tomorrow is my birthday, lots to do today so I can take the day off and enjoy it in full. To help the birthday celebrations along, we are starting the week with this totally awesome woodland wedding, that I just LOVE! Jane and Cavan have put together the most wonderful day, filled with the most amazing flowers, all grown by Jane herslef. All of their family got involved and helped out with lots of handmade projects, from bunting to the cake. As for the location, it's totally stunning, an open woodland, with tipi tents, gorgeous decoration and open air dancing. Pure wedding perfection! Thanks to Lucy Noble for the lovely images.
A happy and joyful day full of tears, laughter and fun. It was a brilliant way to celebrate and a great party.
Jane and Cavan were married on the 9th July 2016 at the Great Hall in Berkhamsted Town Hall followed by a reception at Lila's Wood, Wick Lane, Hastoe, Tring. 'We wanted to have our civil ceremony somewhere that felt special and with space for all our family and friends and the Great Hall at Berkhamsted Town Hall is a lovely space. The room was full of all our friends smiling and cheering and it was the most uplifting and brilliant feeling! We are lucky to live in Tring a small town in the Chiltern Hills with lovely countryside and beech woodland. We knew we didn't want a formal reception and first saw our woodland venue when it was just a clearing in the woods on a rainy day in Autumn 2015!  Faye talked us through her vision for the site and it was exactly what we wanted. We live nearby and were able to call in and see the site gradually taking shape. When we walked through the gates on our wedding day it was just magical and will be something I always remember. We had around 100 guests in the daytime and around 150 in total in the evening. You often hear about how stressful planning weddings can be, but I thought it was just such good fun and really enjoyed it. Having your grown-up children involved and helping with all the preparations from making save the date cards, visiting suppliers, choosing the dress, and decorating our venue was the best experience.'
How they met
Cavan and I first met when we were in a pantomime at our children's school. We got together in 1999 and were married in 2016.
How did you allocate your budget?
We were pretty relaxed about our budget and spread the costs out across the year as much as we could.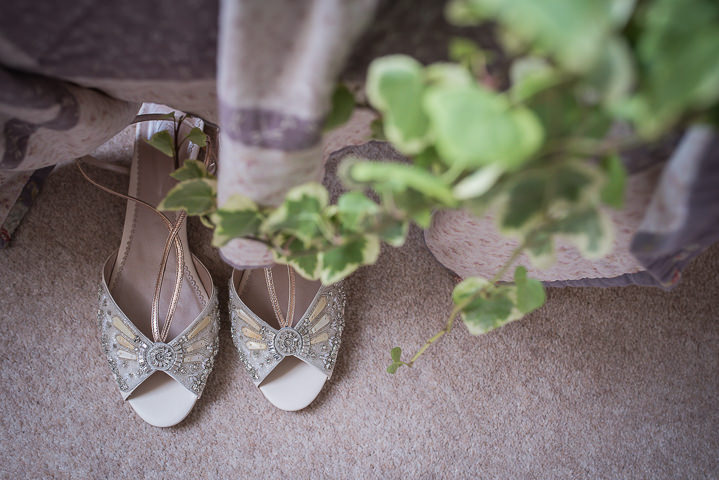 Why did you choose your photographer?
I had seen Lucy's work and really loved the relaxed informal style of her photographs. We met up with her for a chat and a glass of wine in October and looked at some of her albums which were just beautiful and we loved that way she spotted those small but very special personal moments between friends and family and captured all the beautiful details of the weddings she photographed. We got on so well with Lucy and it was great to have her there with us throughout our day. The photos are a beautiful record of our wedding day.
The Dress
My dress was the Jenny Packham Portia Dress which I had first seen online. I loved the soft flowing dress, the intricate beading and detail and the Midsummer Nights' Dream feel of it which was perfect for our venue. I visited The Bride in St Albans in December with my children, William, Charlotte and Hannah who are all in their twenties- as a bride in my fifties I was feeling a little nervous but the staff there were lovely- really helpful, welcoming and relaxed and we had such a great day dress shopping and then on for lunch and drinks. I tried on quite a few from Jenny Packham's 2016 collection but the Portia was still the one for me. I wore some opal earrings that Cavan had bought for my 40th birthday
My shoes were by Emmy London – they were flats which were comfortable to wear in our woodland venue but had beading and detailing that echoed the detail on my dress
The Suit and Bridesmaids
Cavan went suit shopping with William and wore a navy Ted Baker Suit. William walked me down the aisle and the grooms men were Cavan's sons Jack and Tai. They all wore navy suits.
Cavan's best woman, Helen, wore a red dress. The bridesmaids were our daughters Shannon, Charlotte and Hannah who wore the Salma dress in Dusty green satin from the Ghost London collection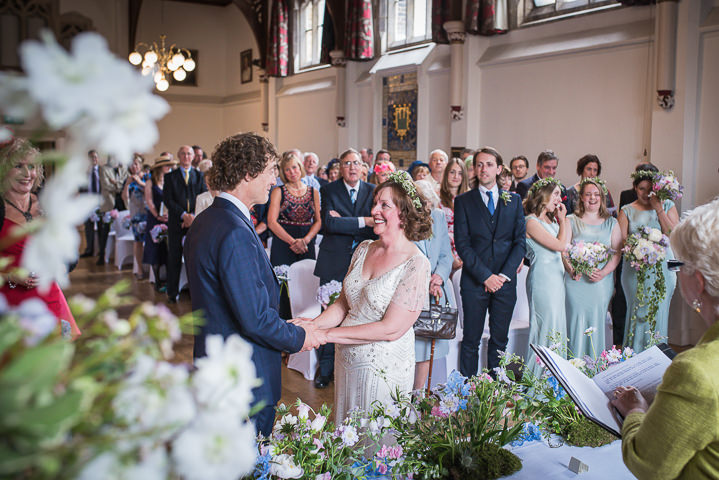 Theme or Colour Scheme
I didn't want a really matching colour scheme and so chose soft natural colours that worked well with the leafiness and the dappled shade of our woodland setting. The colour of the flowers and the bridesmaids looked great as the sun shone through the trees. The dresses complemented the seasonal flowers beautifully.
Decoration
Miles and miles of bunting!  We also had heartstrings made from fabric. Flowers in jugs and jam jars. We used some old stepladders for flower arrangements and as a seating plan. There were candles and lights everywhere. Lila's Wood is a beautiful venue and it was such a great setting to decorate.  I really wanted to do it justice. Our children and friends went to decorate the night before and with flowers the next day. When we got to our reception they had done a brilliant job and it looked even better than I could have imagined. Sam at Woodland Weddings made tree slice place settings and carved their names on them. It has been good to see all the different ways our friends and family are using them to decorate their homes.
Flowers
Cavan and I both love flowers and they were one of the most important things for me when planning the wedding. I decided that I wanted to grow flowers myself and started planning that straight away the previous summer. I grew Lupins, Delphiniums, Larkspur, Scabiosa, Cornflowers, Lavender, Sweet Williams, Thistles, Eucalyptus, Snapdragons, Nigella and Sweet Peas.
I was thrilled to have Jo from Columbia Creative as our florist for our headdresses, bouquets and flowers for the Town Hall. My daughter had bought me some of her flowers and I had seen Jo's work on Instagram. We met and had a great time throwing ideas around- Jo completely understood what I wanted and set up a mood board on Pinterest which captured my thoughts perfectly. I wanted pastel colours and seasonal flowers that would work with my home grown ones and to have lots of ivy and soft trailing foliage. I had a long trailing bouquet with peonies, sweet peas, scabiosa, waxflowers and thistles and the bridesmaids had posies. We wore natural headdresses with ivy, foliage, waxflowers and thistles. The buttonholes and corsages had scabiosa and thistle.
Jo made fantastic floral arrangements in stone urns and trailing floral arrangements for the registrar's desk. She made hydrangea pew ends. Our friends were brilliant transporting them to the woods so we could enjoy them there too. She dressed the cake table and sourced organically grown local flowers to decorate our cake.
Food
Lee and Lisa from Lisa Roberts Catering prepared a delicious barbecue for our guests which they brought to the tables on wooden boards. In the evening they cooked big pans of paella and risotto for our guests to enjoy. Lee and Lisa were great to work with; from the start they loved the idea of working in an unusual outdoor venue. They really did a brilliant job and provided fresh, well cooked and delicious food.
Wedding Cake
Our daughter, Shannon made the wedding cake. It had three tiers, one chocolate, one Victoria sponge and one lemon drizzle. She also made biscuits as favours for our guests. She has always loved baking and cooked for friends and colleagues but has had so many compliments after our wedding that she has started her own business making cakes.
Entertainment
We had a DJ provided by Woodland Weddings during the afternoon and early evening and then were thrilled to be able to have the fabulous Fabulations who got everyone up and dancing in the woods from their treehouse stage. We had a caravan photobooth which was great fun. We ended the evening with guitars, singing and sparklers around a fire.
Stationery
My daughter Hannah and I made our own save the dates and invitations.
Personal Touches
We made our own save the dates and invitations. I grew the flowers used in the woods and in jugs and jam jars on the tables.  It wasn't the best Summer for growing flowers so quite a few weren't ready on the day. We came back from our honeymoon to a garden full of flowers!
We spent a lot of time deciding on the music we wanted at our ceremony as guests arrived and during the ceremony itself. My daughters Charlotte and Hannah and Cavan's niece Lhosa did readings at the ceremony. Cavan sang 'The Book of Love' after we had made our vows and my son's girlfriend Amelia also sang 'If I ain't got you' by Alicia Keys accompanied by our friend Dave Baldwin on piano.
I bought fabric from the Plain Stitch Workroom, my favourite sewing shop & cut out miles of bunting. Lots of my friends took some away and helped me to sew it together. I made strings of stuffed fabric hearts with more help from friends which were strung up everywhere and also made the flags with table numbers.
We picked fruit the previous autumn and made sloe gin & blackberry vodka favours in tiny bottles. Cavan's daughter Shannon made personalised biscuits with our names on for our guests. I made activity packs for the children's table & my friend Katie knitted individual teddy bears for our grandson and great nieces and nephew. I decorated a Kids' tipi and made a patchwork picnic blanket for the children to play on.
Our friend Torquil Boyd and his daughter Ella filmed our day and made a video for us.

Special Moments or Highlights
Getting ready in the morning with our daughters and my son- such a lovely start to the day
Walking down the aisle on my son's arm and being greeted by a sea of smiling happy faces and applause with Cavan waiting and beaming at me at the end of the aisle.  I just couldn't stop smiling and laughing. There was so much joy and happiness
The Fabulations were brilliant and we loved joining all our guests to dance in the woods as the sun went down surrounded by twinkling and glowing trees
Advice for Other Couples
Have fun and enjoy every minute of the planning and preparation
Biggest Surprise
Cavan singing at our ceremony. I knew he was going to sing but didn't know what song he had chosen & it was all a complete surprise for our guests. There were lots of tears and smiles!
Our friends and family knew we were having a woodland reception but were all completely amazed by Lila's Wood. I think they had pictured a small marquee in a clearing
Uncle Neil's funky dance moves took us all by surprise…
Supplier Shout OUts
For more information on Lucy's work go to:
www.lucynoble.com / [email protected] / FACEBOOK / I: @lucynoble
I am a creative and honest wedding photographer. I capture the essence of the wedding day and celebrate real character! Wedding days are full of wonderful little magic moments and I am there to capture these. I document the emotions that run high and low throughout the day. Hertfordshire based but very happy to travel!