Happy Friday, I hope you have all had a good week so far and that you are looking forward to the weekend ahead of us. Mine is going to be spent getting the final bits of the house sorted, now the builders and workmen have finished, attending a 3 year old's birthday party and meeting up with friends. What about you?
Today we are heading off to Lancashire for the wedding of Caitlin and James which has been sent into me by Katy Mutch. It's a charming wedding, that takes place in the local village hall, filled with lots of homemade projects and DIY details. Happy Friday everyone, enjoy!
Our wedding was really joyful and fun, a perfect day! Family, friends, vows, love, confetti, music, flowers, food, booze and dancing!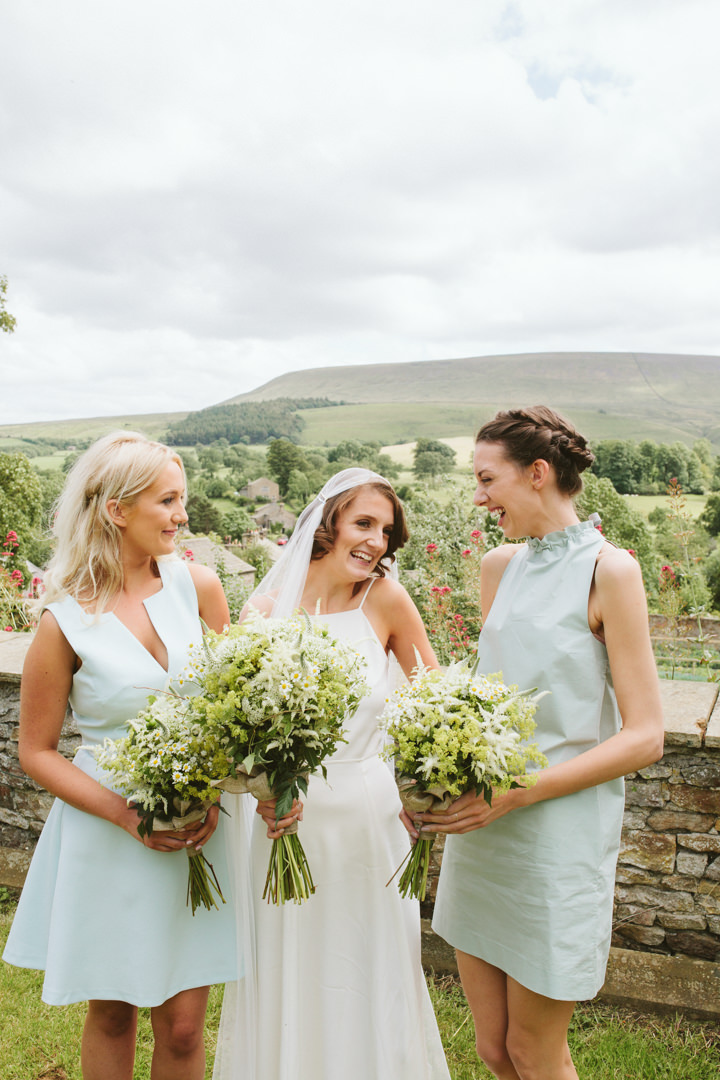 Caitlin and James were married on the 18th July 2015 in Downham, Lancashire. 'We got married in Downham in the Ribble Valley in Lancashire. I am originally from near there and as a couple me and James have spent many a happy weekend walking in this area and enjoying a cheeky pint in the local pubs. We wanted to get married somewhere that meant something to us and Downham was just the place! We had 100 guests and the wedding took 1 year to plan.'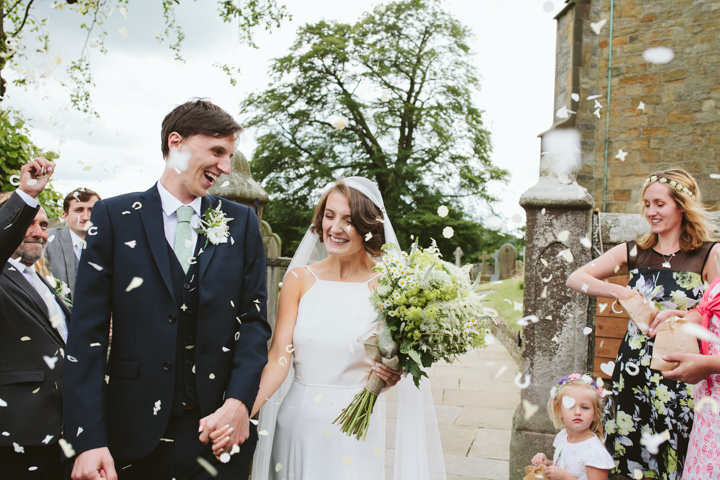 How they met
We both worked at The Lowry in Salford and we were introduced by friends at the pub, a very English romance! We have been together for 5 ½ years now.
The Proposal
Well we were spending a relaxed summer afternoon in NYC hanging out in Central Park. James got down on one knee in a wobbly boat on the lake and popped the question…We had champagne and burger n fries afterwards!
How did you allocate your budget?
The wedding was a relatively low cost, low key affair. We spread the cost out over the year and we were very lucky in that we got a little help from family too. Our thought was it's just one day so let's have fun but not go too crazy!
Where did you splurge and where did you save?
We saved on quite a few areas! The reception venue, the local village hall was a very reasonable price, James' Aunt Karen made the cake, my mum made about 60 bottles of homemade country wine! I arrived at the church in my parents Kia Picanto…
We splurged on the jazz band, they led a procession from the church to the reception after the wedding, which was really fun and they entertained the guests after the speeches too. It was proper New Orleans type stuff, which we love, worth every penny!
Our other major spend was alcohol! Over the few months running up to the wedding we started to stockpile Prosecco (Aldi!), beer, cider, spirits! We bought a keg of lovely ale from the local Bowland Brewery. Our friends took it in turns to 'man' the bar! Safe to say everyone was fairly inebriated, which resulted in some pretty uninhibited dance moves!
Why did you choose your photographer?
This one was easy. Katy Mutch was a friend from university and I had seen her wedding photography work on Facebook and Instagram and knew she was 'the one'! We loved her beautiful, glowy images and we knew she would fit in with the guests and make them feel relaxed. She went above and beyond on the day, shooting all the guests and all the moments. Even the photos of me and James look laid back and cool, I recently put our wedding album together and it was really good to pour over the whole day from start to finish again, and notice all the little details she captured. Booking Katy was such a great move, I trusted her completely and I was so unbelievably happy with the photographs!
The Dress
I bought my dress online from The Reformation. It's an American label that make very cool, modern dresses and they also happen to be environmentally friendly too. I wanted something pretty clean and minimal and not too expensive. The dress was a lovely fabric and fit perfectly which was a bonus! My friend Helen made my veil from some spare fabric she happened to have and my shoes were from Whistles. Kate Valentine did the transformative makeup for me and the maids!
The Suit and Bridesmaids
James' suit was from Next! The bridesmaids chose their own dresses, Sophie's was from Cos and Alana's from TK Maxx! I told them to go for a summery colour and they both came up with exactly the same shade of green which was pretty great!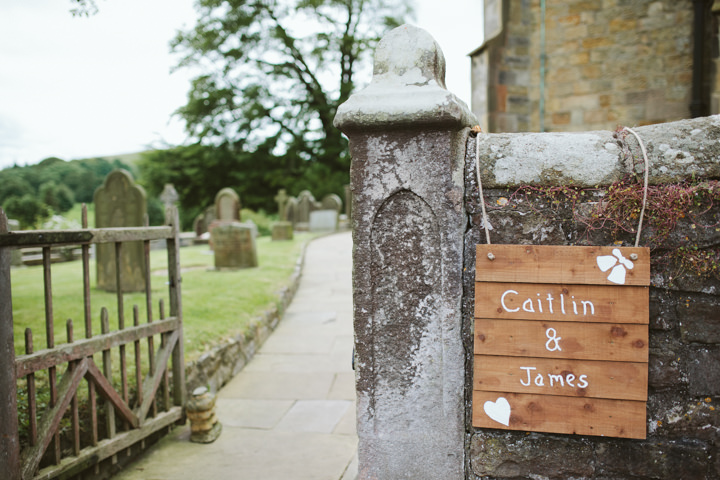 Theme or Colour Scheme
We were aiming to go for a country wedding theme, as that was what it was! So there was lots of fresh greens and whites and soft colours. We weren't too bothered about everything matching though!
Flowers
I went for a huge wildflower style bouquet that the local florist put together for us. The bridesmaids had smaller versions and we had two big displays in the church to bring the outside in! My mum did the arrangements for the tables in the reception, just little jam jars filled with gypsophelia and ferns and what not. I loved the flowers and they look so pretty in all the photographs too.
Decoration
A ton of fairy lights and a smattering of white bunting. I laser cut the cake-stands at my work place! We also had these cute bride n groom honey comb cocktail sticks which I couldn't resist from Pipii
Food
We had a much needed afternoon tea at about 4pm that a local catering team called Tim's Catering sorted out for us and in the evening we had a wood fire pizza van called Pizza Principles make delicious pizzas for us. This was great because guests could just grab their pizza when they were hungry and it wasn't too formal. Can't recommend them enough! Also a few days before the wedding we Shanghaied the ladies that run the village ice cream shop to come up and serve the guests some ice cream for afters. This went down well with all ages and the ladies stayed for a couple of drinks afterwards too!
Wedding Cake
James's Auntie Karen made it- It was massive! She also organised a guess how much it weighs competition that our maths teacher friend won! Which was hilarious.
Entertainment
We had the aforementioned Jazz band during the day and a DJ called Big Boss Man for the disco section of the night!
Stationery
I am a technician in a bookbinding and letterpress workshop at Manchester School of Art so I had some fun making the invites. I designed and illustrated them and then risograph printed them in flouro pink and even embossed a little bit of gold on them too! Went to town a bit, but think they came out pretty good!
Personal Touches
The whole day was very DIY. We like making stuff and our family chipped in lots too. James's dad made the little hand painted signs, James's mum was on confetti duty – everyone had a job!
Special Moments or Highlights
Racing to the church with my mum and dad and the bridesmaids stuffed into my parents little car, saying 'I do'!, wandering through the village to the reception in a happy post wedding daze, the speeches, the pizza, dancing with my husband and family and friends all night, hanging out in the venue til 4am with the last of our friends necking the last of the wine! The whole day was brilliant.
Advice for other couples
Don't sweat the small stuff, delegate to friends and family, they will enjoy being included in the day! Consider a later start- ours was at 2.30pm and it felt leisurely. It was also nice that the church was close to the venue, we all walked to it and it was very convenient! A good dancing playlist. Bride, remember to eat and enjoy the food you have lovingly planned! Investing in a great photographer! Plenty of booze!
Biggest Surprise
It didn't rain! Haha.

For more information on Katy's work go to:
www.katymutch.com / [email protected] / 07775 430 785 /  FACEBOOK / I :@katymutchphoto / T: @katymutch
I'm based in Liverpool, and my style of photography is very much relaxed and natural, I adore photographing candids and the quiet in-between moments of a wedding day.