Happy Friday everyone, and yay for the weekend! If you are at work today only a few hours before the weekend is here, and if you are getting married at the weekend, not long to go now! How exciting! We are finishing the week with this beautiful back garden wedding in Wolverhampton. Steph and Tomas both live in Argentina, so planning a wedding in the UK was far from easy, however Steph relied a lot on friends and family based in the UK, and the results are this stunning day filled with so many beautiful touches, fab decoration ideas and a whole lot of love. Big thanks to Hannah Hall Photography for the lovely images.
Totally amazing with a mix of British and Argentine touches, it truly was the best day of our lives.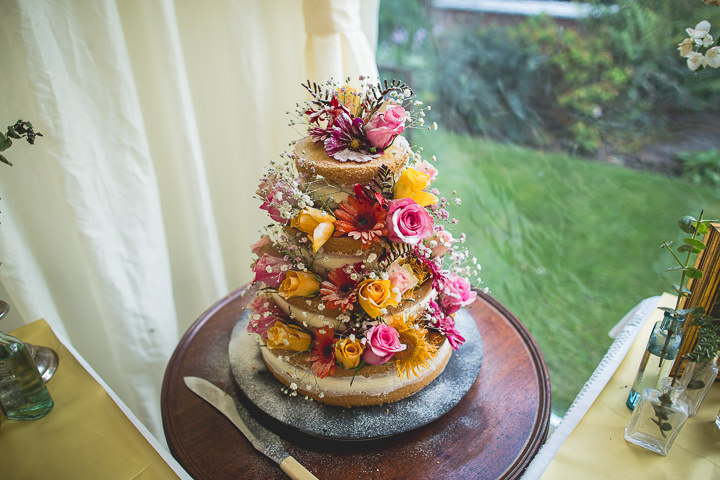 Steph and Tomas were married on the 15th July 2016 in a ceremony at Mount Hotel, Wolverhampton, followed by a reception in the Bride's parent's garden. 'A dear family friend, the dad of one of my closest friend over saw the outdoor ceremony. Living in Argentina I wanted to be able to share the day with my family and friends and for Tommy's family to experience an English wedding. We had 90 guests and the wedding took 8 months to plan'.
How they met
We met in Argentina whilst I was working as an English teacher. We have been together just over 4 years
The Proposal
We had been out for dinner on a Friday night, we got home I sat on the sofa, Tommy went to get some wine, sat down beside me and then opened a box and then asked in Spanish and then English if I would marry him. Simple yet perfect. The most amazing thing was he had called my mum and dad to ask permission via Skype without me knowing, and as his English is not the best this was an achievement in itself. He then planned with my dad to buy the ring. As rings are so expensive in Argentina my dad actually went to the jewellery quarter in Birmingham, took photos of engagement rings, sent them to Tommy and he picked one he liked which my dad then went back and bought. When I had been home for a friends wedding a month before my dad had hidden the ring in my suitcase for Tommy,  and I never suspected anything. We actually had to do the legal part in Argentina so a month later on my 30th birthday we got legally hitched. It was great but also I knew I wanted a do with all my family and friends.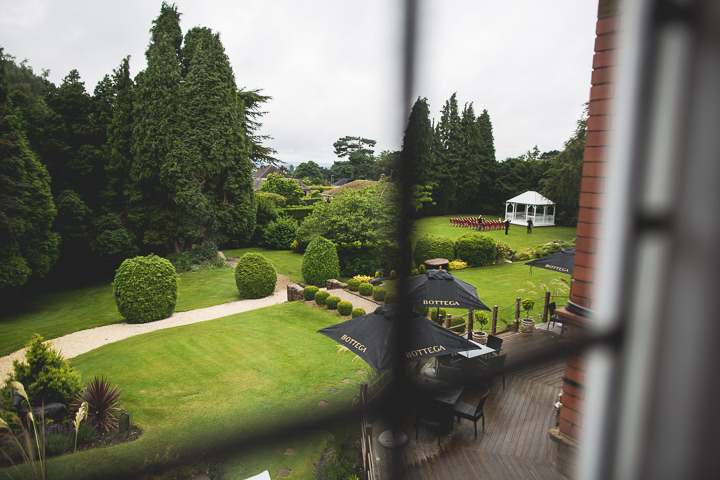 How did you allocate your budget?
I had to organize the whole thing from Argentina, with help from my mum in the UK so everything I found, I found online. I didn't get a chance to meet , eat or see anything that I booked so it was a bit of a wing it and hope for the best on the day. I love food, so I wanted to allocate most of it on food and booze. This was the best decision ever. The food was incredible and we had a free bar which the guests loved. We wanted people to enjoy themselves and not worry about spending anything. The décor was either DIY or bought from Ebay or my friend who runs a wedding décor company.
Where did you splurge and where did you save?
We splurged on the food and the booze, we saved on décor and as the reception was in my parents garden we managed to saved a little there too. We also had a real ale bar from the Black Boy pub in Bridgnorth, which was the best idea ever. We provided all the spirits and mixers and they provided three barrels of ale, plus staff who served drinks for the reception and then all night long kept everyone happy from behind the bar. They were so lovely and friendly, I would definitely recommend them.
I made my own playlist, a mix of English and Argentine music. Obviously everyone preferred the Argentine and I wish we had only gone with that especially after seeing my gran attempt the limbo.

Why did you choose your photographer?
I am useless at serious poses, so I wanted someone who was fun and relaxed and didn't make me feel uncomfortable. I was recommended the amazing Hannah by a university friend and she was just perfect in every way.
The Dress
My dress was Essence of Australia from a boutique in London called Angelic bridal. I didn't have much time to find a dress, in fact I had 1 week in February. I flew back to London and that same morning my best friend had organized 3 different appointments. I landed and after a strong coffee we were off. Amazingly the second place I went to I found my dress. I called my mum and arranged to return to see it with her the following week and that was it, and then I flew back. My shoes were again an online buy from Faith. I was meant to wear my great grandmas necklace, but actually forgot to put it on on the day-oops.
The Suit and Bridesmaids
I knew I didn't want traditional bridesmaids dresses, so I went for skirts and tops from USA brand BHLDN. The suits were from a local hire shop Peter Posh.

Theme or Colour Scheme
I knew I wanted to incorporate the garden and a natural feel as possible so the flowers were very natural.
Flowers
My flowers were beautiful, very natural greens and creams with my bouquet having a touch of deep red.
Decoration
I spent hours on Ebay finding pieces and sending them to my parents. I made so much of the décor and also hired some from my friend at Festoon.
Food
Amazingness. The Argentines love their meat so we started with Spanish tapas boards and then for the main meal had a gourmet BBQ from the Lazy Pig. The food was originally meant to be served at people's tables however, there was so much of it that there wasn't enough room on the tables. So my dad jumped on the microphone and said would everyone head through the garage and grab a plate- at first I was mortified then I realised everyone was mucking in and it was great. We had compliments about the food all night and people have gone on to book them. For the evening we had pizza, again the best thing ever when you are drunk and need something. We hired Baked in Brick, who converted a mini cooper into a wood oven and baked pizzas. I would totally recommend them the pizzas were amazing.
Wedding Cake
The wedding cake was made by the amazing Pennie at Pear of Peas. She also made all of our desserts which were self service. In Argentina they always have HUGE dessert tables at weddings that you can stuff your faces at so we wanted to do the same and had an array of deliciousness.
Entertainment
We hired a DJ

Stationery
DIY
Personal Touches
Most of the décor, and my sister in law designed the invitations. One of my best friends @ Preen Makeup has just set up her own make up business, we always said she should and she has finally done it. She did mine and my bridesmaids makeup and it was just perfect as we could all sit around and drink prosecco together in the morning.
Special Moments
There were so many-getting ready with my best friends, walking down the aisle with my dad, having my brother as best man (as they don't have best men in Argentina) , dancing with my mum and gran and seeing all of Tommy's family with my family in the same place having a good time. It meant so much that his family could come and his friends and it made the day truly special.
Advice for other couples
Don't fret if everything doesn't go to plan and if that fails have a tequila shot like I did before you head down the aisle.
Biggest Surprise
That I managed to keep dancing until 2.30am
Supplier Shout Outs
For more information on Hannah's work go to:
www.hannahhallphotography.co.uk / FACEBOOK / I: @hannahhallphotography / T: @hannahhallsnaps