Happy Friday everyone! I do hope you have had a good week and that you are super excited for Christmas. Now it is December I feel we can officially talk about Christmas, which I am SO excited about! We have so many Christmas celebrations planned in our household, we are off to a Victorian Christmas fayre on Sunday and our tree is being delivered today! Dexter is beside himself and talks about Santa every day! However today on the blog it is all about summer weddings as we journey to Nottingham, courtesy of Firsthand Photography. It's a beautiful homemade wedding day full of rose gold, mint green and pastel details and it really is a beauty! Happy Friday everyone, enjoy!
It was a non-traditional day which celebrated our individual personalities and our relationship from the day we met to the day itself. It was relaxed and homemade yet elegant and hopefully lots of fun for our guests too.
Samantha and Nik were married on the 25th July at The University of Nottingham. 'We've always had a connection with Nottingham University. We met each other whilst studying there and we met many of our closest friends there as well. My parents also worked there for many years. It wasn't a 'typical' wedding venue with a package deal, so we could build a day that was completely our own. We had 90 guests in the day up to 120 in the evening. It was around 12 months from the proposal to the wedding day.'
How they met
We met 9 years ago at University where we both studied for a post-graduate teaching qualification.  We were placed in the same school and had to teach some lessons together. We've been together in a relationship for the last 7 years.
The Proposal
It was super romantic. We were on holiday in Kos, exploring some Ancient Greek ruins. Nik got me to stand on some ruined pillars and pose like a 'Greek goddess statue'. He kept me going with this for a while for his own amusement before asking me to turn away from him for a photo. When I turned back he was in front of me on one knee with the ring out asking me to marry him! I was completely shocked as I hadn't expected it at all! Of course I said 'Yes!!' and we froze in situ for a while, digesting what had happened.  We then headed into the nearby harbour for some celebratory bubbles.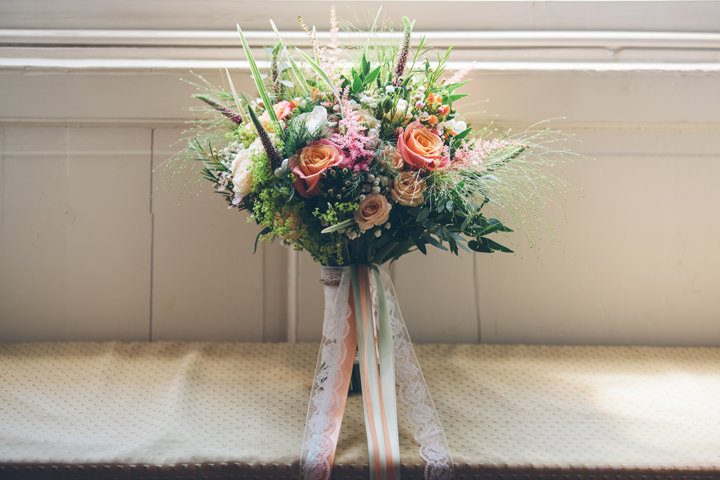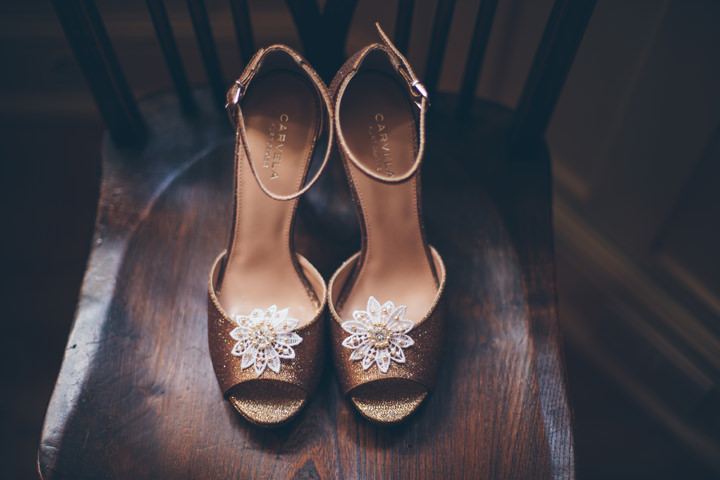 How did you allocate your budget?
We had a very tight budget so we had to be careful with everything. We booked the venue first and my dress second, so we knew how much we had to play with for everything else!
Where did you splurge and where did you save?
We saved in most places because we knew we wanted to get the best we could in our budget. The most expensive part was the food at the venue because we wanted to provide a lovely meal for everyone. I planned to splurge on my dress but as luck would have it my favourite dress came into the sample sale just before I bought it, so I made a huge, unexpected saving there! We saved in general by making most of the details of the day ourselves.  One of my favourite suppliers was an ice cream company we found called 'Pulp Friction'.  They are a not-for-profit organisation who employ young adults with learning difficulties to run the ice cream tricycle on the day to give them vital work experience.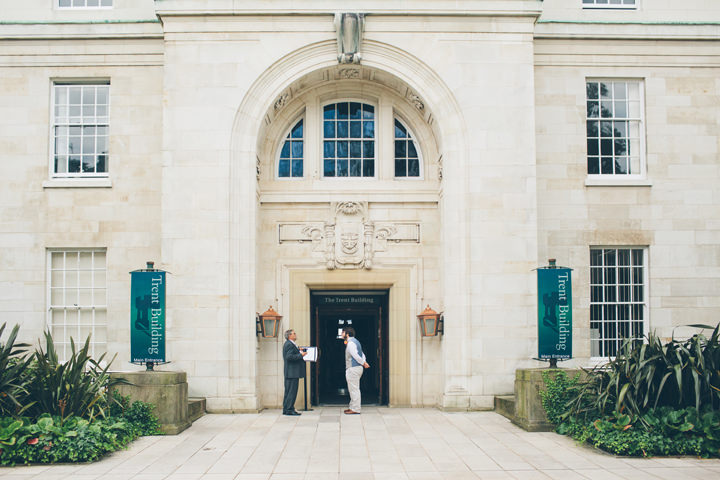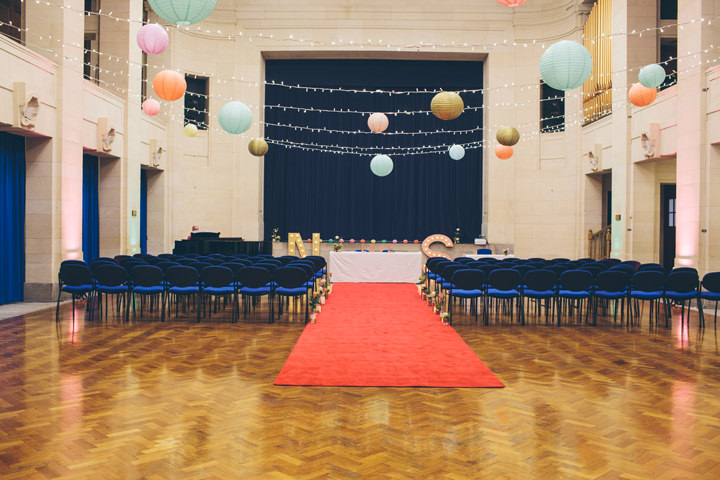 How did you choose your photographer?
Jack at Firsthand photography was great. We found her online and met her for a chat in a cafe where she showed us some of her work. She did relaxed shots with an individual, almost vintage, style. We knew we didn't want to spend our day posing for lots of formal shots and Jack photographed our day in the background, documenting everything as it was happening, which gave us more time to spend with our guests and ultimately a set of photographs which really capture the emotions of the day from start to finish.
The Dress
My dress was by Justin Alexander and I loved it because it had a slight vintage/1930s feel to the lace detailing.  I bought it from Beau Belles in Nottingham. I wore a headpiece by Debbie Carlisle and my shoes were a basic gold style from Kurt Geiger. My talented mum then made some lace clips with beaded detailing which we attached to the front of the shoe so that it tied in with my dress.
The Suit and Bridesmaids
Nik and his groomsmen's suits were bought from River Island. He didn't want the traditional 'top and tails' look but instead wanted something with character, something that he wouldn't have worn every day to work.  He chose his best man to wear matching trousers but the other groomsmen had chinos in a coordinating beige. The bridesmaid's dresses were Jenny Packham from Debenhams.

Theme or Colour scheme
Our theme was gold/rose gold with mint green and pastels. It sort of just evolved over the year of planning.  I started with pastels and then kept on seeing gold accessories that I loved so gradually added golds to the theme!  I wanted to create an elegant yet quirky and individual look to the day.
Flowers 
My flowers were made by Lucy at Dean's Florists in Eastwood, Nottingham. She was an absolute star. I gave her total creative freedom over the bouquets. I knew that I wanted lots of foliage and not much structure and I also gave her some of my grandma's lace and ribbon to drape from the bouquet, but otherwise she chose everything herself and the results were stunning. She filled circa 50 jars and bottles with flowers for the table centres and venue decoration.  The main flower she used was the 'Miss Piggy Rose' which was a pink-fading-to-peach colour that I thought went really well with the mint green and golds.
Decoration
We made everything ourselves apart from the festoon lighting in the main hall. We had lanterns of different sizes and colours attached to the ceiling and made our own giant 'initial' lights in gold and rose gold. We painted a selection of jars and bottles in gold, lace and ribbon for the table centres and made our own welcome signs.  We had a storyboard of our relationship, filled with photographs, and also made a photograph display of family members that couldn't be there to share our special day in person.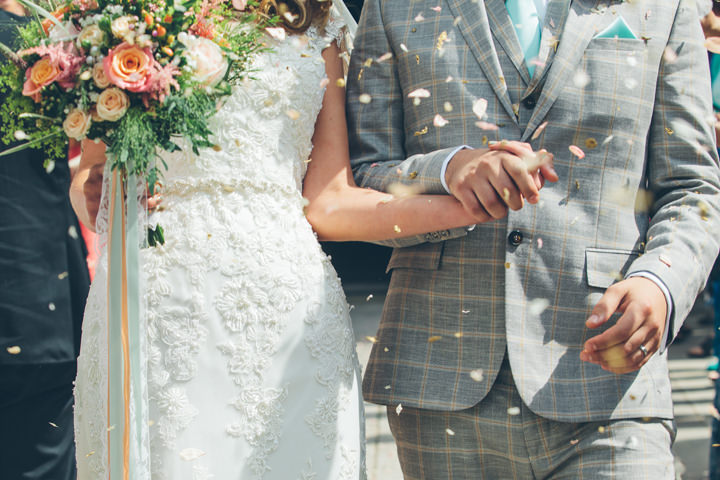 Food
After the ceremony we had an ice cream tricycle instead if canapes.  We were able to choose our own selection of flavours made by a local farm and it was delicious.  For the main wedding breakfast it was a 3-course sit down meal and we provided a hot buffet for evening guests later on.
Wedding Cake
I made the wedding cake myself with help from a talented bridesmaid. We definitely weren't short of cake.  The main cake was 3-tiers and stuck to the mint green and gold theme.  We also had a cake-topper made from Etsy that was personalised with a bird cage and our initials. We presented the cake on a 'cake table' with lots of homemade cupcakes, macarons and sweets, too.
Entertainment
Early in the day during the welcome drinks we bought lots of outdoor games to keep people entertained during the few formal photographs that we had. Later on we hired a Ceilidh band to play which got everyone up and involved in dancing. We made our own playlist of music for after the Ceilidh so we didn't need to hire a band or DJ for this part.
Stationery
We made our own save the dates, invites, place cards and favours. It took a while but was super cheap and immensely satisfying once finished. We also found it to be a great bonding experience!
Personal Touches
Nik's family is from Serbia so we tried to include parts of Serbian culture into the day. We had Serbian Rakia as the wedding favours and wrote all the place cards in the Serbian Cyrillic alphabet. We made our own confetti comes from lace doilies and filled them with natural petals.  We stuck the lace doilies into cone shapes with our own personalised stickers as well.
Special Moments or Highlights
I really enjoyed getting ready in the morning.  I was worried that I'd feel rushed or stressed but my bridesmaids were really calm and it was such a relaxing time.  We even snacked on party rings during the make up!  I hadn't expected the flood of emotion that came when walking down the aisle and me and Nik seeing each other for the first time – that was quite an overwhelming time. During the ceremony one of our friends read our favourite book 'A lovely love story' by Edward Monkton and that was a really special moment for us both. At the end of the night we had a 'sparkler send off' which was the perfect way to end the night – all of our guests cheering and waving sparklers as we walked through the 'tunnel of light' and onto our hotel for the night. The perfect end to the perfect day.
Advice for other couples
It's really easy to get bogged down thinking that little details of the day really matter and they truly don't.  At the end of the day you really have no idea what you're doing at any point so things are going to go wrong and you can't control it – you might as well not get stressed about it to start with.  We didn't include anything in our day for 'tradition's sake' and added elements that were totally personal to us and that made it really special – I'd say add in as many personal touches as you can and it doesn't have to cost you any more money to make it lots more memorable.  If I were doing the day again I would spend a little more time at the venue running through the order of the day in advance to make sure I knew a little better where I should be and when!!
Biggest Surprise
Getting a surprise gift and card from the groom just as I was getting ready in the morning – I didn't expect him to have been so thoughtful since he was busy enough getting ready himself! It was also nice to hear the speeches- we couldn't have predicted what people were going to say and people really surprised us with what they came up with!
 Supplier Shout Outs: 
FOR MORE INFORMATION ON JACK'S WORK PLEASE GO TO:
www.firsthandphotography.co.uk / [email protected] / 07866104892 / FACEBOOK / TWITTER / INSTAGRAM
I SPECIALISE IN RELAXED, CREATIVE, DOCUMENTARY STYLE WEDDING PHOTOGRAPHY AND I TELL THE UNIQUE STORY OF EACH WEDDING DAY THROUGH MY PHOTOS. I'M BASED IN THE UK BUT OFTEN TRAVEL TO OTHER PARTS OF THE UK FOR WEDDINGS.