Good afternoon everyone, today we are returning to one of my favourite topics, the honeymoon! To be honest, I think I'd be just about happy anywhere on honeymoon so I'd be more than happy to let the Boy do all the organising…which means I'd likely be on a month-long mountain expedition! Thinking of slightly alternative destinations, Tom our resident Honeymoon Expert, has some exciting ideas on honeymoon destinations near water for you today! My choice? French Riviera…I might just bump into someone famous!
Alternative Honeymoons to Spend on Water
There are fewer things more calming, soothing or awe-inspiring than water. Lake, river or ocean views are the epitome of romance. Especially when you're lucky enough to catch a beautiful sunrise or sunset across the horizon. If you're looking for the perfect honeymoon destination, here are 5 alternative ideas for you to spend on water…
Caribbean Cruise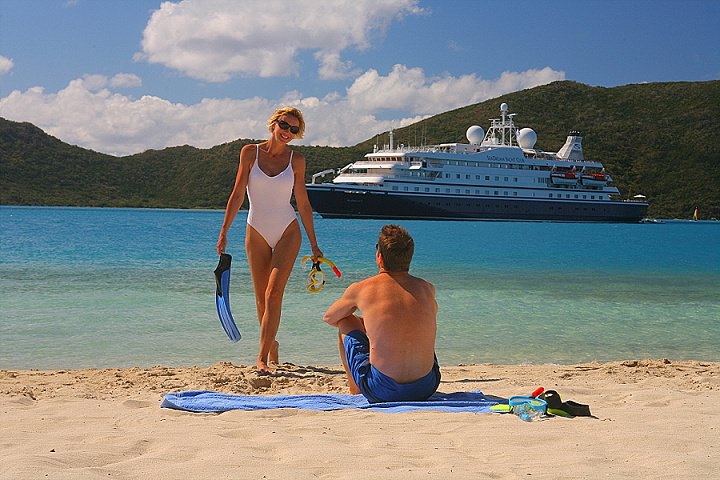 The Caribbean has long been a favourite amongst hopeless romantics. So when it comes to finding the perfect honeymoon package, you will be spoilt for choice. Cruise lines like Royal Caribbean typically travel the Leeward and Windward Isles and some of the best islands to stop off at include Antigua, Barbados, Martinique, Puerto Rico, St. Kitts, St. Maarten, St. Lucia, Jamaica, and the Cayman Islands. Be sure not to miss St. Kitts if you're an outdoorsy couple, St. Maarten for peace and quiet plus plenty of culture, or the Caymans for incredible dive spots.
Stay in a Water Villa in the Maldives
It doesn't get any more luxurious than the Maldives. This exotic destination is the quintessence of romance. And if you're really looking to push the boat out for this extra special occasion, spend your days in complete privacy in a Maldives water villa with nothing but the ocean around you. Accessed by your own private boat, these over-water bungalows give you direct and private access to the crystal clear sea. Many come with spacious decking areas, Jacuzzis or infinity pools and you can easily head back to shore if you miss the white sand beach.
Yachting in the French Riviera
The French Riviera is one of the most glamorous coastlines in the world. Europe's elite travel there every summer to enjoy the stunning sea views, the gastronomic restaurants and award winning wines, the designer shopping, and of course the famous yacht culture. If you and your partner desire the finer things in life, yachting in the Côte d'Azur will give you that glitzy, high-class champagne lifestyle. For couples with expensive taste, it's the perfect way to spend your honeymoon.
Underwater Hotel on Pemba Island
Known as "The Green Island", Pemba is the perfect honeymoon destination set within Tanzania's Zanzibar Archipelago. Untouched by tourism and wonderfully remote, it's a romantic place for love birds. If you're not a fan of sailing but still love to be near water, book into the Manta Resort – a couple's retreat right on the beach with floating rooms that feature underwater bedrooms so you can be surrounded by mind-blowing sea life. A great honeymoon alternative in the water, rather than on the water.
River Boating in the UK
For something affordably close to home yet still full of fun and quality alone time, hire a river boat along one of the UK's classic waterways. The 109 mile Avon Ring in the Midlands, the Monmouthshire and Brecon Canal in Wales, or the South Pennine Ring with its 197 locks form some of Great Britain's prettiest journeys and a self-drive barge typically costs around £200 per person per week. A honeymoon bargain or great minimoon option with beautiful views, peaceful surroundings and endless pub stops along the way.
Tom from  is a passionate traveller and blogger who loves travelling the world and discovering new cultures and experiences. After getting married to Claire in 2012, holidays changed from backpacking to flashpacking, but the intrigue to discover new places remains the same

www.backpackerboy.com / FACEBOOK / T:@BackpackerBoy /

[jprel]