This afternoon I would like to introduce you to one of our current sponsored, Sophie Howard Photography. Sophie is a wonderful photographer, living in Essex in the UK but taking on wedding bookings throughout the world. Her speciality is destination weddings, so you know you are in good hands if you book her for your sunshine wedding. Sophie describes her photography style as Honest, Joyful and Warm and her images are filled with personality, emotion and really tell a story. Sophie has been kind enough to tell us more about herself and why she became so interested in photography, as well a share some of her favourite images with us.
"Take the time to look around you. REALLY look around you. Appreciate every little moment. Every detail. Commit it to memory. You will never get this moment again."
More from Sophie:
'First. Let me say this. I love animals. Always have, always will. I have two beautiful labradors that are my world (and my husband of course!). If you have dogs we are probably going to hit it off!! It was this deep empathy and love of animals, that, along with just a little bit of pressure growing up, led me to persue a career in veterinary medicine. I loved it. I graduated and thought the whole world would open up before me. It didn't. It became lonely, heart wrenching and over time soul destroying. I worked in charities doing my best to help those whom no one else would or could help. I gave of myself entirely and after time had nothing left to give. I lost direction and worse, I lost a part of myself. That determined, beaming spark that had driven me all along was gone.
It was three years ago, as I sat, overlooking a Cornish beach, planning my own wedding, that I remembered something my father had said to me growing up. "I don't care what you do, just be happy." He was desperately ill at the time, but we had no idea. My Dad, being my Dad battled on through the pain he must have been feeling and walked me down the aisle. That moment when he gave me away will stay with me forever. Later, after we had signed the register, he kissed me on the cheek and said "Congratulations. You look beautiful. I'm so proud." Over the coming months he battled valiantly. His mind wasn't ready to go but his body had had enough. So had I. I realised his advice to be happy was all that mattered.
Camera in hand he would say "Take the time to look around you. REALLY look around you. Appreciate every little moment. Every detail. Commit it to memory. You will never get this moment again."
This had never rung truer than when we looked back through our wedding photos. That moment, when he kissed me on the cheek, was there! Captured for all eternity; my memory along with it.
I realised this is what I wanted to do. Capture these memories for other people.
The intimacy of a mother getting her child ready for their special day. The hush of the church before the processional music plays. The energy, excitement and joy of the reception and speeches. The first dance. That soulful proclamation of love throughout the day.
The father giving away his daughter. I love capturing THAT moment. The moment that speaks to you. That tells a story. That is why I love weddings. I am blessed to capture those moments. Your love.
Warm, joyful and honest images. A window, through which, the future can see the past. Natural moments you will treasure forever.'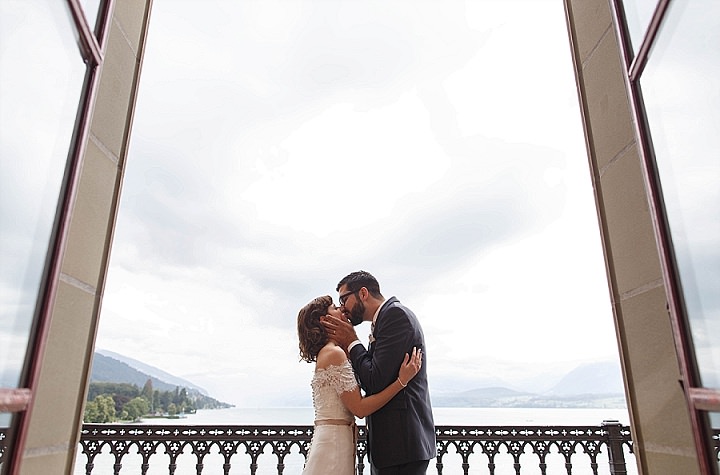 Where are you based?
Essex, UK.
How far will you travel for a wedding?
All over the UK, Europe and the world! So far I have shot engagement shoots in Copenhagen and Rome and have one planned for South Africa this December. I have travelled to Italy, Switzerland and Zante for weddings!
How would you describe your style?
Honest, joyful and warm. I love to shoot into the light to create and airy feel. I love to capture the real little moments of the day. I am hooked on using negative space and big vistas thrill me! My brides are relaxed and real and make me feel a part of their wedding day.
What is your favorite bit of technical kit?
Oooh I love it all but I love my 24mm lens to capture the big vistas and also my 'nifty 50' mm lens. Its light so its a great travel companion!
What makes you different to your competitors?
I see the beauty in little things. I'm not going to drag them away for hours doing portraits, probably just 20 minutes. I dont pose or direct them I just say 'go take a walk over there then pretend you are waiting for a bus and its cold' etc. I dont get caught up in all the technicalities but just shoot what I love when I see it. I just charge for the whole day. So I start when the bridal prep starts and finish once the frivolities get out of hand for the safety of my kit!
What do you enjoy most about your job?
The adventure and travel. You dont know what the day will bring what the weather will do, whether the speeches will make you laugh or cry. I always feel so honoured to be a part of such a special day! I just feel so chuffed when someone trusts me enough to capture their day, especially when its abroad! Capturing the little looks/gestures of the bride and groom and guests, all the little interactions throughout the day that make it a joyous occasion.
What is your biggest achievement so far?
Honestly. Having the guts to quit what made me unhappy and focus not just on surviving but starting to live again.
What sort of couple do you think you attract?
Genuine, relaxed, hard working professionals. They want their day to be special and just a little (or a lot!) different from everyone else.
What would be your ideal wedding to work on?
I would love to photograph a wedding in a hilltop Italian villa, next to an olive grove, with the reception under the stars. I dont ask for much!!
Which celeb would you like to photograph?
Not a huge celeb follower to be honest, popular culture isnt really my thing but if I had to pick probably Eleanor Thomlinson of Poldark fame. I think she is stunning and would love to shoot on those Cornish cliff tops!
Who is your favorite photographer and why?
Ed Peers. He is such a genuine lovely family man and his images are just stunning and what I aspire to! His approach is relaxed and honest.
If you were to get married who would take your pictures / who did take the pictures at your wedding?
Lucy Turnbull shot our wedding and I wouldn't change it for the world!
What in your opinion makes the perfect photo?
Good composition, a stunning view and an interaction of some kind.
What is your favorite photo that you have taken?
A picture of my Dad on his last birthday before he left us. Its not a great photo but it holds such bittersweet memories. I think that is what its all about really. The photo may not be perfect technically but if it captures your heart then that is all that matters!
What advice would you give couples when choosing their wedding photographer?
Make sure you connect with them, have something in common and be honest about what you want captured. If I feel I'm not a good fit for a client I usually recommend a colleague that might be better suited to their style/vision.
Can you give me some information on your pricing structure?
£250 for an engagement shoot.
UK: £1850 for a full day coverage and if they want an engagement shoot too then I do a full package for £2000.
Europe: £2500 for a full day and an included engagement shoot the day before and coverage of any family gathering the day before or after too. I arrange all my own travel and accommodation.
World:£3000 for full day, engagement shoot day or two before and family gathering the day before and after. Travel and accomodation included.
They get a highlights and full online viewing gallery and a USB. They also get three 8 x 10 prints from folio with their USB and all packaged beautifully but that's as a little surprise really!
What is your ideal way to spend a day off?
Oooh watching Star Trek with my Labradors with the fire roaring and eating marshmallows.
What can you never leave the house without?
Mascara and my debit card!
Who would be your 5 dream dinner guests dead or alive?
Queen Victoria, Winston Churchill, Leonard Nimoy, Tutankhamun (so I can ask about building those pyramids!) and Nelson Mandela.
What would you do if you won the lottery?
Buy a Wally sail boat and sail all over the world setting up animal shelters.
If you weren't running your business, what would you be doing?
If money were no issue, travelling the world on a yacht, drinking pina coladas and learning about other cultures!
For more information on Sophie Howard Photography go to:
www.sophiehoward.photography / www.sophiehoward.photography/blog / [email protected] / FACEBOOK / T: @SophieHwrdPhoto / I: @sophie.howard.photography