Happy Friday everyone, I hope you have all got that Friday feeling? Have you got anything exciting planned for the weekend? To finish the week off in style I have this gorgeous seaside wedding for you courtesy of Neil Jackson. The couple Julie and Jon, decided to get married in Yorkshire as it is Julie's home town, instead of their current location of London. With this choice came rolling countryside and amazing views of the sea, what could be better! They also added in a vintage style theme with a modern twist, lots of purple details as well as a collection of handmade projects.
'The happiest day of our lives! We didn't stop smiling and our family and friends also had a fabulous day, which meant everything to us too. Modern meets Vintage at the seaside and in the rolling hills of Yorkshire.'
Julie and Jon were married on the 17th of May, at St Joseph's Church, Newby, Scarborough then onto The Black Swan in Helmsley for the reception. 'It is my home town (Julie). We live in London, so did look down here where Jon is from, but there is something about the seaside and the Yorkshire country side. We had 95 guests and the wedding took just under a year to plan.'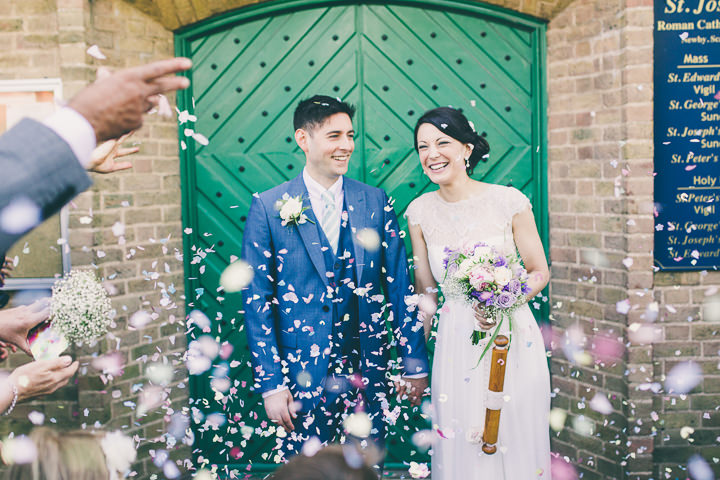 How they met
We met in London where we both used to work. We have been together about 6 years
The proposal
A secret proposal, around the time of my 30th birthday, but Jon knew that I would like to design my own ring (not that I wouldn't have loved anything that he would have bought for me) so he surprised me with a date to Hatton Garden (the engagement ring/diamond centre of London)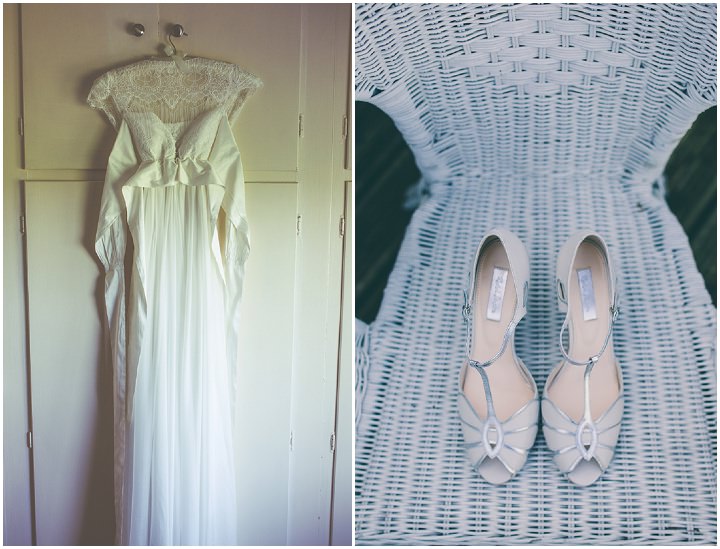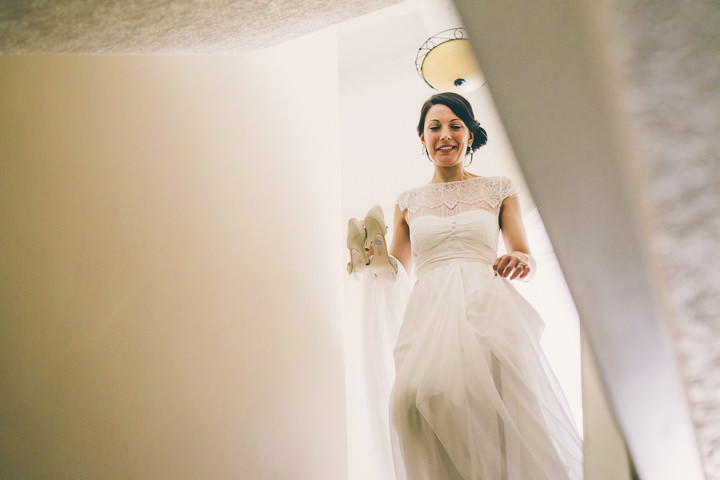 How did you allocate your budget?
We had a fairly strict budget, as we were saving for a house at the same time, but it became apparent as the wedding planning and process went along what was really important to us, so we compromised on the things that weren't so important. I am a designer, so did all the save the dates/invites and stationary, which helped to keep costs down on that front. We were never looking for the most expensive things, just the best we could afford, but when it all comes together, no one would ever know. If you are happy, then everyone else will be too.
Why did you choose your photographer?
We just loved Neil's style of Photography. It was exactly what we were looking for. A mix of natural and posed shots, but all considering the surroundings and the light. We are so happy with our wedding photos and never tire of looking through them.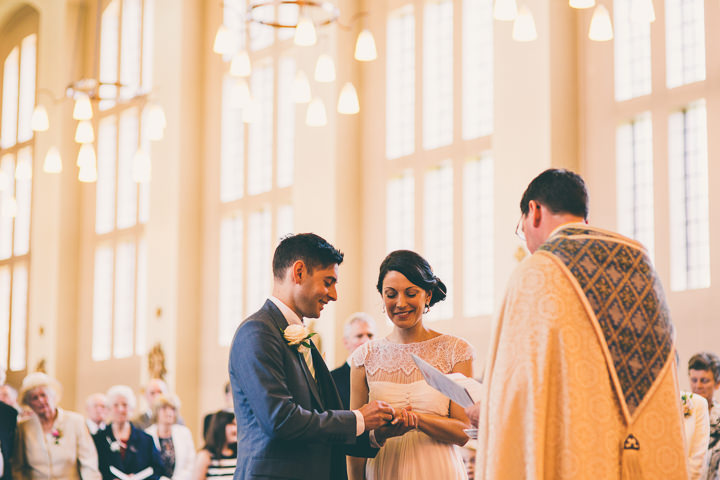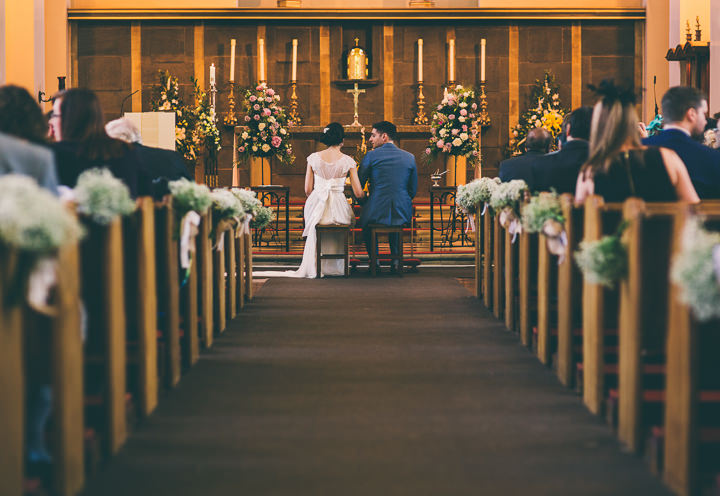 The dress and accessories
My dress was by an Australian designer, sold through a Bridal shop in Wimbledon Village – Luella's Boudoir. I didn't visit many shops before; I had a vague idea about what I was looking for. I saw it online first and then when I tried it on, it's a clique, but I knew it was the one. Shoes are Rachel Simpson, also from Luella's boudoir, but also sold through notonthehighstreet.com (a favourite website for ideas and gifts and all things wedding). I found the shoes before I found the dress, but they were perfect together for me so I knew it was meant to be! Accessories were hair – Debenhams, earrings/bracelet – notonthehighstreet.com
The suit and bridesmaids
The suit was Reiss, Jons favourite shop, so it was a great excuse to get a properly tailored for him. His was three pieces, the best man and fathers were Matalan, and you would never have known, they looked fabulous on the day. With mint green ties from Debenhams. The bridemaids were from BHS. The dress was perfect, mint green, which was ideally what i was looking for. Vintage lace and a style which suited them all. Their shoes were from Primark with accessories from Accessorize and notonthehighstreet.com.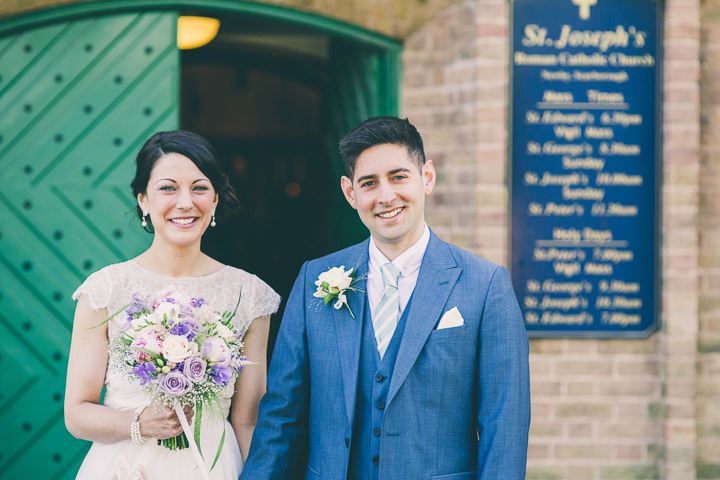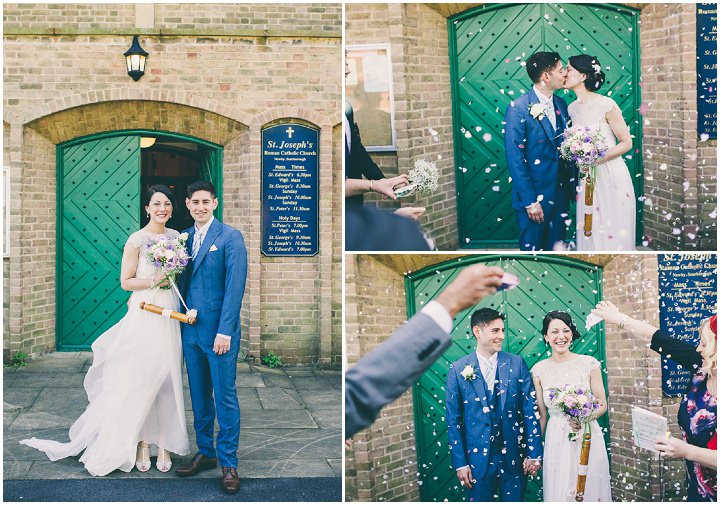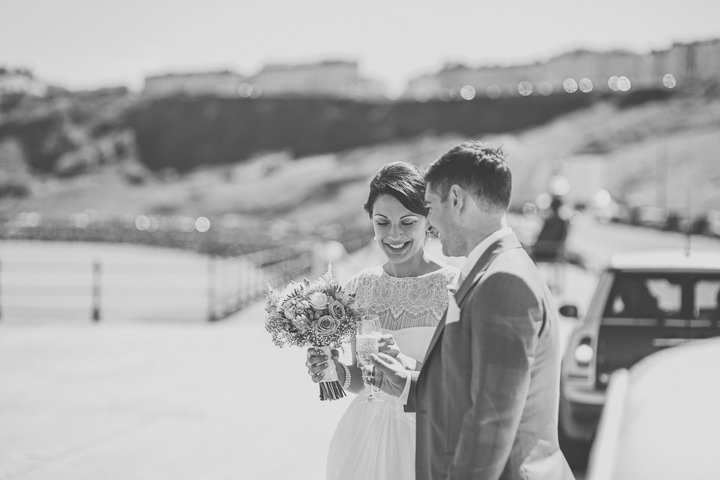 Theme or colour scheme
Vintage style/lace/pastels. Pinterest was my best friend throughout the whole process.
The flowers
Seasonal, pastels colours. Kirsty at MinnieBees in Cloughton, Yorkshire was amazing. I sent her a moodboard of ideas and she knew straight away what I was looking for. The flowers were one of my favourite things about the day. Perfection.
Decoration
I made metres and metres of bunting, which I made with help from my mother in law. We had jars with flowers in all around the venue, I didn't just want these to be confined to just the wedding breakfast room, we had white wicker hearts, decorated jars with tea lights, fairy lights.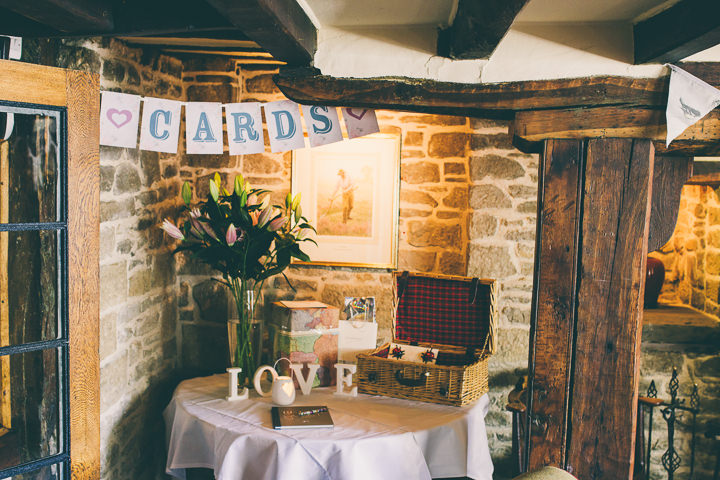 The food and wedding cake
Goats cheese and tomato tart, feather of beef with mashed potato followed by chocolate brownie with pistachio parfait. In the evening we had slow roasted pork sarnies with homemade apple sauce and salads, profiteroles and fruit.
It was more of a cake table! This is something that I was very specific about. I love baking myself, and did toy with the idea of making it but I didn't want to stress myself out the day before making all the cakes, as we were also travelling up north for the wedding only a few days before. So the lovely chef at St Catherines Hospice in Scarborough (where my mum works) agreed to make all my lovely cakes for the table. It was perfect and these also doubled as the wedding favours, as I didn't want any going to waste, and I am happy to say that they all went!
The entertainment
We had a DJ in the evening, which was included in the package with the wedding venue. The music was enjoyed by all and had everyone up and dancing at some point, which was exactly what we wanted.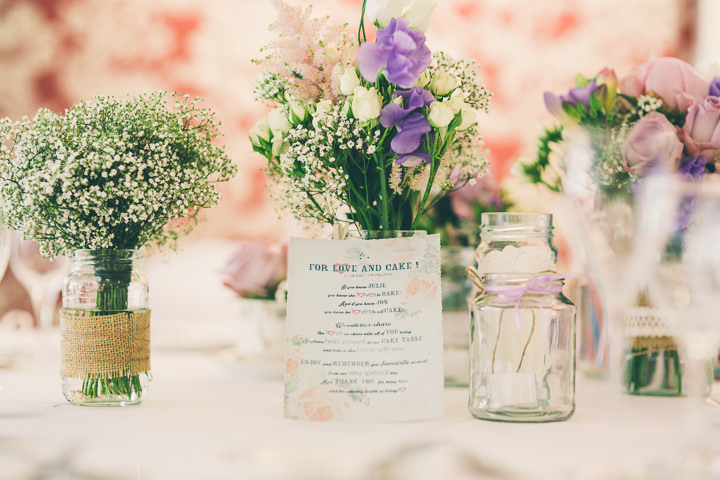 Buy or DIY your Stationery?
Our stationery was all DIY
Handmade or personal touches
• Save the dates
• Invitations
• Order of service
• Place cards
• Table names
• Bunting
• Decorated jars
Special moments or highlights
The ceremony. Seeing all of our family and friends in one place, many who had come from abroad, as I walked up the aisle towards Jon, I'll never forget that, ever. The choir and music. The vintage car we hired, it was so lovely and the drive to the venue after the ceremony, just the two of us. Everybody having a great time, people still keep telling us what a lovely time they had and that means such a lot.
Biggest surprise
The weather, it was a summers day in the middle of May. The choir, they were amazing, and only really confirmed last minute. I couldn't stop smiling all day.
Advice for other couples
Make sure it is what you want. You may have to compromise on certain aspects, but if you really think about it, it becomes apparent what really is important to you. Enjoy it, it will go so quickly!
Supplier Shout Outs:
St Catherines Hospice – Pam – The Catering Manager
HairbyLou – Lou Tweedle – G-Cutz, Scarborough
For more information on Neil's work go to:
www.njphotographic.co.uk
[email protected]
www.njphotographic.co.uk/blog
FACEBOOK
@nj_photographic