Today we are heading off to Missouri for the gorgeous wedding of Erin and Keith which has been sent into me by the lovely Charis Rowland. Erin and Keith were married on an incredibly hot day but luckily it was an evening wedding, so the day is full of gorgeous low light and the most beautiful first look. Erin's BHLDN dress is super stylish and pure perfection for this modern industrial style wedding. With a roof top ceremony this wedding is a pure delight, that I know you are going to love.
Our wedding was surrounded by amazing friends and family from all over the country, and just filled with a lot of love, hilarious moments, and a fantastic playlist.  It was probably the hottest day we could ever imagine, but I loved every minute of it.
Erin and Keith were married on the 11th June 2016 at Jefferson Underground, St. Louis, Missouri. 'We wanted to have an outdoor venue, and a place big enough for all of our friends and family to enjoy themselves.  We also really enjoyed that we were able to bring in any food and beverage vendors we wanted to, and they let us decorate the space anyway we wanted.  It was a beautiful outdoor space, and allowed us to do whatever we wanted – it was perfect! We had 175 guests. We were engaged for 14 months, but took a lot of breaks in between decisions!'
How they met
We met in St. Louis, Missouri ten years ago at a house party through mutual friends, and just hit it off right away. Keith and I have been together off and on since then.  It's a bit of a long story, with a lot of cities and jobs and life, but we have dated three times – third time's a charm! – and have been together this last (and final!) time since 2013. In fact, our officiant had to tell the tale of our "courtship" as many people in the room didn't know the full story.  And the ring that Keith proposed to me had three bands in it for the three times we dated.
The Proposal
Keith and I bought a house together in Chicago about two years ago, and we have been slowly decorating it since we bought it in November 2014.  In April 2015 – on a random Wednesday night – we were going to paint our living room, and I walked into the space to see that he had painted "Will You Marry Me?" on the wall.  There were flowers, a bottle of champagne and BBQ sandwiches waiting for me.  I painted "Sure" next to the question… and then we proceeded to paint the living room!
How did you allocate your budget?
We didn't really have a good plan to be honest.  We have a lot of friends in the wedding/entertainment industry, so we were able to pull a lot of people in which made it a lot easier.  My sister is part-owner of a flower shop, and they did all of the flowers, another friend designs and prints invitations, another friend is in a band and we borrowed their sound equipment, my sister's friend and her husband were our bartenders, my sister knew the caterers and made that really easy, another friend's brother was our "DJ" (though Keith made the playlist), another friend was our officiant and accordion player (!), another friend was our "MC" and I plan pop-up dinners – so I was able to decorate the space fairly easy with another friend who has helped me with those types of events before.  We actually set up the space with friends the night before – all coming in from Denver, New York, Kansas City, Philadelphia and more to help us make it look good!
Where did you splurge and where did you save?
We splurged on food and we saved on booze.  We had appetizers from Local Harvest, barbeque from Pappy's (a St. Louis favorite) and mini-pies from Pie Oh My! for dessert. Keith was able to get a decent discount on Lagunitas beer through a work connection, and we purchased wine from a vendor that allowed us to bring any extra back the next day for a full refund. We didn't have a full bar, it just didn't seem necessary (and some good friends brought nice bottles of bourbon and whiskey for those that cared.
How did you choose your photographer?
My sister recommend Charis!  And I love her photos, and how she plays with light and makes everything very soft and romantic.  Keith is a freelance cameraman for film/television, and he had a stronger opinion on the photography, and he liked Charis from the start – so we were good to go. And she was very flexible on the timing of everything, and not meeting us until the day before since we were coming in from out of town, so that was good!
The Dress
My dress was from BHLDN, and I got shoes at Bloomingdale's, and Keith bought my bracelet and gave that to me the night before.
The Suit and Bridesmaids
Keith got his suit from Men's Warehouse, and my sister was my only "bridesmaid" and she wore a dress she found at Nordstrom.  We probably saved a ton of money that way too.  None of the outfits were coordinated, or very fancy. It was a pretty casual affair.
Theme or Colour scheme
Not really, but we had a lot of subtle green foliage with the flowers, bronze candlesticks and flower pots, and other smaller decorative items.
Flowers
Flowers & Weeds did our flowers, and they pulled local beauties: Amnesia roses, eryngium, olive branches, ranunculus, delphinium, dahlias, scabiosa, yarrow and brunia.
Decoration
The space is a big warehouse and rooftop, and really interesting looking on its own and didn't need a ton of decoration.  We relied on the great flowers and bronze candlesticks with taper candles for the tables, my sister did great typography on chalkboards throughout the space, I made a ton of these stringed paper things that we hung in front of the exterior windows and put some gold and white giant balloons in some bird cages, and that's about it!  But again, the space was interesting enough to make it all look good.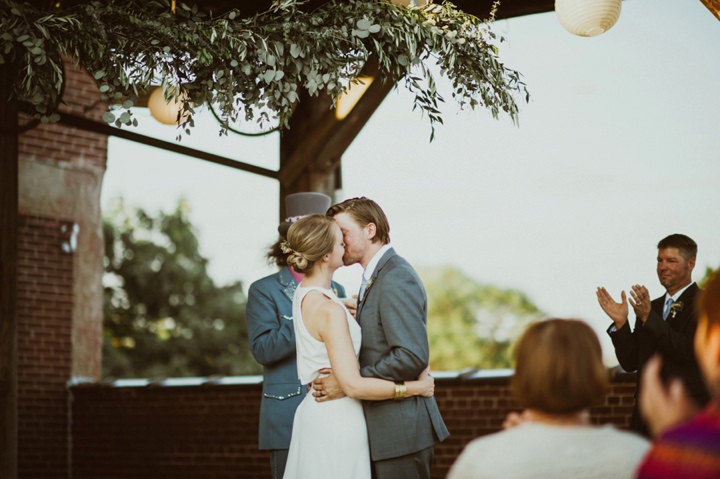 Food
We had appetizers from Local Harvest, and St. Louis style barbeque from Pappy's Smokehouse.
Wedding Cake
No wedding cake! Just mini-pies from Pie Oh My! which had pecan, apple crumble and chocolate cream pies.
Entertainment
We didn't have any other entertainment besides our officiant – who also played the accordion!  But outside of that, we just had Keith's curated playlist to keep us dancing throughout the night.  We did have boardgames strewn about the place, and a huge Jenga for people to play if they got bored.
Stationery
My friend Cat McMillian at The Done Department designed and printed our invitations.
Personal Touches
We pretty much did the whole thing ourselves, so lots of personal touches.  The board games were ours, the typewriter where people wrote us nice notes was ours, I made the pie stands from thrifted glassware and plates, my sister did all the chalkboards, and we decorated the whole space with our own homegrown ideas.  So it was a fun labor of love.

Special Moments or Highlights
The wedding ceremony was really special – more special than I had imagined.  It was incredibly heartfelt and fun at the same time.  Our officiant wrote us a song titled "The Greatest Wedding of all Time" and he performed it on his accordion.  And we wrote our own vows, and our friends cheered us on when we got a little choked up.  It was just really lovely and sweet and fun.  I loved it.
Advice for other couples
Surround yourself with all the best people the day before and the day of the wedding.  People who are calm and relaxed and really excited about the day.  We had the best people around us and helping us get ready, and they all seemed (or pretended!) to be having a great time, and that made everything so calm and fun.  It also helped being really organized beforehand, so that during the actual wedding, I don't think I had to do anything!
Biggest Surprise
How much fun and how relaxed it all was.  And how much love was all around.  It really was a fantastic day.
Supplier Shout Outs
For more information on Charis' work please go to:
www.charisrowlandphotography.com / FACEBOOK / I: @charisrowland