I have an absolutely exquisite wedding to share with you today, a totally beautiful day set in the Australian countryside and I just LOVE it. The bride wears a stunning Grace Loves Lace gown, and the bridesmaids are all in an array of maxi shirts, to add to the bohemian feel of this laid back day. An outdoor ceremony complete with dream catchers and patterned rugs, is followed by a chilled out reception with a food truck and plenty of entertainment. This wedding is captured perfectly by Anne at White Shutter Photography and she has made a beautiful job of not only the stunning portraight shots but of capturing the real essence of the day. Enjoy!
It was amazing.  It was a fun, relaxed, very non-traditional festival wedding, exactly like we wanted.
Kirby and Jamie were married on 16th Jan 2016 at Austin & Co Winery, Geelong, Australia. 'A friend put us in touch with the owners of the winery.  Once we saw, it was perfect; a blank canvas to design the day as we wanted.  The owners, Belinda and Scott were great to deal with and made the planning very easy. We had 160 guests and the wedding took 9 months to plan'.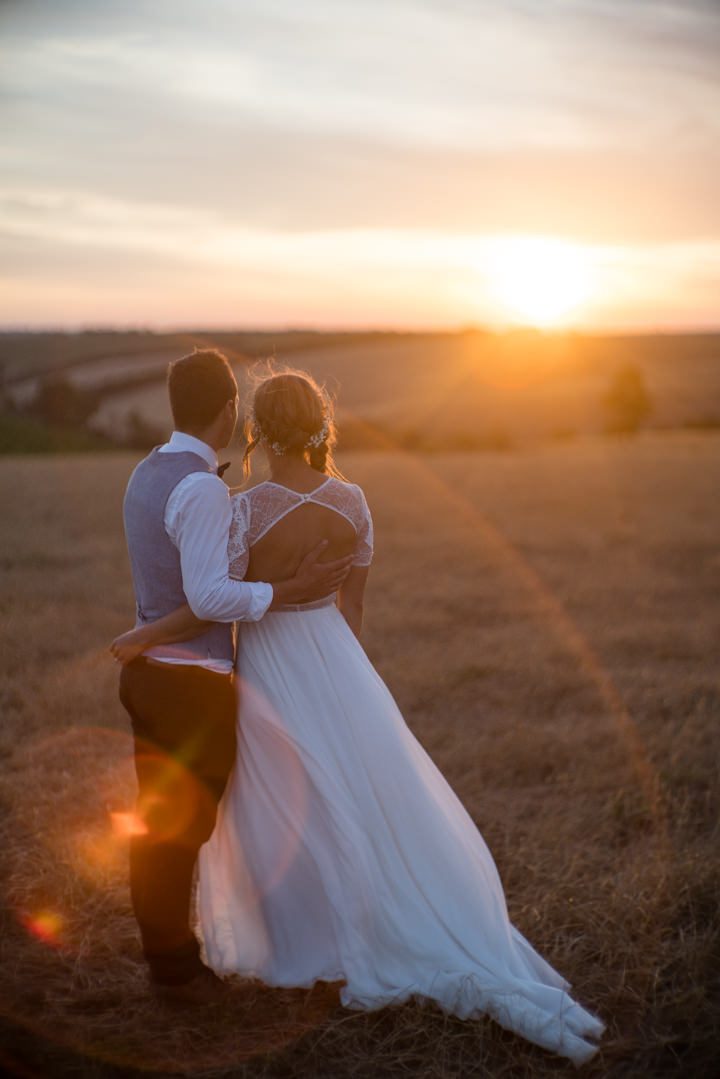 How they met
We met through a friend at a music festival on New Years Eve in 2009.  So we have been together for a bit over 6 years.
The proposal
It was a part of Kirby's 30th birthday present.  Jamie had arranged little activities to do around Melbourne for her 30th with little hints of each one written in cards.  Once all of them were opened, there was an special extra one asking her to marry him.
How did you allocate your budget?
We had a goal amount of how much we could put on the wedding for. We did a lot of research on the stuff we needed to hire and use, and we also called on a lot of help from friends and family with the decorations.  We tried to pay for things well in advance of the wedding so it was paid off before the big day.  At the end of it, we were only slightly over.
Where did you splurge and where did you save? 
We splurged on alcohol but we had to as were in the middle of nowhere and we didn't want to run out of booze.  The hiring of the marquee and furniture was the most expensive item, but even then it was worth spending that money for it.  We saved buy doing our own decorating\styling and keeping things simple.
Why did you choose your photographer? 
We knew Anne from White Shutter Photography through good friends and have also always loved her work.  She was brilliant!  In the lead up she was such a good sounding board and then on the day she just sensational and the shots she took are incredible.
The Dress
My dress was from Grace Loves Lace, with family Tiffany & Co jewellery. My shoes were from Joanne Mercer and I finished the outfit with a flower crown from Certain Bloom.
The suit and bridesmaids
The bridesmaids wore dresses from Mister Zimi. The groom & groomsman didn't wear suits, instead they wore chinos, shirt and vest from Oxford.  Jamie's vest was from Scotch & Soda.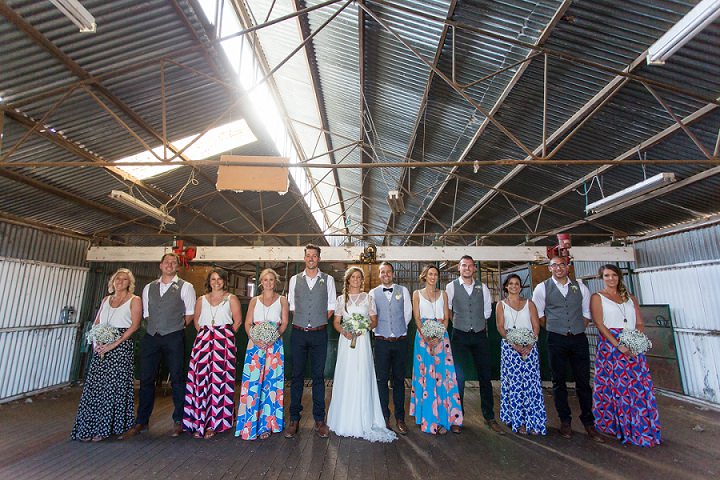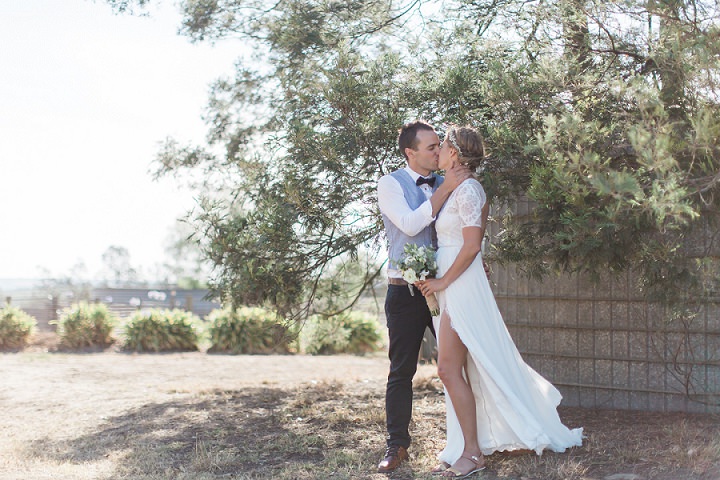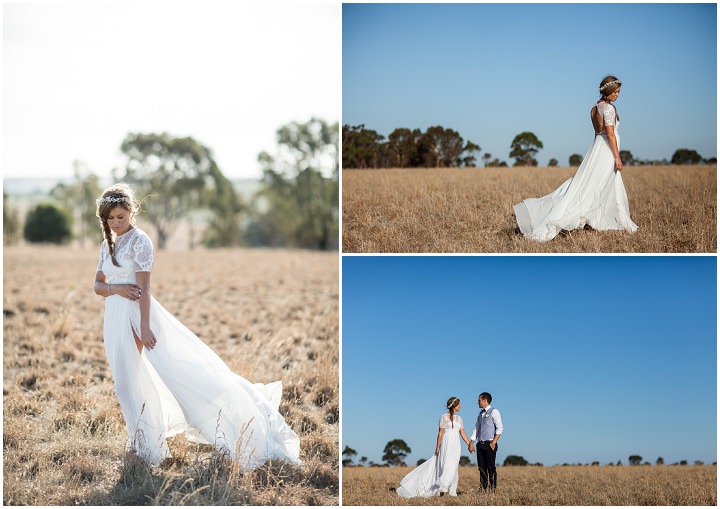 Theme or colour scheme
We had the Boho Festival Theme.  There wasn't really a colour theme that we used.  We did have a logo – KJ Wedding Festival with colours that featured a bit but the rest was just mix and match, quite colourful. Because we met at a festival, we wanted to re-create that in a certain way.  
Flowers
Certain Bloom did all of our flowers.  The bridesmaids had "Baby's Breathe", and Kirby had a mixture between green foliage (including a succulent from her mother-in-law's garden) and a mixture of white budded flowers. In the venue, there was a big mix of bright coloured flowers with the green foliage.
Decoration
We had a big variety.  We had festival signs around the venue with the KJ Logo, there was a polaroid photo line for people to hang up their photos, a homemade succulent table for guests to take home at the end of the night, we brought in blankets for when the night got cold, had games for guests to play, and other small little decorations such as pineapple vase's on the tables with flowers in them, dream catchers, flowers, cacti and plants in cemented painted pots. It was an outdoor wedding with an open marquee, we brought in colourful floor rugs and cushions to make it feel inviting.
Food
We had a massive table 3 metres long which was called our "giant cheese platter". The table was full of cheese, breads, dips, crackers, olives, dried fruit. This was our entrée for the guest and was set up so as the guest entered the reception venue. They could help themselves straight away. We hired a food truck to come to the venue and serve throughout the night.  This was the Greek Street Food Truck and they served kebabs and chips.  They were amazing!  It was very easy to arrange, guests could eat as much or as little as they wanted. We had a dessert table that was set up after the speeches for people to access as they pleased, and a "mid-night snack" came out which were a variety of bread scrolls for those hungry dancers and drinkers.
Wedding Cake
We didn't do a traditional wedding cake.  Instead we had doughnut tower 'cake' and a big sweets table.
Entertainment
A 5 piece swing band "The Pearly Shells" played through the night they were brilliant, they read the crowed and got people up and dancing when needed. We also used a ipod with music we had guests select on our website.

Stationery
A friend of ours created our wedding invites for us.  In keeping with the festival theme, the invites were tickets to the festival, and it directed guests to the "KJ festival" website we made with all the information they needed for the day.
Personal Touches
We wrote our own ceremony and had a mini 'fairytale' story about how we met which we had some of our friends read out during the ceremony.  It was very fun.  All of the styling & decorations we did ourselves.  We created a logo and website for guests to rsvp to and get information about the festival day which worked really well.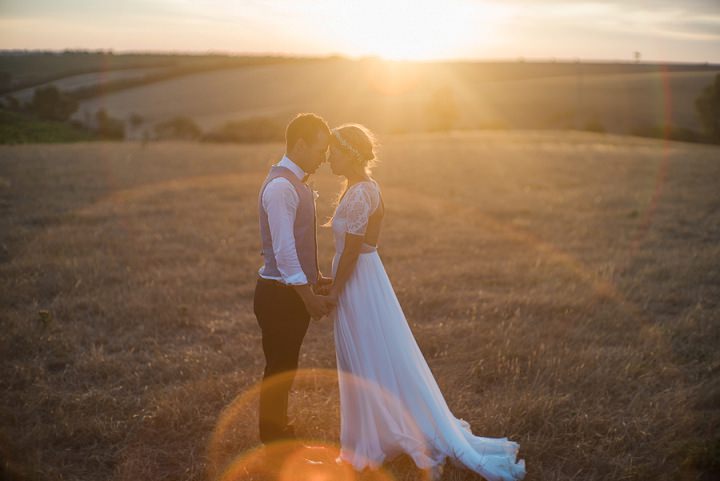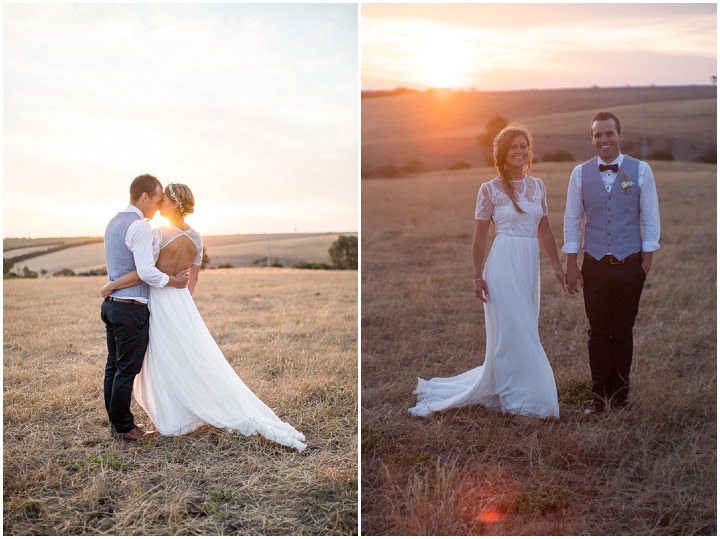 Special Moments or Highlights
The ceremony was amazing because it was great fun, laid back and involved a lot of our closest friends. The best man speech was just outstanding, as there were two of them and they wrote a song, and then got all of the wedding guest involved. The whole venue set up was amazing, the location and weather.  Just seeing everyone relaxed and enjoying themselves made the day even better. 
Advice for other couples
Plan the wedding you want and do it your way, not what others expect you to have.  Try not to go overboard with the budget and the styling.  Keep it simple, fun and relaxed. On the day, make sure you set aside time for just the two of you to take in everything that is happening around you and to really enjoy it with just the two of you!
Biggest Surprise
How quickly it went!  The whole day just seemed to fly by.  But by taking small bits of time for yourselves to take it all in, you do really see what a massive party you have put on.

Supplier Shout Outs
For more information on White Shutter Photography go to:
www.whiteshutterphotography.com / FACEBOOK / PINTEREST / I: @white_shutter_photography / T: @twitter.com/WhiteShutter_